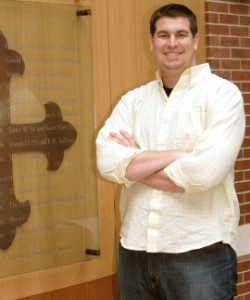 Anthony Janicki is a senior Computer Information Systems major from St. Petersburg, Florida. His first exposure to John Carroll was on a football recruiting visit, when he "fell in love with the campus and its location in Cleveland."
Anthony did well in his first computer science course, Introduction to Software Application Development, and his professor in the course recommended that he continue with CS courses. With a strong interest in business as well as computers, Anthony opted for the Computer Information Systems major, which focuses on business-related issues more than the Computer Science major. In addition to his major in CIS, Anthony will be earning a minor in business. He is also enrolled in the 5-year combined BS/MBA program for science majors, in which his fifth year will consist exclusively of graduate courses in business, and will lead to the master of business administration degree.
Anthony's out-of-class activities have included attending a Robotics conference in Pittsburgh, serving as a computer science tutor in the Math & CS Department's tutoring program, and working in a summer internship at the Center for Special Needs Trust Administration, a Florida-based non-profit that works to protect eligibility for public assistance programs.
An avowed sports nut, Anthony plays in many intramurals, and especially enjoys fishing and water sports. He also loves watching and attending baseball games and, after graduating with his CIS and MBA degrees, hopes to land his ideal job in the front office of the Tampa Bay Rays.