Michael DiGeronimo chose John Carroll because it's close to home in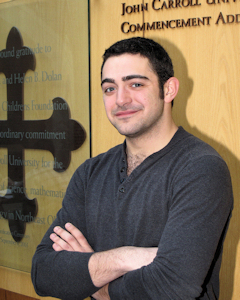 Chesterland and has an excellent educational program and offers Italian, which is something he always wanted to learn and which is his other major. He's done two tours of Italy through JCU spring trips and spent a semester during his sophomore year in Rome under the Bishop Pilla program.
For as long as he can remember, he's wanted to be a teacher, and teaching mathematics is his career goal. He says that math has always been his strongest subject and with relatives who are math teachers, it seemed the best fit.
His favorite class at JCU was MT 200 Explorations in Math, saying it was his first real introduction to math outside the realm of calculus and being excited to see that there was so much else to learn, with so many different areas of specialization.
Michael has worked for the Department for three years as a math tutor and at an Italian restaurant in Willoughby Hills called "Fanucce's" as an accordion player on Friday nights. Besides the accordion, he plays piano and sax. He is also involved in the Italian Club and plays soccer in intramural and rec leagues. He is a member of Pi Mu Epsilon, the national honorary mathematics society.
Besides all these activities Michael has maintained a 4.0 GPA in math! After graduation this May he plans to continue his education pursuing a Ph.D. in Italian Studies at Ohio State, for which he received a fellowship, with his ultimate goal to become a college professor.