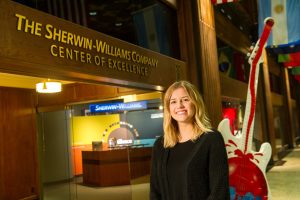 Haylie Toth is having a good summer: she landed an apprenticeship with Cleveland-based Fortune 500 company, Sherwin-Williams. She is a Computer Science major who will graduate in 2018. In her role at Sherwin-Williams, Haylie is a Full-Stack Developer, which means she is familiar with all layers of computer software technology.
"I chose to apply to this apprenticeship specifically because of the ability to work during the school year in addition to the summer," Haylie explained. "The biggest project I have worked on is helping to develop a new application. It is within this project that I was able to do front-end and back-end development." Haylie is paired with full-time developers while also completing independent tasks after sufficient training on a particular application.
Maneesha Arashanapalli, Information Technology Manager at Sherwin-Williams, supervises Haylie. She has high praise for the JCU undergraduate, describing her as "a good team player who is ready to learn, efficient on tasks, and open to challenges."
Haylie credits two John Carroll University professors for guiding her journey though the Computer Science major: Dr. Linda Seiter and Dr. Dan Palmer. "Dr. Seiter became my advisor sophomore year and she's always been nothing but helpful –plus her classes have been among some of my favorites," she says. Haylie also noted that Dr. Palmer's willingness to have engaging conversations with students about the future of computer science provides perspective that is helpful for her work at Sherwin-Williams.
In reflecting upon her freshman year when she was an undeclared major, Haylie now has an appreciation for the learning process that has come with her choice to pursue a Computer Science degree, which prepared her for the IT Professional Apprenticeship program at Sherwin-Williams. "I get to work with a great group of people," she says. "The workplace environment is half the job and I am lucky to have found an internship with such a positive environment."
For more information regarding similar academic programs and internships, visit John Carroll's Math and Computer Science department website.
Posted on July 14, 2017