2009
Spring 2017
I ended the last column sharing several birth announcements for our classmates who've started expanding their families. Now we have one more birth to celebrate. Joe '03 and Allison (Sullivan) Lorenzo welcomed their beautiful baby boy, Ryan Joseph, on Feb. 10, 2017.
Shannon Craig married Brent Styer on Aug. 27, 2016, at St. Robert Bellarmine Catholic Church in Cortland, Ohio. Following the wedding, the two honeymooned in Hawaii. They live in North Ridgeville, Ohio.
After obtaining her master's in nonprofit administration from JCU in May '16, Samantha Cocco took up acting as a hobby and side profession. Samantha, who signed with The Talent Group for acting and modeling representation, has performed in two local professional stage productions and has roles in two upcoming short films and a television show.
If you have an update, photo, or favorite college story you'd like to share, email it to me. I hope to hear from you. Thanks.
Lisa
Lisa (Ugran) Pacconi
lugran09@jcu.edu
Winter 2017
2016, a very good year for many of our classmates, was filled with lots of love. Matt Huml '10G married Angela Vistocco '10, '11G on April 9, 2016, at the Church of the Gesu in University Heights. The reception was held at the Marriott at Key Center in Cleveland. Many Blue Streaks traveled from near and far to attend. The wedding party included Mike Spinelli '10G; Luke Holthaus; Mike Nijoka; Pete Honsberger '15G; Matt Greco; Doug Mayer; Katie Stephenson '13G; Katie (Knox) Emling '11; Michelle Murphy '12, '13G; and Jamie (Colley) Wissinger '11. Matt and Angela honeymooned in the British Virgin Islands. Angela is employed at Hyland Software, and Matt works at Third Federal Savings and Loan. Although they loved living in downtown Cleveland for the past five years, they recently purchased their first house in Avon, Ohio, and are excited about being West Siders.
Sylvia Lesisz and Bob Bergmann were married on June 25, 2016, at Church of the Holy Angels in Chagrin Falls, Ohio. The wedding was officiated by Fr. Robert Ramser. A reception at Tanglewood Club in Chagrin Falls followed. Sylvia and Bob celebrated with Daniel Schneck; Chester and Maria (Roberts) Banaszak; and Nick '08, '09G and Erica (Miller) '08, '09G Yacobozzi. The happy couple honeymooned in Antigua.
Several new, incredibly good-looking additions have joined our Carroll family. Jason and Kerry (Keyes) Jonke '14G welcomed a daughter, Charlotte Elizabeth Jonke, on Sept. 4. Charlotte weighed 7 pounds, 10 ounces at birth, and measured 19.5 inches long. Diana (Orabovic) and Ryan '07 Mekota welcomed a son, Emil Michael, on Sept. 10. On Oct. 27, Jared and Katie (Stinson) Shively welcomed a daughter, Madison Catherine, who weighed 6 pounds, 1 ounce, and measured 20 inches long. Congratulations to all of these couples!
Thanks for sharing your magnificent milestones. Please continue to email me your updates and keep everyone posted about your life.
Lisa
Lisa (Ugran) Pacconi
lugran09@jcu.edu
Fall 2016
Humility of Mary volunteers from the past 25 years gathered together on June 25 to celebrate the retirement of Sister Katie King, HM. Many JCU alums have participated in the Humility of Mary Volunteer Program, and quite a few were present to honor Sister Katie, including Samantha Cocco '16G, Dennis Lackey, and Marie Semple.
Katie Nowak became engaged to John Srsen this past July. They're planning a wedding in December 2017.
Amanda Pizzi is engaged in Jeff Sindelar, and the couple is planning to wed in Shaker Heights, Ohio, June 2017.
Ally (Brikman) Zimmerman received the 2016 Doctoral Dissertation Award for Innovation in Accounting Education from the American Accounting Association. She also joined the accountancy department at Northern Illinois University as an assistant professor.
Jennifer Murphy '12G, '13G, a graduate of JCU's school psychology program, and her business partner, Greer Davis, opened Achievement Advantage Assessment & Services, offering psychoeducational evaluations, independent educational evaluations, recommendations for educational programming, advocacy, and evidence-based tutoring. Achievement Advantage is based in Lakewood, Ohio.
My husband, Andy Pacconi, and I welcomed our first child, a son, on April 27, 2016. Bennett Francis was born weighing 7 pounds, 3 ounces and measuring 19 inches long. It has been fun watching his development and seeing his personality take shape. Soon enough, he'll be moving all over the place and, when that time comes, we look forward to taking him to John Carroll to explore campus. Maybe it will inspire him to join the class of 2038.
Please continue to send news and photos from alumni gatherings and life events. It's always a joy to celebrate one another. Until next time …
Lisa
Lisa (Ugran) Pacconi
lugran09@jcu.edu
Summer 2016
Congratulations to the Douglas family! Jon and Melissa (Calabrese) Douglas welcomed their second child, a son named Grayson, on March 23. Grayson was born weighing 6 pounds, 13 ounces, and was 19.5 inches long.
Shannon Craig and Brent Styer are engaged and planning a wedding at St. Robert Bellarmine Church in Cortland, Ohio, on Aug. 27. Shannon is a human resources manager at PolyOne Corporation in Avon Lake, and Brent is an epidemiologist for the Cleveland Department of Public Health.
Greg Lausé received his medical degree from Uniformed Services University of the Health Sciences School of Medicine in Washington, D.C. Previously, Greg received his Master of Science Biomedical Sciences – Orthopaedic Sciences degree from the University of Toledo College of Medicine and Life Sciences. Greg is stationed at Tripler Army Medical Center in Honolulu, Hawaii, as an orthopaedic surgery resident. He was commissioned as an officer in the United States Army at Fort Sam Houston in San Antonio at the start of medical school and was promoted to captain after completing his degree.
If you're in the market for something sparkly and unique, take a peek at Creations by C & C Dominique Moceanu Signature Collection, the online jewelry business run by Dominique Moceanu-Canales and business partner Wendy Campbell. Pieces are made from various materials, including gold, sterling silver, wrapped wire, and Swarovski pearls and crystals. They range in price from $26 to upward of $600. Highlights include the Gold Medal Collection, modeled after Olympic medals as a nod to Dominique's gold-medal win with the 1996 U.S. Olympics gymnastics team. Some of the other collections offered include one for brides and one for young girls. You can customize your own jewelry creation or purchase individual jewelry components as needed.
That's all the good news I have for now. Until next time.
Lisa
Lisa (Ugran) Pacconi
lugran09@jcu.edu
Spring 2016
Sarah Kostiha and John Smith '10G were married on July 4, 2015. The ceremony was held at St. Mary in Chardon, Ohio. An evening reception was held at The Lodge at Geneva-on-the-Lake, and the couple, who live in downtown Cleveland, honeymooned in Hawaii. Sarah, a graduate of Ohio University, is the director of career services and internships at Lake Erie College in Painesville, Ohio. John, who also has an MBA from Carroll, is employed as a senior tax consultant with Deloitte.
Cara Redmond and Brett Neely '08 exchanged marriage vows on Aug. 8, 2015, at the Church of the Gesu in University Heights. Their reception took place at the Marriott East in Beachwood. Cara and Brett, who live in Cleveland, honeymooned in Key Largo, Florida. Since graduating from Carroll, Cara has earned a doctor of veterinary medicine degree from the University of Illinois College of Veterinary Medicine. She's a staff veterinarian with VCA Great Lakes Veterinary Specialists in Warrensville Heights. Brett is a senior lead underwriter at Great Lakes Financial Group in Cleveland.
Meghan (Danahy) '08 and Michael Rossetti were married on Aug. 15, 2015, in Saint Francis Chapel. Guests gathered for a reception at Acacia Reservation, which is part of the Cleveland Metroparks, in Lyndhurst, Ohio. The couple, who live in Columbus, Ohio, honeymooned in Hawaii. Meghan is in medical/surgical sales at Applied Medical in Columbus. Michael, who earned a master's degree in sports management from Cleveland State University, is an athletic director at Bishop Ready High School.
Kelly Sweeney '10G and Bryan Gacka '10G were married Sept. 12, 2015, at St. Luke Church in Lakewood, Ohio. A reception was held afterward at the downtown Cleveland Marriott, where Kelly and Bryan were joined by 26 Carroll alumni, including bridesmaids Rainey (Donahue) Redd and Jessica (Sindelar) Pearl '10G, as well as groomsmen Mike Winkler and Tony Peters.
Jessica Morris and Jordan Kern were married in a beach ceremony on Feb. 20 in Jamaica. Theresa Kaschak; Kay Inhentuge '10; Danny Tohme '02, '04G; Joe Joyce '10; and Jimmy Treon were among the family and friends who traveled to Jamaica to celebrate the new Mr. and Mrs. Kern.
Jason Lau '09G and Liza Graham were married this April in Richmond, Virginia. Jason and Liza teach at high schools in the greater Richmond area.
It's a pleasure to share the exciting news of all these beautiful couples. Please continue to share your good news and milestones with our classmates. I look forward to hearing from you.
Lisa
Lisa (Ugran) Pacconi
lugran09@jcu.edu
Winter 2016
Congratulations are in order for several classmates who wed or plan to. Matt '07 and Caitlin (Huey-Burns) Rodak were married in October 2014 at the Chesapeake Bay Beach Club near Annapolis, Maryland. More than 25 Blue Streaks attended. The couple resides in New York City.
In early September 2015, Sam Brenner was named director of marketing at BoxCast, a live video- streaming company that's one of Cleveland's coolest tech companies, according to The Plain Dealer. The new job at BoxCast isn't even the best part of Sam's year – he became engaged to Alex D'Auria '12 in March 2015. They plan to marry in their hometown of Buffalo, New York, in September 2016.
Jason and Kerry (Keyes) Jonke '14G were married on Oct. 16 at SNPJ (Slovene National Benefit Society) Farm in Kirtland, Ohio. Theresa Kaschak and Laura Harkey '08 were bridesmaids. The Jonkes live in Mentor, Ohio. Kerry started a new position as a communication specialist for Laketran.
Steve Danford married Emily Myers on Dec. 19 at St. John's Cathedral in Cleveland. Their wedding announcement was among those selected for publication in the New York Times. Steve is an investment banking associate for the securities unit of KeyBank of Cleveland. Here's hoping each of these couples enjoys a lifetime of happiness together.
If you have any news or pictures you'd like to share, please don't hesitate to send them to me for inclusion in the next column.
Lisa
Lisa (Ugran) Pacconi
lugran09@jcu.edu
Fall 2015
Do you remember the first person you met at freshman orientation? For me, that person was Rebecca Taylor. We sat next to each other during a Spanish placement test and struck up a conversation. Ten years later, I can't tell you much about Spanish, but I can share many extraordinary things about Rebecca. After graduating from JCU, she was offered a fellowship with the Woodrow Wilson National Fellowship Foundation to receive her master's in science education from Purdue University as part of its STEM Goes Rural initiative, which required her to teach in a high-need rural school in Indiana for three years. This led to a job in Lanesville, Ind., teaching biology, biology II, anatomy, physics, and integrated chemistry physics. Rebecca loved teaching in Lanesville so much she stayed five years, during which the Destination Imagination team she coached won global finals against 70 other teams and she earned Harrison County Educator of the Year award. This past summer, Rebecca moved back to Ohio and got a job at Marysville Early College High School. Her new school embraces hands-on learning and emphasizes the design cycle and Habits of Mind, which Rebecca says is a lot of fun.
Megan Gaudino works in the North Allegheny (Pa.) High School library by day and writes books by night. Her debut novel, "Always Kiss Me Goodnight," gained more than two million reads on Wattpad. Check it out!
Elie Merheb '09G, president of Kent Adhesive Products Co. (Kapco), is responsible for all facets of the company, including sales, finance, technical, and operations.
Rob Ramser, who was ordained into the priesthood on May 16, is a priest at St. Ambrose Parish in Brunswick, Ohio.
Allison Sullivan married Joe Lorenzo '03 on May 24 in Buffalo, N.Y. Fellow alums Brooks McDowell '03, Rick Crawford '03, Alexis Sullivan Becker '02, Melissa (Calabrese) Douglas, Jon Douglas, Anne (Nicholson) Holko, Bradley Holko '06, Kelsey (Hutchings) Ecker, Becky (Wooden) Hamid '08, Shannon Craig, Brett Becker '02, and Amilia (Tamburro) Pickerill '94, '99G were present to celebrate the happy couple.
Madonna Toomey married Maj. Damon Doykos, USMC, on July 11 in Sacramento, Calif. The newlyweds reside in San Diego. Sarah Miles, Kate Kearney '10, and Katie (Keating) Cook traveled from Ohio to join in the festivities, while Niki Stange '10 traveled from San Diego to celebrate.
Amanda and Dan Pirchner were married July 25 in South Jersey. The ceremony took place at Saint James Church and a reception at Running Deer Golf Club followed.
Erin Currie and her husband, Greg Holzaepfel, welcomed a son, Ryan David, on July 15. Welcome to our JCU family!
Lisa
Lisa (Ugran) Pacconi
lugran09@jcu.edu
Summer 2015
I hope you're making the most of these wonderful summer months. A few more classmates are beginning to embark on exciting new chapters in their lives.
Ahleah Balawender graduated with her master's in medical sciences in July 2014. In March, she began working full time as a physician assistant in psychiatry at Cermak Health Services of Cook County within the Cook County Department of Corrections in Chicago.
Harrison McCall is the athletic director for Wickliffe (Ohio) City Schools. Harrison, who lives in Wickliffe, previously served as the assistant athletic director.
Congratulations to both classmates on their impressive career developments. Please continue to send in your announcements and spread the good news.
Lisa
Lisa (Ugran) Pacconi
lugran09@jcu.edu
Spring 2015
I'm happy to share some of the exciting career moves several classmates have made recently. It's always great to see people put their talents to good use for an organization they're passionate about.
Alison (Almstead) St. Clair and her husband, Sean, became the proud owners and operators of their own restaurant, John Palmer's Bistro 44, in Concord Township, Ohio. They're working hard to maintain the level of service patrons have come to expect while gradually incorporating new menu items and wine pairings. If you're ever in the area, stop in to support a classmate and enjoy fine dining in a relaxing environment.
Theresa Kaschak kicked off 2015 in a big way. In January, she left Cleveland and moved to Scottsdale, Ariz., to work as a financial analyst for APS, a utility company in Phoenix. Theresa says she loves the sunshine but misses all her friends from JCU. We miss you, too, Theresa.
Emily Wagner graduated last year from JCU with a master's in nonprofit administration. Soon after, she relocated to the Chicago area where she's the assistant dean of admission for Lake Forest Academy. Emily also stays busy coaching Lake Forest's cross country and track teams.
Kate McCall started a new position, communication associate, at a place she holds close to her heart – Holy Name High School in Parma Heights, Ohio. As a graduate of Holy Name, Kate says she's excited to be back at her alma mater helping to manage their magazine, social media sites, website, and email communication among other things.
Scott Beigie was selected as the next head coach for the Walsh Jesuit High School football program. Scott is a 2005 graduate of Walsh Jesuit in Cuyahoga Falls, Ohio. Named the school's assistant athletic director in 2014, Scott is also a guidance counselor there. He recently completed his eighth coaching season, seven as an assistant coach for Walsh Jesuit and one coaching at Cleveland Heights High School. Scott and his wife, Abbey (Baum) '08, live in Akron, Ohio.
On Nov. 22, 2014, Greg Nachman '14G married Jackie Kravitz at The Bertram Inn and Conference Center in Aurora, Ohio. Following a Caribbean cruise honeymoon, the newlyweds live in University Heights, Ohio. Greg is a math teacher at Cleveland Heights High School, and Jackie is a sales manager at the Western Reserve Historical Society.
That's all the good news for now. Reach out to me through Facebook or email so you can be featured in our next alumni column.
Lisa
Lisa (Ugran) Pacconi
lugran09@jcu.edu
Winter 2015
Wedding bells are ringing for several of our classmates.
John Smith is set to marry Sarah Kostiha in July 2015. John, a senior tax consultant with Deloitte, and his soon-to-be wife plan to live in downtown Cleveland.
Peter Niro is engaged to Angela Apostolou, and they're planning to wed in August 2015. Peter, a product analyst at Progressive Insurance in Highland Heights, Ohio, has been with the company since 2009.
Kerry Keyes is engaged Jason Jonke. Kerry lives in Mentor, Ohio, and works for Big Brothers Big Sisters of Greater Cleveland. She recently graduated with a master's in nonprofit administration from JCU.
Kaiti Sekerak and Matt Marks married Aug. 9, 2014, at Church of the Gesu in University Heights, Ohio. A reception at Windows on the River in Cleveland followed. Many JCU alumni attended, including Andrea Kovacs, Colleen Saunier, and Jennifer (Friedman) Carro, as well as Alexis ( Degirolamo)Shepherd, who all served as bridesmaids. Kaiti and Matt live in Columbus.
Best wishes for continued blessings to each of these couples!
If you or a friend have news or pictures to share, send an email to be included in the next column.
Lisa
Lisa (Ugran) Pacconi
lugran09@jcu.edu
Fall 2014
REUNION YEAR
Before jumping into a recap of our five-year class reunion, I want to congratulate a few classmates for their upcoming nuptials. Marylou Bontempo and Steve Hegler '07 will wed this November. Marylou is a senior financial analyst at OM Group in Cleveland, and Steve acts as manager of creative services at Dealer Tire. Bridget May and Mark Warren '07 became engaged this past May and are thrilled to be planning their wedding, which will be held next September in Washington, D.C. Bridget and Mark live in Chicago. Bridget works as an event planner for the alumni relations office at Loyola University Chicago, and Mark is an associate sales rep for Stryker in its orthopedics division. Here's hoping both couples experience many years of happiness.
Reunion weekend was June 13 – 15, and what a beautiful weekend it was! We weren't able to be there Friday night, but from what I heard, it was a nice time. Shortly after my husband, Andy, and I arrived on campus Saturday afternoon, we headed over for a tour of our former residence, the newly renovated Murphy Hall. The infamous Murphy smell is gone, but the style remains true to its original structure. Suites are bright and spacious, and the lobby and restrooms are upgraded with more modern fixtures. Former Murphy residents Theresa Kaschak, Katie Nowak, Samantha (Cocco) Guarnieri, and Ben Adams were among those in our tour group. Ben was telling me he and his wife, Tara (Ford), live in Chicago, where Ben is a minister. Afterward, many of us hung out on the quad and enjoyed the Great Lakes Brewery tasting event. I was happy to spend time catching up with Brandon Marchand, Trish Carey, Amanda Scalise, Michelle Zrebiec, and Ryan and Emily (Jackson) Feaver. Anna (McGuire) '10 and John Blakeslee, who happened to be celebrating their first wedding anniversary that weekend, also enjoyed the beautiful day with their baby son, Jack. Andy and I also participated in a trivia competition with Theresa, Katie, Chadi Boumitri, and Alison Martanovic. Our group might not have won, but we did pretty well and had a lot of fun together. A reunion Mass at Gesu united alumni of all ages in celebration of community and faith. Rob Ramser served as master of ceremonies. Rob is in his final year at St. Mary Seminary in Wickliffe, Ohio. Matt Wooters also represented our class by participating at Mass. Matt professed First Vows as a Jesuit brother on Aug. 9. Carroll friends Sam Brenner, Patrick McDermott, Katy Kleinhenz, Matt Harmon, and Katie (Reece) Pittman were all present to celebrate Matt's vows. Dinner, drinks, and dancing were all under the big tent on the quad and lasted late into the night. It's fair to say our class dominated the dance floor. Hopefully, that's something we can continue at future reunions. It was fantastic having so many friends together again on a campus who produced so many memories.
I wish I had more space to talk about all of the great people I saw and spoke to at reunion. Nevertheless, don't let that stop you from sending me your news and stories. It's always a pleasure catching up with each and every one of you.
Lisa
Lisa (Ugran) Pacconi
lugran09@jcu.edu
Summer 2014
While many of us enjoyed watching the World Cup from home this summer, Theresa Kaschak experienced it firsthand. During her two weeks in Brazil, Theresa attended four matches, including USA vs. Germany. She was able to support the U.S. team as it advanced to the round of 16.
Ashley Ortiz '11G accepted the position of regional social/digital media coordinator with the Horseshoe Casino in Cleveland. She creates content and manages all the casino's social media outlets and web site. She's excited about the position because it gives her the opportunity to use both of the degrees she earned at JCU. Ashley lives with her boyfriend in Brunswick, Ohio.
Todd Coonce is engaged to Kirsten Tayala. They're planning to wed in July 2015. Todd earned his doctorate from Youngstown State University in 2013 and works as a physical therapist at Saber Healthcare in Cleveland.
Mollie Patrick, who received her Ph.D. in experimental psychology at The University of Vermont, has accepted a postdoctoral fellowship in Tobacco Regulatory Science at Brown University. Mollie plans to marry Ryan Miller in September in Stowe, Vt.
Carroll family and friends celebrated the wedding of Jennifer Gittinger Mooney to Andrew. Family and friends included: Taylor Vaina '11, Michelle Gittinger '11, Niki (Foos) Gittinger '08, Sara Culhane '10, Marylou Bontempo, Kaleigh McMahon '12, Kristen Gittinger '15, Lindsey (DelBene) Meyer, Chrissy Gittinger, Alicia Giannell '11, Brandon DiGuilio '06, Steve Gittinger '08, Richard Gittinger '80, Doug Mayer, and Dan Meyer '08. Jennifer met Andrew while attending graduate school at Ohio University. They live in Athens, Ohio, but plan to return to Cleveland soon.
Chelsea (Getts) '10 and Brian Bosiljevac and were married May 24. The wedding ceremony was held at St. Bonaventure Church in Pittsburgh and was followed by a reception in the Music Hall Foyer at the Pittsburgh Museum of Natural History. Rachel Gatalica '11 and Shaylyn Mahoney '10, '11G were among those who served as bridesmaids, and Russ Toth, Tim Cohn, and Jason Javers served as groomsmen.
As always, it has been wonderful catching up with classmates. Congratulations to all, and thanks for submitting such great news and pictures.
Lisa
Lisa (Ugran) Pacconi
lugran09@jcu.edu
Spring 2014
REUNION YEAR
Undoubtedly, one of the greatest things about being part of John Carroll is the camaraderie. You may have left University Heights, but no matter where you go in the world, you can always count on your former classmates to cheer you on. Fortunately, our classmates make it easy to support them. The ongoing personal and professional achievements of our extraordinary alumni are nothing short of amazing. In February, Ernie Rodriguez left for Madagascar to embark on two years of service with the U.S. Peace Corps. He's serving as an agribusiness advisor.
Leo Govoni is vying for the Republican nomination in the race for a seat in Florida's State House District 69. Since graduating from Carroll, Leo obtained his master's in finance from the University of Tampa. He's the president of Boston Capital Leasing in Clearwater.
Christine (Minges) Brookbank will be pursuing her doctorate in education at Johns Hopkins University in Baltimore this fall. Her degree will be completed via online curriculum and campus residencies as she remains a high school English teacher in Cincinnati.
Brock '10 and Amanda (Jakubec) Malinowski opened the Malinowski Agency in affiliation with Nationwide Insurance. The agency, located in Brecksville, Ohio, specializes in home, auto, life, and business insurance, as well as financial services.
Caitlin Huey-Burns and Matt Rodak '07 became engaged in December and are thrilled to be planning their wedding, which will be in Maryland in October. Caitlin works as a political reporter for RealClearPolitics in Washington.
Several alums traveled to Orlando, Fla., to take part in the Walt Disney World Marathon Weekend January 9-12. Ann Olmstead Weber '13G ran the 10K, Kerry Keyes completed the half marathon, Libbie Schaffner '11 ran the half marathon and the 10K, and Casey Epps completed the full marathon. Kristin Cola, Kristina Drnjevich, and Brittany Musa '12 completed the Dopey Challenge, which consists of running a 5K, 10K, half marathon, and marathon – a combined 48.6 miles during four days. Way to go, ladies! Kerry ran on behalf of the Scott Carter Foundation, while Casey ran in memory of the victims of the Sandy Hook Elementary School tragedy. Kerry, who was able to raise more than $1,600 to put toward childhood cancer research, emphasized that the weekend was an amazing experience. She's eager to run again next year. Through the support of family and friends, Casey raised more than $1,000 for the Newtown Memorial Fund. While some might find the magic of Disney to be cliché, Casey felt the magic of the 26 Sandy Hook angels propelling her through her 26.2-mile run and across the finish line of her first marathon.
Anne McCarthy is the author of "Big Macs in Paris," a humorous memoir detailing her time working at a tourism company in Paris. The memoir can be purchased on Amazon.com and is available for Kindle. Anne also is a contributing writer for the Second City Network and Bonjour Paris. Living in London, she's pursuing a master's in creative writing at the University of Westminster.
Continue the Carroll camaraderie by reaching out and offering your support and congratulations to our classmates. Any one of them would be happy to hear from you. While you're at it, send me an email, and let me know what wonderful things you've been up to. Until then, I look forward to seeing you at reunion in June.
Lisa
Lisa (Ugran) Pacconi
lugran09@jcu.edu
Winter 2014
REUNION YEAR
Have you been looking ahead on your calendar? If so, I hope you have the word reunion boldly written in blue and gold letters across the weekend of June 13-15. There will be plenty of fun events to choose from, so hopefully you're able to make it to at least one of them.
More than 30 Carroll alumni came together Aug. 10, 2013, to celebrate Sara Martin and Chris Friedman at their wedding in Cleveland. Sara's bridesmaids included Mary Kate Tarr, Sam Caliendo, Jenny (Friedman) Carro, and Mandi Kulwicki. Chris'  groomsmen included Jon Friedman '11 and Ben Carro. Sara, who graduated with a degree in marketing and business logistics, is the director of career services at ITT Technical Institute in Fairlawn, Ohio. Chris, who graduated with a degree in finance, works at AmTrust Financial in downtown Cleveland.
Matt '08 and Samantha (Cocco) Guarnieri were married Sept. 20, 2013 at Debonne Vineyards in Madison, Ohio. Their wedding party included Anne McCarthy and Natalie Terry '10. Samantha, who's enjoying her work at JCU's Center for Service and Social Action, is enrolled in the nonprofit administration graduate program, from which she plans to graduate in 2015.
Jack Soos was featured in the Hartford Business Journal as one of their 40 Under Forty winners of 2013. In addition to his position as a global supply chain analyst for Pratt & Whitney in East Hartford, Conn., Jack has been involved in several business and community initiatives, including his company's Supplier Diversity Council, Sustainability Council, and the American Cancer Society Relay for Life. Jack is recognized for his tremendous contributions to the United Way of Central and Northeastern Connecticut. A founding member of the Emerging Leaders Society, a United Way affinity group, he also sits on the United Way board of directors.
Congratulations and best wishes to everyone on their exciting life events and accomplishments. If you have any news you're proud of, or a favorite college memory you want to share, send it my way.
Lisa
Lisa (Ugran) Pacconi
lugran09@jcu.edu
Fall 2013
While enjoying time together on the beach this past summer, Katie Craig became engaged to her longtime boyfriend, Ian Herner. They're busy planning their wedding for July 4, 2014.
Although they initially met at Carroll, it wasn't until they were attending graduate school at The Ohio State University that Christina Martin and Erik Fink '08 managed to reconnect and fall in love. They became engaged this past February and are planning a wedding at Gesu Church in University Heights in July. Erik graduated from the College of Dentistry at OSU in 2012 while Christina graduated from The Ohio State College of Medicine this past year and is in her first year of residency.
Emily Jackson and Ryan Feaver married June 8 at Immaculate Conception Parish in Columbus, Ohio. Their reception was at the Conference Center at NorthPointe. Bridesmaids included Michelle Zrebiec, Rachael Price, and Amanda Scalise. Groomsmen included Matt Bowers, Adam Miclot, and Ernie Rodriguez. Following the wedding, Emily and Ryan spent a few days relaxing in Hocking Hills State Park in Ohio before venturing on a Hawaiian honeymoon in July.
Katie Stinson married Jared Shively July 13 at St. Robert Church in Cortland, Ohio. A reception at Squaw Creek Country Club in Vienna followed. Many JCU alums attended to celebrate the newlyweds before they left for their honeymoon in Punta Cana. Now living with her husband in Streetsboro, Katie works in Cleveland and remains involved on JCU's campus as an advisor for Kappa Kappa Gamma.
Samantha Cocco started a new position – the technology and marketing coordinator for the Center for Service and Social Action at John Carroll. Now that she's back at Carroll, Samantha is taking the opportunity to pursue a master's in nonprofit administration.
In a unanimous decision at a June school board meeting, Amanda Sullen '09G was appointed principal of Parkside Elementary School in Solon, Ohio. Previously, she served for three years as assistant principal at Cleveland's Harvey Rice Elementary School. Amanda's new position is far from the only excitement in her life. She and her husband, Tim, purchased a home in Solon and welcomed a second daughter into their family.
Thank you for sharing your updates and lovely photos. Keep them coming.
Lisa
Lisa (Ugran) Pacconi
lugran09@jcu.edu
Summer 2013
Ladies and gentlemen, let the countdown to reunion weekend begin. Believe it or not, we're less than one year away. To receive updates, check out the alumni website or add yourself to the Facebook group, John Carroll Class of 2009 Alumni News.
Congratulations and best wishes to Steve and Sarah (Levicky) Peshek, who celebrated their first wedding anniversary June 23. They were married last year in Beachwood, Ohio, currently reside in Solon, Ohio.
Dena Provenzale married E.J. O'Neill on April 6 at St. Charles Church in Boardman, Ohio.
Anne Nicholson and Bradley Holko '06 were married April 13 at the Church of the Gesu in University Heights. Bradley is the manager of Brio in Lyndhurst while Anne serves as assistant to the president and human resources director at St. Martin de Porres High School in Cleveland.
Reid Peirce '10, who's teaching AP and honors physics at Fr. Gabriel Richard High School in Ann Arbor, Mich., is working to complete his master's in education.
If you love playing the popular smartphone game Words With Friends, then count on the knowledge of Bryan Mullins '10G to help improve your winning streak. Bryan has co-written an eBook available exclusively for Kindle. "Words With Friends: Creating the Optimum Word" is a compilation of detailed lessons designed to help everyone from beginners to seasoned professionals significantly boost their scores. If you're interested to find out more, contact Bryan or see the complete description on Amazon.com.
That's all the news for now. I look forward to hearing from more of you and including your happy news in the next issue.
Lisa
Lisa (Ugran) Pacconi
lugran09@jcu.edu
Spring 2013
Congratulations to many classmates on the news of their promotions, engagements, and marriages. The Bonadio Group – a provider of accounting, consulting, and financial services in upstate New York – is growing with multiple promotions in its Rochester office, including the promotion of our own Sam Pitts.
Nicole Koharik '09G, who joined the Akron-Canton Foodbank's board of directors, is the global sustainability-marketing director for GOJO in Akron.
Mindy Wiswell and her fiancé, Alexander Mechling, who live in Hudson, Ohio, are anticipating their wedding Sept. 21. Mindy is a marketing coordinator at Flight Options in Cleveland.
Maggie Lanigan and Jonathan Miceli '03 are engaged and planning to marry in Cleveland in December.
Kate Glass and Brian Tullio became engaged this past Christmas. They're planning a wedding in June 2014 set on John Carroll's campus. Brian, who graduated from Capital University Law School last year, will graduate with a master's of law in taxation from Capital in May. Kate received master's degrees in health informatics and epidemiology. She works on cancer research at The Ohio State Wexner Medical Center.
Julie Bastianini and Nick Habursky are engaged. Julie, who graduated in 2011 with a master's degree in public administration from the University of Pittsburgh, is the assistant borough manager for Edgewood (Pa.) Borough. Nick, a 2012 graduate of Cleveland-Marshall College of Law, is a practicing attorney in Pittsburgh.
Doug Walton and Libby Bost '08 married June 30, 2012, in Mars, Pa. More than 20 JCU alumni were present to celebrate their special day. Doug's groomsmen included Chester Banaszak and Rob Ramser, and Libby's sister Lauren Bost '05 was the maid of honor. Libby, who earned a master's degree in public health from Emory University, works for the National Institutes of Health as a health evaluation specialist. Doug, who's in his second year of a doctorate program in economics, works as a graduate research assistant at the University of Pittsburgh.
It's wonderful to hear everyone is doing well. I look forward to hearing from many more of you for the next column.
Lisa
Lisa (Ugran) Pacconi
lugran09@jcu.edu
Winter 2013
I'm glad to share news about a few happy couples beginning their lives together. Katie Stinson is engaged to wed Jared Shively. They plan to marry in July.
Samantha Cocco and Matt Guarnieri '08 are engaged and planning a wedding in Geneva on the Lake, Ohio, in September. Samantha began her career in development at University Settlement, a neighborhood center in Cleveland's Slavic Village.
Paul O'Donnell, a sales rep with Superior Beverage Group, married Jessica Forsythe during a Mass at St. Eugene's Catholic Church in Cuyahoga Falls, Ohio. The reception followed at Todaro's Party Center in Akron. The newlyweds, who honeymooned in St. Lucia, live in their new home in Mentor.
Don't hesitate to send an email or Facebook message with your updates. Your classmates look forward to hearing from you.
Lisa
Lisa (Ugran) Pacconi
lugran09@jcu.edu
Fall 2012
There's plenty of good news to report because many of our classmates are finding happiness in love and family while achieving success in higher education and their careers. The past year and a half has provided Chester and Maria (Roberts) Banaszak with many blessings. Since marrying in 2011, the couple moved to Atlanta where Chester is employed as an operations engineer for CNN and Maria teaches Latin to middle- and high-school students at a Catholic school. On April 25, Chester John Banaszak IV (CJ) was born, weighing 8 pounds, 10 ounces. Maria says he's a happy, healthy baby. Nick '11 and Katie (Saporito) Orlando '11G have been on cloud nine since the birth of their first child, Abigail Patricia, June 11.
Beth Rini is engaged to Tom Clyde, and they're planning a wedding in July 2013. Brandon Keller and Kelsey Schaefer became engaged following a sunrise proposal on the Virginia Beach shoreline. They plan to marry in May 2013. Brandon, who graduated this past spring from Duquesne University School of Law, is working as a criminal defense attorney in Pittsburgh. Kelsey will graduate next spring from The Ohio State University with a Ph.D. in biophysics.
Tara Beziat '09G graduated from Kent State with a Ph.D. in educational psychology. She and her husband, Brady, relocated to Aiken, S.C., where Tara accepted a teaching position at the University of South Carolina Aiken.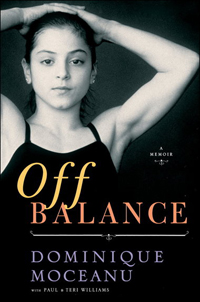 If you were one of the many people glued to your TV watching this past summer's Olympics, consider picking up fellow alum Dominique Moceanu-Canales's new memoir "Off Balance." The book details her life story, including her experience as an Olympic gold medalist on the U.S. Women's Gymnastics Team at the 1996 Atlanta Games.
After graduating with a master's degree in sports management from Cleveland State, Michael Rossetti became the athletic director at Bishop Ready High School in Columbus, Ohio.
Continue to provide updates so we can share in the joyous moments of your lives.
Lisa
Lisa (Ugran) Pacconi
lugran09@jcu.edu
Summer 2012
I hope everyone is having a fantastic summer. This issue's column brings great news from several hard-working classmates.
Congratulations to Ashley Dinunzio, who graduated with a J.D. from Florida State University College of Law. In March, Ashley's moot court team beat 28 competing teams to take first place in the Kaufman Memorial Securities Law Moot Court Competition. During the final round of the competition, held at Fordham University School of Law in Manhattan, Ashley argued in front of the commissioner at the U.S. Securities and Exchange Commission and judges from five circuit U.S. Court of Appeals.
You might remember Andrew Rafferty earned the NBC/JCU Meet the Press Fellowship a few years ago, allowing him to work as a production assistant for the Sunday morning political talk show while honoring the legacy of media icon Tim Russert '72. Since then, Andrew has been working as an embedded reporter for the NBC News Decision 2012 team. He travels from state to state, shadowing Republican presidential hopefuls, filming video reports, and sending summaries for online or television newscast use. Through his assignments, Andrew trailed former Minnesota Gov. Tim Pawlenty, New Jersey Gov. Chris Christie, former Republican presidential candidate Herman Cain, and former Pennsylvania Sen. Rick Santorum. It will be interesting to see where Andrew's career takes him next.
Angela Allman is engaged to Eric Dublikar, a 2008 graduate of Xavier University who's working at Aultman Hospital in Canton, Ohio. Angela is working at BrandMuscle in Beachwood, Ohio. They're looking forward to their November wedding, which will take place in Strongsville.
Danielle Hubbell married Joseph Anthony May 12 at St. Benedict the Abbot Catholic Church in McMurray, Pa. A reception took place at the Pittsburgh Airport Marriott. Danielle is a physician assistant for Butler (Pa.) Pediatrics. Her husband is a sales representative for Fastenal in Youngstown, Ohio.
Disney World is the place where dreams come true. That's where Ashley Ortiz was visiting when she received a call offering her a position at Barrette Outdoor Living in Middleburg Heights, Ohio. Working as an assistant channel marketer in the web division, she's responsible for the websites, social media, and press releases of six clients. Ashley, who's been employed there since March, says she's happy to finally be in a position where she can use her B.A. and M.A., both of which she earned at Carroll. Ashley still is living in Lakewood. She's on the chapter advisory board of Kappa Delta, so she still makes frequent visits to campus.
That's all the news for now.
Lisa
Lisa (Ugran) Pacconi
lugran09@jcu.edu
Spring 2012
Congratulations to Dan Mizener and Julie Marlowe '10! They married in Cancun, Mexico, Aug. 11, 2011. Shane Gullette '10, Ben and Tara (Ford) Adams, Matthew Harmon, Elie Naoum, Jenny Eden, Laura Boselovic '10, Lena Chapin '10, Angela Vistocco '10, and Jane and Todd '94G Evans made the trip to celebrate with the happy couple.
Zach Briers and Brett Whisler married Aug. 20, 2011, at St. Ambrose in Brunswick, Ohio. They honeymooned on safari in South Africa. Zach is finishing his third year at New York University School of Law. After he graduates this spring, the two will relocate to Los Angeles, where Zach has accepted a position with the law firm Munger, Tolles & Olson.
Rachel Hoffman married Christopher Joyce Nov. 5, 2011, at St. Rocco in Cleveland. A reception at the Club at Hillbrook in Hunting Valley followed. The newlyweds live in Brecksville, Ohio. Rachel, who received her master's in education from Carroll, is a seventh-grade science teacher at Bay Middle School in Bay Village.
In December, Ernie Rodriguez invited friends to gather with him in Willoughby, Ohio, one last time before his move across the country to Tacoma, Wash. Andy and I attended and enjoyed catching up and reminiscing with Emily Jackson, Ryan Feaver, Ashley Frakes, Matt Bowers, Adam Miclot, and Aaron Syguda. We wish Ernie the best.
Tim Klug, who holds a master's in education from Carroll, is advocating healthy eating and exercise. Tim is the founder and president of Essentially Organic Vending, which offers students a better alternative when snacking. His vending machines are filled with organic milk, granola, nuts, protein bars, and other organic snacks and drinks. He already has partnered with several Cleveland-area high schools and hopes to expand to hospitals, businesses, and airports.
How about the rest of you? Is anyone graduating this spring or planning a big trip for the summer? Keep me posted.
Lisa
Lisa (Ugran) Pacconi
lugran09@jcu.edu
Winter 2011
On July 23, I was lucky enough to be a guest at the wedding uniting Katie Charek  and Jasen Gilge. The ceremony took place in the picturesque gardens outside of Akron's Stan Hywet Hall. Following the ceremony, a reception was held at The  Tangier, also in Akron. Katie and Jasen honeymooned in Jamaica and are living in Indiana. In the midst of celebrating the new Mr. and Mrs. Gilge, I had the pleasure of catching up with Sarah Levicky, who became engaged to Steve Peshak last April after 6.5 years of dating. They're planning to wed this coming summer.
Katie Saporito had a lot of excitement in her life this past summer. She graduated from John Carrollin May with a master's of education in psychology. Then, on June 24, she married Nick Orlando at St. Francis of Assisi Church in Gates Mills, Ohio. About 25 Carroll alumni and students attended to share in their big day.
In July, Christine Minges became engaged to Alex Brookbank, who's an Ohio State  University alum. Their wedding is set for fall 2012.
Gretchen Rausch and Steven Swartz, a graduate of The Ohio State University, married July 30 during a wonderful ceremony at New Hope Church in Powell, Ohio. The reception was held at Scioto Reserve Country Club. Several Carroll alumni attended, including bridesmaid Elyse Sikorski, greeter Kelsey Hutchings, Haley Bishop, Keiko Sano '08, Katie Szabo '08, Lauren Slovenec, Shawnna Lemerise, Trang (Le) Nguyen '10, Sinh Nguyen '08, Casey Epps, and Amy Marchlen '10. The couple honeymooned on St. Lucia. Gretchen is in her final year of law school at Ohio Northern University. The couple looks forward to moving back to Columbus so Gretchen can pursue her career in law and Steve can pursue his career in nursing.
Alyson Werner and Phil Zuzolo became engaged in December 2010 and plan to marry January 14, 2012. Phil is in medical school at The University of Toledo, and Alyson, who finished two years of service with Operation Teach in Baltimore, is  teaching at a Catholic school in Toledo. Congratulations and best wishes to all the happy couples!
Because of the revised Facebook settings, the time has come to say goodbye to our old alumni group and start fresh with a new one. Please add yourself to "John  Carroll Class of 2009 Alumni News." Not only is it the best way to receive reminders for column submission deadlines, but it's arguably the only way. I hope to hear from you.
Lisa
Lisa (Ugran) Pacconi
lugran09@jcu.edu
Fall 2011
Lizzy Eganhouse and Mark Carpenter Jr. '08 married June 11 in a beautiful ceremony at Our Lady of Angels Church in Cleveland. The reception was held at the Holiday Inn in Strongsville. Several Carroll alums were in the wedding party, including maid of honor, Kate McCall, bridesmaid Eileen Mole '11G, and groomsman Andy Gibel '08. Jennifer Murphy, Melissa Walton '08, James Sidney '08, Catherine Belzile '08, and Mark Carpenter '82 also attended the wedding.
Dominique Moceanu-Canalas,who received recognition for her achievements in gymnastics, is one of eight individuals who were inducted into the Greater Cleveland Sports Hall of Fame Sept. 22. Dominique, who coaches gymnastics in Broadview Heights, won a gold medal at the 1996 Summer Olympics as a member of the U.S. women's gymnastics team.
Michael Gross opened his own sales and marketing company in Westlake, Ohio. The company, Accsell, specializes in client acquisition and retention. Michael hopes to expand to three locations within the next 12 months.
That's all there is to share for now. I enjoy receiving your emails and Facebook messages, so continue sending updates about you and your friends.
Lisa
Lisa (Ugran) Pacconi
lugran09@jcu.edu
Summer 2011
Congratulations to some of our classmates regarding professional accomplishments. Plan Adviser magazine recognized the Top 100 Advisers and Adviser Teams for 2010, and Max Schindler was among those acknowledged. Max is one of six financial advisers who make up the Ellsworth Group at Morgan Stanley Smith Barney in Hudson, Ohio. Plan Adviser highlighted its standouts in terms of dollar value, number of plans, or percentage of practice focused on specialized markets.
In her first year working toward a master's in social work at the University of Georgia, Joanna Mitchell was awarded the inaugural Pauline M. Berger assistantship in the School of Social Work. The assistantship will allow her to conduct research and outreach while pursuing a certificate in marriage and family therapy. Joanna was selected based on her interest in working in child welfare, academic merit, and demonstrated leadership skills.
Our class has quite a few engagement announcements, and, coincidentally, each one of these happy couples can trace the start of their romance back to their days at Carroll. Katie Charek and Jasen Gilge became engaged in December and are planning a wedding July 23. Jenny Friedman became engaged to Ben Carro Feb. 21. Michael Nijoka informed me Tara Ford and Ben Adams were among those recently engaged. They're planning to exchange vows in October.
Michael Glem was sworn in as a police officer for the city of Parma in January.
Ashley Ortiz, who's been working as a publicist for a Beachwood firm, recently finished her last semester as a John Carroll graduate student, receiving a degree in communications management.
Rachel Cope '10 and Lou Caracci were married Nov. 27 at St. Joseph Catholic Church in Fremont, Ohio. A reception at Fremont Country Club followed. They'll be honeymooning in Germany this summer. Rachel is working as an assistant in the School of Pharmacy at Lecom in Erie, Pa., and Lou is an agent with Great Lakes Insurance, also in Erie.
Thanks for all the submissions. Keep sending me your good news.
Lisa
Lisa (Ugran) Pacconi
lugran09@jcu.edu
Spring 2011
Hello, everyone. This time around, I have great news to share. Andy Pacconi and I married Dec. 18 at St. Christine Church in Youngstown, Ohio. The heavy snowfall in the beginning of the month didn't affect us because our wedding fell on a beautiful winter day. Within our family and circle of friends present, there was no shortage of John Carroll representation. We were honored to have Katie Keresman and Katie Nowak as bridesmaids and Bill Patton, Harrison McCall, and Josh Merkle '08 as groomsmen. Andy and I live in North Canton, Ohio. Andy is a special education teacher at Barr Elementary in Canton, and I'm finishing my second year at The University of Akron School of Law.
Brittany Fako and Stephen Epple were married Aug. 21, 2010. Stephen is a 2008 graduate of Mount Union. The couple is enjoying the start of their life together as they make their home in Cleveland Heights.
Kendall Horwatt is engaged to Vic Vaitkus and planning to marry May 7.
Andy Flynn wrote to me about a great alumni networking event that occurred in Chicago October 7. Andy and Matt Harmon represented our class as they joined Fr. Niehoff and about a hundred other alumni for a cocktail reception at the University Club of Chicago. The event was hosted by the William '83 and Susan '84 Donnelly, Michael Schmidt '81, and Thomas Tully '59 families. Andy says Chicago has an active alumni network, which is great news for all other alums in the area.
It was nice to hear from my freshman-year roommate, Caitlin Crissey, who has become quite the traveler since our days in Murphy 451. Following graduation, Caitlin moved from her hometown of Chicago to Buffalo, N.Y., where she spent a year as a Catholic Charities Service Corps volunteer. Her position involved acting as a case manager for refugees that had come to the U.S. Currently, Caitlin is in south China teaching English to students at Wuyi University.
Samantha Cocco still is living in the Federated States of Micronesia, where she's a teacher through Jesuit Volunteers International. She'll be coming home to the U.S. in June.
Christina Stickan was named Miss Italia of Ohio 2010-2011. Congratulations to her for winning that title.
It's been nice to hear from so many of you lately. I can't wait to hear what's going on with the rest of you.
Lisa
Lisa Ugran
lugran09@jcu.edu
Winter 2010
It's a great time of year to have so much happy news to report. Dan Mizener and Julie Marlowe '10 were engaged Aug. 27. They're anticipating their August 2011 wedding. Chester Banaszak and Maria Roberts also are engaged. Their July wedding will take place in Columbus, Ohio. Chester is the assistant I.T. manager at Greenbriar Treatment Center in Washington, Pa. Maria is finishing her master's of classical languages at the University of Georgia. She'll graduate at the end of this academic year.
Erin Currie married Greg Holzaepfel Aug. 21 in Lakeside, Ohio. Greg is a 2005 graduate of Ohio University. Their reception took place at Sawmill Creek Resort in Sandusky. Many of Erin's Kappa Kappa Gamma sisters attended, as well as an abundance of other friends and family. Following the wedding, Erin and Greg traveled to Disney World and St. Lucia for their honeymoon. They live in Avon Lake, Ohio.
Amanda Jakubec and Brock Malinowski '10 were married Sept. 4 at St. Michael's Russian Orthodox Church in Broadview Heights, Ohio. A reception followed at St. Michael's Woodside. Amanda and Brock honeymooned in Puerto Vallarta, Mexico. Aside from continuing their respective positions at Bank of America, the newlyweds are settling into the home they purchased recently in Eastlake.
Those are all the updates I have for now. If you haven't already, be sure to join the Facebook group, John Carroll Class of 2009 Alumni. Hope to hear from you soon.
Lisa
Lisa Ugran
lugran09@jcu.edu
Fall 2010
Last time, I mentioned Natalie (Saville) Freyvogel and Bill Freyvogel '08 were expecting twin girls. I'm happy to follow up by telling you the babies were born May 28. Katherine Ann was born first at 7:54 a.m. weighing 6 lbs. 15 oz., 19.75 inches. Just one minute later, Nancy Jane was born weighing 7 lbs. 2 oz., 20 inches. Natalie says both girls are happy and healthy and quite the blessing.
Katie Saporito started her second year in the school psychology program at John Carroll. She's engaged to Nick Orlando '11. Their wedding is set to take place June 24, 2011.
Chrissy Cholewinski married Andrew Timcheck in October 2009. Kristina Drnjevich and Jenna Woodarek served as bridesmaids. Chrissy and Andrew met in high school and continued dating throughout college. They're enjoying their life as newlyweds in Chicago.
June 19, Alexandra Bregitzer married Ryan DeBiase in a ceremony held at Mentor Centenary United Methodist Church in Mentor, Ohio. Ryan is a graduate of Kent State University. The couple recently bought a house in the Detroit-Shoreway, Cleveland area. In addition to the excitement of a new husband and home, Alexandra has much to look forward to in the fall. She's been awarded a graduate assistantship at Cleveland State, where she will be finishing her master's in English.
With good news comes bad, and unfortunately, I have tragic news to report. Former classmate Dominique Fischer passed away late June. Whether you knew him well or hardly at all, I'm sure most will agree Dom will always be remembered for his big, beautiful smile. Please keep his family and friends in your prayers.
I made a trip back to the Carroll quad a few months ago to support Emily Pacconi '10 and the rest of the class of 2010 as they received their diplomas. Tom Brokaw of "NBC News" was the commencement speaker, and he did an excellent job, urging graduates to go forth and become the next great generation. While there, I ran into several former classmates. Some of them, such as Tom Antloga, Adam DiCristofaro, Max Flessner, Josh Merkle '08, and Bryan Mullins, were among those receiving their degrees. Others, including Rosanna Violi '07, Ryan Dolak, Peter Niro, and Katie Keresman, were attending to support close friends and family. It was nice to be back in familiar surroundings with familiar faces, even if only for a short time.
Lisa
Lisa Ugran
lugran09@jcu.edu
Summer 2010
Recently, I had the pleasure of meeting up with Matt Beckley for lunch on the campus of The University of Akron. He is taking classes at Akron in order to earn his master's in industrial and organizational psychology. He is also acting as a graduate instructor there, teaching several introduction to psychology courses. He will graduate in 2011.
Congratulations go out to Alysse Boyd who graduated, this past May, from Case Western Reserve University. Alysse received her master's degree in bioethics.
Matt Wooters is finishing the first of his two years with the Jesuit Volunteer Corps. He is living in Belize, where he leads retreats in indigenous Maya villages. Matt says that despite the cockroaches, rats, and cold showers, he loves living there and he enjoys his work.
Erin Currie became engaged to Greg Holzaepfel in late August 2009. Greg is a graduate of Ohio University. Erin is currently working as an assurance associate for KPMG LLP in Cleveland. Their wedding will take place later this summer.
Natalie Saville and Bill Freyvogel '08 were married on May 30, 2009. They were happy to share their wedding day with many other JCU alumni from a multitude of classes. Residing in Pittsburgh, the Freyvogels have now been married for a little over a year and they are excited to announce that they are expecting twin daughters in June! Hopefully there will soon be pictures to share of those little ones.
It just goes to show that a lot can happen over the course of a year! So, keep sending your updates.
Lisa
Lisa Ugran
lugran09@jcu.edu
Spring 2010
There seems to be a common theme in this season's column and I do not think it will take you much effort to figure it out for yourselves. On October 10, Melissa Calabrese and Jon Douglas were married in Buffalo, NY. Andrea De Roia, Chelsea Schippel, Adam Milanovich, Kendall Horwatt, Allison Sullivan, Nick Tormento, and George Lyras were all in attendance to help celebrate the big day, with Shannon Craig serving as a bridesmaid. Melissa and Jon honeymooned in St. Lucia and are now living in Rocky River, OH. Jon works as a financial planner at Northwestern Mutual Financial Network while Melissa is enrolled in an accelerated nursing program at Cleveland State. Upon her May 2011 graduation with a BSN, she will be eligible to sit for the NCLEX-RN exam.
Loriann Ace and her high school sweetheart, Stephen Mercer, are engaged. The proposal occurred around New Year's and the two are planning to marry in July 2011. Stephen is a graduate of Grove City College and works as an electrical engineer. Lori is taking graduate courses at John Carroll, concentrating on professional teaching with an initial licensure in early childhood education.
Diana Orabovic is currently living in Chicago. She is engaged to Ryan Mekota '07. They are eagerly preparing for their September wedding, which will take place in the Cleveland area.
On a related note, I have some exciting engagement news of my own. Andy Pacconi and I got engaged in November. The happy moment occurred one evening after he insisted we drive up to good old University Heights and take a walk on the Carroll campus. He then got down on one knee and, to my delight, proposed at a spot overlooking the quad.
If you have any information that you would like to share about where you are and what you are doing, please feel free to send it in!
Lisa
Lisa Ugran
lugran09@jcu.edu
Winter 2009
Hopefully everyone is comfortably settling into a post-grad lifestyle! Annie Schaeffing is currently teaching Head Start in Phoenix as a Teach for America Corps member. Cassie Larson is also living in Phoenix, which she says is absolutely nothing like Ohio. Cassie is doing a year of service through Jesuit Volunteer Corps, where she is teaching at an underprivileged parochial school. Her classroom of 18 second graders keeps her busy, considering that each student has his or her own dynamic personality. Outside of work, Cassie enjoys exploring the area around her and soaking up that triple digit Arizona weather.
Amanda Jakubec got engaged to Brock Malinowski '10 while the two were visiting New York City this past summer. Both are currently employed at Bank of America in Beachwood. They are eagerly anticipating their wedding in September 2010. On May 18, Cori Besson married her longtime boyfriend, Evan Arbuckle, in a small ceremony. Evan extended his commitment with the U.S. Army and Cori will be stationed with him beginning in February. Until then, she is at home in Ashtabula, OH. They hope to throw a larger wedding celebration in the summer of 2010.
Bill Edwards '68 e-mailed me to say that his son, Brian Edwards, is now working for the Cleveland Cavaliers. So, if any John Carroll graduates are looking to purchase season tickets, Brian is your connection!
Keep me posted on all your current happenings. I hope everyone has a very merry holiday season!
Lisa
Lisa Ugran
lugran09@jcu.edu
Summer 2009
When we first walked onto campus four years ago for orientation, we were handed a highlighter and told to sign the T-shirts of people we were not familiar with. Now that the time has come to move on, we have been handed a diploma and asked to put our education to good use in a world we may not be fully familiar with. Clearly, our lives have developed into something much more complicated than a graffiti party. I think I speak for most of you when I say that it is hard to believe time has flown by so quickly. During my time at Carroll, the people I met and befriended were what made my four years so wonderful. That is why I am happy to have the opportunity to write this column. It allows me to stay in touch with all of you and share the triumphs of your lives with the rest of our class. I encourage you to please contact me with information about what you are doing with grad school, work, service, or travel. It would also be great if you could contribute news regarding engagements, weddings, and, maybe someday, children. Even if we personally never got the chance to know one another, I hope that you will not shy away from contributing to the efforts of this column. After all, you just can't rely on your Facebook news feed to tell you everything
Lisa
Lisa Ugran
lugran09@jcu.edu