1996
Spring 2017
Hello, classmates. I hope you're doing well and enjoying summer. My March Madness bracket wasn't completely busted, but it was close. I hope you fared better than I did. You probably have heard that Fr. Robert Niehoff, S.J., president of JCU, is retiring. He has been with John Carroll for 12 years. We thank him for his service and wish him all the best.
As for class notes, I was fortunate to talk with Andy Connors, who's doing well. In addition to being a senior manager at Fairport Asset Management, he shares a building with Gordon Short. It's just like being in the dorms; they run into each other all the time. Andy's boys, who are doing well, play lacrosse. I hear that sport is all the rage these days. His wife, Anne-Marie (Wolanin) '93, is doing well and enjoys her job.
I also heard about David Kelly, who was hired as the chief marketing officer for the Gettel Automotive Family of dealerships. David joined Gettel with 20 years' experience in marketing, having served the past 10 years with 22squared. He's headquartered at the corporate office in Bradenton, Florida. I hear Florida is nice, if you like warm weather.
I hope you're all over the Cubs and now rooting for the Indians to win this year's World Series. Remember, I'd love to hear from you. Wishing you all the best.
Genesis
Genesis Brown
orionbrown222@gmail.com
Winter 2017
Oh, my friends, I hope you had a wonderful holiday season. Now we're into the doldrums of winter, but that's OK because we get to spend quality time with family cramped into close quarters. Hahaha.
Thank you, Katie Varholak, Scott Varholak's wife, for sharing news about their family. This past October, after 11 years of service as a federal public defender, Scott was appointed a U.S. magistrate judge for the District of Colorado. The Varholaks live in Denver with their two kids, ages 9 and 11. Thank you, Scott, for your service to the public. What a great accomplishment for one of our classmates.
Chris Iezzi '97 and Kristen Hagan-Iezzi's '04G son, Dizz, won his game for Hot Stove Class HH baseball, making the team the state champs. Dizz ended the championship game fielding a double play. Way to go, Dizz! Too bad the Indians didn't have the same fortitude, but we tip our caps to the Chicago Cubs and all our Chicago classmates who are elated about the victory. A hard-fought series leaves the Cleveland Indians as the team with the longest drought for winning the World Series, so that means next year is the Indians' year to win it all.
Speaking of winning teams, Tom Arth '03 and the Blue Steaks football team beat Mount Union this past season. So all of you who said you wouldn't donate to the Carroll Fund until that happens, it's time to pay up. OK, so if you're still hesitant, the coaching staff would love to see you donate to the athletic teams.
I wish you all the best, as spring draws near and life blooms anew. Please feel free to share what's happening in your life. I know people are excited to hear what has been happening since we left the hallowed halls of JCU in 1996.
Genesis
Genesis Brown
orionbrown222@gmail.com
Fall 2016
REUNION YEAR
Genesis Brown
orionbrown222@gmail.com
Summer 2016
REUNION YEAR
Awesome, awesome, awesome. That was our reunion. Thank you very much to the staff at John Carroll for putting together another great event. When we were taking our class picture, everyone was laughing, smiling, and enjoying each other's company. This is when I knew we had the best class. We missed other classmates, but hopefully we'll see them at the next reunion.
Please look for alumni events in your area. They're a lot of fun and a good opportunity to see classmates and meet other Carroll alums.
I hope everyone enjoyed their summer and is settling in nicely into a good fall. Please feel free to send me notes about what's going on in your life.
All the best.
G.O.
Genesis Brown
orionbrown222@gmail.com
Spring 2016
REUNION YEAR
Wow! This is going to be an awesome reunion because we've heard from so many classmates who will be attending it on June 17-19. There are a few stragglers, so sign up. I'm looking forward to seeing everyone. There are going to be many fun activities in addition to hanging out with friends on Lee Road, heading down to the Flats, or just walking around the Quad seeing familiar faces. It will be great.
Jonathan Boyle is awesome. He has continued to manage a site for our class on Facebook. Visit it, and see what people are posting.
Take care, safe travels, and see you soon.
G.O.
Genesis Brown
orionbrown222@gmail.com
Winter 2016
REUNION YEAR
Are you getting excited? I'm excited! First, I need you to stop reading this column and go register for our reunion weekend, June 17-19. No, really, stop reading, and go register! Did you register?
Welcome back. I have great news! We've added
Gordon Short
to our class list of community leaders. Gordon was elected to
Strongsville City Council
. Congratulations, Gordon! Gordon, who's married with two kids, is an accountant and attorney. He ran a hard race.
Speaking of exceptional service, I found some information about Major Pete Mehling, who will command the New York Army National Guard's only artillery unit at Camp Smith Training Site. Mehling, who was commissioned as an artillery officer in 1997, has served in various command and staff positions in the active Army and the New York Army National Guard. He's eligible for promotion to lieutenant colonel and will attain that rank after assuming command of the 1st Battalion, 258th Field Artillery. His awards and decorations include the Bronze Star Medal, Meritorious Service Medal with two oak leaf clusters, Army Commendation Medal with two oak leaf clusters, Army Achievement Medal with one oak leaf cluster, National Defense Medal, Armed Forces Expeditionary Medal, Iraq Campaign Medal, Global War on Terrorism Expeditionary and Service Medals, Army Service Ribbon, Korean Defense Service Medal, and NATO Medal. He has also earned the U.S. Army ranger tab and parachutist badge. Mehling and his wife, Jennifer, have four children: William, Elizabeth, Katherine, and Charles.
Finally, I heard news about Mike Melaragno, who's the director of inside sales and customer service for Elgin Fastener Group. Mike's responsibilities include managing all inside sales, customer service, and engineering functions for EFG's cold-headed products division. Throughout his career, Mike has held several customer service and product management positions, most recently from Graftech International, Carlisle Brake & Friction (Wellman Products Group), and Day-Glo Corp., where he was instrumental in developing customer engagement initiatives for driving growth.
I'm looking forward to seeing you all in June to celebrate our class reunion. Take care.
G.O.
Genesis Brown
orionbrown222@gmail.com
Fall 2015
Hi, all. Quick column this time. I don't know if you've heard, but 2016 is our reunion year. Cleveland is so happy we're coming in for reunion that its has been remodeling the place. Oh, and the Republican National Convention will be in town, so there's that, too.
Secondly, Roslyn (Valentino) Ellerbusch is an angel. She sent a note telling me about what's happening in her life. She wrote about her husband, Doug, accepting a job with Huntsman Corp. at their world headquarters in Everberg, Belgium, which is east of downtown Brussels. That's so cool! Doug has been working with Huntsman in Houston for eight years. Roslyn and Doug moved to Belgium in January 2015. Their children – Marcella (8), Dominik (7), and Viviana (5) – will attend an English-speaking school but are learning Dutch and French. Wow, and I have trouble just speaking English! They will live in the small Flemish town of Sterrebeek. Also, they've been trying to find time to travel to different countries. Thus far, they've visited Germany, The Netherlands, France, and Luxembourg. "We hope to travel Europe extensively, learn different languages, expand our horizons about history and food, and become experts on Belgian chocolate and fries." Maybe they'll send us chocolates for reunion.
Take care, everyone. I hope you have a wonderful holiday season.
Genesis
Genesis Brown
orionbrown222@gmail.com
Summer 2015
Hey, class. Guess what's just around the corner? Reunion – June 17-19, 2016. Do whatever you can to get back to JCU. There's so much to do in Cleveland and this is the perfect time to do it. Will you need to go visit a customer? Do you want to go to Cleveland because you haven't been there in a while? Whatever the reason, get here. Make it to the best weekend in memory. The best part of reunion is being there with your classmates. That's why we all need to be there. It'll be an awesome time.
I ran into Emma Yates-Bourg '00G at a kid's birthday party that our daughters were attending. If it wasn't for the kids' social lives, I'd have no life. Ha ha ha. Emma lives in Olmsted Township, Ohio, with her husband, daughter, and one more child on the way. Emma's husband has a cool job – he's an air traffic controller. I greatly appreciate how they make sure the planes I fly on are correctly directed home every time. Emma is working as a therapist helping kids. Pretty cool. She stays in contact with a few classmates and wishes everyone well.
The staff in the advancement division is great, especially Cheri Slattery, who helps me stay on track and will also share stories about our classmates.
Many people receive gift baskets during specific holiday seasons, but
Deborah
(
Turchek
)
Wasylko
's goal is to build demand for her products all year, anytime.
Baskets Galore
started as a home business for Wasylko in 2003, serving mostly corporate clients. Last summer, she opened a storefront in Brunswick (Ohio) Town Center, attempting to attract walk-in shoppers in addition to serving corporate clients. Wasylko has six part-time employees, friends, and family who assist her. Wasylko's innovation has earned her two awards from Cleveland Business Connects magazine. This spring, for the second year in a row, Baskets Galore was honored with the Connector's Choice Award. The company uses more than 350 snacks, foods, and other gift items to craft personalized baskets for any event.
Also, we received a note that Dr. Turner Nashe was named secretary of the 100 Black Men of Middle Tennessee. Dr. Nashe – an entrepreneur, inventor, and innovator – serves as president of IDS, a Nashville-based software development organization. He focuses on building technology that facilitates the delivery of educational and entertainment content to security-sensitive industries.
Finally, Philip Studer '96G was named vice president, business banker in the downtown Delray branch of BankUnited in Florida. Before joining the bank, Philip was senior vice president of Bank of America in Boca Raton. Way to go Philip, and good luck in the future.
Keep the stores coming to me and have a great fall.
G.O.
Genesis Brown
orionbrown222@gmail.com
Spring 2015
Hello, class of 1996. I hope you're enjoying a great spring after a long winter, and those of you in a year round warm climate … phfffft. I'm jealous. Sorry, but this is going to be a short column this time around. I'd very much like hearing from you all. Take care, and have a great summer.
Genesis
Genesis Brown
orionbrown222@gmail.com
Winter 2015
Hi, friends. I hope you had an enjoyable holiday. I always have fond memories of hanging out with friends at the dorm, watching the snow fall, looking at the Christmas lights, and looking forward to visiting at home. What have you been up to? Send me a note.
I have great news to share.
Laura Gleason – who lives with her two daughters, Abby and Isabel  – works with Volunteers of America Pennsylvania and has the privilege of being a case manager for the Supportive Services for Veteran Families Program, which houses homeless and imminently homeless veterans. She has the honor of helping vets from World War II through Operation Enduring Freedom and Iraqi Freedom. "To all our JCU alumni who've worn the uniform, I thank you for your service and sacrifice," Laura says.
I'm happy to share news that Jeremy Batchelor was named assistant superintendent at Austintown Local Schools in Ohio. After spending the past six years working at schools in North Carolina, Jeremy decided it was time to come home. Currently, he's working on his dissertation. "I also want to build a strong collaborative work environment for all Austintown stakeholders," Jeremy says.
Take care, and have a blessed 2015.
Genesis
Genesis Brown
orionbrown222@gmail.com
Fall 2014
Hello, class. OK, you looked. Now you need to send me two sentences about what you've been up to. I hope you're well. I've been busy getting kids back to school and starting soccer. Oh, and turning 40. Can you believe we're getting to the point in our lives where we're reaching major age milestones? It's pretty awesome because there's so much promise for the future. Speaking of promise, did you see how well the Blue Streak football team did last year? This year, they're expected to have a great season, too. I'm looking forward to seeing what happens. Catch the highlights on JCU's website. While you're there, look up your local alumni chapter, which is a great way to connect and network with alums in your area, as well as just have a great time at a local hangout. I hope you have a wonderful Christmas, and I look forward to hearing from you soon
Genesis
Genesis Brown
orionbrown222@gmail.com
Summer 2014
Hi, all. I hope you're well and are enjoying your summer. I'm sure it was busy with family activities and summer fun. I don't know about you, but I'm looking forward to fall's cool weather and all the potential of the Cleveland sports teams.
Marty Butler was kind enough to share what's happening in his life. He lives in Brecksville, Ohio, with his wife and 8-year-old twin daughters. He's CFO for ExactCare Pharmacy, a fast-growing company based in Valley View, Ohio. The company provides a multidose packaging solution for people taking multiple medications. The service allows them to manage their medications better, improving the quality of life for patients.
We also found an article about Dan (Provo) Provenzano that publicizes what we all know – he's an excellent person and will look out for anyone. The article captures him being a man for others.
I'm looking forward to you hearing from you. Don't be shy. Our class wants to hear your story.
Genesis
Genesis Brown
orionbrown222@gmail.com
Spring 2014
Genesis Brown
orionbrown222@gmail.com
Winter 2014
Hey classmates, I hope you're doing well and had a great holiday season. Please keep sending me your updates. You'll be happy to hear John Cranley was elected the 69th mayor of Cincinnati! Cranley beat Cincinnati vice mayor Roxanne Qualls who had four terms on city council and three terms as mayor, but they weren't enough to stop Cranley from taking an early lead and holding it throughout election night. Cranley served on Cincinnati City Council from 2000 until 2009. He's been working in the private sector as a lawyer for Keating Muething & Klekamp.
Megan (Mooney) Gossling lives in Redondo Beach, Calif., with her husband, Eddie, and their two kids: Oliver (6) and Mia (4). Eddie writes and produces for Tosh.0 on Comedy Central and loves it. Once in a while, you'll see their kids on the show – even though they're way too young to watch it. Megan is still a regular contributor to Tosh.0 and is taking short-term writing jobs here and there. She just finished writing for a Nickelodeon revival show, "Figure it Out." They shot 70 episodes in just a few short months, which was total mayhem. Megan mentioned she always enjoys catching up with old classmates via Facebook or running into them in L.A. once in a while.
Things are going well for Chris Migneault in Somerset, Mass. He lives there with his wife, Leslie, and their son, Thomas (3). Since graduation, he has been working in the family's real-estate business, which has been operating since 1965. For the past eight years, he has taken over the day-to-day operations. Chris is a licensed broker in Massachusetts and Rhode Island, so if you're looking for property, give him a call at Migneault Realtors.
I have a fantastic follow-up from my last column: Dave Caldwell, at age 39 and the NFL's second-youngest general manager, had a great season with the Jacksonville Jaguars. Owner Shad Khan asked Dave to help resuscitate a team that has missed the playoffs 11 of the past 13 years and had a franchise-worst 2-14 record last year. In charge of his own football operations department, Dave has done an excellent job.
As for me, I'm working with a new organization to educate people about epilepsy. This is especially important because my 3-year-old daughter, Harper, has had epilepsy since she was born. So please, check out the posts on Facebook, and share them. Thank you for supporting HustleforHarper.com.
Genesis
Genesis Brown
orionbrown222@gmail.com
Fall 2013
Hello, classmates. I'm thinking about all the good bands we heard while in college: Pearl Jam, Soundgarden, REM, Smashing Pumpkins, Rusted Root, Odd Girl Out, Vanilla Ice … whaaaaat?! Sorry, couldn't resist. We're in the process of sending our son off to kindergarten, so hopefully the experienced parents will take pity on the rest of us new school parents.
I appreciate our classmates reaching out to me. Marcie Bockbrader '95 has had a tremendous career since leaving JCU. She moved to Bloomington, Ind., for grad school and won a fellowship from the U.S. Department of Defense to study neural timing in brain networks. Marcie then received a Ph.D. from IU in 2003 and completed a post-doc fellowship in neuroimaging from IU in 2004. Then she attended medical school at The Ohio State University, married her high school sweetheart in 2007, and graduated with an M.D. in 2009. Her husband is a decorated Army veteran who has been deployed on peacekeeping missions to Serbia and Bosnia and served in Iraq for several years as a Blackhawk pilot specializing in air assault. They live in Columbus with their two kids and cats. Marcie, who finished her residency, is an assistant professor and attending physician in physical medicine and rehabilitation at Ohio State, where she specializes in neurorehabilitation. Thanks to both of them for making the world a better place.
Jamie Wheeler and his wife (her name is Jaime, too) are living in Santa Monica, Calif., and launched a startup company this year called Gradify (gradify.com), which is a college gift registry that welcomes friends and family to gift money toward a child's education during life celebrations. Think crowdfunding for college. So, with my son starting kindergarten, I might have enough time to help fund his college education with Jamie's site. The Jamies planned a trip to Paris and Italy this fall. Additionally, they'll do their best to see as many Pearl Jam shows throughout the country when they tour. So business is good. Maybe Jamie can host a seminar at our next reunion for startup businesses.
I also heard Cleveland Heights-University Heights school district named Andrea Celico, Ph.D., assistant superintendent. She served as assistant superintendent in the Euclid school district for four years. "Great things are ahead, and I can't wait to get started," Andrea said.
Lastly, Merritt Waters '96G will lead the staff and students at Horace Mann Elementary School in Lakewood, Ohio. Waters will be joining the district from Olmsted Falls City Schools, where she has been the director of student services. She also served as a preschool principal and school psychologist in Olmsted Falls.
Genesis Brown
orionbrown222@gmail.com
Summer 2013
Genesis Brown
orionbrown222@gmail.com
Spring 2013
Hey Bans, Allie, Rugs, Stros, and all my classmates. Do you remember St. Patrick's Day our senior year? It was a beautiful day, and we had so much fun. We might have acted goofy, and some of us might have swum in the Cuyahoga River. I can't remember exactly, but I know we had a good time. I hope you're all doing well and will keep reading and sending stories.
Jonathan Boyle graciously set up a Facebook page for the class. Please join it and connect with old friends.
Gordon Short joined Thornhill Financial as senior manager. The firm is based in Strongsville, Ohio. Most recently, Gordon was the chief investment officer for the state of Ohio.
I heard John Cranley is running for mayor of Cincinnati. John, a lawyer at Keating Muething & Klekamp PLL, is one of the developers of the Incline Village project in East Price Hill. John cofounded the Ohio Innocence Project at University of Cincinnati College of Law, which used DNA technology to exonerate three innocent men on death row.
JCU sports was featured in a Plain Dealer article, and our class has great standouts. David Caldwell, general manager for the Jacksonville Jaguars, is busy building a great team for the 2013 season. Frank Colaprete, former associate head coach at Johns Hopkins University in Baltimore since May 2010, was selected the head football coach at the College of Wooster in Ohio. Frank becomes the 22nd head coach in the 115-year history of the Fighting Scots.
Tom Kennedy (TK) and his wife, Christine, live in Avon Lake, Ohio, and have four kids. Tom is a portfolio manager at Inverness, and Christine is the tax manager at Hyland Software. Christine and I work together at Hyland, and TK works with John Bartels and Andy Henton. John, a partner and wealth advisor at Inverness, is married to Kristin (Savage) Bartels '97. They live in Shaker Heights with their three boys. Andy owns Henton & Associates, a CPA firm, and is married to Beth. They live in Westlake, Ohio, with their two kids. TK and JB traveled to the Federal Reserve Bank in New York City for work and took in a Yankees game with Erik Chiprich, who runs an Allstate office in Manhattan and is married to Kendra. They live in New York City with their two kids.
Tony Pizzuti, who runs the Head Start program in Cleveland, is finishing his Ph.D. this year. He and his wife, Candice Keenan- Pizzuti '97, live in University Heights with their two kids.
Genesis
Genesis Brown
orionbrown222@gmail.com
Fall 2012
Hello, all. Well I wish I could say my inbox was full of notes from everyone about what's going on in their lives. I'm sure everyone was thinking about the right things to say or busy getting the kids ready to go back to school. Don't worry, just a few sentences about what's going on would be great.
I heard from Jason McMinn, who's doing well. After graduation, he spent time with the Jesuit Volunteer Corp in Phoenix, being a man for others. He returned to Cleveland, earned a master's in social work, and is working at MetroHealth Medical Center as a social worker. He's living it up in the cool neighborhood of Tremont, which makes the commute to work quick.
I had a follow-up email from Mike Homer. Thank you, Mike. He and Carrie have been married since October 2003 and have three children: Kellan (6), Kaycie (5), and Keira (3). Baby No. 4 was due in September. His family enjoys hiking and nature, playing in the backyard, and taking advantage of all Florida offers. Carrie and Mike have participated in a few 5K races, and Mike is training for the Tough Mudder race later this year. Having spent almost 14 years in the health-care sales industry, he's a senior district sales manager with Pfizer and leads a surgical team selling operating-room products.
As for me, I'm living in Cleveland and have two kids. I work for Hyland Software and enjoy volunteering whenever I can find time. I started this article back when the Browns had their preseason game against the Bears, which got me thinking about our classmates from Chicago. I'd love to hear from "yous" guys (including the gals, too). I'd also love to hear from friends in Pittsburgh; Buffalo and Rochester, N.Y.; Cincinnati; and Cleveland. Be well, and enjoy the holidays.
Genesis
Genesis Brown
orionbrown222@gmail.com
Summer 2012
Hello, '96. I'm writing from beautiful Cleveland, and I hope you're well. I want to thank Amy (Apisich) Kogovsek for being our class columnist and wish her continued success. Feel free to reach out to me with your life's details. I want to hear what's happening with you. This column is a great way to share what's going on with our classmates.
I talked to Kristen Hagan-Iezzi. She and her husband, Chris Iezzi '97, have two wonderful children, Dominic and Carson. Kristen, who was awarded Master Teacher Senior Professional status by the Ohio Department of Education, teaches history to freshmen and seniors at Garfield Heights High School. Chris is managing partner of CK Mahoning. Kristen talked to Shannon (McNulty) Everly, Sue (Vivacqua) Grubb, and Marty Rodriguez. Shannon and her husband live in Indianapolis and have two kids, Sam and Ruth. I can only imagine how crazy it was with the Super Bowl. Sue lives in Buffalo with her husband and two children, Owen and Olivia. Marty and his wife have twins, a boy and a girl, and live on the west side of Cleveland. Marty, a senior vice president at PNC Bank, is godfather to several classmates' children. I plan to find out more about that later.
I caught up with Andrew Connors, who's doing well and working for Fairport Asset Management as vice president and advisor. His wife, Anne-Marie (Wolanin) '93, is director of advancement at Hawken School, which is where their twin sons, James and Cameron, attend. He was looking forward to a relaxing summer break.
I reconnected briefly with Mike Homer, who's living in the Tampa, Fla., area with his family. He's working in pharmaceutical sales and doing well. He hopes everyone is doing well except when you need his devices (my own edit).
Regina Brett '96G published a new book, the New York Times best seller "God Never Blinks: 50 Lessons for Life's Little Detours," and was on campus promoting it. I recommend you pick up a copy.
Congratulations to Paul Nungester for being promoted to senior vice president and controller at Health Care REIT in Toledo, Ohio.
I wish you all the best and hope to hear from you soon via email, Facebook, LinkedIn, or smoke signals. I can't read the signals, but it would make a great story for the column.
Genesis
Genesis Brown
orionbrown222@gmail.com
Spring 2012
Genesis Brown
orionbrown222@gmail.com
Winter 2011
Amy Spisich Kogovsek
ASKamy@aol.com
Fall 2011
REUNION YEAR
Chris Green completed his 19th year as men's basketball PA announcer at JCU. He and his wife live on the West Side of Cleveland with their five children: Lily (3), Brendan (4), Grace (9), Emily (14), and John (15). Chris keeps in touch with J.J. Richardson '97, getting together for concerts and hockey games.
Gregory Gleine married Cara Cherrison Oct. 23, 2010, at the Shrine Church of St. Stanislaus in Cleveland. He holds a J.D. from Cleveland-Marshall College of Law and is employed as an attorney for the National Labor Relations Board in Cleveland.
Dan Winterich, who's a senior special agent with the Ohio Bureau of Criminal Identification and Investigation, is assigned to the crime scene unit where he provides investigative assistance throughout the state. He holds a J.D. from Cleveland-Marshall College of Law and a certificate in Criminal Justice Education from the University of Virginia. He's a member of the International Association of Bloodstain Pattern Analysts, a graduate of the 236th Session of the FBI National Academy, and a part-time lecturer at Carroll.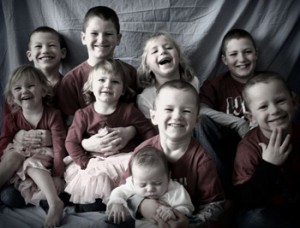 Maryann and Mike Sekerak welcomed baby No. 9, Allison Rose, into the family Dec. 7, 2010.
Nate Schoen was named to Professional Builder magazine's top 40 under 40 Home Building Professionals in the U.S. He's the founder and president of Bridgewater Consulting. He and his wife, Sarah, relocated to Beaufort, S.C., in 2009 with their two sons, Will (2) and Hall (1).
Brian Unk battled it out with fellow golfer Mike Emery in the 88th Ohio Open at Weymouth Country Club in Medina, Ohio. Brian held the lead until he bogeyed the 18th hole and Emery sank a 19-foot birdie putt to claim the tournament. Brian, who lives in Lewis Center, Ohio, walked away with a second place finish receiving $5,000.
Amy
Amy Spisich Kogovsek
ASKamy@aol.com
Summer 2011
REUNION YEAR
Amy Spisich Kogovsek
ASKamy@aol.com
Spring 2011
REUNION YEAR
Amy Spisich Kogovsek
ASKamy@aol.com
Winter 2010
REUNION YEAR
Amy Spisich Kogovsek
ASKamy@aol.com
Fall 2010
Amy Spisich Kogovsek
ASKamy@aol.com
Summer 2010
Brothers William and Anthony Cafaro Jr. have been named co-presidents of the Youngstown based Cafaro Co., owner of the Millcreek Mall. Anthony joined the business full-time in 1997 after graduation. The Cafaro Co. is one of the nation's largest privately held shopping mall developers. The company operates more than 30 million square feet of space at 50 properties in 11 states.
The greater Cleveland Automobile Dealers' Association has named Louis A. Vitantonio, a 14-year veteran of the organization, as president. The regional association represents 250 new car, truck, recreational vehicle, and motorcycle dealerships in Northern Ohio. Louis earned a marketing degree and an MBA from John Carroll then went on to obtain a law degree from Cleveland-Marshall College of Law. He and his family live in Independence.
Remember that you can send pictures with your updates to be included in future columns. I don't know about you, but I've really enjoyed that addition. Until next time, the Lord bless you and keep you,
Amy
Amy Spisich Kogovsek
ASKamy@aol.com
Winter 2009
Greetings, all. The following information is taken from the KTUU website – "Megan Baldino is the co-anchor of KTUU Channel 2, 10 p.m. newscast, the Late Edition in Alaska. In 2005, Megan's in-depth investigative piece on the clergy sex abuse scandal in rural Alaska garnered her a regional Emmy nomination and a Best Series award from the Alaska Press Club. During her nine years of reporting, she has received dozens of awards from the Alaska Press Club and Alaska Broadcasters Association. Before broadcasting, she worked in advertising, public relations, and radio promotions in San Diego, CA. In the summer of 2001, she traveled 2,000 miles down the Yukon River in an 18-foot canoe. Her book, Two In a Red Canoe, was published in August 2005. In 2007, she covered the Iditarod Sled Dog Race. From the base of Mt. McKinley in the Alaska Range to her week-long summer travel series, "Destination Alaska," Megan has gone "live" from some of the most remote locations in the country. Megan is very active in the community, mentoring several high school students in journalism; volunteering as a board member for the Hugh O'Brien Youth Foundation, Alaska Chapter; serving as spokesperson for the American Lung Association; as well as emceeing several charity events each year. Drop Megan a line at mbaldino@ktuu.com." Let us know what you have been up to lately! Until then, the Lord bless you and keep you,
Amy
Amy Spisich Kogovsek
ASKamy@aol.com
Summer 2009
I hope this issue of John Carroll magazine finds you all healthy and well. I have some nuptial news for you all: Paul David Palumbo married Valerie Ann D'Eramo on October 11, 2008, at St. Nicholas Roman Catholic Church. Groomsmen included Christopher Migneault and Alan Boose. The happy couple honeymooned in Italy. Paul is a director at Designing You Clinic in Boardman, OH. Congrats on your new beginning!
We'd love to hear great news from more of our classmates, so if you have a minute or two, please send an e-mail and let us know what you've been up to. Remember, you can send pictures as well! Until then, the Lord bless you and keep you,
Amy
Amy Spisich Kogovsek
ASKamy@aol.com
Spring 2009
Happy 2009 everyone! I hope this column finds you all happy and healthy. I know that the Valentino Ellerbusch family must be elated as they e-mailed the wonderful news of the addition of their second child. Dominik Paul Ellerbusch was born on Sept. 15, 2008, and joins big sister Marcella (21 mos.). Roslyn still works as a sales account manager with Ashland in the Environmental Services Division. She and her family reside in The Woodlands, TX.
John Cranley has joined the Cincinnati law firm of Keating, Muething & Klekamp PLL (KMK) as an attorney practicing in the bond and municipal finance area. John joins the firm after serving eight years on Cincinnati City Council, which is the maximum allowed by law. In addition to his work on City Council, Cranley was the founder and co-director of the Ohio Innocence Project at the University of Cincinnati College of Law (2002-2006), which, through the use of DNA-technology, has exonerated three innocent men. Cranley also served as an adjunct professor at the College of Law during that time. John and his wife, Dena, are expecting their first child in April. Congratulations!
Well, with the New Year off and running, hopefully we will hear from many more of you. Until then, the Lord bless you and keep you,
Amy
Amy Spisich Kogovsek
ASKamy@aol.com
Fall 2008
I hope this column is finding you all healthy and well. On behalf of the class of '96, I'd like to take a moment to extend our sympathies to the Russert family. Many people's lives were forever changed for the better because they knew Tim. The JCU community will always feel his absence but remember his spirit. His life was a wonderful example of "Magis," doing more than the ordinary.
And as we aspire to that ideal ourselves, we look inward to our classmates and find that James Auricchio has been appointed assistant United States attorney in the Western District of New York. Our congratulations go out to James with best wishes for a successful career.
I'd also like to take a minute to invite you all back to Carroll for Homecoming this September 27. Come cheer the Blue Streaks on to victory against Heidelberg at their first home game of the season on Saturday at 2 p.m. A comedian, alumni volunteer training workshop, pep rally, and street fair are just a few of the many events planned for this year's celebration.
And please take a minute to send in a note on what you are all up to. I know everyone is very busy but your classmates enjoy hearing all of the wonderful things going on in your lives. Until then, the Lord bless you and keep you,
Amy
Amy Spisich Kogovsek
ASKamy@aol.com
Spring 2008
Tim Gallagher and his wife, Jill, welcomed a daughter, Reese Emily, on 9/20/07. Little Reese joins big brother Timmy Jr. (26 mos.). Tim completed his MBA in 2006 and is working for Stryker Orthopaedics. The Gallagher family is residing in Strongsville, Ohio.
Vanessa (Lindeman) Downey e-mailed that she and her husband welcomed their first child, Savannah, in June of 2005. The Downey family relocated to Southern, Ill., outside the St. Louis area for Vanessa's job as VP of sales and marketing for a small company that does export business. Vanessa writes that her position has provided her the opportunity to travel to places like China, Dubai, Egypt, Thailand, and Mexico among other places. She also sent an update on Amy Diorio-Shamblen who had a baby boy (Matthew) in October. The Shamblens are living in Broadview Hts. and Amy is working at Sherwin-Williams.
Eric Clark was elected to partnership at Thompson Hine LLP effective 1/1/08. Eric is a member of the firm's labor and employment practice group in the Cincinnati office.
Until next time, the Lord bless you and keep you,
Amy
Amy Spisich Kogovsek
ASKamy@aol.com
Fall 2007
Jonathan Kase completed his MD from Medical College of Ohio in 2001. He is currently living in Wooster with his wife Melissa and (1) y/o Kennedy.
Megan Clifford Papponetti graduated with a MSW from SUNY Buffalo in 2000. She is working for the University of Rochester as a Crisis Therapist and also living in the Rochester area with husband John.
Leigh Calabrese Eck is living in Gloucester, MA.
Dave Kelly and his family relocated to the Charlotte area after Dave accepted a new position with WestWayne Advertising. They write, "We are adjusting very well to living in the Southeast. Ironically we ended up purchasing a home from a fellow JCU alum. We didn't find out until after we moved in. Both Emilia (4 y/o in September) and Liam (2 in June) love living here, and Emma (Dave's wife) has adjusted well and loves the area! We also bumped into fellow 1996 alum Monika Gonczi while house hunting." Dave notes that if any fellow JCU alums are in the Charlotte area, you can contact him at david.kelly@juno.com.
Stephanie May Potter is living in Chicago and working for PricewaterhouseCoopers.
Jacqueline Lynch Parks completed her J.D. at CWRU School of Law in 1999 and is a practicing Attorney with Best, Best & Krieger LLP in San Diego, CA. She and her husband Daniel are also busy raising children Blaise (8), Joey (6), Aidan (6) and Eileen (2).
Monika Gonczi Dragich and her family, husband Joe '94 and children Joseph (2) and Emma (under 1 year) are living in Tega Cay, SC.
Robin Dutko Grabowski completed a MBA at Kent State in 2002 and is living in Warren, OH, with spouse John and working as a Production Control Manager at Alcoa.
Matthew Fico lives in Rochester, NY and works as a Neuroscience Sales Specialist for Takeda Pharmaceuticals. Matthew was recently married on 1/13/07 to Pamela Schickler. The ceremony and reception were celebrated in Rochester with a number of JCU alums present including Best Man, Dr. Tim Abbamonte, Alison Abbamonte (Ford), Groomsman David Loverdi, Megan Spencer (Turon), Suzanne Heckroth (Butch), Kelly Cunningham, Dr. Patricia Orlino, Tara Blahut (Reddy), and Dr. Christina McCardle (Zotis). Matthew writes, "We kept it old school with some "Tootsie Roll" and many frothy beverages." Thanks to all who e-mailed with updates. Looking forward to many more, and don't forget that you can send pictures! Until next time, the Lord bless you and keep you,
Amy
Amy Spisich Kogovsek
ASKamy@aol.com
Summer 2007
I hope this column finds you all well. I'll get right to the news…
Arthur P. Ward Jr. is currently living in Walton Hills with his wife, Dawn, and their children Trey (4) and Ava (2). He earned a MTax at Akron in 2006 and is a senior tax manager at Barnes Wendling CPAs, Inc. in Cleveland.
Dan Bansley and his wife, Colleen, are living in Chicago.
Kathleen O'Hara is living and working in Cincinnati, OH. She earned a master's degree from Xavier in 1999 and is owner/writer at Sage North, LLC. She is married to Mike Adams and they have a son Laine (1).
Karen Peters is working for The Sherwin-Williams Company here in Cleveland.
Amy Diorio-Shamblen and her husband, John Shamblen, reside in Broadview Heights.
James Conway completed a Ph.D. at CWRU in 2006 and recently moved to New Jersey after accepting a position with Merck Research Laboratories.
That's all this time. Keep in mind that you can send pictures with your updates from get-togethers, weddings, whatever! Until next time, the Lord bless you and keep you,
Amy
Amy Spisich Kogovsek
ASKamy@aol.com
Winter 2007
Stacy Bongini Sepelak married Tim Sepelak on July 1, 2006. JCU grads that were in attendance were Tim's dad, Richard Sepelak '67, Katy (Perrone) McGrath, Liz (Black) Ryan, Bridget (Jordan) Connolly, Amy (Happ) Choe '98, Amy Bakos '99, Christy Krauss '01, and Andrew '96 and Anne-Marie (Wolanin '93) Connors.
Anthony Mahfood lives in Greenville, SC, and is an investment manager for BB&T. He is getting married to Tracy Evans in July 2007.
Fellow Rush fan Sarah Lundeen is a program supervisor with Cleveland Christian Home.
Bridget (Smith) Wendt lives in Fairport, NY, and has a daughter named Louisa.
Joy Malek Oldfield is a principal attorney with Hill/Company, LLC in Akron.
Lynn E. (Giovenco) Rochon is a marketing manager with Salix Pharmaceuticals in Morrisville, NC.
Bridget (Maloney) Chamberas is a lecturer at Boston College's IREPM.
Christina (LeMay) Greig is a registered nurse with University Hospitals in Cleveland.
Annie (Klekamp) Mulvany is an intramural director with the University of Colorado-Boulder.
Paul A. Keating is a senior tax accountant with Swenson Advisors, LLP in Temecula, CA.
Stacy Dyrlund Gilbert lives in Lakewood, OH, and has a daughter named Elizabeth Grace.
Denise Haynik recently finished her residency in anatomic and clinical pathology at the Cleveland Clinic Foundation, where she served as chief resident. She is living in Pittsburgh, where she is doing a two-year fellowship at the University of Pittsburgh Medical Center specializing in breast and gynecologic pathology.
Theresa (Koncal) Laheta lives in Brunswick, OH, with her husband, Beck fan Jeff '98.
Pamela (Coyne) Neckar is director of finance and human resources with Collins Gordon Bostwick Architects in Cleveland. Pamela and her husband Richard Neckar have two children: Kyle (4) and Derek (1).
Susan (Okuley) Paz is living in Durham, NC.
Colleen (Kermode) Kiernan is living in Clio, MI.
Kelly (Carroll) Zurawski is teaching science at McDowell High School in Erie, PA, but is taking the rest of this year off for maternity leave. Her son Alex was born on October 18. Her husband, Bryan '96, is the head golf professional at Lake Shore Country Club. He still plays competitively quite a bit and qualified (and played) in the Nationwide Tour event at Peek'n Peak this summer.
Suzanne Lynch Head is a three-six grade literacy teacher in the Cleveland Municipal School District. She has a daughter, Celia (21/2), with another on the way.
Kimberly (Ross) Renz has a daughter named Madilyn (2).
Lori Mankowski Gettle has enrolled in the Penn State College of Medicine.
Amy Hill Armbruster and her husband, Ed, welcomed their third daughter, Lauren Nicole, on November 24. Lauren joins sisters Marie Noelle (4) and Natalie Ann (2). Amy is employed by Wood and Lamping in downtown Cincinnati.
Don't forget that this summer is our 10-year Reunion! Reunion 2007 takes place June 22-24. You can keep up to date on the weekend's festivities by going to http://www.jcu.edu/alumni/reunion07/index.htm. Hope to see you there! Brian
Fall 2006
Toni Sever Uzl is living in Cleveland with her husband Dan and children Brandon and Kaitlin. She completed an MBA from the Weatherhead School of Management at Case Western Reserve University in 2003 and is currently working as an accounting manager for Keithley Instruments Inc. in Solon.
Tina Filippelli Beskid is currently living in Mississippi with her husband Scott and their children Nathan and John. Tina works in Jackson as a cost accounting manager for Eaton Corporation.
J.V. Kocian received a JD from Cleveland-Marshall in 2002 and now works as an assistant county prosecutor for the Cuyahoga County Prosecutor's office.
Martin D. Rodriguez resides in University Heights with his wife Marlene. He completed an MBA from JCU in '99 and is vice president at National City Bank in Beachwood, OH.
Kristen Gajowski Kaleal is founder and president of Fusion Image Group and over this past year was named ClevelandWomen.Com's Style and Image Expert. Kristen presents seminars and programs to financial institutions, major corporations, universities and women's organizations on topics of professional image and style. You can read more about Kristen at ClevelandWomen.Com.
Michelle Kazar Blank is living in Delaware, OH, with her husband, Andrew, and their son Andrew (AJ). She earned a JD from CWRU in '99 and now works as an attorney for Franklin County in Columbus, OH.
Erol Gurel – fegurel@yahoo.com – is working for JP Morgan Chase in their Commercial Banking/Middle Market division in suburban Chicago and lives in downtown Chicago.
Terese Adomaites Fennell is living in Aurora with her husband, Donald. She completed a JD at CSU in '99 and is currently a senior associate attorney at Reid, Marshall & Wargo in Cleveland.
Tom Monagan earned an M.S. from Eastern Illinois University and is an assistant athletic trainer at the University of Central Arkansas in Conway AR.
It is with a heavy heart that I write of the passing of our classmate Marci Kornblut Gorospe … beloved mother of Alison Reyes and Caitlyn Isabella, a devoted daughter, sister and friend and a treasured teacher who imparted the gift of knowledge and gained the respect of many teachers and students. An educational fund has been set up to address the specials needs of her daughters. Donations can be made at any National City Bank branch in the name of the Gorospe children, c/o Alison Gorospe. Our thoughts and prayers go out to Marci's family at this difficult time. May the Lord bless her and keep her.
Amy
Amy Spisich Kogovsek
ASKamy@aol.com
Spring 2006
Ryan Martin graduated from the Illinois Institute of Technology in '03 and is living in Denver, CO. He finished a year of volunteer work with the Colorado Vincentian Volunteers in July 2005. During that year he lived with 11 other volunteers, all working with the poor in different fields. Ryan worked at the Catholic Worker with the homeless. After that year he continues volunteer work by working at an overnight shelter for the homeless. He is assistant director of the St. Francis Center but still manages to get some snowboarding in.
Carie Michael Bloom is an MD working at Cary Pediatric Center in Cary, NC. She and her husband, Josh, have two children, Payton (3) and Taylor (1).
Tom Monagan is assistant athletic trainer at St. Bonaventure University in NY and earned his MS from Eastern Illinois University.
Thomas J. Bertsch is living in Rocky River and is assistant vice president of McCormack Advisors International. He is working for IMG.
Matt Becker earned his M.Ed. from Xavier in '02 and works as manager, Learning and Performance at CareSource Management Group. He and his wife, Amanda, have a four-week old son named Noah John.
Rebecca Carter Miller earned an MS from the University of Pittsburgh in '99 and works as a clinical supervisor at Mercy Behavioral Health in Pittsburgh where she lives with husband Chris.
Matthew Fico works in Rochester, NY, where he is a pharmaceutical representative for Takeda Pharmaceuticals.
Christopher Flynn and wife, Molly, live in Los Angeles where Christopher is an agent trainee in Beverly Hills.
Derek Garden and his wife, Melissa, live in the Westerville, OH, area with their daughter Delaney Grace (2). Derek is currently enrolled full-time in the MBA program at OSU.
Scott Ziska is living in Sagamore Hills and is a partner with RollingBrook Financial Advisors in Solon.
Suzanne (Butch) Heckroth is living in the Baltimore area with her husband, Mark. She resigned this past summer as laboratory resource manager at In Vitro Technologies to stay home with daughter Katie (2) and Ryan (3 months). While at In Vitro, Suzanne worked with classmate Jennifer Bugel Mertz who earned her master's in clinical psychology from Loyola College in MD. Jen now lives in Cary, NC, with her husband, Kevin, and runs the payroll and benefits dept at Sony Ericsson.
Also living in the Baltimore area are Steve Blahut and Tara Reddy-Blauhut. They have two sons, Donovan (2½) and Vincent who was born in November. Tara received her master's in clinical counseling psychology from Towson State University and Steve earned a master's from Towson State University and then a doctorate in statistics from the University of MD. He is a statistician for Olitzky Whittle, a marketing firm that works with pharmaceutical companies.
Christina Zotis McArdle and her husband, John, are living in the Pittsburgh area. They have three children: Samantha (6), Donny (4) and Mary (3). Christina graduated from The Ohio College of Podiatric Medicine and she is currently practicing podiatry part-time in Greentree, PA.
Eileen Chambers O'Malley, her husband, Brendan, and daughter, Grace (2), have recently moved back to Cleveland after living in Detroit, MI, for almost two years. Eileen received her master's in educational administration from CSU and teaches lower elementary school. Eileen's brother Billy married classmate Mollie Kraven Chambers and they have one son, Owen (3).
Kelly Cunningham received an MBA and a master's degree in industrial engineering from Cornell University. She is now living in Chicago and is working for Delphi Automotive Systems as a sales/account manager.
Patty Orlino graduated from The College of Medicine at OSU in 2000 and completed a five-year residency at MetroHealth Medical Center in diagnostic radiology. She served as chief resident for a year and is currently working as a board certified general radiologist at Metro.
Megan Turon Spencer, her husband, Wes, and children Cade (3.5) and Kolbi (1) are living in the Rochester area. Megan received her master's in school psychology from Duquesne University and is now a school psychologist at Penfield High School.
Also in Rochester are Tim and Allie (Ford) Abbamonte. Tim graduated from University of Buffalo School of Dental Medicine and currently has a dental practice with his father. Allie graduated from Illinois College of Optometry and is working part-time with Chili Vision Group. They have one son, Benjamin (1).
Ryan Tyson is VP of Reinhardt's Agency Inc. (insurance – real estate). Ryan lives in Sharon, PA, with his wife, Nicole Allan.
John McGinty graduated from the University of Cincinnati College of Medicine in 2000 where he did a residency in internal medicine. He is currently at Marshall University doing a Cardiology Fellowship until June 2007. John married Jill Boggs this past summer and they are living in Proctorville, OH. John's groomsmen were Jeff Sesplankis, Andy Henton '97 and John Samol '97 — Tom Bertsch and Joey Bigler '97 were ushers. Ryan and John report that Jeff is married to Jill Culcasi '98 and is working for Ernst & Young. Andy married Beth Williams '95 and started his own firm called Henton and Associates.
I received more news but couldn't fit it all in, so you'll see more next time. Until next time, the Lord bless you and keep you,
Amy
Amy Spisich Kogovsek
ASKamy@aol.com
Winter 2006
Reunion time is fast approaching … mark your calendars for June! There's a lot of news so let's get right to it …
Karen Thompson Pascoe is living in Denver, CO, with her husband, Gary, who she married this past summer. She is currently finishing up her doctorate in psychology and working as a mental health and substance abuse therapist. The photo from Karen's wedding shows front row: Andy Titus and his wife Tara, Gary and Karen, Julia Kearney, Erik Chiprich and Jo Anna Maiorano Crago. In the back row is Dan Gindi '95, and Brian Crago (Jo Anna's husband). Karen writes that Julia Kearney MD is living in Manhattan and finishing her residency at Mt. Sinai. She recently took her pediatric boards and is now interviewing for jobs. She has a boyfriend she met while she was in Sri Lanka helping children recover from trauma after the tsunami.
Erik Chiprich also lives in Manhattan. He is working at Harris Nesbitt as a senior equity analyst. Andy Titus and his wife, Tara, live outside San Francisco. Andy is keeping himself busy working two jobs, one on the East Coast and one on the West. They are expecting their first child in June.
Melissa Winberry Gleeson married Mat Gleeson in '99 and they have two children, Henry (2) and Pheobe (5mos). Melissa is a social worker and lives in Chagrin Falls.
Tracy Potts Winterich married Danny Winterich in '99 and they live in Toledo. Tracy is a physical therapist and Danny is a CSI. They are expecting their first child this spring.
Jo Anna Maiorano Crago married Brian Crago in '02 and they are living in Mt. Lebanon, PA. Jo Anna is the director of recruiting at Resources Global Professionals.
John Bartels married Kristen Savage Bartels '97 and they live in Cleveland Heights. They had their first child this past summer, Charles "Charlie" Christopher. John is expanding his business, Independent Advisors, Inc., into Naples, FL, and Kristen is enjoying being a mom and doing Fitness Training at home.
Tara Clark Czamara is living in Amherst, NY, with her husband, Scott, and their two daughters — Kaitlin (3½) and Molly (1½). Tara is working as a special education teacher in Buffalo.
Chrissy Miller Bushnell lives in Fairport, NY, with her husband, Rob, and their two sons — Andrew (3½) and Jack (5mos). Chrissy is working as a teacher.
Stephanie May Potter and her husband, John, live in Chicago where both work for PricewaterhouseCoopers. Their son Will was born this past April.
Debbie Roth Hawrylko and her husband, Greg, got married this past summer. They live in Washington, D.C., where Debbie works as an event planner at a private club.
Bill Ridler is a sales manager with Castle Metals (a steel distributor he has been with for nine years). Earlier this year he and his wife, Melissa, relocated from Lyndhurst to the Cincinnati area. Together, they own a quaint dye able shoe shop that specializes in bridal shoes and custom dyed footwear, check them out — www.colourfulsoles.com.
Tiffany Madar-Connelly and her husband welcomed their second child, Patrick Michael (6 lbs. 3oz., 18¼ inches) on July 5, 2005. He joins big sister Taitum who will be two in February.
David Kelly and his wife welcomed their second child, Liam David, on June 8, 2005. Big sister, Emilia, turned two in September. The Kelly family has moved back to the Chicago area, living in the Naperville/Aurora area. David works for BBDO on the Dodge account.
I received a lot more news but couldn't squeeze it all in, so look for more news next time!
Amy
Amy Spisich Kogovsek
ASKamy@aol.com
Fall 2005
I hope this issue of the Journal finds you all healthy and well. Please remember that this year will be a reunion year for our class – if you're interested in being involved with planning please contact Rosalie Massey – rmassey@jcu.edu.
And onto the news! Roslyn Valentino Ellerbusch has been living in Dallas for over five years and just recently celebrated her nine year anniversary with Ashland Inc. She was recently promoted to territory manager in the Environmental Services Division and has responsibility for the Dallas, East Texas, Northern Louisiana and Southern Arkansas region. Roslyn writes that one of the most exciting challenges she has been given is to coordinate waste disposal for the DEA and various police and government agencies for residential drug seizures and clean-up for the western U.S.
Jamie Wheeler was recently engaged to Jaime Ellison in Central Park, NYC. They currently live in Tremont and Jamie works for Bristol-Myers-Squibb as a cardiovascular risk specialist. She also attends CWRU as a part-time MBA student.
Edward Cabrera is currently working as CEO of Cabrera Enterprises, Ltd. and living in Miami, FL, after obtaining an MBA from CSU in 2004. He married Kristina Petkov on September 17 in Sanibel, FL.
Vanessa Lindeman Downey was married February 10, 2004 on the beach in Maui, HI, to John Downey (Miami University grad). Vanessa writes that Laurie Birko was able to attend the wedding. The newlyweds are currently living in NJ and Vanessa is working in sales. The couple also welcomed their first child – baby girl Savannah Michele Downey June 21, 2005. Vanessa also writes that Laurie Birko now works at MTD Products as a marketing manager, Amy Diorio is working at Sherwin-Williams in marketing and Colleen Bender got married and is expecting her first child this November.
I recently heard from Megan Gill Kopp who is now living in San Diego and works as a chef for a catering company in town. She recently entered a contest sponsored by Gourmet Magazine and www.epicurious.com. Her recipe for "Mexican Turtle Chocolate Mink" was selected as one of three finalist entries. Megan was vying for the opportunity to attend events at the Gourmet Institute in NYC for a weekend. Voting went until October 17 so Megan will have to let us know how she did.
John Bardwell is living in Brunswick, OH, with his wife, Giselle, and their four children – Nathan (8), Danielle (5), Emily (3) and Abigail (1). John works as director, online sales and marketing for Clear Channel Radio in Independence. He writes that he plans to attend the reunion this year along with his JCU roommate, Benwa.
Ryan Lex (a fellow classmate who went on to graduate from Miami University) wrote to say hello to all of his former JCU classmates – praying that everyone is well. Ryan currently lives in Cincinnati, OH, with his wife, Stefanie, and children Ethan (2) and Kate (6 mos). Ryan works for The Hartford as a sales manager.
Leslie McAndrew Logan and her husband, Sean '98, delivered a (10 lbs. 5 oz.) baby boy, Liam, on August 22. They currently reside in Richmond Heights, OH.
James Auricchio has been appointed as assistant district attorney in Erie County, NY, where he will specialize in white collar crime prosecution. He and his wife, Robin, welcomed their first child, Katherine Marie (Kate) on April 1.
Jacqueline Skotzke is living in Chardon, OH, with her husband Rich '95 and their son, Luke Anthony born July 6. Jacqueline earned her M.Ed. from JCU in '97 and is an elementary school teacher in the Kenston School District.
Nathaniel Schoen is currently living in Toledo OH and is the president of Bridgewater Consulting, Inc.
Laura Gleason and her daughter Abby Kay Schultz (3) just moved into a new house in PA and are excited about making it feel like home. Laura was recently promoted to adoption service coordinator and is excited to be using her training and skills to help special needs children and loving families find each other.
Christopher Flynn and wife Molly are living in Los Angeles where Christopher works as an agent trainee for William Morris.
Remember – photos are welcome if you have a snapshot from a classmate's wedding or special event. Until next time, may the Lord bless you and keep you,
Amy
Amy Spisich Kogovsek
ASKamy@aol.com
Summer 2005
I hope this column finds you all well and rested from a long-awaited summer … and speaking of summer, what a nice segue into news I received from Catherine Carnago Badalamente '95. Catherine and her husband live on Harsens Island (a real island she tells us) on the St. Clair River. The St. Clair River connects Lake St. Clair and Lake Huron. Catherine and Michael just recently bought Riverside Grocery, a store on the island that is over 80 years old. It is a Marathon Marine gas dock and "country store" on the water. Being a seasonal business, they are finding themselves very busy in the summer. If anyone is out boating on the Great Lakes, they ask that you please stop by and visit!
Mary Spranze Warren was married June 5, 2004 in Chicago to John Warren and they are living in Austin, TX. Mary completed an M.Ed. at Loyola University in Chicago and is a 4th grade teacher at Cathedral School in Austin.
Stephanie Stephan Porter was married June 19, 2004 in Youngstown to Mark Porter. They are living in Youngstown and Stephanie is working as a physical therapist at Ohio Sports & Spine Institute, Ltd.
Becky Carter married Chris Miller in July of this year and Becky is working as a clinical supervisor in a children's psychiatric program at Mercy Behavioral Health in Pittsburgh.
Carie Michael Bloom is a pediatrician and married to Josh Bloom who is also a physician. Carie and her husband have a two year-old boy, Payton, and a six month old girl, Taylor. They are living in Cary, NC.
Nicole Masielli Sambuchino is married to Kevin Sambuchino and she is working part-time as a school psychologist. Nicole and her husband have two boys, Drew and Jake, and they reside in Erie, PA.
I also talked to Megan Mooney Gossling who is living in Redondo Beach, CA, with her husband Eddie. They are busy doing some writing and stand-up comedy. Megan says if anyone is interested in their work schedule or credits they can take a look at either of the following Web sites: www.meganmooney.com or comeddie.com.
Mike Sekerak and his wife Maryann are proud to announce the birth of their fifth child! Thomas Ryan was born on April 23, 2005 and joins siblings Jacob, Justin, Nicholas and Natalie. The Sekeraks have moved to Avon Lake, OH.
Erol Gurel received an MBA in 2005 from Loyola University, Chicago.
Alan Boose married Gabrielle Royle (a CWRU grad) on October 30, 2004 at Fowler's Mill Christian Church in Chardon, OH. Serving as best man was Alan's brother Eric Boose '95 and as groomsman, Paul Palumbo. Other JCU grads in attendance included Kelly Alexander, Chris Migneault, John and Laura (Skerl) '98 Roberts, Mike Evrard and wife Amy Hrusovsky Evrard '97. Alan and Gabrielle are residing in South Euclid and both work for GE Lighting.
Well, that's all the news this time. Remember, that if anyone has a picture from a get-together or wedding – any event involving our classmates, you can e-mail that in with your news and it can be included in a future column. Just a reminder! Until next time, the Lord bless you and keep you,
Amy
Amy Spisich Kogovsek
ASKamy@aol.com
Winter 2005
I hope this column finds you all well and the New Year is bringing many good things your way. On to news from our classmates …
Denise Bartlett e-mailed with news of completing her J.D. degree in 2003 at CSU. She took the February 2004 Bar Examination and passed on the first try. (Way to go Denise!) Since then, she has been practicing with Rauser & Associates doing personal bankruptcy.
Emma Yates is living in Rocky River and working as a Therapist at Children's Aid Society.
David LoVerdi is living in NYC with his new bride, J'Aimee Cronin. David and J'Aimee were married on October 23, 2004 at the Church of St. Ignatius of Loyola in Manhattan. Fr. Frederick Betti S.J. presided. Also present at the celebration were Matthew Fico, Drs. Tim and Allie Abbamonte, Megan Turon-Spencer, Martin Campbell, and Christopher Migneault.
Jozsi Jalics completed a Ph.D. at OSU in June of 2002 and is working at Boston University. Jozsi and wife Julie are living in Newton, MA.
Megan Gill Kopp completed an MA degree at CSU in 2000 and together with her husband Franz, is living in San Diego CA.
Amy
Amy Spisich Kogovsek
ASKamy@aol.com
Summer 2004
Exciting birth news to report! Travis Lattimore and his wife, Gretchen (Peer) '98, were recently blessed with the birth of their first child – a baby girl. Olivia Grace was born May 20, 2004 at 12:43 pm and weighed 8 lbs. 1 oz. and was 22 inches long. Congratulations and best wishes to the Lattimore family!
Jennifer (Wheeler) Parker is living in Willowick with her husband Keith, son Alexander (2) and their new bundle of joy – Katrina Marie Parker, born on Easter Sunday, April 11, 2004. Besides being a busy mom, Jennifer is working in customer service at 12th Street Florist. Congratulations to the Parkers!
Meera Juneja is currently residing in Mentor with her husband Scott Meyer and their children, Shelby (7) and Nolan (4). Meera works as a corporate administrator for Imalux Corporation.
After working as a criminal prosecutor for 3 years, James Auricchio has joined the law firm of Thorn, Gershon, Tymann and Bonanni as an associate. As an assistant district attorney, he worked in the felony trial division prosecuting offenses from white collar crime to violent felonies. He will work in the area of civil litigation with the firm's Buffalo office and will handle some criminal defense matters as well. Good luck James!
Michael Sekerak and his wife Maryann are living in Willoughby with their children Jacob (4), Justin (3), Nicholas (2) and Natalie – born March 16, 2004. Michael is working as a sales rep for Adelphia Media Services.
That's all the news this time – please keep those e-mails coming and let us know what you're up to! Until next time, the Lord bless you and keep you,
Amy
Amy Spisich Kogovsek
ASKamy@aol.com
Spring 2004
Greetings everyone – time for more news and updates …
Toni Sever Uzl wrote in with the exciting news that she and her husband Dan had a baby boy, Brandon Richard on January 2. Toni is working at Keithley Instruments in Solon as a Cell leader, implementing lean manufacturing in production.
Tiffany Madar-Connelly married Michael Patrick Connelly in Skreen, Ireland on August 7, 2002. Tiffany and Michael welcomed their new bundle of joy, Taitum Madar-Connelly, on February 25, 2004. She weighed in at 7 lbs. 8 oz. and was 18¾ inches long. The Connellys bought a house in Rocky River and Tiffany is teaching third grade in Lakewood.
Kevin Susman is living in Highland Hts. and is scheduled to obtain his JD from the University of Akron in May 2005.
Christopher Flynn is living in Los Angeles with his wife, Molly, and working for Abrams Artists Agency as assistant, Commercials.
Shanon Tringhese-Kneidel and her husband, Alan, are living in Avon Lake and are the proud parents of Nicholas (8), Isabella (5), and Gina (3). Shanon received her M.Ed. in 2004.
Katie Ortlieb Tiffey married Robert Tiffey in July. Bridget Maloney Chamberas '97 was matron of honor. Katie received her master's degree in Physical Therapy and is working with students with disabilities in a Maryland school district.
That's all the news this time around – keep in touch and keep those updates and e-mails coming! Until next time – the Lord bless you and keep you,
Amy
Amy Spisich Kogovsek
ASKamy@aol.com
Winter 2004
Greetings to all – I pray that the New Year finds you all healthy and doing well. And on to the news …
Julie Herceg wrote in to let us know she is living in Fairview Park and working as a manager, broadcast advertising for the Sherwin-Williams Company. I also heard from Paula (Lutz) Leiching who wrote in to let us know that in the summer of 2002 in one month's time, Tara (Bossola) Apuzzo, Jill (Bick) Randal, Becky (Marinelli) Worst and Paula herself all had beautiful baby boys. They had their own little reunion in Cleveland at Lizzy Sauter's house so the boys could play with each other. Paula also writes that Lizzy Sauter and Brian Unk got married in August of 2003 and Tim Niemic is engaged. Thanks Paula! Exciting news also comes from Brian Love who began a national tour of "The Lion King" in June of 2003. He was featured in a local magazine that highlighted his ability as a swing performer (knowing the parts of nine ensemble roles and two lead characters). Brian is currently dividing his time between New York and Los Angeles and learning African languages for the multilingual score of the "The Lion King." Other classmates who have kept in touch include: Michelle Kazar Blank who is living in Delaware, OH with her husband, Andrew, and working as an attorney in Columbus. Michelle received her JD from CWRU. Daniel Winterich is living in Sylvania, OH with wife, Tracy (Potts) Winterich, and he is working as a special agent with the Ohio Bureau of Investigation in Bowling Green. Dan received his JD from CSU. Aaron Loveland is living in Richmond, VA. Gary Niederpruem II wrote in to let us know that Kevin Kelly married Alyssa on August 30th. Scott Varholak married Katie Dawson on September 6 in Maine and Gary was Scott's best man. Scott moved to Denver at the end of September where he and his wife practice law. Brian Mocny married Michelle on September 13th. Joe Haverstick and his wife, Rebecca, are expecting a son in January 2004. Gary wrote in that he and his wife, Mollie, are very busy with their own twin sons – Kevin and Thomas. He quipped, "They have outsmarted us already and we are constantly challenged by the duo!" Thanks Gary! Jozsi Jalics is living in Newton, MA and obtained a Ph.D. from OSU in June of 2002.
That's all for now,
Amy
Amy Spisich Kogovsek
ASKamy@aol.com
Spring 2003
Mike Sekerak wrote to update on baby news! Jim and Michele Nemeth welcomed their first child, Katelyn Marie, in October 2002. Mike and Maryann Sekerak welcomed their third boy in August 2002. Nicholas James joins big brothers Jacob and Justin. Thanks Mike!
Jason Schultz and Laura Gleason Schultz welcomed their first daughter, Abby Kay, on May 5. She weighed in at a whopping 9 lbs. 4.1 oz. Laura also started a new job in October. She works as an after school educator with a delinquency prevention program. She is developing and implementing several elements to the program, including an art curriculum for the students (grades 3-5) and a college exposure program for the middle and high school aged tutors. She writes that she is always pushing JCU!
Roslyn Valentino is still residing in Dallas, TX working for Ashland Environmental Services as a territory manager. Her job keeps her traveling throughout Texas, Arkansas and Louisiana. She is also working on her master's of liberal arts at Southern Methodist University in Dallas. Her degree concentration will be English/Literature and she plans to graduate by December 2003. Roslyn is excited to announce that she is engaged to be married June 28th and the wedding will take place in her hometown of Canton, OH. She writes that her fiancé, "an unfortunate soul (ha ha)" is not a graduate of JCU. I guess Roslyn found a way to overlook that little detail! Congratulations and much happiness to you both! Roslyn also let us know that Anna Spangler is doing well, living in Kansas City and working for Sprint as a logistics manager. Julia Ann Gerdeman received her M.Ed. degree from The Ohio State University and is living and working in Columbus as a math and business teacher at Bishop Hartley High School.
Sean Connolly graduated from Northern Illinois University College of Law in May 2002 and passed the bar exam for Illinois in July of 2002. He was hired by the Cook County State Attorney's Office in Chicago as a prosecutor and is also a captain in the Army Reserve. He took a leave of absence from the State Attorney's Office in September to attend the U.S. Army Judge Advocate General (JAG) School in Charlottesville, VA. On December 19, 2002 Sean graduated from JAG School and returned to his civilian job. On January 2, his reserve unit was mobilized and is deploying to the Middle East to support Operation Enduring Freedom.
Jen Cannell wrote to update us on her promotion to media relations manager at ITXC Corp. in Princeton, NJ – a global telecom carrier that routes phone calls over the Internet. She also let us know that Leslie McAndrew is getting married to Sean Logan '98 in September. Kelly (Pritchard) Mialky and her husband, Eric, live in Northern, VA and had a baby girl, Anna Catherine, March 19. Liza Doty is living in Denver, CO and is a high school geography and history teacher as well as a soccer coach. Laura Csizmar received her MS in Exercise Physiology and is a group exercise manager at Akron General LifeStyles. Kirsten Benson works for I Mortgage Services in Pittsburgh, PA and recently received her realtor's license. Margaret Znidarsic is living in the Cleveland area and working for Parker Hannifin. Margaret recently purchased a home of her own. Greg Preisel filled us in on his recent move. He and wife, Patty, moved to Cologne, Germany in October 2001. Greg accepted a two-year assignment with PricewaterhouseCoopers where he has been working since graduation. He is currently a manager in the firm's Assurance and Business Advisory Services group. … That's all this time. Thanks to all who e-mailed.
Keep sending those great updates! Until next time, the Lord bless you and keep you in His care,
Amy
Amy Spisich Kogovsek
ASKamy@aol.com