1987
Fall 2015
Hello, class. Hopefully, you're not wondering why the column skipped from spring to fall. If you missed the email reminder, the summer issue of John Carroll magazine is online only. The summer column was one of the better ones. There were many great updates, so read below.
Donald Snyder, Ph.D., '87G received the Frederick A. Lowenheim Memorial Award from ASTM International Committee B08 on Metallic and Inorganic Coatings. A member of ASTM and Committee B08 since 1975, Snyder was honored for his high competence and professionalism in the technology of metallic and inorganic finishes.
With the return to school, it was great to know two more of our fellow classmates have become John Carroll parents. Sean Freeman, the oldest son of Tim '78 and Mary (Walsh) Freeman began his JCU experience in August. Joining Sean on campus is Isabella Powers, the oldest daughter of Fran (Farinacci) '88 and Tom Powers. We know how times have changed because Isabella and her roommate have a room on the third floor of Pacelli. It's still a stretch to think of Pacelli, Dolan, and Bernet as anything but all-male dorms. Sean is in Sutowski, which of course was an all-female dorm when we were on campus.
Speaking of our time on campus, we attended a fall festival recently, and one of the bands played a pretty close rendition of The Jackson Five "I Want You Back." It took me back to Thursday nights at the Rat Bar when it was packed, and one of the Motown tunes would rotate on the jukebox. As cheesy as some of the songs were, watching a lot of people have a good time listening to those songs is a memory that might bring a smile to you, too. Or maybe it's a rare catch of The Gap Band's "Burn Rubber On Me" from the many mixers in the gym or off campus frat or sorority parties. We had a lot of fun.
Please send updates or news – who you ran into or anything else to share and remember. Look for me on Facebook, Twitter @DennisCasey87, and LinkedIn.
Dennis
Dennis Casey
708-638-9923
dcasey87@comcast.net
Summer 2015
Hello, class. Welcome to the annual online-only version of our column. While this edition can be more difficult to find, the good news is this format has no word limit, and there are a lot of great updates.
Congratulations to Vince (Vinny) Granito, Ph.D., on being named head basketball coach for the women's program at Lorain County Community College. Vince and Paul Rossman lived next door – on the third floor of Pacelli – our freshman year. Vince had been head varsity girls coach at Wickliffe (Ohio) High School and before that was head coach of varsity girls' basketball at Andrews Osborne Academy in Willoughby, Ohio. In his spare time, Vince is a professor of psychology at LCCC. Vince and wife Laura, their son Andrew, and their daughter Alyssa live in Garfield Heights, Ohio.
David Sternad joined the Malish Corp., an industrial products manufacturer, as regional sales manager for the food service division. Previously, David was with Perdue Farms, Dinner Bell Foods, and Miceli Dairy Products. Congrats and all the best, David.
We were thrilled to learn about Riley McMahon's marriage to Natalie March 1. Riley and Natalie call Brooklyn, N.Y., home. Riley is still making great music and helping others do the same from his New Warsaw Studio.
I noticed a pattern since the last column. Several of our classmates have very athletically talented kids at the collegiate level, including a few who are current Blue Streaks:
• Mary (Chilinski) '86 and Steve Chrzanowski's son, Mark, is one of JCU's top golfers.
• Mary Jo Murino, daughter of Jennifer (Lancione) '89 and Frank Murino, is a member of the JCU women's lacrosse team.
• Gina Giangreco, daughter of Christy (Minadeo) and Gary Giangreco, was on the JCU women's softball team.
• Chet Lauer '14, nephew of Jim Lauer, signed to play professional baseball in France.
• Matt Bruening's son, Brian, played on the Xavier University baseball team.
• Janet (Bordonaro) and Joe Burrello's son, Nick, was a member of Harvard's football team.
There are strong athletic genes in our class – and these are just the ones I happened to see. If your son or daughter is playing at the collegiate level or doing any great things, please let me know so I can share them with the class.
You'll recall an item in an earlier column about an original show John deHaas produced in Orlando, Fla., Here's a great update John sent:
"I continue to music direct shows throughout Orlando and work with the students of West Orange High School on their musicals. This past year, I music directed 'Thoroughly Modern Millie,' 'Peter Pan' (which won 12 Applause Awards), and 'Hello Dolly.' I just finished a run of my original show 'Just This Once: A Song Cycle' at the Orlando International Fringe Theatre Festival where the show won Critics' Choice for Best Original Score. I'm working on arrangements of the score in anticipation of the cast recording. It will be available for download on iTunes, CD Baby, and many other sites in the fall. This summer, I'll be music directing 'Heathers' at the brand new Dr. Phillips Center for the Performing Arts – Pugh Theater and 'Bat Boy: The Musical' at The Abbey. And in the fall, I'll music direct 'Mary Poppins' for West Orange High School. My husband, Shawn Walsh, and I recently adopted our second rescue dog Zeus, a 3-year-old black Lab/Husky mix, who joins his sister, Nahla, a 3-year-old Hound/ Doberman/Rottie!"
Thanks for the great update, John, and congratulations!
Speaking of Orlando, it's great to see classmates take the time to connect with one another when traveling. It happens all the time. Bob Mayer and Pat Langan were good enough to share a great picture. They raised their pints when the Langans vacationed near the Mayers in Florida in April, which makes this picture one to share. Cheers, lads!
If you were on the JCU website recently, you might have noticed Stefano Delidi finding yet another way to give back to JCU and today's students. Stefano formed an internship program with his company, LU-VE Group, and has helped students have a direct path for opportunities in China and across Europe.
For all its pros and cons, Facebook continues to be a great way to connect and reconnect. Our sons gave my wife and me grief when we finally jumped on a couple years ago. Seeing our posts with full, grammatically correct sentences was just foreign to them. Most teens and millennials are over Facebook, but, for we 50-somethings, it can be a great way to stay connected. Thanks to those who've reached out, including Maria (Amendolara) Ruane, Leo Simoson, and Lorie (Sterlini) Gumieny. Look for me there, on Twitter, and LinkedIn, and let me know what's going on with you and any JCU friends, professors, et al.
Sadly, I close with condolences to the family of Phil Doran Jr., who passed away in April after a long illness contracted when we were freshmen. He was the brother of John Doran, Ned '92, and the son of Phil Sr. '62. Many of you will recall John who was with us through sophomore year, but transferred the summer after. Phil was just a year younger than John. The Doran family provided Phil with a beautiful farewell here in Chicago. Please keep John and his family in your thoughts and prayers.
If there's anything left of the summer, enjoy every last minute of it. Those of us in the Eastern half of the U.S. had so much rain that spring just wouldn't let go.
Onward on! Keep the notes and updates coming.
Dennis
Dennis Casey
708-638-9923
dcasey87@comcast.net
Spring 2015
Hello, '87. This is a milestone year for most of us, turning the big 5-0. We've been celebrating with our classmates, wishing them well, and enjoying their well wishes back. Denise and I joined Ann and John Morrissey at a great surprise party Karin threw for Chris Valenti near their home in Hawthorn Woods, Ill. Chris, a vice president with Chicago Tag & Label, is still a diehard Packers fan and shareholder. Maria and Steve Imburgia joined us to celebrate John Morrissey's 50th a little later here in the Chicago area. Happy 50th to all this year.
Welcome back from South Korea, John Mitchell '89. John had an auspicious return, having been on a flight that made the major news channels via video John shot while the plane flew through intense turbulence that sent dishes and personal items flying, requiring the plane to return to the departing airport. You can watch CNN's coverage, which includes what John filmed, at cnn.com/2014/12/16/travel/feat-american-airlinesturbulence/. Glad you're back safe, John!
In my previous column, I wrote about the classmates who were part of the men's soccer team that defeated Notre Dame 30 years ago. I failed to mention Mark Maslona helped me connect to former head coach Tim Baab for the story. Mark was great to reach out to Tim for me and the JCU sports information staff. Mark is the athletic director for the city schools in Twinsburg, Ohio. Thanks, Mark!
Norma Geller will be honored as one of four 2015 Alumni Medal winners given by the JCU Alumni Association. They'll be honored on campus May 15. I'm confident you'll be as impressed and proud of our classmate as I am (sites.jcu.edu/sociology/2014/09/25/norma-geller-awe- person/).
I received a great note from Steve Chrzanowski, who married Mary (Chilinski) '86. Steve and Mary, who live in Broadview Heights, Ohio, are parents of Olivia, a senior at Canisius College, and Mark, a sophomore in the Boler School. Steve, who has been with Summa Care for 14 years, manages group service and support for its sales unit. It's great to hear from you, Steve.
Congratulations to Chuck Bartsche, who's now controller at Shiffler Equipment Sales.
Many have made job changes, but fewer have made real career changes. Mario Becerra, who returned to school, is a registered nurse, having passed his state boards in March. That's an amazing achievement, especially at our advanced age of 50.Congrats, Mario!
Have a great summer, keep the emails and notes on Facebook and LinkedIn coming. I'm also on Twitter (@DennisCasey87). Onward, on!
Dennis
Dennis Casey
708-638-9923
dcasey87@comcast.net
Winter 2015
What a difference! Last issue, everyone was quiet and shy. Fortunately, I have plenty of updates from our class this time. My wife, Denise, and I were lucky to watch the phenomenal Blue Streak football team in person at homecoming on an admissions visit with our two older sons in September. The Streaks throttled cross-town rival Baldwin Wallace. Dave Clifford, John '86 and Sue (Farinacci) Grazia, Sue's sister Fran (Farinacci) Powers '88 (didn't see Tom Powers, maybe he was being shy), and Scott Labuda also enjoying the picture-perfect homecoming.
John FitzGerald joined Dave on the board of the World Union of Jesuit Alumni to try and bring our favorite Jesuit, Pope Francis, to Cleveland and Carroll for the next congress in 2017. Cleveland's Channel 3 interviewed Dave on campus in November about this effort.
One of the most musically talented members of our class, John deHaas, is busy with various shows and productions. As of September, he was conducting and playing keyboard for Les Miserables at Orlando Shakespeare Theater and music directing "Thoroughly Modern Millie" for West Orange High School in Ocoee, Fla. John is starting his 15th year with the Walt Disney Co., playing piano for various shows throughout the property.
On Oct. 28, the University's athletics department did a great job commemorating the 30th anniversary of the men's soccer team, regular-season defeat of the University of Notre Dame at ND. I was there to cover that great match for The Carroll News. Several members of our class were on that team, including Paul Rossman, who stepped in goal while Tony Szczesiul '86, '89G had his foot stitched up on the sideline; Neal Mowchan; Joe Shevory; John Mitchell '89; Mark Trainor; Dom Vitale; and Tony Turchi '89.
Three members of our class also were recognized for athletic excellence as part of the 60th anniversary of the Presidents' Athletic Conference in November: Brenda (McNicol) Whittecar (women's basketball) and Tom Bennett and Sam Walker (wrestling). In all, 34 JCU alumni were among those honored, even though JCU hasn't been part of the PAC since it rejoined the OAC in 1989.
Joe Dedek joined Churchill Stateside Group as senior vice president after serving as divisional CFO for Credit Suisse's Tax Credit Group.
Check out, the photo of Mary (Kesicki) McDermott and her daughter in Times Square proudly displaying a JCU shirt featuring John Carroll.
My son Kevin and I ran into Steve Imburgia and his family at Notre Dame while on another admission visit for Kevin. Congrats on the new house in Lockport,Ill., Steve! Keep the notes and emails coming.
Dennis
Dennis Casey
708-638-9923
dcasey87@comcast.net
Fall 2014
Fall is here, and most of us are enjoying these last reasonably mild weather days before the return of Snowmageddon II or whatever the prognosticators are calling for this winter. The inbox is empty, but I know many of us, myself included, had a busy summer and were consumed with the back-to-school and off-to-college routines lately. Hopefully, a little look back at our years at JCU will suffice. With the return-to-school routine behind us, I thought about the transition to college in 1983. For those of us not from Northeast Ohio, we can remember the things unique to Cleveland. I know the Clevelanders also had to get used to the unique sounds and habits of those who invaded from Pittsburgh; Rochester, N.Y.; Detroit; St. Louis; Buffalo, N.Y.; Erie, Pa.; Chicago; Cincinnati; and beyond. Some random thoughts of life in in northeast Ohio from someone who had never lived there before arriving on campus in August 1983: It's nice to know Ed Mullinax was a friend of mine, even though I'd never done anything other than pass his Ford dealership on I-90 after exiting the Ohio turnpike; the evening news sportscast carried every high school score on a text roll set to a little traveling music; people really watched Big Chuck and Little John and Superhost; Chicago people seemed to be everywhere, and why did they only root for one of their baseball teams; JCU could take over entire rapid cars and bars for the St. Patrick's Day parade; many of the kids from Pittsburgh and Youngstown, Ohio, seemed to speak a different version of English; we were jealous of the N.Y. kids who could drink hard liquor at 18 at home; the best party rooms were in the converted lounges in the basements of Pacelli and Dolan when housing was maxed out; having Otis Day and Dancin' Danny Wright from G98 at your floor's postconcert toga party was pretty cool; the staff at most establishments near JCU really didn't want our business, except for the bars, of course; if you showed even the littlest initiative, great internships and co-op jobs were readily available at many of the area's premier employers, and an alum from JCU was usually there to help you get the position or running the place altogether; and alumni reunion weekends were as much fun for the student workers as they were for alumni.
Speaking of alumni, keep up with sponsored activities in your area via the JCU website Alumni Chapter sections. That's all for now. Make an early New Year's resolution, and send me what you're up to. I'll even share it anonymously, so the next column will be all about you instead of my addled memory. Look for us on Facebook and LinkedIn.
Dennis
Dennis Casey
708-638-9923
dcasey87@comcast.net
Summer 2014
Greetings, classmates. I hope your summer is treating you well. This time, I wrote our column from a great lakeside house in Southwest Michigan, where we were vacationing in mid-July, to sounds of water skiing, tubing, wakeboarding, and all of those other pleasant lakeside sounds.
Our Blue Streaks look to be strongly reloaded for this coming football season and should be another thrill to follow and watch. I'm proud to have helped encourage two high school football stars from the Chicago area to become JCU freshmen this year and will be watching for them. On to the updates …
Maria Livers is the executive director of Lutheran Family Services, which provides mental-health counseling in Northeast Ohio. She's also the house manager for The Breen Center for the Performing Arts at St. Ignatius High School (yes, those Breens who've also been so generous to Carroll – Jack '56 and Mary Jane '91, '94G).
Vince Rattini is manager of supply chain leads for The Clorox Co.
Congratulations to John Grazia '86, who has been president of GearTec for eight years.
Last column, I passed along the following link. I was pleased to learn our own Laurene Cirino DiCillo is the primary archivist for the University and helped build this treasure trove amid hours of scanning legacy University publications, including a increasing number of photos and other archival items, such as past editions of The Carroll News, faculty publications, papal medals, and other items that provide a clear look at the history of the University.
Thanks to fellow columnist Sal Felice '57, I received an update about his daughter and our friend Anita Felice Kazmierczak, Lieutenant Colonel (LTC) U.S. Army (Ret.), and her family, including Colonel James Kazmierczak U.S. Army, Tommy (15), who became an Eagle Scout in late May, and Alaina Rose (13). They'll report for a two-year stint in South Korea Aug. 1. They spent the past two years at Fort Irwin, Calif., (in the Mojave Desert), where Jim served as brigade commander. He will be chief-of-staff in Korea. Besides being a commander's spouse and all the requirements therein, Anita stays busy with various activities and committees on post and transporting the children. We remember well Anita's drive and commitment in ROTC as underclassman. On behalf of our class, I salute Anita and Jim and all our JCU classmates and alumni who wear or wore the uniform for their service and sacrifice for our nation and global allies. We wish Anita, Jim, and family a safe and successful time in South Korea.
When you're near Geneva on the Lake, Ohio, stop by Dave Clifford's newest venture, Smooth Brews, a coffee house and restaurant right on the water. In addition to his main focus as CEO of Advantegrity, an executive search firm, Dave has taken up a lead role in the rapidly growing group known as the World Union of Jesuit Alumni. Dave helped persuade the group to host its next global conference in Cleveland in 2016, with JCU likely to serve as a key host site. A Mass is planned for Cleveland Browns Stadium, and perhaps a certain Jesuit pope might be on the altar? Stay tuned and watch for details.
That's all for now. Thanks for the updates, and keep them coming via email, phone, Facebook, and LinkedIn.
Dennis
Dennis Casey
708-638-9923
dcasey87@comcast.net
Spring 2014
For those who reside in the U.S. pretty much anywhere but Scottsdale, Ariz., I trust you survived the polar vortices that returned us to the "normal" winters of our early youth in the late '70s. If things are the same on campus in May compared to when we were there, the maintenance and grounds crews are in full assault to spiff up the quad and nearby parent-and-relative-friendly areas in advance of commencement. I can see the numerous flats of annuals being planted in front of the dorms, front-end loaders of mulch, coats of paint, and all sorts of sprucing and tidying that, just days earlier, were evidently not necessary for the regular student and faculty needs. That's not a slam on the maintenance and grounds crews. I know we all used to enjoy the irony of the last-minute sprucing before commencement, homecoming, and parents' weekend.
I heard from Rob Ondash, my fellow Pacelli Hall, second-floor, T-wing resident. Rob, who has been living in Austin, Texas, for 10 years, is practicing internal medicine. Before Rob's private practice, he was with the Veteran's Administration.
John (Stumper) Mitchell is living and working in South Korea. Stump, who teaches English as a second language, is coming up on a return to the U.S. early next year.
Another physician from our class, Tom Collins, was named to the list of Cleveland's best doctors. Tom is director of emergency medicine at MetroHealth Medical Center. This is especially notable given his position because MetroHealth is Northeast Ohio's only adult, level-one trauma center, which means the most severe emergency cases are handled there.
I received an interesting note from John Russo, who's completing his ninth year on the Common Pleas Bench of the General Division in Cuyahoga County. John was elected – unanimously by 33 of his peer judges – to run the operations of the court as the administrative and presiding judge.
For your summer reading, check out a relatively new section of the JCU website, http://collected.jcu.edu, which is a growing treasure trove of photos and other archival items, including past editions of The Carroll News, faculty publications, papal medals, and other items that provide a detailed look at the history of JCU. Many photos are of the construction of the current campus, and in a few of these are what look to be the tunnels we famously searched for as undergrads. See what you can find. Have a great summer, and send me what you and your classmates are up to. Email me, or look for me on Facebook and LinkedIn.
Dennis
Dennis Casey
708-638-9923
dcasey87@comcast.net
Winter 2014
Hello again, first class – 1987, the first class of JCU's second century. I hope this column finds you and your families well and you enjoyed a great set of holidays. A belated shout-out to Coach Tom Arth '03 and the football team for a phenomenal first season. The future looks very bright. I've evolved in the 21st century from a social media standpoint. I'm on Facebook and have connected with several of you. If you're on, look me up and connect. Travel for work took me to Charlottesville, Va., in mid-November where I had the great fortune of joining Kelly and Pat Langan for a terrific dinner at their home. Pat, Kelly, and their daughters, Olivia and Stephanie, returned to Charlottesville a few years ago after one of Pat's stints in Europe in his role with the Defense Intelligence Agency. My four-year Pacelli Hall neighbor, as well as my landlord in Maryland back in the early '90s, looks great. He and Kelly were generous hosts as always. Throughout the years, I've been fortunate to catch them while traveling in Maryland, Missouri, and Virginia. Thanks again for a wonderful visit.
Chuck Bartsche is the financial director for Ferry Cap & Set Screw in Lakewood, Ohio. He doesn't have a bad commute from his home in Rocky River. Congrats to Chuck and to Frank Murino, who's the sales territory manager for FrontRange, a cloud IT management company. Frank and his wife, Jenny (Lancione) '89, and their family live in Western Springs, Ill. Congratulations of a different sort go out to Andy Logan '86 and his wife on the birth of their daughter, Rose, who was born Oct. 5. Welcome, Rose!
"The rumors of my demise …" – I have to use these famous words from Mark Twain to issue a fortunate apology and correction from a previous column. In the summer online issue, I referred to the late Fr. William Ott, S.J. As you can imagine, I was pleased to read in a recent issue of Partners, the magazine of the Chicago-Detroit Province, that Fr. Ott recently celebrated his 50th anniversary as a Jesuit. Congratulations, Fr. Ott, and thanks for putting up with so many of us in your geology class that most of us were taking to simply fulfill a science core curriculum requirement; but more importantly, thank you for your seismological expertise as the face of JCU when tremors would strike the North Coast or large areas worldwide.
Finally, with college basketball in full swing, check out the Association of Jesuit Colleges and Universities video that highlights all 28 Jesuit universities' educational excellence and their basketball programs (youtube.com/watch?v=D1dR8aKBZhs). Go Streaks!
Dennis
Dennis Casey
708-638-9923
dcasey87@comcast.net
Fall 2013
Hello, first class. Fall is here and reminds me of the vibrant colors on the JCU campus and tailgating (back when students and families could actually tailgate in the main parking lot before, during, and after home football games).
Jeff Smart passed along a link to an amazing, selfless effort by Mike Johnson; his wife, Mehrnaz; and their son, Alec, to help feed the homeless in San Diego. Check out hunger2help for specifics.
Ron Mingus was named managing partner of Reminger Co. LPA's new Indianapolis office. Ron graduated magna cum laude from CWRU's School of Law after graduating cum laude from Carroll and began his legal career with the City of Cleveland Department of Law. Congrats, Ron!
Fellow WUJC staffer Eric Sosinski co-founded a Pink Floyd tribute band known as Wish You Were Here. Eric and his vast musical talents were the subject of a print piece in Cleveland recently. Eric also plays bass with the legendary Michael Stanley and his current group the Resonators. Eric first met Michael when they were on staff together at Cleveland's WNCX.
Another classmate who has made a successful career in music – from a production and performance standpoint – is Riley McMahon, who has become one of the leading producers in New York City from his New Warsaw studio in Brooklyn. Riley has played on CBS "Late, Late Show" as well as various radio stations and stages throughout the world. Check out Riley and his work.
While in Detroit recently, I had lunch with my former Pacelli roommate Tim Conway, who's in business development for R.L. Polk. He and his wife, Maureen, and their sons, Emmett and Kiefer, reside in Bloomfield, Mich.
In keeping with the musical theme, I close with a memory of my time in Northeast Ohio – Kid Leo's Friday afternoon show. I'm out of space, so, as Kid said at 5:55 p.m. every Friday afternoon, "It's time for me to punch out, wash up, and head home." I hope your iPod has "Born to Run" on it. That song helped close Kid's show. More in the winter edition. Check out your local alumni chapter for holiday and year-end events. Go Streaks! 1987 – the first class of JCU's second century.
Dennis
Dennis Casey
708-638-9923
dcasey87@comcast.net
Summer 2013
I hope this edition of our class column finds all of you enjoying the summer and, hopefully, resting from whatever your routines are. Because this is the first strictly online edition of John Carroll magazine, I'm simply hoping you found the column. The fall issue will be a traditional print edition.
There's not much in the way of classmate updates for this column, which is to be expected as folks allow downtime during this time of year. Because this is an online-only edition, the kind editorial staff removed our normal word count limits, which is a bit ironic because this is the column I have the fewest classmate updates. But don't fear. When classmate news is quiet, I fill in with slices of life from our years on campus and/or elements of life 25-plus years hence.
First, a couple of updates. Jeff Smart passed along a link to an amazing, selfless effort by Mike Johnson, his wife, Mehrnaz, and their son, Alec. As Jesuit-educated individuals, we hear and have heard much about one of the main pillars of a Jesuit education – to be men and women for others. I'm sure you'll be as amazed and proud as I was when I learned about the efforts Mike and his family have done for the homeless in San Diego. What a great example of what we were taught at Carroll. I hope you take a few minutes to view the video and read the story. Check this out for specifics – http://hunger2help.com. Not surprisingly, Mike and Mehrnaz give a lot of credit to Alec and his friends and the other volunteers, but the seeds of this outreach began with Mike. We're proud of you, Mike!
I'm always impressed with those who have the skills to command an additional language well enough to use it in business. In addition to his native Italian, Stefano Deleidi has mastered four additional languages, plus has a working knowledge of Chinese. Stefano and his family have carried the JCU flag to distant points globally as part of his career in finance and management for several multinationals. For the last four years, Hong Kong has been home to the Deleidis where Stefano is managing director of LU-VE Group's local operations. LU-VE is an Italian company in the commercial refrigeration industry.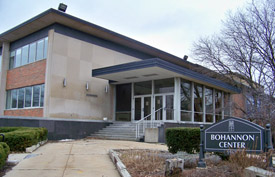 An ode to Bohannon … As my wife, Denise, and I get ready for our oldest son, Colin, to head to St. Ambrose University as a freshman next month, sitting through his orientation last month took my mind back to JCU in the summer of 1983 during our orientation sessions. We did Colin a favor and made sure he was at the first session to help him avoid my fate when I could not get to JCU before the last session. He was able to avoid intro to sociology at 8 a.m. on Tuesday and Thursday like Tom Ruddy and I endured, or the 2 p.m. English class on M-W-F. A 2 p.m. class on Fridays was NOT very popular, as I know you agree! It did take me back to various aspects of our orientation that took place in what was easily my least favorite building on campus, the Bohannon Science Center, demolished in late 2011. I remember taking placement tests in the big lecture classroom where the late Fr. Bill Ott, S.J., would later extoll the many unknowns of earthquakes and related earth science information in the core curriculum class he taught, having our first student ID pictures taken, etc. Now, the site is a landscaped parking area, which mercifully allowed the Hamlin Quad to serve as a beautiful green space and a great compliment to the main Quad behind the AD Building. The space is large enough to hold home soccer matches on the lawn between the AD Building and the Dolan Science Center, which took over for Bohannon in 2003. Why an ode then to my least favorite building? I guess because for those of us who knew nothing other than the front door bookends of the campus of Grasselli Library and the Bohannon Center, it just seems odd that it's gone.
One thing so positive about JCU is it rarely stands still. There are always tweaks, remodeling, and new structures underway. I didn't miss the drab military science building that made way for the RecPlex back in 1985. Other than my freshman-year academic counselor's office being in there, I had no attachment to that building, with all due respect to our ROTC folks. The Bohannon always had a faint scent of formaldehyde, whether near an anatomy lab or not. It was built in the mid-century box style like Grasselli and did not match the other buildings on campus. It was the furthest walk to class. The stretch on those cold winter days between the AD Building archways and the front door of Bohannon seemed one of the coldest. Once inside, the windowless layout did little to inspire this student. On balance, though, I appreciate Bohannon for how extremely well prepared JCU grads were for medical and dental schools, psychology and related practices, as well as many other amazing accomplishments in the sciences. Case Western's School of Dental Medicine has routinely accepted JCU predental majors after their third year at JCU. I remember Ollie Chrisler remarking when he started med school at the University of Chicago that he was as well prepared if not better prepared than classmates from the Ivy League. Impressive results for sure. When Bohannon opened in the mid-1960s, it was light years ahead of the prior science labs and classrooms that were outdated and crammed into a wing of the AD Building. All the facilities were state of the art for their time. For those of us nonscience types, Bohannon was the landmark that we were getting closer to our rooms as we made late-night treks back from Our Gang (the irony that Bohannon was named for the founder of Carling Brewery was great) or a simple errand for the privilege to pay $5 for a bar of soap at Campus Drugs. I'm sure you have your own memories of Bohannon. Those who've been on campus recently have seen this dramatic transformation of the front of campus. If you haven't, it will look different, but much better, than when we were students and well worth the visit. If you missed it, click here to see pictures of the demolition process.
Enjoy what's left of the summer, and send your updates for the next column ASAP! Go Streaks!
Dennis
Dennis Casey
708-638-9923
dcasey87@comcast.net
Spring 2013
I'm anxious to share more news about our classmates and their families. As sometimes will be the case, I have good and sad news.
First, some good news. Congratulations to Bill Lock, who married Jeanne Peppler in Chicago late last year. Bill and Jeanne reside in Forest Park, Ill. Being in the Western burbs works out well for Bill's commute to his office in the West Loop section of downtown Chicago in his new position as director of accounting for Risetime, an IT consulting firm.
I received a nice note from Pam (Rachfal) Cermak. From the small-world-getting-smaller department, Pam writes that several from our class are parents of recent graduates of Notre Dame Elementary School in Chardon, Ohio. Pam's middle son, John, graduated with Jayson Breier, son of Lisa and Greg Breier; Samantha Ohly, daughter of Jayne (McConnell) Ohly and her husband, Robert; and Mackenzie Clinger, daughter of Wendy Wagner and John Clinger. Pam enjoyed seeing everyone at reunion. Thanks to all who came.
Save the date: Fans of Blue Streak football will have a rare chance to see them play near Chicago for the second game in the home-and-away series with St. Norbert College. The Green Knights were the Blue Streak's opponent to kick off last year's schedule in Dublin. That game was officially a home game for JCU, but because both schools draw heavily from the Chicago area, it was decided this year's contest will be held in suburban Chicago at Toyota Park Sept. 7. The University and the Chicago Chapter of the Alumni Association will announce more details about the game and events surrounding the game soon.
I close our column with sad news about the death of Clare Blase, daughter of Cindy and John Blase. Clare was just 15 years old and fought her battle with cancer bravely before passing away in St. Louis Dec. 14. John was a fellow resident of mine on the second floor of Pacelli. Now, one of their sons is a freshman at JCU and lives on the same floor. I wonder if he, too, has found an affinity for the sheet pizza from Irv's on Coventry like we all did?
In January, I was joined by Jill (O'Neil) Braverman, Jeff Smart, Sharon Byrnes Mixner '88, and P. J. Kissane '86 at the memorial Mass for James Freeman, father of Tim '78 and father-in-law of Mary Walsh Freeman.
Finally, as a Carroll News alum, I was asked to write a column in March as part of the paper's Alumni Corner. My memories of the spectacles that were the men's basketball home games when we were undergrads can be found at jcu.edu/alumni if you care to take a trip back in time.
Keep all our classmates and families in your thoughts and prayers. Stay connected. Go Streaks!
Dennis
Dennis Casey
708-638-9923
dcasey87@comcast.net
Winter 2013
I hope everyone had a great, safe holiday season. I believe JCU still holds Christmas Carroll Eve or some version of it. It was always just before or during exam week. While the Mass in Kulas was the proper focal point preceded by Carrolling around the quad, I know I'm not alone in what was our high point – real food from SAGA in the cafeteria at midnight. The chance to get real eggs (compared to the powdered version or God knows what type SAGA slung on our plates the rest of the school year) was motivation enough to go to Mass to get one's ticket to the breakfast.
Steve Presley, a CPA and double major in accounting and finance with a minor in econ in the Boler School of Business, was named finance director and tax administrator for the city of Pepper Pike, Ohio, after holding the same roles for the city of Bay Village. Congrats, Steve.
Mary Lavin is senior manager of strategic gifts at the Cleveland Foodbank. Her dad, the late Dr. Jim Lavin, would expertly carve turkey for us each year during Christmas Carroll Eve. What a great man.
I had a great time catching up with John FitzGerald and Dave Clifford last month. A big thanks to Fitz and Dave for supporting the start of the new Jesuit Alumni and Friends Club of Chicago. They provided critical input to Tim Freeman '78, from the Chicago-Detroit Jesuit Province, and our steering committee and traveled to the inaugural luncheon Nov. 8. Fitz founded the Loyola Club of Cleveland to bring together alumni and friends of any and all Jesuit high schools, colleges, and related organizations for events during the year. Alumni from 23 Jesuit high schools and 20 of 28 Jesuit colleges and universities (35 from JCU, tied with Marquette after Loyola's 125) were among the sold-out crowd of more than 350 to hear former U.S. Attorney Patrick Fitzgerald (a 1978 graduate of Regis High School in New York City) keynote the luncheon at the Union League Club. Tom Paulson's older brother Fr. Brian Paulson, S.J., offered the closing prayer. Tom is an SVP with Merrill-Lynch's Wealth Management Group in Lake Forest, Ill. Tom, we'll see you at the next luncheon. Also in for the luncheon was Luke Baum '86, husband of Robin (Szoradi) Baum. Luke's room was next door to ours our freshman year. It was on the third floor of Pacelli and faced the quad. Each was busted for playing music other than the "official" music supplied by WUJC. In 1990, Fitz took my spot in the apartment I shared with Andy Logan '86 and Dan O'Neil '88 when I moved to Maryland. That apartment was located strategically across the street from the bar Around the Corner in Lakewood, Ohio. We made good use of that proximity. Thanks for all your support, Fitz and Dave. Visit loyolaclub.com for Cleveland-area events, and email me or jesuitclubchicago@gmail.com for information about future Chicago events. Keep in touch, and go Streaks!
Dennis
Dennis Casey
708-638-9923
dcasey87@comcast.net
Fall 2012
REUNION YEAR
Yes, we're old enough to have had our 25th reunion. It seems like many of us were just undergrads working 25-year reunions during reunion weekend in the '80s. I trust another great time was had. We missed it for the first time because of our niece's wedding here on Saturday the 16th. (Check out the pics to this and other events at jcu.edu/alumni). I'm sorry I missed those who were there, especially Tom Ruddy, who hadn't been able to make the recent reunions. Tom and his family are in the Portland, Ore., area where they own Pacific Medical Supply. Keep in touch, Tom.
Bill Lock also made it to campus. Bill is still living in the Chicago area and was looking to connect with Mark Trainor, who teaches in the Pittsburgh area.
Taking in reunion and the Chicago Chapter-sponsored viewing event of the JCU football opener in Dublin (where the Streaks trounced St. Norbert) on Aug. 31 were Mary Walsh Freeman and her husband, Tim '78.
Additional updates: Bill Bergen is president and CEO of MicroGroup near Boston. Bob Mayer and his wife, Laura, call Orlando, Fla., home. We were able to visit during our family trek to Disney last year.
Fellow WUJC talent Mario Becerra started the RN program at Tri-C. He's at the Cleveland Clinic by day in their heart and vascular research unit.
Kelly and Pat Langan are in Charlottesville, Va., after a second stint in Europe vis a vis Pat's position with the U.S. Department of Defense.
Ann and John Morrissey are in River Forest, Ill., with their son and two daughters. John heads up marketing for Chicago Rivet & Machine.
Robin (Szoradi) Baum of Shaker Heights, Ohio, was honored this past spring with the JCU Alumni Medal, placing her in a select group of the most committed and supportive alumni leaders.
It only seems fair I share some of my story because I need your stories for each column. My wife, Denise, and I and our sons Colin (17), Kevin (15), Sean (13), and Ryan (9) call Orland Park, Ill., home. I was recruited back to Waste Management as a strategic account manager in our heavy industrial group in 2010 after having been in various sales and marketing roles here from 1991-99. The boys' high school baseball and soccer, caddying, travel soccer, and football drive our schedules, as they likely do for many of you. We're on the college hunt with Colin, and JCU will be on our visit list. I keep involved with Carroll as part of the Chicago Alumni Club leadership team.
Now we need to hear from you. Please send me a note or give me a call soon. Go Streaks!
Dennis
Dennis Casey
708-638-9923
dcasey87@comcast.net
Summer 2012
REUNION YEAR
"First Class" … As promised (or threatened, as the case might be), I'll attempt to continue the great work for our class column started by Mary Walsh Freeman when we graduated. Sue Farinacci Grazia has had the pen for the past 10 years. Sue, in turn, took the pen from Anne Redmond. Sue has done a great job with the column, as did Mary and Anne. I guess mine was just the first email Sue opened, so here I am trying to meet the high bar set by Mary, Anne, and Sue. A big thank you to Sue for all her efforts for us for the past 10 years.
I knew our class would have had another great showing and a great time overall at our 25th reunion. My family and I had to miss it this time – the first reunion we've missed – because our niece was married June 16 in Chicago. I'll try to provide secondhand updates next column.
As was done so well by my predecessors, this column is, and always will be, about you and your lives and any updates we can share to help keep our class in touch in between formal and informal gatherings. Please pass along any updates – promotions, new family members, moves, minigatherings – about our classmates. Reach out via email or LinkedIn, and I'll provide updates from those to whom we're connected.
John Lawlor is chairman and CEO of Vestcom, a retail shelf edge marketing company based in Little Rock, Ark.
Condolences to Jane (Bridgman) Rodriguez and her family on the loss of their dad Tom '55, who was a longtime leader of the JCU Chicago Alumni Club and Alumni Association.
Some of the best stories, camaraderie, humor, and living history are found in the columns from the classes that came before us. As Tom Collins so eloquently stated in his Millor Orator address about our commencement speaker, Jack Breen '56, who had walked under the arches ahead of us, I encourage you to browse the earlier class columns. One of the best columnists was the late George Sweeney '55. English professor George Bilgere, Ph.D., aptly described George as a weaver of people at a tribute to his alumni efforts. With your help, I hope I can keep us woven and provide you a small semblance of what George provided and what many other columnists do each issue. Throw me a few crumbs now and then. It needn't be anything formal. If it involves anyone or anything from our days connected to JCU and the class of 1987, I'll make sure it's included.
Anyone remember the significance of "First Class" from the beginning of the column? That was the moniker our class had following the Centennial Celebration. We'll always be first class and the first class of JCU's second century. I hope you agree.
Dennis
Dennis Casey
708-638-9923
dcasey87@comcast.net
Spring 2012
REUNION YEAR
I hope you're well and looking forward to our 25th reunion this summer. Can you believe it? It seems like only yesterday that on Thursday nights we'd make our way down to the Rat Bar, to the loud music, dancing (sometimes on the tables, but not me of course!), and our shoes would stick to the carpet. When the Rat closed, we'd truck across campus to Our Gang. Do you remember: Otis Day & the Nights and the huge toga party in the gym and the IBG house afterward; Thanksgiving dinner by candlelight in the dining hall; Christmas Carroll Eve and breakfast at midnight; the 2-a.m. fire drills and standing outside in two feet of snow; ordering pizza at 11 p.m. and sitting in the TV lounge eating and talking until all hours of the morning; wondering why the scale read 10 lbs. more at the end of the semester; the huge snowball fights on the Quad after the first significant snow? What awesome memories with awesome people. What better way to relive those years than to reminisce about them with classmates at reunion. I attended last year's 25th reunion for the class of 1986 (John's), and it was a blast. So I look forward to seeing all of you this summer (June 15-17) and rehashing all the old stories.
After 10 years of writing for the class of '87, this will be my last column. It's been an honor. I remember the day Anne Redmond handed it off to me (after being our columnist for 15 years) and now 10 years have passed (sigh). Well, Dennis Casey was gracious enough to take over the column from me for at least the next 10 years. Thanks, Dennis, and have fun.
I have only one update. I saw Mark Trainor, who's doing great and living in Pittsburgh with his wife and three children. He's an elementary school teacher, and his wife is a high school teacher. Mark hasn't aged a bit and looks great. It was fun catching up.
I wish you well. This has been challenging at times but fun. Thanks for the memories. See you at reunion.
Sue
Sue Farinacci Grazia
440-256-0338
jsgrazia@adelphia.net
Winter 2011
REUNION YEAR
I hope you're enjoying winter. During these cold winter months, I hope you'll update me about life 25 years after JCU. I can't believe this summer will be our 25th reunion. I can't wait to see all of you, so I hope you plan to attend.
I heard from Marie Cox '86 who not only attended with us but went on to earn her M.A. in '89 from Carroll. She's enjoying her position as associate professor of English at Stark State College in North Canton, Ohio, and being an author. She has published two works – one poem and one short story, in an anthology titled "Turning Leaves." The anthology is available on Amazon. She also has a Kindle book, also on Amazon, titled "Murder by Deed." Sounds like a thriller.
I also received an email from Stefano Deleidi, who sends his regards from Hong Kong. He and his wife, Carole, and their three daughters have relocated to Hong Kong after eight years in mainland China. This is a happy move for them. Stefano is the Asia Pacific general and is starting, once again, a new company for a western corporation with manufacturing in China, Hong Kong, and Singapore. Sounds like a lot of work, however exciting. His daughters are ages 6, 3, and 18 months. Only Anna is in school, attending the Delia School of Canada in Hong Kong. Sounds like a great opportunity Stefano. Congratulations!
Sue
Sue Farinacci Grazia
440-256-0338
jsgrazia@adelphia.net
Fall 2011
I hope everyone had a great summer. I sure did. I attended reunion with John's '86 class. That's the great thing about marrying someone from a different Carroll class – I get to attend two reunions, back-to-back, and know everyone. We had a great time. The '86 reunion committee did an awesome job. I can't wait for our 25th next year and hope to see you there. By the way, I plan to hand off the column to someone new at reunion 2012. Anne Redmond handed off the column responsibility to me at our 15-year reunion. Now I'll do it at our 25th. Any takers?
What a better way to start this column than with an update about one of the best of our class – Scotty Labuda. I know Scotty is well known and loved and always a pleasure to speak with. Congratulations to Scotty, who just published his first book, "The Color of People," in May. It's a simple story with the message that we were all born with the perfect skin color. What's great is it's a kids' book for adults. Kids love the illustrations, and adults are excited to read the book with their kids because of the message. It can be purchased online at www.halopublishing.com or and at The Learned Owl in Hudson, Ohio, and Mac's Backs- Books on Coventry in Cleveland Heights. If you're at the Southpark Mall in Strongsville, Ohio, stop in to pick up a copy at Cali Juice and say hi to Scotty. Not only is Scotty an entrepreneur (with his brothers) operating a smoothie bistro in Strongsville, he's a published author. We wish you much success Scotty.
I also heard from Colleen Barrett Larkey, who's living in Chicago with her husband, Ken, and three daughters: Megan (6), Shannon (6), and Grace (5). Colleen started a business, called Sugar Creek Bedding, a few years back for children's custom bedding and room décor. She has a line of handmade girl's clothing, Sugar Creek Kids. Visit Colleen's clothing shop at etsy.com/shop/sugarcreekkids. Colleen met JCU girls for a weekend at Kelleys Island in July. Along for the fun were Margaret Cornillie Kealy, Lisa Cappello Abood '86, Missy Gaffney DeGennaro, and Marie Koch Foe '85. Tons of fun was had by all.
Finally, an update about Carolyn (Peters) Haas from her husband Peter '89. The Haas family moved from Temple, Texas, (Peter was stationed at Ft. Hood) to Manassas, Va. The couple has four children: Stephanie (17), who will be attending JCU this fall; David (15); Anthony (12); and Charlie (2). Carolyn, who's a speech pathologist, is a stay-at-home mom again since the birth of Charlie.
I hope to hear from some of you soon. Missy Gaffney, I emailed you, and I'm still waiting. Keep the news coming.
Sue
Sue Farinacci Grazia
440-256-0338
jsgrazia@adelphia.net
Summer 2011
Sue Farinacci Grazia
440-256-0338
jsgrazia@adelphia.net
Spring 2011
Hi, class of '87. I hope you're doing well and recovered completely from the holidays. I want to thank all of you who took time to send me a note about what's been happening in your life almost 25 years after graduation. Can you believe it's been 25 years.
I ran into Dave Clifford this morning at JCU. What a nice surprise. He's doing well, has a beard (yeah), and is looking professor-like. That may be because he's teaching an entrepreneurship course Monday and Wednesday mornings. As you know, Dave has a successful business (Advantegrity) in Cleveland, so what better person to share and teach from his experience. Best of luck, Dave. Also, Dave's son David is a freshman at JCU. I believe Dave is the first from our class to have a child attend John Carroll. (Correct me if I'm wrong, but I don't think I am.) Hopefully, his experience at JCU will mirror his dad's.
Dave updated me about Mike Johnson, who's living in San Diego with wife, Mehrnaz, and son, Alec. Mike is in sales management for a telecommunications company  (what a surprise, Mike in sales) and is doing well. Mike, I haven't seen you since Technicomp and would love to catch up. Alec and friends from school started an outreach program in San Diego making and serving meals to the homeless on Sunday mornings. What a great way to give back when blessed with so much. Excellent parenting, Mike.
I was happy to hear from Mara Altier Dale, who's living in Germantown, Tenn., with her husband, Tom '89, and son, Matthew (13). She spends most of her time being team mom for whatever sport Matthew is involved in and volunteering at school and in the community. They all enjoy running 5Ks, often with their two black labs. Presently, she's training to run the Germantown Half Marathon with Matthew.
I received an e-mail from Tom Paulson while he was sitting in an airport waiting for his wife to fly in from Boston. He left Morgan Stanley after 21 years to go to Merrill Lynch. He hasn't seen much of his Beta friends but hooked up with Joe Shevory in Boston this spring and managed to offend many people around town. He said the Betas would be proud. Tom, you haven't changed a bit. Tom's oldest child, Emily, just started at Kansas State. He also has a son, Ben (16), and another daughter, Abby (14). He planned to play golf with Frank Murino last month.
Hope to hear from you all soon.
Sue
Sue Farinacci Grazia
440-256-0338
jsgrazia@adelphia.net
Winter 2010
Sue Farinacci Grazia
440-256-0338
jsgrazia@adelphia.net
Fall 2010
Hi, Class of '87. A huge thank you to all who contributed to this column. I thought Facebook would make it a little easier, but it's not the case. I specifically joined Facebook (which horrified my children) to better connect with my classmates, so let's keep in touch.
Thank you Mary Lavin for your update. Mary is back at John Carroll, not as a student, but as director of alumni relations. She has been in this role for 2½ years. Congratulations, Mary. She loves the position, which has given her an opportunity to reconnect with so many people and to work on behalf of our alma mater. She said Doug Labuda was one of the first to contact her upon returning to Carroll, and after 20 years, she saw Scott Labuda at the funeral of classmate Maura Norton last March.
I also received word Mary Kesicki McDermott is in her third year as a member of the John Carroll Alumni Board. She and her husband, Steve, son Andrew, and daughter Elizabeth, reside in Cleveland Heights.
Lt. Col. Fenton Moore has just completed his second tour of duty in Iraq and returned home in June. Fenton and Maria Hruby Moore, their son, Michael, and daughter, Katie, reside in Columbus, Ohio. Hi to the Moore family, and thank you Fenton for your service.
Also back at John Carroll are John Clifford, as assistant controller in the business office, and Laurene DiCillo, as archives assistant in Grasselli Library. Sounds like one continuous reunion.
John FitzGerald wrote that he and Kathleen Moore will have been married 18 years this year. They reside on the West Side of Cleveland and have four children. John spends most of his time coaching and volunteering and has been in the insurance business for 20 years.
Lorie Sterlini Gumieny was so sweet to send me a quick note. (She could read desperation in my e-mail.) She, her husband, and two boys (8 and 10) live in St. Clair Shores, Mich. They're huge fans of baseball, and now that spring and summer ball are over, will be spending their vacation visiting various ballparks throughout the country. How fun. Lorie returned to work a couple of years back after being home for many years. This year she'll be teaching third grade at her boys' school. She says she loves it.
Laura D'Amore also wrote that she reentered the work force full time in 2008 with a new career in HR at Gilbert's insurance agency in downtown Sharon, Pa. She was home for many years with daughter Chloe (14), while working part time from her home. She noted sadly she lost both her parents this year. Her father passed in February and her mother in June. As Laura put it so beautifully, "True love never strays far apart, especially after 59 years of marriage." We're so sorry, Laura, for your loss. Our prayers are with you and your family.
Sue
Sue Farinacci Grazia
440-256-0338
jsgrazia@adelphia.net
Summer 2010
Hi class! I had lunch a couple weeks back with Lisa Ahern Lewis at the Einstein Bagel Shop housed in the basement of the AD Building (yes, a bagel shop in the basement of the AD Building). As we ate, we commented on the students and the memories of our days at JCU, I miss those days! Not that I would want to go or anything (OK maybe for just one weekend). Now to all of you who helped make those memories, I have made it easy for you to contact me; I am now on Facebook. I finally broke down after seeing Dave Clifford at a funeral and hearing his comment "get with the times Sue and join Facebook." So, you no longer have an excuse and I expect to hear from all of you! Dave Clifford briefly updated me that his company is partnering with Vistage International to launch a CEO/business owner think tank in NE Ohio where they can work on daily challenges in a peer to peer, confidential environment. Good luck Dave. He also mentioned his son David is a senior and daughter Tracey a freshman at Holy Name High School. Tracey is the JV pitcher and pitched a no hitter against Lake Catholic Saturday to lead the team to an 11-0 victory. Nice job Tracey. He also commented that Scotty Labuda continues to expand his Cali Juice stores and opened one in Strongsville.
I was thrilled to hear from Alleyne McChesney last week, with lots of news. She is now living in North Carolina with her husband, Chris, and daughter Haley. They just returned from a trip to Hong Kong and South Korea and saw some wonderful sites. Alleyne said the best part of the trip was hearing Haley say how fortunate we are to live in the USA. Ditto to that! Alleyne keeps herself busy volunteering at Haley's school and being the social chairman for their neighborhood — always ready to plan a party (some things never change). She also writes: Maribeth Baker is living in Pittsburgh and doing well. Jane Overslaugh lives in Northern Virginia, works at the Pentagon, and has an adorable daughter, Lily. Alleyne will also be meeting her cousin Shannon McChesney '88 and her three kids in NY City for a cousin and kids outing in May. Alleyne's main reason for contacting me though was to inform me that her neighbors, the Delhommes, will be moving to Rocky River soon. Jake Delhomme just joined the Cleveland Browns and Alleyne wanted to share these words "To all Browns fans, I hope you welcome our friends the Delhommes. They are a great family and Jake will be a great asset to the team." Thanks Alleyne.
Enjoy your summer, Sue
Winter 2009
I hope you are well and looking forward to the holidays. I am grateful to two alumni who took time to share what they have been up to since graduation. I was hoping to hear from more of you; unfortunately, I did not hear back from the few people I e-mailed, but hope to for the next column. I did hear from classmate John Malloy. John has been appointed Eliokem's regional director for the United States. Malloy joined Eliokem in 2002 as director of finance and administration. Prior to joining Eliokem, he worked for Deloitte & Touche in accounting, auditing, and business consulting with manufacturing and industrial companies for 13 years. Malloy obtained a bachelor's degree in business with dual majors in accounting and finance from Carroll and is a CPA. Congratulations, John!
Mario Becerra e-mailed Tom Powers (my brother-in-law) that he is currently working in the Cleveland Clinic's Heart and Vascular Institute as a clinical research assistant. He is helping with heart-related research projects. He's been with the Clinic for over two years. Mario has also been utilizing the Clinic's awesome tuition reimbursement program and is currently enrolled in an anatomy and physiology I class at Cuyahoga Community College this semester. He's not sure what he's contemplating, but he enjoys the research area and may think of becoming a research RN. Just a thought, as nothing is etched in stone at this time. He also took biochemistry last semester and pulled an A. Not bad for a former English major, eh? He is still actively involved with the Playhouse Square Foundation's Partners organization. But mostly, Mario spends his spare time studying. He did visit Houston to catch up with a good John Carroll friend, Nick Arguello '88.
Thank you so much for your contributions, gentlemen. I truly appreciate it.
I want to share a little bit of what I have been doing these days – between soccer, volleyball, and basketball games (you get it!). I recently completed my website – www.alittlegrace.org – to market my hobby of making rosaries. This is something I've been doing for about eight years for enjoyment and thought now may be a good time to take it to another level, since all my kids are finally in school. I currently work with Catholic schools, colleges, and shops. With the website, I hope I can reach more people. So, if you have a few minutes to spare, look me up and let me know what you think.
As for the next column, Missy Gaffney DeGennaro, Katie Simmons, Brenda Kramer Neroni, Craig Broadbent, Dan Brogan, and Laura D'Amore Miklos, please e-mail me. I would love to hear from you. God bless, Sue
Summer 2009
Hi, everyone. I want to first apologize for not having a column last edition. I had no new information to share and, before I knew it, the deadline for submission had passed. I was a little more proactive this time and sent a few e-mails to some of our long, lost alumni with the hopes of having some of them respond. To my pleasant surprise, I heard back from David Clifford. Dave is currently operating his own company, Advantegrity LLC, which is an executive search and management consulting firm in Cleveland, OH. I believe he has had this business for five years or more. Good for you, Dave. He also has two children: David (17) and Tracey (14). David is playing football at Holy Name High School. Tracey is a soccer player and also pitches for her fast-pitch softball team. Dave said both are looking at Carroll as a possibility for college. I'm sure Dave would love nothing more. Thanks for writing in, Dave.
Dan O'Malley also updated me on two exciting events in his life. Dan was married last year to Annika, who is from Germany. He met her while on business there. They now live in Pittsburgh and have welcomed a little girl named Emma Grace. Great name, and congratulations! Dan and Annika are in the process of completing a nine-month rehab project on a 100-year-old home. They are planning on moving into the home in May. Dan is also working many hours as a managing director of Industrial Events Inc., an exhibit marketing company. They have offices in Pittsburgh, Frankfurt, and Shanghai. Thanks, Dan.
I also heard from John Rock and Lisa Moreschi '88. They are currently living in Highland Heights, OH, with their three children: Michael (11), Jenna (9), and Catherine (7). He writes the girls are into soccer, softball, basketball, and dance while Michael is into skiing, golf, baseball, football, and basketball. John not only attends the events, but he coaches at least one team for each, which doesn't leave much time for anything else. This is what John gets for treating each child fairly. John also wrote that he and Lisa hosted Mike Humenik, Rob Eagleye, and John Sullivan at their home before one of Sully's Cincinnati St. Xavier High School football game that was in town. John Sullivan is now the athletic director at St. Xavier. He also sees Joe Norris and Dave Nash a couple times a year when they attend a few Browns' games together. I would love to hear from you guys, too. He also wrote that he saw Kerry and Dan Shannon over Christmas. They are living in Pittsburgh where Dan is working for Sherwin-Williams. Thanks, John and Lisa, for the update.
Reminder, don't forget about Reunion this year, June 19-21. Vegas Night is planned for Friday night and it should be a lot of fun. Hope to see you there, even if it isn't our reunion year.
God bless, Sue
Winter 2008
Hi Class of '87 — I want to apologize for the lack of a column in the last issue and the lack of substance in this column. I have not been receiving personal updates from any classmates, which I need in order to write a column, so I need to use other means. A suggestion was made to me that I contact you rather than you contact me! What a great idea! So, don't be surprised when you either receive and e-mail or phone call for our next column! So be ready.
It's now October, my favorite month, and I'm excited to share that John and I will be leaving Saturday for Italy for our 20th anniversary. We will be traveling with Molly and Marty '86 Barr. This is our first time to Italy, without little ones and I think Barrs' first time period. WOW!! We will be there for a week, traveling to Rome, Florence, and a few small coastal towns. Should be a lot of fun, and I can't wait.
See, if you don't send any news to me, the only news I have to share is my own! I hope to talk to some of you soon, enjoy the holidays and God bless. Sue
Summer 2008
Hi everyone, I hope this column finds you all thawed out from the winter months and enjoying the sunshine! We have a short column this month, but none-the-less a column. An update from Kelly and Pat Langan who are, with their two children, back in England, just outside of London, for the next three years. Pat works for the Department of Defense.
Maria and Steve Imburgia and their children are living in the beautiful city of Chicago. Steve is employed by Starbucks. Steve send us a little more – Melanie and Domenic Vitale and their three children: Gia, Domenico, and Antonio are residing in the lovely community of Kirtland, Ohio. Domenic worked for IBM for many years after JCU until joining Cisco in the area of sales. He also went on to receive his MBA from Case Western Reserve.
I also spoke with my dear friend and community neighbor Tim Kehres. He and his wife Carla and their two children, Chris and Ben, live in Kirtland, Ohio. Tim and Carla have been very busy during the past 10 years renovating their century home, which had belonged to Carla's grandparents. They moved in knowing the work ahead, but it was well worth it. Tim has been very involved in social work and is currently the director of Big Brothers/Big Sisters of Northeast Ohio. He loves what he does and feels he is living his faith in his work. What more can you ask for? He is also very involved in hockey and coaching his son Chris' hockey team. Thanks for the update Tim.
And last but not least Laura (Abramovich) Pestotnick and husband Tom, along with their two children, also live in Highland Heights, Ohio. Laura is a stay-at-home mom, volunteering her time at school and transporting her children to many activities. In her spare time, which is very little, she started a business making and decorating cakes for all occasions. From what I hear, her work is amazing. So if you ever need a cake for a special event, call Laura.
That is all for now, God bless, Sue
Spring 2008
Happy 2008!! Can you believe it's already 2008? Where has the time gone? I'm hoping to hear from more of you this year, we all want to know what is happening in your lives.
I am now a part-time employee at Lakeland Community College, working in their Center for Business and Industry. It's fun being out in the workforce again, after staying home with the kids for 14 years. I really enjoy working in a college environment. Hey, maybe someday I'll be at JCU.
I received an e-mail from probably our farthest alum, Stefano Deleidi, who lives in Shanghai with his wife, Carole, and daughter Anna-Emily. They are expecting another baby girl any day now. Stefano has been residing in Asia for six years and loves it. He has kept in touch with Bill Thewes who has returned from the Middle East and has now relocated to Washington. He is doing very well. He also exchanged e-mails with Steve Imburgia who is doing well at his job as a Starbucks director in Chicago. Also, he informed me that Maria Evans has graduated from veterinary school and is now interviewing, or possibly already working in her field. She is living in Cary, NC.
Anita Felice Kazmierczak is about to be discharged from the U.S. Army after 20 years of honorable service. Congratulations Anita!
Susan Anderson Hering sent an e-mail that she is living in Glencoe, Ill., with husband Michael and three children: Ryan (6), Brendan (6), and Lauren (5). We'd love to hear more Susan if you could send me a note for the next column.
I received some updates from the alumni office as well, one for Dennis Casey who is living with wife Denise in Orlando Park, IL. They have four children: Colin (11), Kevin (9), Sean (7) and Ryan (3). Dennis is currently working with GBC as their strategic account manager.
And, finally an update from Laurene Cirino Dicillo who is living in Chardon, OH, with four daughters, Juliet (14), Victoria (12), Isabella (9) and Sofia (7) and husband John. Laurene is an archives associate at JCU's Grasselli Library, and enjoying it very much. She writes that there is so much fascinating history about our school and wishes that all our alumni could see the foundation of this university. She is proud to be a part of it! What a fascinating job.
Thank you to all who shared in making this column possible, keep the information coming. It is great to hear from you. God bless, Sue
Summer 2007
Hi class of '87! I want to start off by saying how great it was to see everyone at our 20th reunion this past June. John '86 and I were only able to attend the Saturday festivities under "The Big Tent" and we had a blast. For the first time ever, I wanted to stay and he was ready to go (I'm sure that had to do with the fact that he had a tee time at 7 a.m.).
As I think back to Saturday night, we were all able to witness Missy Gaffney doing what she did best 20+ years ago dancing up a storm on the dance floor (not on the tables) with Margaret Cornillie and John FitzGerald. You guys have still got it.
Also present for the reunion party was Mary Schaaf, Moira Clark, Sue Anderson, Lorie Sterlini, Laura D'Amore, Mara Altier Dale, Peggy Nikolai, Kelly McKee, Mona Saade, Tim '78 and Mary Freeman, Greg Breier, Erin Musselman and husband Tom Nicholas '85, Karen Welsh, Anita Felice, Theresa Marsh, Alleyne McChesney, Dave Clifford, John Morrissey, Dennis Casey, Maria and Fenton Moore, Katherine '88 and Tommy Collins, Tom Paulson, Rob Aldave, Mario Becerra, Steve Imburgia, Chris Valenti, Bob Mayer, Pat Langan, Joe Semancik, Bob Reaume, Joe Norris, and of course third floor Millor's Brigid McNeely and Colleen Barrett. I was not able to talk to everyone, and I didn't bring a note pad with me for those I did catch-up with, so please everyone send me a summary of what you have been up to so I can share with the entire class. And I know there were many, many more at reunion that I may have not mentioned and I'm sorry, so please send me a note with updates for the next column.
For all of you who were unable to attend, please be sure to be at our 25th. It will be a great time.
I also want to congratulate Mark Maslona and wife Brenda on the birth of their twin daughters, Lillian and Madelyn, who were born on May 22, 2007. Congratulations and we wish you all the best! Mark and family are living in Solon, OH, and Mark has his own company called Blue Streak Sports which conducts sports camps for kids. All of you in the Cleveland area who have children may want to look into these camps for next summer.
Vince Rattini sent a note that he and his wife, Karen, live in Cary, NC, and just had their first child, Michael, on January 12, 2007 at Duke University Hospital. Congratulations!
Along with seeing Tom Paulson at reunion, he did send me an e-mail saying he and his wife, Sue, and children Emily (14), Ben (12) and Abby (9) are residing in Libertyville, IL. Tom is sr. vice president at Morgan Stanley. Thanks for the update Tom.
Mara (Altier) Dale also sent me a note that she and husband Tom '89 and son Mathew (8 ½ ) are living in Germantown, TN. Thanks Mara and it was great seeing you at reunion.
Bradley Burns MD sent me an update via the alumni office that he is living in beautiful Perrysburg, OH, and practicing at X-ray Associates, Inc.
And last but not least another doctor, Rob Ondash MD, is now living and practicing in Austin, TX. Rob can you please send me a little more about life in Texas?
Thank you all for your e-mails and I am really looking forward to hearing from all of you very soon. God bless, Sue
Spring 2007
By the time you read this column we should be within a week of Reunion. I can't wait, as well as many of you. Please be sure to send me some great stories for the next column. I had a few classmates write for this issue, as well as some information sent by the alumni office.
Robert Reaume sent me a note that he and his wife Bridget and their six children, Liam (11), Jack (9), Daniel (7), Anna (5) Bobby (3) and MaryJo (1) are living in Beverly Hills, MI. The children attend Our Lady Queen of Martyrs School. The family spends most of their free time hunting, fishing, and skiing at their cottage in Searchmont, Ontario. Robert is a partner in The Reaume Company, an insurance, investment and employee benefits firm, with his two brothers. He is fortunate to have some old JCU friends as clients, and does make it back to Cleveland occasionally. He also keeps in touch with Frank Murino (who was just in town), Chris Statt, Chris Bender, John Rock, Chris O'Brien, Neil Koreman, John Redding, Joe Mooney and John Fox. Thanks for the update.
I received an update from Rob "Beto" Aldave who is so looking forward to Reunion this summer. He and is friends typically have a "Crusty Boy Open" golf/fun trip every couple years and this year are going to combine it with the Reunion. This group includes friends like Dave Till, Joe Semancik, Joe Bonafede, Frank Murino, Brian Eslick, Gary Giangreco, Art Johanson '85, Kevin Garmey '88, Rick Siberski '84, Jim Hansen '88 and Mark Oswald '88. Rob said he can't wait to do a little "fun in a box" at Mama's Boy, whatever that means!!!! Rob lives in Baltimore (Catonsville), MD with wife Missy and three girls – Maddy (12), Paige (9) and Andie (7). They spend most of the year playing lacrosse. Thanks Rob.
I was also informed that JoAnn and Bill Lock just became grandparents for the 8th time. Congratulations!! And, they will also be spending part of their summer traveling to Spain and Australia.
Jane Overslaugh Rathbun is living in Alexandria, VA, with husband Roy and daughter Lillian (5). Jane is chief of staff to the Department of Defense. How impressive Jane and I hope to see you at Reunion to hear more.
Thank you all for the updates. Have a great summer, Sue
Winter 2007
Hi Class of '87 – This summer will be our 20th Class Reunion. Can you believe 20 years have passed since we graduated? I can't. I know many are married, have children, have major careers etc. but I can still remember way back when … the Thursday nights at Our Gang after watching Cheers, dancing to the music at The Rat, late night subs at Grums on Coventry, Aurora Pizza, the Thanksgiving meal (before break) at Saga, and of course Carroll Eve on the Quad. What amazing and awesome memories. I can't imagine a more wonderful experience than being at JCU. So, lets all make a note on our calendars to be at Reunion this June 22-24. Dennis Casey has offered to put together a slide show of our four years at JCU. So please forward any pictures you may have – dcasey87@ comcast.net – and he will be certain to include them.
Vince Rattini e-mailed me to say they just welcomed their first child, Michael, to their family. They are getting into the routine of diapering, feeding and sleeping very little. But, it's a lot of fun. He and his wife, Karen, live in Cary, NC, near Raleigh. He has many relocated Clevelanders in the area, so it is like he never left. Vince is commercial business/real estate broker specializing in the restaurant and food service industry. His wife Karen is originally from Shaker Hts., and is a graduate of Georgetown. She is a nurse anesthetist with Duke University Hospital, which is where their son was born. Thank you Vince and hope to see you at Reunion.
I received a note from John Mitchell '89 who informed me that this past October both he and Dave Gravelle completed the Milwaukee Marathon. John finished just under four hours and I'm not sure about Dave. Nice work guys!
Mary Claire (Doyle) Straub is currently living in Roanoke, VA, with her husband, Chuck, and their children Shannon (7) and Ryan (4). Mary Claire is a first grade teacher at Grandin Court Elementary School. Mary Claire will not be able to join us at Reunion this year due to her parents' 50th wedding anniversary celebration. We will miss you.
Vince Granito noted that he is living in Garfield Hts., OH, with wife Laura and children Andrew (11) and Alyssa (8). He received his Ph.D. at Saybrook College and is an assistant professor of psychology at Lorain County Community College. Vince serves on the National Board of Psychology Teachers at Community Colleges throughout the APA. He is also secretary for the Ohio Assoc. of Two-Year Colleges and head girls' basketball coach at Wickliffe High School. Sounds like you are pretty busy Vince. Thanks for the update.
A thank you to Pat Healy with his update on life. He resides in Canton, MA, with his wife, Karen, and three children Sydnie (8), Conor (7) and Braedon (5). He is a regional sales manager for Procell Decking Systems which is located in Foley, AL. Hope to see you in June.
Well I'm going to close for now. I have a lot of updates this time around, but unfortunately not enough space to write it all. I will include the rest of you in the next issue. God bless, Sue
Fall 2006
Hi Everyone — As I am sitting here writing this column I am watching the changed leaves falling from the trees. I should be raking, but instead I am going to try to update you on some of our classmates. The column is short this time due to the light e-mails I received.
Erika and Kevin Randall welcome a new baby boy to their family. I'm not sure of the specifics at this time, but will update you in the next column.
Diane Olayer Laughner currently resides in New Castle, PA, with her husband, Hugh, and their four children Francis (16), Victoria (15), Meghan (13), and Boyd (11).
And, last but not least, I heard from John Morrissey. He and wife, Ann, are living in River Forest, IL, with their three children Jack (6), Aimee (4) and Molly (2). John is currently working for Chicago Rivet & Machine Company. Thank you John, and please update me on some of your old friends from JCU.
God bless, Sue
Summer 2006
Hi everyone – I'm so sorry I missed writing the last issues column. We were on vacation and I didn't send it in on time. But that leaves for more updates now
I received a note from Marty Connell. He is now living in Columbus, OH, and would probably love to hear from his old Phi Kappa Xi friends.
I also heard from Missy Gaffney DeGennaro. She is living in Liverpool, NY, with husband Mike and children Lexi and Paul. She is teaching 3rd grade and molding the minds of our future (as she put it). She loves being a mom, and is involved in the usual carpooling to basketball, baseball and birthday parties. Life is good!! She also updated me that she gets together occasionally with Katie Simmons who is living large in Boston. Katie hasn't changed a bit, and they continue to have great times when they find time. Katie I'd love to hear from you!!! Also, she writes that Margaret Cornellie Kealy is living with husband John and children Caroline, Janie and Patrick in Chicago, and they are doing great. She actually lives near Colleen Barrett, who is now expecting baby #3. Thanks for all the updates Missy
I also heard from John deHaas who just marked his 20th anniversary of his theme park entertainment career since his first at Cedar Point. He is doing a lot of work at Busch Gardens and Disney World. He will be playing fourth keyboard for the national tour of MAMMA MIA in Ft. Myers, Miami, Tampa and West Palm Beach. If any of you are in the area you may want to check into seeing his show. He also just bought a new home and is busy with renovations. And for those who are keeping count, he is now up to 350 roller coasters and hopes to add a few more this summer!!! Thank you, John.
And last but not least I heard from Brigid McNeely. It was so great to hear from you Brigid, and I am so happy to hear you are doing well. Brigid is living in Lakewood, OH, with her two daughters Moira and Maggy. She writes, "I love living there because I can be as quirky as I want and it's okay." Moira is 11 years and in the sixth grade and loves Irish dancing and the cello and Maggy is in the fourth grade and loves soccer and getting dirty. Brigid is a librarian at the Cuyahoga County Public Library Branch in Bay Village, OH. She works at the Adult Reference Desk. So if any of you need books or information, she would love to see you. She is also completing her master's in library science and will finish this summer. She is online through the Texas Woman's University – so she can do homework in her PJs, feed the girls, and go to work. And in the process, there is no excuse to not keep up with the laundry. Let's hear it for multi-tasking. Thank you Brigid, and I hope to hear more updates in the upcoming months.
When you receive this issue, summer will be just about over and fall on it's way. I wish you all a peaceful autumn and hope to have some great information to share with you in a few months.
God bless, Sue
Winter 2006
Hi Class of '87. I hope your new year is off to a great start! We had a wonderful Christmas with special friends and family and I am looking forward to more time spent with them this New Year. I did not receive many e-mails for this column, but will update you on who I heard from. Please let me know how things are with you and your families.
Kathy Alcorn (Hromco) is currently living in Cleveland Hts., OH, with her husband, Justin, and their six children — Jared (12), Bradford (11), Brendan (9), Gavin (7), Graeme (5) and Marin (2). She writes in that she is busy raising her six children, working as a therapist in psychiatry at The Cleveland Clinic Foundation, volunteering for Heights Parent Center, and teaching PSR at St. Dominic's. On top of all that, they are lovingly restoring their century home.
Dennis Casey is now residing in Orland Park, IL, with his family. They made the move in October.
I was so excited to see Tom Collins and wife Catherine (Meehan '88) last week at a get together at the Power's residence. They have five beautiful children and are living in Chagrin Falls, OH. Tommy is a doctor in the emergency room at MetroGeneral Hospital.
Also, my brother-in-law Tom Powers who hosted the evening with his wife, Fran (Farinacci '88), just joined V.O. Baker Co. in the area of sales and consulting. Tom and Fran continue to make Kirtland, OH, their home along with their 4 children Isabella (8), Grace (6.5), Tommy (5), and Liam (3).
God Bless and Happy New Year, Sue
Summer 2005
Hi everyone, it's the night before we leave for Sea Brook Island, SC, and in between packing and loading the van, I remembered the column was due. Unfortunately, I didn't receive much updated information from all of you, but did get a few. I hope to hear from many more of you by the next column!
I did hear from Stefano Deleidi and wife, Anna Carole. They have temporarily relocated to Italy from Asia with Stefano's company, but are due back by the end of the year. They will most likely be in Hong Kong and then Shanghai. This has been his 14th career move since graduating and third since marriage. They are enjoying the moves, but find it takes a little more planning now with a baby. Their daughter Anna just celebrated her first birthday on June 15. Happy Birthday Anna!! Thanks for the update Stefano.
I also heard from Mara Altier Dale. She is living in Germantown, TN, with husband Tom '89 and their son, Matthew (7).
Lydia Sawchuk-Rhoades wrote that she is living in Detroit, MI, with husband David. She is currently teaching at the University of Detroit Jesuit High School.
Thanks again for all of you who e-mailed. For the next column, I would love to hear from Colleen Barrett on her twins and if you're not too busy, Katie Simmons, please send me a little note. Also, Tim Reed and Mary Wahl where are you and what have you been up to?
By the time you read this, summer will be over and school will have started once again. So, have a wonderful fall. God Bless, Sue
Spring 2005
Happy Spring to the class of 87! I hope this column finds you thawed and ready for the warm weather. I know I'm ready.
I want to thank Doug Labuda who sent a note in for his brother Scott Labuda who is very busy with a new business these days. That must be the reason for Scott not getting back to me himself. Scott lived in California with brother Brad for several years and decided to come back to Cleveland a couple years ago. They wanted to bring a part of California back with them so they decided to open a store that serves smoothies. Scott is part owner/operator, with his siblings Brad, Pam and Doug, of Cali Juice Company located in Hudson, OH. Cali Juice opened on November 2004 and Scott can be found there seven days a week chatting with all the locals (some things never change!). So far things are going well with Cali Juice and they are looking forward to opening some other stores and then introduce franchise opportunities. We wish you all much luck, and if anybody is in the Hudson area, be sure to stop by to say hello and have a smoothie, soup or various other west coast sundries.
I also heard from Dave Clifford who is in the fifth year of business for himself with Advantegrity, LLC. He does consulting work with executive recruiters, along with sales and marketing management consulting. It's a lot of work, but he's gaining some great experience. His wife, Shelli, is a nurse at Lutheran West Hospital, and his children David (13) and Tracey (10) are doing well. Dave has also started a scholarship fund in honor of his sister Lisa who passed away last year. Dave started an annual golf outing to raise money for The Lisa Clifford Scholarship Fund. Last year they raised $9000. and are hoping to surpass that this year with the outing scheduled for September. Dave would greatly appreciate your taking part in the outing. He can be reached at 17502 Riverway Dr, Lakewood, OH 44107.
Last, but not least, I heard from Sal Felice '57, who wrote to me about his daughter Anita Felice Kazmierczak. On February 11, 2005 Anita was promoted to the rank of Lieutenant Colonel in the U.S. Army Reserve Transportation Corps. She is currently on active reserve duty at Fort Stewart, GA. Her husband, Major James Kazmierczak is with the U.S. Army Transportation Corps, and is presently deployed in Iraq. Upon graduating from JCU with a BA sociology and as a Distinguished Military Graduate, she began her military career as a Gold Bar recruiter at JCU. She then went on to receive her MA in sociology from Middle Tennessee State Univ. in 1998. Anita and her husband currently reside in Hinesville, GA, with their 2 children Thomas James (6) and Alaina Rose (4). Thank you Sal for updating us on Anita and her family. She has accomplished a great deal since 1987 and we appreciate what she and her husband do for our country. We will keep them in our prayers.
Well, for next month I would like to hear from Tim Reid '85, Brigid McNeely, and Tim Conway.
God Bless, Sue
Winter 2005
Hi everyone, I was so happy to hear from a number of you this past month. I know you were all busy during the holidays, so I appreciate the effort.
I received an e-mail from Mary Kesicki McDermott. She is currently living in Cleveland Heights with her husband, Stephen, and their children Andrew (10) and Elizabeth (5). They recently relocated from New Hampshire.
Paul Rossman sent me a little note saying he and his wife, Susan, and their children Andrew (10), Sarah (7), and Brian (4) are residing in North Royalton, OH. Paul is the manager of financial reporting for Applied Industrial Technologies. Thanks for the update Paul.
I was so excited to hear from Colleen Barrett Larkey. Colleen and I lived on the same floor of Millor many years ago (oh the memories), so it was great to hear that she is still living in Chicago and was married in July of 2002 to Ken Larkey (from Berea, OH). Colleen has her own interior design business at this time but will have more work her way in April when she is expecting twins. Congratulations Colleen, and please write upon the arrival of your babies.
Mario Becerra sent me a note that he is currently a member of the Playhouse Square Partners, a volunteer organization for the Playhouse Foundation. He is co-chairing along side another alumni, Sheri Kilarsky '97 on their yearly black tie fundraiser called the Jump Back Ball. It's a blast, he says. They are hoping to raise 112k at the event, and at this time all is moving along well. They are scheduled to be on Q104 to answer questions about this event, and on Channel 3 as well. Good luck and great work Mario!
And finally, last but not least, I heard from the Burrello family. Thank you Joe and Janet, you were the only two, of the five I asked to hear from who actually e-mailed me. Joe and Janet (Bordonaro) Burrello live in Glen Allen, IL with their three beautiful children (I saw their Christmas picture) Nicholas (12), Katie (10) and Grace (8). Joe and Janet are busy with soccer, baseball, softball, basketball, cross-country and volleyball — either as spectators or coaching (that sounds familiar). Janet currently fills her days taking care of the family and helping out at the children's school. She continues to workout on a regular basis and has run a 1/2 marathon and few triathlons (good for you Janet!). Joe has spent 10 years with William Blair and Co. as a partner and head of their Trading Desk, but now has moved on to a firm called Iron Bridge Capital Management where he says he is doing some very interesting work. He also has run three marathons and a triathlon in the past four years, and says once all his toenails grow back (?), he will hit the road again. Many blessings to your family and thank you again.
Well that's it folks! I may soon be over my word limit! For the next column, I would like to hear from Scotty Labuda, Dave Clifford, Missy Gaffney (again), and Margaret Cornillie. God Bless, Sue
Fall 2004
Hi Class of 1987- I'm sitting here at the computer, looking out my front window at the changing leaves, the pumpkins in my neighbor's yard and the corn stalks on the mailbox posts and can't believe fall is here and soon it will be winter. The kids are back at school and we have fallen into our day-to-day routines. It's already time for another column and yet I have heard from just a couple classmates. I'm going to do things a little different this time, and specifically ask for Dan Brogan, Missy Gaffney, Tim Reed, and Joe and Janet Burrello to send me an e-mail for the next column. Joe some mutual friend from Lake Catholic was just asking about you and I didn't have any info. So update me about yourself, Janet and family and I will in turn tell you who this person is!
I also heard from Moira Clark who is living in Cincinnati, Ohio. She continued on after JCU to receive her MEd and MBA from Xavier and is currently vice president of U.S. Bank.
And in closing, John and I attended Paul Hansen '86 and Sue Bayhurst's '89 beautiful and fun wedding last month. Among the guests were John and Kathleen FitzGerald (Fitz) who reside in North Olmsted with their 4 children. Fitz hasn't aged a bit and is still as layed-back as ever. John Mitchell (Mitch) '89 was also a guest, and another alumnus who hasn't aged the slightest. John is still living and working for the family business in his hometown of St. Louis. It was great seeing you both.
Enjoy the remaining days of Autumn and I will talk to you again in a couple months – God Bless, Sue
Winter 2004
Hi everyone, I hope this column finds you well and catching your breath from the hustle and bustle of the holidays. I know we are. We are all well, but I don't know how you all are, because I have not heard from anyone since the last column. Please e-mail me so our column will be well stocked for the next issue. However, I did receive a Christmas card from Brenda Kramer Neroni. She is living in Dayton with husband, Mike '86, and two children, Jon and Lauren. She says she spends most of her days in the car transporting kids to dance, art class etc. We all know what that's like! They are doing well despite the busy schedule.
Well, I hope to hear from all of you soon, God Bless, Sue
Summer 2003
Happy Summer Everyone.
I am writing this column in June, or is it November? The weather is cold and rainy, is it really summer? I hope by the time you read this column it's sunny and 90 degrees. Since the last update we had a new son, Joseph. He is wonderful, and his siblings are really enjoying him. He is truly a gift from God!!
John deHaas wrote that he has just finished music directing "I Love You You're Perfect Now Change" and "Godspell" for the Winter Park Playhouse in Winter Park, FL. He is currently working on the debut of his musical "Theme Park Diva" for the 2003 Orlando Fringe Festival. If you'd like to see John in action, he is performing at the Seafire Tavern at Sea World in Orlando.
Stefano Deleidi and wife Carole are currently living in China. Stefano, thank you for the great pictures.
Bill and JoAnn Lock have just completed an addition on their home to accommodate their growing family. They are expecting their first grandchild in September. Congratulations!! They have also been the world travelers visiting Maui, Hawaii, Paris and London this year. They are hoping to make it to Australia this fall. Enjoy!!
Pat and Kelly Langan and their daughters, Olivia and Stephanie, call the UK their home. Pat is spending a couple of years there with his company. They are making the most of their time away from family and friends by visiting as many sites as possible on the weekends. Their only complaints are the weather, and the fact that the windows have no screens, so they are frequently visited by unexpected critters.
And finally, I received a brief note from Mike Johnson who is living in California and works for MJ Sports. Mike it was great hearing from you, but please send me more on what's happening in your life!!
I look forward to hearing from more of you before the fall column!! Love and God Bless, Sue
Spring 2003
Hi everyone, I hope this column finds you all well and staying warm. Brutal winter isn't it? All is well in Kirtland, OH. Since I last wrote I am expecting baby #4. Due date is May 28. John and the kids are thrilled, but I'm still experiencing a bit of shock. Life is full of surprises, isn't it?
Anyway, I received a letter from Laurin Vaccariello, wife of John. They currently live in Millersburg, OH the heart of Amish country. John is a family practitioner and Laurin a part-time obstetrical nurse. They have 4 children: Andrew (9), Nicholas (7), Kathryn (3.5) and Luke (4 mos.). They ask if any friends are in the area to look them up in the phone book.
Paula (Densa) Stiles writes that she is currently living in Wickliffe, OH with husband Pete.
I received a call about 1 month ago from Stefano Deleidi. He and his wife are currently residing in China. He actually has lived in many different countries over the past 15 years, but has settled in China. He will be contacting me with further updates on his adventurous life.
Dr. Tom Collins and wife Katherine '88 just had their 5th child on December 8th. Emily Grace joins Katie, Tommy, Delaney Rose, and Andrew. Tom is currently an ER doctor at Metro General Hospital and they live in Bainbridge, OH.
Dennis Casey and his wife, Denise, just welcomed number 4 to their brood
Ryan John. Ryan was a sturdy 8 lbs. 2 oz. and both he and Mom are home and doing well. Congratulations to the Collins and Casey clans!!!!!
Please keep the updates coming, as I, and the rest of the centennial class, look forward to the news from our fellow Streaks. I have included my e-mail in this issue, so it should be a little more convenient. Take Care and God Bless, Sue
Winter 2003
I have shocking news for everyone; Anne Redmond has relinquished her role as the Class of '87 columnist. Are you all still standing? I saw her at reunion this summer and before the night was over, the job became mine. Thank you, Anne, for 15 years of great writing. We truly appreciate your commitment and dedication to our class. I have some big shoes to fill, but I'll do my best.
I am Sue (Farinacci) Grazia your new columnist! I live in Kirtland, Ohio and am the mother of 3 children, Emily (10), Hannah (8), and Mathew (6). I have been married to John Grazia '86 for 14 years and I am a stay-at-home mom. This writing thing is all new to me, so bear with me. … I did attend reunion this summer and was excited to see many great friends. Some of those present were: Laura D'Amore Miklos, Kevin Randall, Tim Reed, Dave Clifford, Anne Redmond, Mark Maslona, Brigid McNeely, Tim Conway, Tom Powers, Dennis Casey, John Morrissey, Mario Becerra, Rob Ondash, Chuck Bartsche, Dan Shannon, Mary Claire (Doyle) Straub, Theresa (Marsh) Bidwell, Gary Golias, and many, many more.
The weather was great and the camaraderie even better. Thank you to Dennis Casey and Dave Clifford for all your hard work in planning this event
Dennis and wife, Denise, are expecting their 4th child in February.
John Morrissey has 2 children, Jack and Aimee. John recently accepted a position as director of marketing for Ace Hardware. John and his growing family make River Forest, IL, their home.
Rob Ondash is working in his private medical practice in Evanston, IL.
Tim Conway and wife, Maureen, are living in Detroit along with son Emmitt (2).
Tom Powers and wife Fran '88 just had their 4th child, Liam Shea, on September 13. They also have Isabella (5), Grace (3 1/2), and Tommy (2).
Pat Langan and his wife, Kelly, welcomed the arrival of their second daughter Stephanie in July. Pat is working at the Pentagon as a satellite image analyst and may be relocating to the UK in the coming year. … Jane Overslaugh Rathbun is now the operations research analyst at the Department of Defense in Washington. She is married to Roy and they have a daughter, Lillian, who will be 1 year old in November.
Bill Thewes is a major in the U.S .Army and is living in Fairfax, VA, with wife Dona.
Now that I got all that off my chest, I am out of breath and must sign off. I am eager to hear from all of you and look forward to keeping the class updated on all the developments in our respective lives … so please keep the updates coming. Until next time, God Bless, Sue
Spring 2002
Hi all, Such big shoes to fill … can you imagine Anne Redmond has entrusted me with the great honor of guest writing our class column. Imagine my delight when I discovered I could finally have my say in a JCU column … that Anne certainly is a brave soul! I first want to send my kindest regards and well wishes to all of the class of '87. We certainly have had a sad turn of events in our history. A happening that makes even me, quiet and pensive about all I have to be thankful for! Anne shared with me some thoughts that were sent from Patrick Langan regarding the 9/11 tragedies. Pat has been working at the Pentagon since December 2000; he is an imagery analyst with the US Defense Intelligence Agency. Fortunately, Pat was not at work at the time of the attack but was instead sharing in the fun of the first day of preschool with his daughter, Olivia. Pat, however, returned to work on the 13th and has been busy working 12-hour overnight shifts since. He summed it up best when he said "I have a lump in my throat thinking of the greatness of this country."
Kevin Randall and his wife, Erika, have purchased a new home in Pasadena, CA, and have opened the pool up to anyone visiting the Los Angeles area. Careful what you wish for; my new job may have me in LA sooner than you think!
Proud godparent Dennis Casey shared the news of Bob and Laura Mayer's second daughter, Casey Gene Mayer, born on 10/11/01. I am certain Dennis approves of her name!
Dave and Judy Gutoskey welcomed their fourth on January 20th. Kevin Joseph Gutoskey joins Katie, Ellen and Peter, making two boys and two girls.
Darren and Dianne Clemente announced the birth of Elizabeth Erin, born early in the morning of February 7th. Dianne and Elizabeth are doing well and life will never be the same for brothers Darren, Jr. and Andrew!
Although it has been a while, I did have the good fortune of running into Jane Bridgman Rodriquez, her husband, Pete, and their charming son Henry, at their restaurant. It has been a busy year for them, Pete and his partners opened up yet another successful restaurant here in my town of Evanston. As if she isn't busy enough, Jane, mother of two boys and with one more on the way, has now taken on the new role of regional director of development and alumni relations for the Chicago, Indianapolis and Milwaukee areas. Jane filled me in on Anne Craft Antor and Julie Brennan Dinan. Julie is mom to three, lives in Grosse Pointe, MI, and works part-time teaching English as a second language. As for Anne, she is doing well still living in her hometown of Kalamazoo, MI, works for IBM and has two girls.
From time to time I do keep up with my old pal Beto (Roberto Aldave). Beto, after eleven years, quit his job and in January 2000 started his own business called EPS. EPS is a distributor of corrosion resistant products, linings and coating. Beto and his wife, Missy, have 3 fair-haired girls: Maddy (7), Paige (4), and Andie (2). 3 girls … good luck!
I had the fine honor of speaking to my old pal Brian Eslick; Brian is proud poppa to 2 boys, Patrick and Matthew and is living in Elmhurst, IL. Brian and his Circle K gang still manage to get together once a year and recapture their youth. … would love to reconnect with Christy Minadeo Giangreco, who has her hands full managing Gary and their family!
I close with a wish for a happy and healthy New Year to all of you and with a request and a challenge. My request is to hear news from some of my old pals, Christy, Cathy Mascharka, MB Baker, Rick Benz, Bill Thewes, and last but not least my old friend Paul Hansen '86. I hear you have migrated again to the great outdoors of Colorado … your old apartment mates from the summer of '86 would love to hear from you!
I challenge all of you to start your diets, fill your Rogaine™ prescriptions, find a new hair dye … do whatever it is, cause you need to get there … The Reunion of course … cause I plan on seeing you all there. Until then Ciao, Mary Schaaf