1977
Spring 2017
REUNION YEAR
Tenreb got together their annual Tenreb Weekend. They gathered in secluded cabins near Loudonville, Ohio. As usual, they had a great time telling the same stories they've been telling for the past 40 years. Those who attended are: Roman Liscynesky '76, Steve Craig '76, Tom Arendt '76, Tom (Birdman) Englehart, Frank Novak '76, Glenn Meden '76, Tony Ipsaro, and Steve Billick. Missing from the picture were Dave Van Wassen '75, Jim Clancy '78, and Chuck Erb '73.
John Buckley shared his story while vacationing in Vero Beach, Florida. He's in his 31st year of private practice in plastic and reconstructive surgery in Youngstown, Ohio. His daughter Kaila is a pathology resident at the OSU Medical Center, and his other daughter, Meghan, is a senior at the OSU Medical Center studying chemical engineering. His son, John, just graduated from Youngstown State University and has made Margaret and him the proud grandparents of Johnny the sixth.
Mike Perry shared, that since 2003, he's been working as president of Szarka Financial in North Olmsted, Ohio. His company runs commercials on the local Fox TV affiliate in Cleveland. His longtime best friend, Bruce Swartz '78, '87G and his wife, Paula, are the stars of several of them. They've become quite the local celebrities. Their fourth grandchild, a baby girl, arrived Feb. 20, but she couldn't wait for a hospital delivery. She was born in the front seat of her parents' car. His son and daughter-in-law delivered the baby themselves. EMTs arrived just after the birth. Mike would like to reconnect with Paul Moore. If anyone knows of Paul's whereabouts, please share with Mike (Mperry6855@oh.rr.com).
Marcy (Melzak) Gray's fun-filled retirement has included bike trips to Greece and France and a hiking trip to Machu Picchu. She hikes with the Cleveland Hiking Club and volunteers as a tutor. She's also earning a realtor license. Her first husband passed away 15 years ago, and she's remarrying in September. She'd like to reconnect with JoAnne Caniglia and Linda (Hall) Gillen at our upcoming reunion. Thomas Mauerer celebrated his 35th year at Rockwell Automation in global logistics. The countdown to retirement is now months instead of years. He lives with his wife, Julie, in Mentor. Their daughter, Jenny, and son, Tommy, live only a couple miles away with their families. They're blessed with three beautiful granddaughters – Ella (4), Giuliana (1), and Paisley (1). Another grandchild is due in September.
Classmates Kevin Hinkel, Al Evangelista, and Tony Mazzella remain good friends. Val Sgro would love to see Bob Clair, Dave Erdelac '78, Eric Rasmussen, and Inese Grava at the reunion.
According to Kathy Berry, two minireunions occurred at two weddings of our classmates' children. Nancy Cunningham Benacci's daughter, Kathleen, was married in downtown Cleveland Dec. 10, and Lisa and Tim Cannon's daughter, Sarah, wed March 4.
The brothers of Iota Chi Upsilon had a reunion at homecoming in October, bringing back 250 former members. They arrived for dinner on Thursday, golf on Friday, and a formal dinner Saturday in the Dolan Science Center. The IXY scholarship is more than $1.3 million and racing toward $2 million in endowments. Making it back for festivities were: Bill Farrell, Tim Cannon, Al Barth, Len Barbe, Tom Schoen, and Gregg Pill.
Speaking of reunion, are you getting ready? Blocking out that weekend? Looking for your duffers and old Rat T-shirts? Eating carb-free so you can fit in them? Start uploading those old pics to the cloud so you can share and reminisce. Pull out the yearbooks to ignite those memories. We'd like to achieve a giving participation of 40 percent this year to honor our 40-year reunion celebration. If you haven't done so, make your gift. Even if you only give one-semester credit hour at the 1973 rate, it counts toward that participation or maybe the current rate. Anything given is appreciated. Now is the time to share and make memories with your classmates and celebrate that we can attend. On a more somber note, please plan to attend the reunion Mass on Saturday so we can remember those who have passed away since our last reunion. Remember to share your stories.
Demaris
Demaris (Levitt) LeBlanc
demaris@columbus.rr.com
Winter 2017
REUNION YEAR
The following fellows were spotted at the homecoming game modeling some great IXY gear: Bill Farrell, Len Barbe, Al Barth, Gregg Pill, Tim Cannon, and Tom Schoen.
Urban Picard and Bill Gagliano traveled to Columbia, Maryland, to attend the dedication of a street named after Dennis Lane near the Merriweather Post Pavilion, where Dennis spent a lot of time in his youth.
The wife of Tim Garrity, Mary Laskin Garrity, died after a long battle with cancer. The Garritys have two children, Daniel and Sean. Mary retired from the Summit Educational Service Center, where she was employed as a school psychologist. She worked in various schools and helped many young people for the past 36 years. Tim retired in 2015 from the Cleveland Metropolitan School District after 36 years as a special education teacher. Tim is looking forward to his class reunion next summer.
Hopefully, you're planning to return for the reunion, June 23-25. Who would you like to see that weekend? Remember to share your stories.
Demaris
Demaris (Levitt) LeBlanc
demaris@columbus.rr.com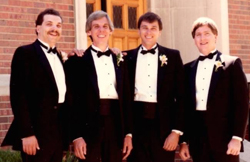 Fall 2016
I received several photos of Randy D'Amore, Tim Leddy, Dan Busta '76, and Len Barbe – one is of a throwback Thursday, and one is a current picture. During their boys' time, they kayaked in the Chicago River, spent a lot of time on Rush Street celebrating the 21st Amendment, went to a White Sox game, and visited the Holocaust Museum in Skokie. They spent three days reminiscing and catching up, vowing not to let so much time pass until the next time.
Our next time is coming, so mark your calendars for our 40th reunion next summer. Share your stories.
Demaris
Demaris (Levitt) LeBlanc
demaris@columbus.rr.com
Summer 2016
Nancy Cunningham Benacci's youngest daughter, Kathleen, is engaged to Conor Flattery. Both live and work in Chicago. Nancy's daughter, Carolyn, is also in Chicago, and her son, Kevin, works in D.C.
Bob Anderson has been recognized as a pioneer in the field of leadership development and research. During the past 35 years, he has dedicated his career to exploring the intersections between leadership and mastery, competence and consciousness, spirituality and business. Bob is the creator of The Leadership Circle Profile, an integrated and innovative leadership assessment framework. A culmination of years of research, The Leadership Circle Profile and associated assessments are used by thousands of organizations. Bob serves as adjunct faculty for the Stayer Center for Executive Education, University of Notre Dame Mendoza College of Business. Bob is also the co-author of the book "Mastering Leadership." Bob and his wife of 32 years, Kim, make their home near Toledo, Ohio, and enjoy traveling the globe with their three adult children.
Carl Grassi serves as corporate counsel and business adviser to a number of middle-market and growth companies. Carl, a CPA, has extensive experience assisting clients in areas of complex mergers and acquisitions, choice of entity planning, business succession planning and the financing and structuring of ESOPs (Employee Stock Ownership Plans). Carl, president of McDonald Hopkins, also provides services related to executive compensation and tax planning, creating family limited partnerships, forming and using limited liability companies, and IRS controversies. Carl is a member of the American Bar Association, the Federal Bar Association, the International Lawyers Network, and a Life Fellow in the American Bar Foundation.
Mark your calendars for our 40th reunion next summer. Share your stories of your summer vacation.
Demaris
Demaris (Levitt) LeBlanc
demaris@columbus.rr.com
Spring 2016
Pat Ward is the mayor of Lyndhurst, Ohio. Pat's political career began with organizing the city's Home Days parade and writing the community letter. The natural next step was the mayor's office.
Caring thoughts about Jim Gorski because he died unexpectedly on Jan. 4. Jim was married to Mary (Nell-Barrord) Gorski '79 for 35 years. They have two daughters and four grandchildren. Jim enjoyed community service, including delivering Meals on Wheels for 17 years; teaching a first-grade religion class at St. John the Evangelist Church in West Chester, Ohio, for 12 years; serving as president of the Welbourne Manor Homeowners Association in Liberty Township, Ohio; and coaching various children's soccer and basketball teams. He was self- employed as owner of Kami-Fund Consulting and as a CPA.
The JCU Men's Chorus performed in Sarasota in November: Greg Biada '75, John O'Brien '76, David Wolfe '76, Jim DiBenedetto '76, and John Simon '76.
Bill Gagliano, John Rutherford, Dave Cullen, Brian Henke, Mike Downing, Stan Mambort, Urban Picard, Bob Keir, and Al Hess '79 had fun on St. Patrick's Day during their annual spring training trip.
Remember to share your stories.
Demaris
Demaris (Levitt) LeBlanc
demaris@columbus.rr.com
Winter 2016
I received few responses from my mass email, so I assumed you were busy taking part in holiday festivities. I received wonderful news from Marcy (Melzak) Gray, who became engaged and plans to marry in 2016. She was widowed 14 years ago and is looking forward to this new chapter in her life. Congratulations, Marcy!
Tom Swanson celebrated turning 60 with Mike McCarthy and Greg Nemecek. They went to Annapolis for crabs, fishing, and beer. Not necessarily in that order. Tom declined to send photos because they weren't appropriate for publication. He sent his last of three daughters off to Cal Berkeley, so now he's an empty nester who has moved from Potomac, Maryland, to D.C.
More congratulations from the alumni office: Kevin Hinkel of Westlake and David Weibel of Chagrin Falls were named to the 2016 Edition of Best Lawyers, the oldest and most respected peer- review publication in the legal profession. Kevin was selected in two different fields, including Closely Held Companies and Family Businesses Law and Real Estate Law. Hinkel is the managing partner of the firm Kadish, Hinkel & Weibel in Cleveland. He represents closely held and family businesses with regard to the formation of corporations and general business matters. David was selected in three different fields, including Closely Held Companies and Family Businesses Law, Employee Benefits Law, and Trusts and Estates Law. Weibel is a partner in the firm of Kadish, Hinkel & Weibel. He has practiced law for more than 30 years and counsels closely held businesses and professionals in the acquisition, formation, operation, and disposition of their enterprises.
Elaine Geller of Beachwood received the Enduring Advocate for Social Change Award from the National Council of Jewish Women/ Cleveland. Geller was honored for her extensive involvement in NCJW's Stop Human Trafficking Initiative, as well as her work with children aging out of foster care and her role in initiating a partnership with Open Table, a weekly, yearlong commitment to a person aging out of foster care. Geller is chair of the Stop Human Trafficking committee of NCJW/ Cleveland. Under her guidance and leadership, NCJW/Cleveland has elevated its involvement in fighting this crime and has developed an awareness program that offers presentations to other organizations.
Remember to share your stories.
Demaris
Demaris (Levitt) LeBlanc
demaris@columbus.rr.com
Fall 2015
"The Times They Are a Changin'." Cleveland alums were spotted in Chicago, and many tales were told when Marty Kelly, Terry Bedell, Pat Cummings, and Ralph Stilphen were rained out at Wrigley Field and sought other entertainment.
From the alumni office: Congratulations to Capt. David Rodney, who retired after 34 years with the University Heights Fire Department with a "blowing out." As Rodney prepared to leave the station for the final time, his fellow firefighters sounded sirens, shone lights, and pulled fire trucks out of the garage. Rodney's family and friends attended to cheer him on. Mayor Susan Infeld and city hall employees also attended. "It's going to be a strange feeling," Rodney said about adjusting to a new sleep schedule during his retirement years. Since 1981, he's led the life of a firefighter, working 24 straight hours, having sleep interrupted by calls, then being off 48 hours. One of the first things Rodney planned to do in retirement is visit two of his three grandchildren in South Carolina.
Sorry to end with sad news, but Leslie Koczur died of natural causes Aug. 13, 2015, at her home. The Chicago Tribune's death announcement includes information about her career and memories from her colleagues. Check it out. Maura (Shields) Powers reminisces: "Anyone who was lucky enough to get to know Leslie during their years at JCU can quickly recall her enthusiasm and relish the fact that she dove into conversations, from the most minor to major topics, always asking for and valuing your viewpoint." Leslie will be forever young in our minds.
Remember to share your stories.
Demaris
Demaris (Levitt) LeBlanc
demaris@columbus.rr.com
Summer 2015
"Proud Mary" has nothing on the class of '77.
Virginia (Beyer) and John Ivec are proud grandparents. Their daughter, Diane Ivec Bernard '05, '08G, and her husband, Chad, welcomed a daughter on July 15, 2014.
Gilmour Academy in Gates Mills, Ohio, named Kathleen (Coffey) Kenny the new head of school. Kathy succeeds Br. Robert E. Lavelle, CSC, who stepped down after serving as headmaster for 34 years. Kathy will be the first layperson appointed to this role and the first woman to lead Gilmour. There are 15 Holy Cross schools throughout the country, and she's the only female head. She's familiar with every facet of Gilmour, having served as a classroom educator, an administrator, a member of the institutional development team, and a Gilmour parent. Kathy began her career with the academy in 1978.
Carol Dougherty published a novel, "The Santiago Inheritance," a political thriller set during the last days of the Augusto Pinochet regime in Chile. After 15 winters, Jeff Kasper sold his horse farm and retired. He moved to a condo and plans to look for a summer cottage. "Yup, I'm reverting back to my 20s," he says. On Saturday May 30, Kevin Hinkel received the Founders' Award from Saint Ignatius High School. The award is given to an individual for outstanding service to the school and alumni association.
Bill Gagliano is proud to share that his son, Charlie, graduated from Loyola Chicago, and is returning to Cleveland to work for a commercial real-estate brokerage firm. His daughter, Cara, who graduated from NYU Law School, is studying for the California bar because she plans to move to San Francisco.
It was wonderful to hear from Steve Billick, who let me know a group of alums and spouses spanning five classes celebrated Tom Englehart's 60th birthday. Tom (aka the Birdman) is one of the founding fathers of Tenreb, which began in Bernet Hall in 1974. This group has been going strong and getting together several times a year for more than 40 years.
During spring break in sunny Naples, Fla., on Saint Patrick's Day, Carroll men met to tell tall tales, enjoy the sun while boating, and take in a baseball game, according to Bob Keir.
Share your stories.
Demaris
Demaris (Levitt) LeBlanc
demaris@columbus.rr.com
Spring  2015
Parties, retirement, work, and awards. Last Dec. 12, Cathy (Monaco) '78 threw a surprise 60th birthday party at Don Shula's Steakhouse for her husband, Doug Hogan. Eighty of his friends and family joined the celebration.
The Derbyshire girls celebrated their 60th birthdays with a long-awaited girls' weekend of relaxing and talking in Canton, Ohio, at Mary Ann (Osgood) Morrison's home and Gervasi Winery. Sheila (Hill) Brillson came from Chicago, and Sue (D'Orazio) Generazio came from Virginia. The two Kathys – (Norris) Michael and (Coffey) Kenny – and Sylvia (Sotirovich) Bahr live in the Cleveland area.
From Marcy (Melzak) Gray: "Retirement is the best! I retired two years ago and have enjoyed every moment. I'm wintering in Florida this year, then I plan to hike the Inca Trail to Machu Picchu. I'm going to bicycle through wine country in France this coming fall. I'm enjoying life."
From Carol Dougherty: "I'm still out in California working in Salinas at Dorothy's Place. It's a Franciscan Workers operation that serves a population that's generally homeless because of trauma. From my office, I look out and see the tents of dozens of homeless people who live out in this part of Salinas because they have nowhere else to go. It's not difficult to feel grateful when I'm able to get into my car after work and drive down Highway 1 along the Bay, going home to my clean and quiet apartment (well, not always clean). JCU was at Dorothy's Place before me. The tile is from a group that worked here a couple of years ago. The name on the tile is Jim Wetzel."
News from the alumni office: Kevin Hinkel of Westlake, Ohio, was selected by his peers to be included in The Best Lawyers in America 2015 in the field of Real Estate Law. Hinkel is the managing partner of Kadish, Hinkel & Weibel in Cleveland. He represents developers and owners of commercial, retail, and industrial properties in Northeast Ohio providing the full complement of legal services.
This past spring, St. Mark Catholic Church and School in Cleveland held a 70th anniversary event. They honored four people with the Lion's Pride Award. Three were past principals, of whom two were nuns, and our own Anthony (Tony) Mazzella. Classmates who attended are Kathleen Berry, LuAnn and Kevin Hinkel, Julie and Tom Mauerer, and Tom and Mary (Kelly) Corall.
Please send me an email so I can remind you when it's your turn to share your stories.
Demaris
Demaris (Levitt) LeBlanc demaris@columbus.rr.com
Winter 2015
When we arrived on campus in fall of 1973, the Billboard's No. 1 song was Marvin Gaye's, "Let's Get it On," and we still are.
Each year, the Hogans host a homecoming party. This year, the tailgating fun included: Alan Baldarelli and his wife, Holly; Mark McGinley '78 and his wife, Patty; Cathy (Monaco) Hogan '78; Doug Hogan; and Jeff Kasper and his friend, Barbara Liber. Doug Hogan was appointed director of external affairs for First Energy. His wife, Cathy, retired from Procter & Gamble after 34 years and now keeps busy volunteering. His son, Douglas (28), is married and works for the Illuminating Co. His daughter, Madison (23), is an adjunct professor at the University at Buffalo (SUNY).
News from Bob Keir: He and his wife have relocated from the 'Burgh to beautiful Sarasota, Fla. Sandy is a partner with the Suncoast Advisory Group, where she helps women entrepreneurs plan for their financial future. You can connect with her as Sandy Keir on Facebook and LinkedIn. Bob is a licensed realtor with Keller Williams Realty. If you know anyone interested in buying, selling, or investing in Florida real estate, Bob would appreciate hearing from them (bobkeir@aol.com). If you're ever in their area, they'd love to share a meal or cocktail with you as the sun drops into the Gulf of Mexico.
Brian Henke is a grandpa. His oldest daughter, Elizabeth, had her first child, a baby boy, Andreu, Sept. 1, 2014. Elizabeth, a Montessori teacher, and her husband, Tito, who's originally from Barcelona, Spain, live in Washington, D.C.
Robert Stall is on a business trip to Delhi, India, as part of Cleveland Clinic international operations. His daughter, Lauren Halladay '12, '14G was married in Saint Francis Chapel Dec. 20 to a fellow classmate, John Mastracco '12.
Val Sgro represented the Institute for Challenging Disorganization at the semiannual meeting of the International Federation of Professional Organizing Associations. I'm sure I'm not the only one who could benefit from Val's services.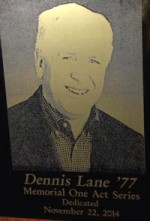 The Dennis Lane '77 One Acts at Marinello Little Theatre Fund is a reality. On Saturday, Nov. 22, Ann Mannen; Nancy Cunningham Benacci; Christine '93 and Urban Picard; Lorrie and Bill Gagliano and their daughter, Margeaux; Mary Anne Garvey; Bob Kenny; myself; and Dennis' fiancée, Denise Gieger, attended the One Act Play Series and reception honoring Dennis. In true John Carroll fashion, the reception didn't end until well after midnight.
Share your stories.
Demaris
Demaris (Levitt) LeBlanc
demaris@columbus.rr.com
Fall 2014
Andy Szeltner saw Greg Taptich '76, fellow IPT brother, and his wife, Helen, when they dropped off their daughter, Jennifer, at the University of Tampa. Andy also shared the adventures of his own children. His daughter, Catherine, a 2013 Florida State University graduate, is a news writer and producer for EWTN (Eternal Word Television Network) News Nightly, which is based in Washington, D.C. She was fortunate enough to be on assignment in Rome for the canonization of Popes John XXIII and John Paul II in April which was a remarkable experience. His son, Anthony, a 2014 Florida State University graduate, is a management associate in the sales and operation planning department at Gerdau Ameristeel Corp. in Tampa. His youngest son, Samuel, a junior at Florida State University, is a personal trainer at Youfit Health Clubs in Tallahassee, Fla.
Sue McCue Harris made her first contribution – she, Linda Hall Gillen, Mary Anne Garvey, Mary McCue '78, and Mary Fran Twomey '78 met on Anna Maria Island in September for their 15th annual get-together. Hopefully, we'll have a picture in the next issue. Sue's youngest, Grace, graduated from NYU this past May. It's Sue's first fall in 20 years with no one going back to school. Hurrah, and congratulations!
Peter Gailey's book "How To: Organize Your Photo Library in 7 Easy Steps" reached No. 1 on the Amazon Kindle list. It's a finalist for a Global Ebook Award.
Rick Teubl and his wife, Marge Newman Teubl '78, are proud, first-time grandparents of a grandson. Austin Richard Teubl was born on Aug. 11 and weighed 8 lbs., 4.5 oz.
This year has been amazing for Robert Juhasz and his wife, Donna. On July 19th, Robert became the 118th president of the American Osteopathic Association, which represents 104,000 osteopathic physicians and medical students at 29 schools and 35 campuses throughout the U.S. Donna and Robert have traveled to where DOs train, teach, and practice throughout the country. In late July, they participated in a mission trip to Lima and Iquitos, Peru, and were able to enjoy Machu Picchu on the way back. They also welcomed their fourth grandchild, Eleanor Anna Youdath, on July 10, 2014. Robert continues his duties – with firm support from his outstanding executive team – as president of Cleveland Clinic South Pointe Hospital in Warrensville Heights, Ohio. Robert is fortunate to lead an outstanding group of caregivers who are focused on providing a high quality experience for all of the patients they're privileged to serve. At South Pointe, he has been working with Provost Jeanne Colleran '76, Ph.D., the JCU premed programs, and the Ohio University College of Osteopathic Medicine to develop opportunities for future osteopathic physicians that will begin their four year med school curriculum at South Pointe Hospital when the new OUHCOM Cleveland Clinic extension campus opens in July 2015.
Share you stories.
Demaris
Demaris (Levitt) LeBlanc
demaris@columbus.rr.com
Summer 2014
Still going strong … The following press release led me to seek Joe Marino, who fondly recalls his four years at Carroll and the lessons learned, which shaped him into the person he is. That person is running for his eighth term as judge of probate for the District of Middletown (Conn.). The District of Middletown Probate Court serves the towns of Cromwell, Durham, Middlefield, and Middletown. With a population of more than 74,000 people, the Middletown District is one of the largest in the state and handles thousands of matters per year. The court is unique for its volume of mental-health cases because of the close proximity to Connecticut Valley Hospital, Middlesex Hospital, and Solnit Children's Center. The Middletown Court also is a part of the Central Connecticut Regional Children's Court in Meriden where Judge Marino presides over cases involving custody, guardianship, and termination of parental rights. Judge Marino, a Democrat, is a past president of the Connecticut Probate Assembly and has been a member of numerous committees within the probate system and serves on the budget committee, which sets the staffing level, employee compensation, and budgets for all the courts in the state. He's a member of the Middletown Rotary Club, the Middlesex County NAACP, the Italian Society of Middletown, the Solnit Children's Center Advisory Group, the Italian-American Civic Order, and is on the board of directors for the Middlesex County Bar Association. He's the recipient of the Community Service Award from the NAACP and the Paul Harris Community Service Fellowship Award from the Middletown Rotary Club. Joe has been a lifelong resident of Middletown and lives there with his wife, Donna, the partnership coordinator for the Middletown Public Schools. They have three children, ages 26, 24, and 21.
Jon Ivec has been vice president of finance and administration at Ursinus College in Collegeville, Pa., since last fall. He and Virginia (Beyer) Ivec divide time between there and their home in Stamford, Conn., where they just had a summer cookout with Kathy and Bob Clair. Presently, Jon and Virginia are awaiting the birth of their first grandchild from their daughter, Diane Ivec Bernard '05, '08G.
Peter '79G and Donna (Wardega) Schmidt have lived in Milwaukee for the past 35 years. They celebrated their 37th anniversary with their four kids and five grandchildren. Peter, who received his Ph.D. from the University of Wisconsin-Madison, is a principal engineer for Rockwell Automation. He's also an adjunct instructor at the University of Wisconsin-Milwaukee. In his free time, Peter likes to dogsled and has been on a number of treks in the Northern U.S. Donna spent her career working in education in the city of Milwaukee. She's the principal and supervisor of elementary education for the Messmer Catholic Schools. In her spare time, she works to tame the woods in their backyard. They both have fond memories of John Carroll and the great people they met there.
Dan CaJacob is vacationing on Hatteras Island, N.C., to recover from three-level disc surgery on his neck. He lives in Cincinnati, Ohio, where he practices otolaryngology (aka ENT) with Group Health Associates and serves as specialties director. His son, Danny (32), is a satellite design engineer; Nick (30) is pediatric gastroenterology physician; Molly (27) is a lawyer; Libby (21) is at Xavier majoring in early childhood education; and Trey (20) is also at Xavier as a premed student. Dan has one granddaughter, Ella (2), and a second grandchild expected soon. Life is good, and he's planning to retire in 2020.
Tim Myers was willing to share that Pat Ward, who has been councilman in Lyndhurst, Ohio, will be running for mayor of the city in 2015. Tim is looking forward to being on campus this fall for the final year of Blue Streak football for his son, Mark.
Bob Keir settled in as a permanent resident of sunny Sarasota, Fla., relocating from the Steel City. He earned his Florida real-estate license and will be working out of the Keller Williams office in downtown Sarasota. His wife, Sandy, has accepted a position as a certified financial planner (CFP) with Suncoast Advisory Group. She holds the Chartered Retirement Planning Counselor (CRPC) and Certified in Long-Term Care (CLTC) designations. Whew. We knew Sha was a certified something, but his wife actually has the credentials.
Linda (Hall) Gillen received her Master of Education in May. The commute from Fairfax, Va., to University Heights would have been too far, so she graduated from George Mason University.
On June 30, Valentina Sgro completed a two-year term as president of the Institute for Challenging Disorganization, a global non-profit that provides education, research, and strategies to benefit people challenged by chronic disorganization. Now she's ramping up her business again, trying to bring the world of professional organizers into the popular culture through her Patience Oaktree novels, short stories, and (coming soon) videos.
Kathy Monaghan (Luttrell) shared that her sister, Pat (Monaghan) Schauer '75, passed away March 28. Pat was only 60 when she lost her battle with cancer. Prayers are the best medicine to help heal the Monaghan family, including Kathy's husband and two daughters.
Shauna (Lynch) Hughes was vacationing at her family's condo in Coronado, Calif., for a few weeks escaping the 115-degree temperature in Las Vegas. She was with her parents celebrating her dad's 90th birthday. Her mother, 89, refers to herself as the younger woman. All three of Shauna's kids were making an appearance.
Kathy and Bob Clair are touring Italy to celebrate their 32nd anniversary with stops in Rome, Cinque Terre, and Arezzo, where they saw their daughter, Catherine, perform a scene from the opera Radamisto before heading to Siena, Montova, Verona, and Milan.
Roy and Sally (O'Neil) Harvey were visited recently from Tom and Mary (Kelly) Corall's son, Tommy, while he was in Dallas for business. Tommy '02 is their godson.
Mary Ann (Osgood) Morrison's daughter, Melissa (Fiely) Graham, '05 had their first grandchild – a boy, William Scott Graham, Feb. 23, 2014. Melissa, a teacher in the Westlake School System, and her husband, John, live in Fairview Park, Ohio.
Mary Anne Garvey shared that Marty Kelly welcomed a new grandson, Owen.
Kathleen Berry and Mary Ann Garvey shared that Ann McAulay retired from the U.S. Defense Finance and Accounting Services. Ann had been on the job since graduating from JCU. To celebrate, she traveled to Ireland. When she returned, Diane Lockard hosted a party in her honor. Betsey (Heben) May and Kathleen Berry attended the grand festivities.
After 37 years with the same company and 28 years as a franchise owner, Randy D'Amore retired from DirectBuy. He started his family late in life and has four children, ages 7 to 17, so he's not done working yet. If any fellow alum knows of any companies looking for a small business professional to help grow their business, they can view his profile on LinkedIn.
Kathleen Berry and Kathy (Coffey) Kenny plan to take the tour of Murphy Hall. Because they were once residents, they can't wait to see the awesome changes Nancy Cunningham Benacci has described.
The Friday night celebration during reunion bought together a few alums from our class. Dianne Siefert–Conrad attended her husband Dan's '74 reunion. Lorrie and Bill Gagliano, Tom and Mary (Kelly) Corall, Nancy Cunningham Benacci, Kathleen Berry, and Marianne Kerr '98G also were spotted in the crowd.
A big thanks to all contributors! If you didn't receive an email request from me in July, please forward your email to me. Remember to share your stories.
Demaris
Demaris (Levitt) LeBlanc
demaris@columbus.rr.com
Spring 2014
Ch-ch-ch-changes – Ed Kisman is joining Rourke Educational Media as its new executive vice president of sales and marketing. Ed brings a broadbased sales and business development leadership background within K-12 software and professional service organizations to the position. Previously, he served as director of sales for Apex Learning. For nine years beginning in 2002, Ed was vice president of sales for Follett Software. Additionally, he was vice president of sales operations for Alorica and director of business development for ZD Consultants, formerly a division of Ziff Davis Education. You can congratulate Ed on joining the Rourke Educational Media team via Ed@rourkeeducationalmedia.com.
Sad times – Wiley T. Pugh passed away suddenly Jan. 28 while visiting Dayton, Ohio. A veteran of the U.S. Air Force, Wiley, who was an avid musician, worked as a radiation therapist for the VA Medical Center in Dayton and Cleveland. He's survived by his loving wife, Debra; his four children – Dennis (Elizabeth) Lee (Las Vegas), Wiley (Erica) Pugh (Dayton, Ohio), Sean (TraShana) Pugh (Bowling Green, Ky.), and Waheedah (Musa) Masinga (Swaziland, Africa); four grandchildren; three beloved older sisters – Jameela Pugh, Michelle Pugh, and Marlana Pugh Hamer '74; plus numerous cherished family and friends. A gathering was held Feb. 8, 2014, at the Christian Life Center in Dayton.
An avenue is available to memorialize the spirit and life of Dennis Lane. With our donations to The Dennis Lane '77 One Acts at Marinello Little Theatre Fund, the production costs of the One Act programs will be subsidized. Checks can be sent directly to John Carroll University, University Advancement, 1 John Carroll Boulevard, University Heights, Ohio 44118. Please reference The Dennis Lane '77 One-Acts Fund with your donation.
Remember to share our stories.
Demaris
Demaris (Levitt) LeBlanc
demaris@columbus.rr.com
Winter 2014
The latest from the class of 1977: First, news from Kathy (Schade) Kobyljanec, who retired from the faculty of John Carroll University in August 2013 after 12 years as associate librarian at Grasselli Library. After graduation from Carroll, she attended Cleveland State Law School and practiced for several years. In 1992, Kathy earned her master's in library science at Kent State, and worked at the CWRU Law School Library. She later became a tenured faculty librarian at JCU. Kathy retired in 2013 to seek treatment at the Cleveland Clinic, University Hospitals, and the Harvard Shoulder Institute at Mass General Hospital for a massive shoulder injury.
Bob Clair is married to the former Kathleen Ricciuti, who he met while earning a Ph.D. at the University of Pennsylvania. They live in Westport, Conn., and return to Cleveland to visit their daughter, a sophomore at Case Western Reserve University. Bob, a managing director in the area of international tax at KPMG, completed his first round-the-world trip with stops in Berlin; Mumbai, India; Bangalore, India; Singapore, and Phoenix. Bob lost touch with almost all his old JCU contacts but occasionally sees Jon and Virginia Ivec, who live in Stamford, Conn.
Bill Gagliano saw several classmates at the John Carroll homecoming football game this year including Rick Maroun; Tim Myers and his wife, Wendy; Pat Ward and his wife, Judy; and Teri LoPresti, widow of classmate Dan LoPresti. Tim's son, Mark, is the starting quarterback for the Blue Streaks and had a phenomenal year. Tim had his wonderful tailgate trailer on-hand to host numerous people. Maryann (Garbo) Polivka's son began his three-year residency in orthodontics this past August. Maryann couldn't be more proud. Her daughter and son-in-law are expecting their first grandchild in April. Peter Gailey published a book he had been working on for some time. After four days, it shot up to No.1 on Amazon Kindle. It's about solving a problem we all have: how to organize your photo library in seven easy steps. We all have boxes and drawers of old pictures taken before the digital age. This guide helps you organize, digitize, and enjoy them. Visit http://amzn.to/1hrFaVp for your copy. Peter lives in Dallas with wife, Robin, and they just celebrated their 24th wedding anniversary. Their daughter, Lauren, is about to graduate from the Culinary Institute of America (CIA) in New York. Their son, Nick, is a junior at Collin College in Plano, Texas.
I send out a mass email before each column deadline. If you aren't receiving my emails, update your email address with the alumni office or myself. Remember to share our stories.
Demaris
Demaris (Levitt) LeBlanc
demaris@columbus.rr.com
Fall 2013
Hello, class. There are a few of you I can always count on for news, and I thank you.
Thanks to Kathy Berry for sharing that Nancy Cunningham Benacci was honored with the Alumni Medal. Those who attended are: Kathy Berry, Nancy Pierce, Susan (Scully) Schultz, Urban Picard, Stan Mambort, Kathy (Coffey) and Bob Kenny, LuAnn and Kevin Hinkel, Tony Mazzella, Mary (Kelly) and Tom Corral, Betsey (Heben) and Don May, Ann McAulay, Diane Lockard, Lorrie and Bill Gagliano, and Laurie Rusnak Saunier. Everyone enjoyed watching the video paying tribute to her accomplishments and seeing her accept the honor. It was an outstanding evening and weekend for those who traveled in and celebrated until Sunday.
Scoop from Mary Anne Garvey: She and AJ '72, Mary Kay and Marty Kelly, and Alice and Terry Bedell attended the wedding of Ralph Stilphen's son on Long Island during the Fourth of July weekend. A great time was had by all.
From Bob Keir: Doug Hogan, son of Doug Hogan and Cathy (Monaco) Hogan '76, married Sept. 13, in Mentor, Ohio. Mrs. Keir and he attended as well as Al Baldarelli and his wife.
Next, John Fickes shared that after coming up short in a couple of campaigns for our county's trial bench, he moved away from the larger-firm law practice and joined a three-person firm in Akron, Ohio, this summer. Things work a bit differently – it's less corporate and driven. A friend of mine likes to say that, at our age, it's becoming more about the quality of life. My three daughters are grown, so why not try new things and ways of doing things?
Kathy (Coffey) Kenny shared that Kathy (Norris) Michael, Sue (D'Orazio) Generazio, and herself reunited in August at the home of Mary Ann (Osgood) Morrison – four of the six Derbyshire girls. Unfortunately, Sylvia (Sotirovich) Bahr, and Sheila (Hill) Brillson were unable to attend. Sylvia, a pilot for United Airlines, was at the helm of a flight in New Mexico, and Sheila was in the final weeks of Summer Advantage Chicago 2013, a summer academic enrichment program for 700 students in the city. Many laughs were shared with wonderful friends.
Once again, I'll continue to send a mass email seeking your stories before each column deadline. If you haven't received any such email, please update your address with the alumni office or myself. Remember to share our stories.
Demaris
Demaris (Levitt) LeBlanc
demaris@columbus.rr.com
Summer 2013
The cardinals of the class of '77 held a conclave in Naples, Fla., during a weekend in March. Peter Norton ('papa norte'), Bob Keir (Sha), John Rutherford (JR), Brian Henke (Brian), Stan Mambort (Stosh), Dr. Hess '79, (official moderator of the conclave, plus we always travel with our own private physician), and Bill Gagliano (Gags, consigliore, and trustee of the precious amber fluid) are seen below taking a break from the deliberations at a little harborside cafe.
An unanticipated response to our trivia questions came from Karen Walker. "Myer Fleisher (Spotty himself) owned Spotty's bar. How do I know all of these answers, you ask. Because my name is Karen Walker, and I was Spotty's barmaid for about l0 years. I'd like to thank you, as I know Spotty and Penny would, if they were alive today for thinking about us. Spotty's Bar was an institution on Mayfield Road for thousands of JCU students for many years. I still remember many students and the good times we had. If anyone would like to drop me a line, you can at KLWalkercom@aol.com. I'd love to hear from you. How about a Spotty's Bar reunion night at one of your upcoming reunions?"
For those of you who haven't heard, our good friend and classmate, Dennis Lane, died unexpectedly. His memorial service was a well-attended gathering with more than 300 people. The service was held in one of Dennis' favorite haunts, Merriweather Post Pavilion, where he had worked during high school and college. During the preservice cocktail reception, we listened to Dennis' party tunes playlist. The sky was blue, and his favorite subjects were assembled – the politicians of Howard County and his friends and family. Among JCU alumni who attended were Bill Gagliano, Mike Downing, Brian Henke, Dave Cullen, Tom Swanson, Joe Crogan, Bob Keir, Kate and John Rutherford, Kathy Berry, Kathy Baldoni, Maura (Shields) Powers, and myself. Many more were there in spirit but were unable to attend. Here's the link to the full video of "Kind of a Big Deal" – The life and Legacy of Dennis Lane. There's also a JCU memorial fund being established in Dennis' name, so stay tuned for more details. Since hearing of Dennis' tragic and untimely death, I chose to reminisce and gathered a few, fond memories from others. Bill Gagliano shared the following at the Memorial Service: "Dennis was many things to many people – a great friend, a fantastic fraternity brother, a born actor, a passable singer, a merry prankster." Among his stories, he recounted two of Dennis' possibly lesser-known pranks. Our freshman year was the start of the national streaking phenomenon. Dennis was the leader of the pack when the local ABC news station came out one night with TV cameras to film an announced late night streak, there was Dennis being chased, nude around the quad. Then for Valentine's Day 1977, Dennis bought a dozen roses and gave one to 12 different girls. The ploy worked until some of the girls boasted to the others that they received a rose from Dennis. I hope the lucky 12 remember receiving a red rose. Several people have commented on his laugh because you always knew when
Dennis was in the room from that robust laugh. Of course, none can forget his memorable performance as Moses. His key line, "Behold my rod," ended Stunt Night as a JCU tradition but lives on in our hearts. Instead of holding up his staff, Dennis lifted his robe and out shot a novelty coiled snake. The John Carroll tradition of Stunt Night that began in April 1939 ended in April 1977. Mike Downing also recalls when Dennis was cast as King Arthur in Camelot. With little acting experience, Dennis felt excitement and terror cast in the lead role. Yet, he brought a whimsical playfulness to the role that was Dennis and pitch perfect. Carol Dougherty also remembers one particular night when Dennis did the monologue in which he recognizes Lancelot and Guinevere's mutual attraction and his own anguish over it. It sent shivers down her spine, because that night, Dennis was acting from somewhere deep inside. Shauna (Lynch) Hughes' favorite memory of Dennis is of him holding up a food tray during a cafeteria food fight and laughing and laughing but not participating in any way. Mary Anne Garvey remembers Dennis had to take a bunch of classes senior year to graduate on time, so he loaded up on gym classes. She remembers him complaining about how exhausted he was, running from bowling to swimming or whatever. Even I can remember dancing on the tables at our five-year reunion. The grass was damp, so when we were finished, the tabletops were about a foot from the grass. As he did at our graduation, Bill Gagliano spoke eloquently at the memorial service. This time, he ended with a promise to keep the old stories alive. Dennis, thank you for being such a "Big Deal" and leaving us with so many stories. To all '77 alumni, check the website's back issues for previously shared stories.
Please update your email with JCU or myself so your stories can be shared. Stay in touch.
Demaris
Demaris (Levitt) LeBlanc
demaris@columbus.rr.com
Spring 2013
Here's the news since our last edition: From Mary Anne Garvey: Sue McCue Harris visited Prague and Vienna and spent time with her daughter, Grace, who's at NYU and spending a semester abroad.
Marty Kelly was spotted at a charity fundraiser where the entertainment was provide by drummer Ralph Stilphen's band, Ralph's Basement. The place rocked!
Marge Pojman Glenn is a speech therapist and works with autistic kids.
Four friends reported that Linda Hall Gillen is a grandmother to a beautiful baby girl named Caroline. Linda's news was quickly followed by Bill Gagliano eager to announce that Urban Picard is a grandfather. The world welcomed Urban Michael the III Jan. 7.
From Terry Bedell: My dear friend Pat Cummings, a lifelong White Sox fan, will forgive me if I invoke Mr. Cub, Ernie Banks, and shout "Let's play two!!" You see, Pat and
his lovely wife's daughters, Katie and Nora, were married in separate ceremonies in June and July (2011) respectively in Chicago. Mike and Maura Powers, Marty and Mary Kay Kelly, Ralph and Mary Stilphen, Bob Hennessy and my wife Alice and I were in attendance at the first "game" of the double dip. Good time was had by all. Pat and Terry completed the "hat trick" later that summer when they welcomed their first grandchild, son Brian's daughter.
Bill Gagliano reports his oldest daughter, Margeaux, and her husband, Kyle, are moving back to Cleveland. Kyle will graduate from medical school in May 2013 and begins his family medicine residency at Metro Health Medical Center in Cleveland in June. Bill's daughter, Cara, finished her first year of law school at NYU and his son, Charlie, completed his sophomore year at Loyola.
Maj. Gen. Rob Stall shared he will retire from the U.S. Army Reserve July 13. Stall has served in the Army and Army Reserve in various places from Europe to Kosovo to Iraq over 36 years.
I'll close with wonderful news from Bob Juhasz: "I've been appointed the Associate Dean for the Ohio University-Heritage College of Osteopathic Medicine Northeast Ohio Extension Campus, which will be located at Cleveland Clinic South Pointe Hospital in Warrensville Heights, Ohio. Ironically, I started working at this hospital on my 16th birthday and was blessed to be able to work my way through Chanel High School and JCU through that work. Although I wasn't accepted at OUHCOM as a medical student, I've become an honorary alumnus and received their highest honor in 2011, the Phillips Medal of Public Service. It has been a privilege to work with these students as they become osteopathic physicians (DO's). I've had the pleasure of leading the Cleveland Clinic Willoughby Hills Family Center as its Medical Director during the last four years and have been nominated to become the president-elect of the American Osteopathic Association in July. My wife, Donna, and I have been blessed with raising four great children, two of whom are married and have given us two beautiful grandchildren, with the third on the way, in April. We lead busy lives but have been blessed to have had great parents who sacrificed on our behalf and a great education through which we've gained the ability to give back to our community." He sends his best to all his buds from Alpha Epsilon Delta.
I hope when we're reading this edition, the sun will be shining and the "lemonade" flowing.
Demaris
Demaris (Levitt) LeBlanc
demaris@columbus.rr.com
Winter 2013
You did a wonderful job sending me news, which I requested before I realized I had a word limit. This caused me great angst because this is my first column and I don't want to offend anyone. Please realize we're more prolific than 460 words. Early arrivals are in print, and the complete script is here. I was going to save some news for a later addition, but at our age that could be risky.
Retirees include: Kim Petrovich in June 2011 after 33 years with Cleveland Metropolitan School District. She's enjoying traveling, reading, gardening, and movies. Julie Hubish Marjenin retired from her teaching position in June 2012. Before retiring, she was chosen teacher of the year by the Special Education Advisory Council. Mary Anne Garvey retired in October 2012 after 32 years with the U.S. Department of Labor. The verdict is still out about what she's doing in retirement.
From Dan Baron: "I live near JCU and often walk my dog around the campus. It's a win-win: The kids who are missing their dogs get a doggie fix, and Roxy gets to make friends. The biggest changes I've noticed around the campus since the '70s, apart from the buildings, is there's far more diversity among the student body (a good thing) and there's no music emanating from the dorms – ever! Music now is a private experience done through ear buds. Surely something of the college experience has been lost. Tragic."
From Carol Dougherty: "I missed my first reunion last summer since we graduated. I want to say hello. I was back in Pittsburgh the past two years because my mom was dying of Alzheimer's and I didn't want my dad to be alone. She died about a year ago, and I know mom appreciated that Garvey once said she'd like to go drinking with my mom. Every opening night my parents were there, providing the wine punch for the opening night party. They loved John Carroll a lot. So did I. In September, I was invited to return to San Francisco Zen Center as tenzo, or head cook, for our city center community. I accepted, so now I'm responsible for feeding everyone at City Center (Laguna and Page Streets in S.F.), which can range from about 40 at lunch to about 80 on a Friday night. It's hard work, but I love it and my crew. One of my favorite memories of John Carroll is sitting in Mr. Marinello's office, listening to him and Ernie swap war stories – Ernie of Vietnam and Leone of WWII in the Pacific theatre. I also remember Leone telling us about the day he went backstage, I think at the Hanna Theatre, and met Dame Judith Anderson (some of you might remember her from the Star Trek films as Spock's relative). He had shown her around the base when she toured the South Pacific with the USO, and part of her performance was the quality of mercy speech from Merchant of Venice. He talked with her in her dressing room and asked if she would give the speech again. She said she couldn't do it after a performance. They talked more, and Leone left. As he walked down the hallway, from her dressing room, she suddenly began, "The quality of mercy is not strained …" and recited the entire speech for him. He stood in the hallway and listened, then left. I couldn't understand back then why he didn't go back to thank her, but now I do. What a gift."
From Tim Meyers: "My son, Mark, transferred from Pitt to JCU this August. He's now the Blue Streaks QB. His twin brother, Matthew, stayed at Pitt and is in the business school majoring in finance and economics. Wendy and I enjoyed our Saturdays watching football with Judy and Pat Ward and Dan LoPresti's widow, Teri. We enjoyed our road trips and met up with Beth and Mike Downing in Columbus when we played Capital. Here are some of his first year accomplishments. 'Mark Myers headlines the group, as the sophomore threw for 2,882 yards and 25 touchdowns on the season. In his first game as a Blue Streak, he set a single-game record for passing yards against St. Norbert College on August 31 (457). He would surpass that record against Muskingum Oct. 13, when he threw for 474 yards and tied the school record for touchdowns with six. Myers led the league in passing yards per game (320.2) and total offense (319.2).' It was fun to see him named Streak of the Week a few times in the Carroll News. I'm thinking I was never Streak of the Week."
From Jeff Kasper: "Remember when we thought things were expensive? After paying $9 for a hamburger and $5 for a beer the other day I was reminded of Thursday nights back in school. After the fraternity meetings, we'd head to good old Spotty's. Thursday special was 6-ounce glass of beer for $1. I also remember skipping SAGA cooking because the Spot Burgers, as good and greasy as they were, tasted great. For $3, you could really get the weekend started."
From Kathy Norris Michael: "We live less than two miles from campus, and I returned to campus in 2006 to be the assistant to the vice president for finance, who at the time was our classmate, Jonathan Ivec. Since, Jon has accepted the same position at Iona College in New Rochelle, N.Y. In my position, I also interact with some of the board members, and those from our class include Nancy Cunningham Benacci, Rick Maroun, and Terry Sullivan. It's always good to see and work with them. They each work very hard for the benefit of the University. Joe and I have three children. Two, an architect and accountant, are out of college. My youngest is a freshman at Saint Mary's College in South Bend, Ind."
From Peter Gailey: "My wife, Robin, and I are alive and well in Plano, Texas. Our daughter, Lauren, is about to graduate from the Culinary Institute of America in New York. Our son, Nick, is at University of Arkansas. I continue to work in the IT world. Currently, I'm at an early stage firm, Knowledge ToolWorks, training IT staff at enterprise scale firms. I'd like to hear from IBG Brothers – connect on LinkedIn. Some of my favorite memories: streaking on the quad, rugby games, IBG covert parties in the park, talent night, time spent on the second floor of Burnet Hall, food fights, and the late Fr. Zombor, who was my mentor and friend."
From Luann (Feldmeier) Schecht: "I have wonderful memories of JCU going back to orientation – our duffers (Maura (Shields) Powers donned her duffer for the reunion picture) and the Bette Midler concert. I'm living in St. Pete Beach, Fla., with my husband and two daughters."
From Anne Carmody: "I'm still teaching and loving it after 35 years! I'm also a grandma to my beautiful granddaughter, Lily."
From Marcy (Melzak) Gray: "I'm about to retire after a 34-year career at Progressive Insurance in Cleveland. I plan to bicycle, hike, trek, and motorcycle as much of the world as I can. I also hope to return to teaching or tutoring math."
News from Kurt Ladensack: "I retired in May 2012. Most of you have read about overly generous public employee pensions. Well, I'm a beneficiary. Thirty years of public service in water utility management was enough. My wife and I are planning to relocate from the San Francisco Bay area to Nevada in 2013. We intend to live their for six to eight months out of the year and travel the rest of the year. Destinations planned include Sydney, Venice, Paris, and London for starters. I enjoyed reuniting for a weekend with class of '77 friends Jerry Faist, Randy Baker, Dave Rodney, and Jeff Kasper in October 2011. I hope we can do that again."
From Maryann (Garbo) Polivka: "My married daughter, Jillian, is a math teacher for a local middle school. They live close by, and her husband is a perfect addition to our family. My son, John, is finishing his D.D.S. at the University of Illinois Dental School and was recently accepted as a resident in their orthodontics program. My youngest, Michael, is graduating this December in construction management and has interesting job prospects. I'm working with an orthodontist team as their treatment coordinator and enjoy the job (sales). My sisters still live in the Cleveland area, and when I get back that way I usually drive by JCU. I'm impressed with the renovations"!
News from the alumni office: Professor Mike Gentile was named associate dean for academic colleges at Niagara University. Gentile began working at Niagara in 2001 and is an associate professor in sports management. He earned a B.A. in history from JCU and a J.D. from the Cleveland-Marshall College of Law. He also has extensive work experience in sports management from his time as associate director of athletics at the University of Texas-El Paso, in addition to being a practicing attorney for 10 years.
To close with a little Bob Keir-type trivia from Jeff Kasper: What was Spotty's wife's name? What was that luscious and curvaceous barmaid's name? Who owned the bar? Send your answers to demaris@columbus.rr.com with other fun, newsy tidbits.
Dennis
Dennis J. Lane
dlane@ryancom.com
Demaris (Levitt) LeBlanc
demaris@columbus.rr.com
Fall 2012
REUNION YEAR
It was great to see so many of our class at the 35th reunion this past June. We might be older, but we still held our own among the younger classes. Everyone I spoke with was glad they made the trip back to campus. I got a kick out of the wine tasting event in Rodman Hall. During my four years as a student, the closest I came to Rodman was walking past it on the quad. The most poignant event for me, however, was the reunion Mass. The names of class members who've passed away since the last reunion were read aloud and a rose is placed at the altar in their honor. From our class Brian Ellis, Dan LoPresti, Barbara Molnar, John O'Hare, Elsie (Russ) Pollock, Michael Rodgers, Jon Salerno, Lois (Rabb) Snider, and Jane (Kvacek) Zusman were honored. I was struck by the thought that, even if you've never been back to the campus, John Carroll doesn't forget you. We lost another classmate after the reunion. Rev. Richard Matty passed away July 16 in Chicago while visiting friends. Rick had been the rector of St. Patrick's Cathedral in El Paso, Texas, since 1997. Officials of the Diocese of El Paso released the following statement to the news media about the loss: "The Diocese and community of St. Patrick Cathedral are deeply saddened by this great loss, and we ask everyone to keep Fr. Rick and his family in their prayers."
OK, enough of the sad news. On the good-news front, I learned my fellow U-Clubber, Bill (Gags) Gagliano was honored by Chambers USA as a leading real-estate lawyer in Ohio. "Chambers USA ranks the leading firms and lawyers in an extensive range of practice areas throughout America. The research is in-depth and client focused, and the guide is read by industry-leading companies and organizations throughout the U.S. and worldwide." Gags is chair of the real-estate practice at Ulmer & Berne, LLP in Cleveland. And speaking of Gags, during the class dinner, he helped organize the coup to remove me as class columnist for nonperformance of duty. I humbly acquiesced and, in turn, assisted him in hoodwinking Demaris (Levitt) LeBlanc into assuming the throne. I hope she'll do a better job than me. Give her a hand, and send her your news.
Dennis
Dennis J. Lane
dlane@ryancom.com
Demaris (Levitt) LeBlanc
demaris@columbus.rr.com
Summer 2012
REUNION YEAR
I haven't been the most prolific class columnist for the past couple years. If you've checked this space regularly to find out what's going on with your classmates, you've probably wondered what was up. Then again, if you really care to know what everyone is up to, then you likely attended reunion in June.
I received news from a couple folks who were planning to return to campus. The most poignant note came from Jeff Kasper, who wrote: "About 15 months ago, I was diagnosed with a malignant brain tumor and went through an eight-hour operation, 21 days in the hospital, and a straight month of radiation. So far, the news is good with no reoccurrence. I'm back to about 85 percent of my abilities. I'm working, riding horses, training, and teaching horseback riding every day at my farm in Auburn Township, Ohio. Shortly after my surgery and still needing a walker to get around, Dave Rodney and Jerry Faist and their wives had me out to dinner. Then Doug Hogan and Al Baldarelli took me to an AKPsi dinner, where we were generations older than everyone except for Frank Navratil, Ph.D. Having old friends come back to make me active was a blessing. Then, all of the aforementioned, plus Randy Baker (who flew in from California for the first time since graduation) met for homecoming along with all the guys who get together every year for Hogan's homecoming dinner and bonfire party, which includes his lovely wife, Cathy (Monaco) Hogan '78. It's been a long 15 months, but things are going well. I wouldn't miss reunion for anything, including my mother-in-law's 80th birthday, which is the same day." Now, what was your excuse for not coming?
Tom Swanson sent an email saying he couldn't make it. At least he told me what was going on with him. "For the past six years, I've been doing M&A advisory with The McLean Group, a middle market investment bank in Northern Virginia. I've graduated from running large sales organizations in Silicon Valley to selling companies. Life is much easier when you don't have a plane constantly strapped to your behind and a number (and board) over your head. Selling technology companies seems easier, economic ups and downs notwithstanding. Life is one continuous game of Whac-a-Mole.
Finally, the answer to the second question everyone asks me after "How are you doing?" is "How is Mike McCarthy?" He's good. He's with Deutsche Bank in their private banking group. Still on the North Shore of Chicago, he's an empty nester with two in college and two out. I saw him when I was in Chicago for a Stanford vs. Northwestern lacrosse game last spring. I also saw Stan Mambort in Cincinnati last year when I was in town for a game against UC. I had a good visit.
Andy Szeltner writes from Palm Harbor, Fla.: "As I like to say, 'it's never dull.' Will have all three in college next year. My daughter, Catherine, will be a senior at Florida State University; my son, Anthony, will be a junior at FSU; and my youngest son, Samuel, will be a freshman in the fall. It's a good thing 50 is the new 30, otherwise, I might not be able to keep up the pace of my involvement with my parish, kids, and work."
Keep those cards and letters coming, and I'll try and do a better job of cobbling together a column for you.
Dennis
Dennis J. Lane
dlane@ryancom.com
Spring 2012
REUNION YEAR
Bill Gagliano here, subbing this issue for Dennis Lane, who's still battling writer's cramp suffered several issues ago. Seriously, Dennis, senior VP for Ryan Commercial Real Estate in Columbia, Md., has his hands full dealing with the real-estate market and allowed me to assume the burden of this issue's column. After all, I got him into this in the first place.
Save the date for our 35th reunion – June 15-17, 2012. The committee, comprising Kathy Berry, Dave South, Virginia Ivec, and Mark McMullen, is working to make this a wonderful time to share memories. No excuses allowed – be there! Among those on the missing class member list – and hopefully located by reunion – are Patty (Stevenson) Beres, Steve Darnell, OJ Dougherty, Leslie Koczur, Cynthia Leonard, and Jeff Shadburn. Come on, this sounds like easy pickings. Someone should know where they are.
Reunion will be a perfect chance to catch up. Here's an early start: Kathy Berry still is in the funeral industry – now with Wilbert Funeral Services – and promises to be the last one to let you down. Not too soon, we hope.
Mark McMullen was elected state treasurer for the Georgia State Council of the Knights of Columbus.
Nancy Cunningham Benacci is director of equity research at KeyBanc Capital Markets, one of the nation's top equity research providers. Nancy's son, Kevin, recently returned to Ohio from New York City to enter politics with Josh Mandel's U.S. Senate campaign. You can't mention one Nancy without the other – Nancy Pierce – who owns Chicago-based internet-t-shirts.com. We hope to see her at reunion along with the "Sues," Bergquist and Scully.
Nancy Benacci is one of three classmates on JCU's board of directors. Others include Terry Sullivan, president of Paragon Advisors in Cleveland, and Rick Maroun, general counsel for APP Pharmaceuticals. Nancy and Terry (and his daughter, a JCU senior) attended Carroll's 125th anniversary gala in December along with Tim Cannon and his wife, Lisa; Urban Picard and his wife, Christine '93; Kathy and Bob Kenny; Kathy Berry; and my wife, Lorrie, and I. Tim has been an 11th District Ohio Court of Appeals judge since 2007. Tim and Lisa's daughter, Sarah, is legislative director for U.S. Rep. Steve LaTourette in D.C. Urban's son, Urban Jr., is a U.S. Army captain, having served tours in Iraq and Afghanistan. I see Urban (Sr.) frequently. He lives across the street from me – it's just like being down the hall at Redwood.
Dave Cullen is a grandfather again. His daughter, Erin '02, gave birth to a daughter, Alaina, last spring.
Several of us shared laughs at Wendy and Stan Mambort's home in Cincinnati severalmonths ago. Joining us were the Picards, Kennys, Beth and Mike Downing, and Bob (Sha-Na-Na) Keir and wife, Sandy. Mike's son, Garrett, handles digital media for the Baltimore Ravens. Check out http://blogs.baltimoreravens.com/tag/garrett-downing/.
In March, Brian Henke, John (JR) Rutherford, and I trekked south for our annual Florida trip – this year in Tampa at the home of Al Hess '79. Actually, Brian trekked north because he spends most of the year at his home in Naples. Brian's son, Gordy, who joined dad in Naples, is in the real-estate business. JR's son, Dan, followed him into the financial industry in NYC. Not to be outdanned, Kevin Hinkel's son, Dan, joined Kevin's law firm where Dave Weibel is a partner.
Finally, if you attend reunion, you can learn why I, a dyed-in-the-(green)-wool U-Clubber, allowed an IXY to marry my daughter. Don't fret. It's not what it seems, but you have to be there to find out. See you in June.
Gags
Bill Gagliano
billgagliano@gmail.com
Winter 2011
Dennis J. Lane
dlane@ryancom.com
Fall 2011
Dennis J. Lane
dlane@ryancom.com
Summer 2011
Dennis J. Lane
dlane@ryancom.com
Spring 2011
Dennis J. Lane
dlane@ryancom.com
Winter 2010
Dennis J. Lane
dlane@ryancom.com
Fall 2010
Dennis J. Lane
dlane@ryancom.com
Summer 2010
Yeah, yeah, I know I missed last issue. Did you look for it? Did absence make the heart grow fonder? Speaking of affairs of the heart it was regular Class of '77 reunion in Pittsburgh this past April as over 20 members converged on the City of Bridges for the wedding of the century. Yes, Bob (Sha) Keir, the perennial class bachelor and Duke of Murphy Hall, finally walked down the aisle and said "I do" to the lovely Sandy O'Hehir on April 10. Witnessing the blessed event were Nancy (Cunningham) Benacci, Urban Picard and his wife Christine (McFarland '93), Mike Downing, John Rutherford, Jeff Kasper, Brian Henke, Stan Mambort, Kathy Berry, Mike McCarthy, Kathy (Coffey) Kenny, Bill Gagliano, Joe Crogan, Mark Randall and his brother John '75, Doug Hogan, Al Baldarelli, John Harsh, Mary (Kelly) and Tom Corall, Dave Cullen and his daughter Erin '02 and perhaps the biggest surprise, Peter Norton. Other John Carroll alumni in attendance were Mark McGinley '78, Brian Niec '79, Tom Keir '78, Kathy Monaco '78, Bev Friedel Keir '80, Al Hess '79, and Tom Welsh '76. Did I forget anyone? It's possible. There were an awful lot of Blue Streaks in town and I kept notes on a wine stained parking pass for Heinz Field where the reception was held. I'm happy to report that the Class of '77 can still rock the night although the recovery period is probably a bit longer these days.
If you know of any other significant gatherings of the Blue Streaks of '77 please drop me a note. Any other news you'd like to share would be appreciated as well.
Dennis
Winter 2009
Yeah, yeah I know. Each time the Carroll magazine arrives in the mail you open to the class notes pages only to find the Class of '77 space blank. What's up with that? Uh, I guess I screwed up. Does that work? Maybe it was the news of Bob Keir's pending nuptials that sent me into a downward spiral. What's that? You didn't hear that the class perennial bachelor was finally tying the knot? Well, now you know. He met Sandy on one of our spring break boondoggles in Naples. The big day is set for April 10 in Pittsburgh.
I also received a note from John Harsh. John actually hooked up with Bert while in Sarasota and met the future Mrs. Keir. John reports that he has been busy bringing peace to the Middle East, curing cancer, and writing the next great American novel. John is a real renaissance man.
I also heard from Mark McMullen recently. Mark has been elected to a state office for the Georgia Knights of Columbus. In his own words, he expects to be elevated to "Grand Poobah" in six to eight years. Mark and his bride, Jan, are now tending an empty nest in Atlanta so he has time for a little extracurricular activity.
If you have sent me news and I didn't share it here, please accept my apologies. My organizational skills have not exactly improved over these years. Don't be discouraged – send me stuff and I'll try not to lose it.
Dennis
Spring 2009
Thanks to all of you who sent me Christmas cards this year. I do want to ask one favor for next year though. Next year, when you send me a card, send me some news! Just signing your name and saying Merry Christmas doesn't give me enough to work with here.
I did receive some news from Terry Bedell. He reported that once again Ralph Stilphen hosted his annual Christmas Eve breakfast in Rocky River. This year's gathering paid a tribute to Brian Ellis who passed away last year. Terry noted that Brian was always the first to arrive and the last to leave. He will be missed but his presence will always be felt. The other attendees were Tom Wallenhorst, Jim Clancy '78, John Corrigan, Marty Kelly, and John Duber. Terry also reports that Mike Powers, Ralph Stilphen, Bob Hennessy, Marty Kelly, Mary Anne Garvey, Maura (Shields) Powers, and Pat Cummings met up in Avon, OH, last July for the wedding of Marty's daughter, Kaitlyn. Judging from the photo he sent along, a good time was had by all.
By the time this magazine comes, I will have returned from our annual JCU spring training trip in Naples, FL. If I can remember anything I'll write about it in the next column. Keep those cards and letters coming or I'll be forced to make some stuff up.
Dennis
Winter 2008
When I receive my copy of John Carroll magazine and I know that there is no column for our class in the issue, I don't even open it. It is not because of a lack of interest; rather it is from an overwhelming sense of guilt I have for not getting a column in. To my fellow classmates I offer my apologies. In an effort at redemption for this quarter I was determined to write something…anything in fact to avoid having our class show up as a blank space. Let me get to the sad news first. I received news that fellow class member Lois (Rabb) Snider passed away back in April. I don't recall Lois but my thoughts and prayers go out to her family. I hate the fact that death announcements are now more frequent than marriage announcements. Now to the good news
I was surprised by a visit from Peter Gailey last week. He was in Columbia for business and we were able to get together for dinner. Over dinner and a glass or two of wine we recalled memories of our college years when we both lived in Bernet Hall. Peter told me he still stays in touch with his senior year roommates, Robert (Tigger) Reigert and Robert Dwyer. Tigger is still in New Orleans and Rob lives in LA.
Robert (Sha) Keir was recently passing through town too. He gave me a call as he was driving to Annapolis on a beautiful fall Saturday. Sha was in town with his new girlfriend, Sandy. Some things never change.
My former U-Club brothers may want to check out a new group for all U-Club alumni on LinkedIn – www.linkedin.com. You can access the group at www.linkedin.com/e/gis/867987.
That's about all I have for now. It would be nice to hear from more members of our class besides death notices. Drop me an e-mail and let me know if you've shared a laugh or a glass of wine with a former classmate lately. I'd much rather write about that stuff.
Dennis
Summer 2008
In case you hadn't noticed, I sort of dropped the ball on my class columnist duties for the past two issues. Well, okay, not sort of, I really did drop the ball. Sue me. Better yet, fire me. Until then, I shall simply endeavor to be more consistent. Unfortunately the flow of alumni news from y'all has dried up considerably since last year's reunion. Surely something must be going on out there that you can share. Consider this, if you don't send me stuff you'll just ended up reading about my exploits with fellow classmates. For example: Much like the swallows returning to the mission at San Juan Capistrano every spring, Stan Mambort, Urban Picard, Mike Downing, Bill Gagliano, Dave Cullen, Brian Henke, Bob ("Sha") Keir, John ("JR") Rutherford and your humble class columnist gathered once again for their annual "spring training" trip this past March. Al Hess '79 also attended. The venue again was Naples Fla. Spring training is basically five days of baseball, golf, fishing, eating and, well let's just say that what happens at spring training stays at spring training. Joe ("Dictator") Crogan was not able to attend this year, so several toasts were made in his honor. I can report that one night some of the boys met up for drinks with Terry Roberts who lives in Naples. I should also add that, ten months late, I paid off my debt to Stan for last years weight challenge. Stan was the big loser.
Any other group gatherings going on out there in Class of '77 land?
I also have some sad news to report. The alumni office informed me that Elsie Pollock, "an avid bridge player," died March 29 in North Dartmouth, Mass. She was 91. I don't know if anyone has kept track but I'm guessing that Elsie was the oldest member of our class. If you are interested in making a contribution to her memory the family suggests Coalition Against Poverty, 30 Union Street New Bedford, Mass.
Keep those cards and letters coming.
Dennis
Summer 2007
Okay. I missed it. I am speaking of our 30th Reunion. I won't take up valuable column space seeking to justify my absence so I'll just say my bad.
Fifty-six members of the Class of '77 did show up though. Thanks to Brian Henke I have the list of those who did which I will now share in alphabetical order: Alan Baldarelli, Len Barbe, Daniel Baron, Nancy (Cunningham) Benacci, Kathleen Berry, John Bundy, Gina Butler, Leslie (Smith) Cade, Dan Conrad '74 and Diane Siefert-Conrad, Linda Cuculic, Dave Cullen, Randy D'Amore, James DiSiena, Carol Dougherty (KanShin KiJaku), Ida (Reisner) Doverspike, Michael Downing, Thomas Englehart, Mary Anne Garvey, Kristine (Kress) Gehring, Brian Henke, Kevin Hinkel, Doug Hogan, Jonathan Ivec, Virginia (Beyer) Ivec, Patty Jamieson, Robert Juhasz, Bob (Bert) Keir, Kathy (Coffey) Kenny, Bob Kenny, Marianne Kerr, Demaris (Levitt) LeBlanc, Tim Leddy, Stan Mambort, Tom Mauerer, Don May, Betsy (Heben) May, Tony Mazzella, Mark McMullen, Kathy (Norris) Michael and Joseph Michael '76, Mary Morrison, Urban Picard, Nancy Pierce, Maura (Shields) Powers, Mike Powers, William Raeder, Michele (Angelotti) Raeder, Ed Rybka, Tommy Schoen, Val Sgro, Dave South, and Tom Swanson.
Curiously, John Rutherford was not on the list of attendees but I have photographic evidence that he was there. This evidence was also provided by Brian. He sent me a link to a Snapfish web site that is loaded with pictures from the gathering. If you drop Brian an e-mail – BrianHenke@aol.com – he can tell you how to access them.
Bill ("White Owl") Gedeon also showed up to reconnect with the class of '77 even though Bill was actually in the class of '76. He always shows up at our reunions because I think he just liked our class better!
Even more curious to me were the listed attendees Diane Sharp and Jane Zusman. Their names don't show up on the official class roster that the alumni office provided me but who is to say that they were not members of our class? At least they showed up which is, of course, more than I can say for myself.
Kathy Berry was kind enough to send me one of the Rathskellar shirts that were made up for our class. I don't deserve to wear it but I probably will. Thanks Kathy.
For those loyal classmates that did attend, please send me news to share with the rest of the class. Remember, if you don't, I will freely exercise my artistic license and just start making things up.
Dennis
Spring 2007
By the time this issue of John Carroll magazine appears our 30th Reunion will have already come and gone. The weird thing is that I am writing it two months before the reunion. I haven't even gotten my plane tickets for Cleveland yet! Anyway, it was great seeing you; at least it was good to see those of you that I did see. Unless of course for some yet unknown reason I didn't make it which would mean that I didn't see anybody. Ahem.
I did see a few of the class of '77 in March though. Brian Henke and Stan Mambort once again organized a great JCU Spring Training trip to Naples, FL. Bill Gagliano, Bob Keir, Urban Picard, Mike Downing, Dave Cullen, Joe Crogan, John Rutherford, Al Hess'79 and, yours truly got together for five days of golf, baseball, boating and male bonding. At one point, while lounging around the pool, Stan threw out a challenge to see if we could all lose ten percent of our body weight before our Reunion. I guess Stan was inspired by the sight of all of us sitting around in our bathing suits. Again, by the time you read this column the Reunion will be over with so you'll just have to wait for the fall issue to find out who lost what.
The alumni office sent me some info on other members of our class too.
Deborah (Calevich) Wilson checked in from Charleston, WV, where she lives with her husband Michael and their two kids, Tyler (14) and Emily (9). Deborah is the senior vice president for Kimley-Horn and Associates, an engineering and land planning company.
We also heard from Randy D'Amore. Randy is living in Farmington Hills, MI, with his wife, Deirdre, and their four kids. Three of Randy's kids, Donovan (10), Caragh (9) and Bridget (5) all dance competitively in Irish Dance. The oldest, Donovan competed in the World Championships in Glasgow Scotland this past April. The fourth child, Dillon, is still in the predancing stage. He turns one this September.
Darlene ("Darby") Watts is living in Maple Heights, OH, with her husband Danny Baldwin. Darlene is the president and CEO of Midtown Scientific in Cleveland.
Former Little Theatre director extraordinaire, Carol Dougherty, dropped a note from San Francisco, CA. Last year Carol was ordained as a Soto Zen Buddhist priest by Teah Strozer. Carol spent three years at the Tassajara Monastery in Carmel Valley. She writes that her Buddhist name is KanShin KiJaku which means Generous Heart, Returning to Silence. Peace.
Keep those cards and letters coming. Your real news is better than the stuff I make up!
Dennis
Winter 2007
In case you have not been paying attention, our 30th reunion is set for June 22 through 24 and your classmates on the reunion committee, Bill Gagliano, Don May, Kathleen Berry, Marianne Kerr, Virginia Ivec, Al Baldarelli, Dave De Angelis, Dave South, Terry Sullivan and Jane Paunicka have been busy planning a weekend of fun and frivolity. If I missed a committee member or two, please forgive me. Our 30th reunion has sparked a veritable flurry of news from the Class of '77. Since the powers that be limit my word count somewhat I have left out details on children and advanced degrees.
Across the big pond, Jim Koerner checked in from Vienna, Austria, where he is living with his wife, Noreen. Jim is the vice president of the IBM Software Group for Central & Eastern Europe, Middle East, Austria and Switzerland.
Senior Rabbi Harry Rosenfeld dropped a note from Getzville, NY, where he is living with his wife Michelle Hope. Harry is currently teaching Jewish Studies at Canisius College in Buffalo.
Cheryl (Wachtfeitl) Franz sent in a note from Hartsdale, NY, where she lives with her husband, Bruce. Cheryl is a senior manager with Pfizer.
David De Angelis is currently living in Tulsa, OK, with his wife Tami. Dave is the owner of Architectural Paving Systems, LLC.
Noel (Boylan) Tyler and her husband, Michael, are also in Oklahoma. They are living in Okalahoma City where Noel is the administrator of the Disability Determination Division. Sounds like we need an alumni chapter in Oklahoma!
And speaking of Texas … Reverend Richard Matty is the rector of Saint Patrick Cathedral in El Paso, TX.
Over in Houston, James DiSiena is working on the nation's energy problems as a team leader X-RPFS (whatever that is) for Chevron Energy Technology Company. Jim resides in Houston with his wife Patricia. His note said that he would like to get a blog going for the reunion – gphy_jim@swbell.net.
Another JCU Texan who checked in is Alan Barth. Al lives in The Woodlands, TX, and he is the chief financial officer for Beusa Energy, Inc.
We also heard from Richard Stevens, Jr. Richard is living in Osprey, FL, with his wife Jennifer. Rick is the vice president and chief financial officer of Power Source Industries in Sarasota.
And then there are those who didn't fall far from the JCU nest, the Ohioans. Jeffrey Kasper sent in words from Auburn Township where he lives with his wife, Jana. Jeff is the owner of Auburn Stables which I assume means he has something to do with horses.
From Mentor comes a note from Thomas Mauerer. Tom is living in Mentor with his wife, Julieann, and working in Twinsburg as the manager of international logistics for Rockwell International.
Former Rat Bar manger (the Upper Crust Crew), John Fickes is living in Copely, OH, with his wife, Mary Kate. John lists his current occupation as "shareholder" for Brouse McDowell, L.P.A.
Michael Mulhern '81 sent a very short note saying that he is now living in Columbus.
Leslie Ann (Smith) Cade is working for the Cleveland Museum of Art as an archivist and records manager. She and her husband, Edward are living in South Euclid.
Getting closer to campus we heard from Tim Myers who is living in Pepper Pike with his wife, Wendy. Tim is the president of TIMCO Sales, Inc. in Wickliffe.
Finally, from Parma, the former class columnist (a position I aspire to), Kim Petrovich dropped a note to tell us that she is working for the Cleveland Board of Education as a high school guidance counselor.
And before I get on to some more reunion business, I need to mention that we received a note too late for the last column from James Pojman, Margaret (Pojman) Glenn's father. Marj was honored as the Teacher of The Year in the Nordonia School System for "her innovative work with autistic children." Nicely done Marj!
And finally, the record for attendance at a JCU 30th reunion is 70. It was set by the Class of 1972 in 2002. We had 110 that year (our 25th) so let's try and set a new record this year. Keep those cards and letters coming and I'll see you on the chapel steps in June! – Dennis
Fall 2006
My appeal to keep those cards and letters coming continues to bear fruit. This time around I heard from Mike Mack and Terry Bedell again! There is no limit to how many times you can be in this column. Terry reported in with a great memory about the exploits of the '76 JCU soccer team. "Andy Szeltner and I were the only two seniors on that rag-tag collection of "scholar athletes." We knew we took a backseat to some of the higher profile teams on campus — but that didn't prevent the good times we had. It also didn't prevent us from packing the sidelines when Notre Dame visited the final game of the season. Our coach, George Golias, bugged out to go duck hunting. He was replaced by swimming coach Ron Zwirlein (a pretty fair soccer player in his day) to lead us to a 2-1 victory over the Irish. Our second goal was controversial and upset the ND bench to the point they wanted to confront the referee after the game. Andy Szeltner, familiar with the ref from his Lake Erie league play, advised against it because the ref was known to keep a .22 pistol tucked in his waistband in case 'protestations got out of hand' (you can't make up this stuff). During spring break in Lauderdale that next March, by sheer coincidence, I ran into one of the ND players on the beach. He was still bitter and offered an expletive to describe our play. "Domers" sure can hold a grudge. It would be great to hear from teammates Jon Catalano '78, Tim Hanrahan '78, Carl Schikowski '79, Vin Karl '78, Marco Iglesias '80, Jim Perusek, Marty Roberts '80, Mark Strohbeck '78, Jim Gregorich '78, Jim Coyne, Chuck Kretschmer '78, Brian Coughlin, Tim Ciampi, Roland Karthan '80, Mike Maurer '79, Mike Fiedler '80 and Pete Szeltner." Thanks Terry, I couldn't have said it better myself! He also wanted me to pass along his e-mail — terbed6@sbcglobal.net — to any former players and, for that matter, any former alum who may wish to contact him. Terry said he is "in" for our 30th reunion next summer.
Now on to Mike Mack … Remember Mike? I do, he starred in the Little Theatre production of The Fantastiks our senior year along with Ann (Fissinger) Manning and Ernie Weninger. I know there were other members of our class in that cast (including yours truly) but I can't think of them as I write this. Any help here? I do recall that Carol Dougherty directed it. Mike was another of our class who left the cold of Cleveland for the warm California sun. After graduation Mike ended up with Sea World in San Diego running a chain of their restaurants around the country. After 30 years with Shamu and company he retired last year. But not for long . Mike has taken on a new role with "one of Orlando's largest dinner theatre operations, Pirates Dinner Adventure!" He will be busy opening new Pirates around the country until he decides to "re-retire." Mike said he is also planning to attend the 30th reunion next June. I hope everyone makes the pilgrimage to University Heights next summer, in the meantime, stay in touch or I'll just make stuff up. Just ask Pete Gailey! Dennis
Summer 2006
Well it looks like I can cross Pete Gailey off of the missing persons list. After the last column appeared I received the following email: "There once was a rancher in ENCINITAS/Who married the most lovely of all SENIORITAS/While raising EMUS, He forgot to SCHMOZE/When next in town will drop by to see YAS." Okay. Not bad. You may recall that I manufactured a rumor that Pete was raising emus in Encinitas in order to coax a response from him. It appears that this is a good strategy. Pete further reports that he is living in Plano, TX. He and his wife, Robin, have two kids — Lauren (15) and Nick (13). Lauren has recently earned her Girl Scout Gold Award and Nick is working on becoming an Eagle Scout. Pete is the executive vice president of sales and marketing for Technologent. Pete reports that he caught up with Bob Reigert ("Tigger") at Mardi Gras a couple of years ago. Bob is working as a technical director for a TV station in New Orleans and according to Pete he is as crazy as ever. Pete also says that he would love to hear from the "old gang; IBGs, and Bernet Hall inmates." Didn't we used to call it Burn out Hall?
I also received a short note from Jane Kvacek Zusman. She is living in Mishawaka, IN, and working for the University of Notre Dame as a costume shop specialist. She and her husband, Marty, have a daughter, Jennifer (9).
That's about all I have the time for now. Keep those cards and letters coming. Dennis
Spring 2006
I tell you what. Threaten to make things up about people and the floodgates of information burst wide open!
Before the last issue of this rag was even on the presses I heard from my old Bernet Hall buddy Rob Dwyer. Rob felt compelled to squelch the rumor about Peter Gailey raising emus in Encinitas. Turns out that Peter is living in Plano, TX, with "wife, two kids, mini-van, the whole nine yards." Okay, fine. Do you think Peter could at least drop me a note?
Rob lives in Los Angeles now. I always thought he'd go California. He married a girl he met at UCLA Business School and they have two daughters, the oldest of which will attend college this fall. Rob does forensic accounting for Navigant Consulting, Inc. Rob also gave me some news about another former Bernet Hall resident, Bob Reigert. Bob lives in New Orleans now and yes, his home suffered from the wrath of Katrina. According to Robby it was bad but not as bad as some. Bob is married with no kids and works for a local television station.
Terry Bedell also dropped me a note. Terry provided a wealth of information on fellow classmates. He informs us that Ralph Stilphen's son Ryan is a starting forward for the Marist College Red Foxes in Poughkeepsie, NY. That is Division 1 play and Ryan is only a sophomore. For the past 12 years or so Ralph has organized a Christmas Eve breakfast that brings together Marty Kelly, Bob Hennessy, Brian Ellis, Jim Clancy '78, John Duber, John Corrigan, Tom Wallenhorst, Mary Ann Garvey and her "very understanding" husband AJ Cianflocco '72. Nicely done Ralph.
Terry also reports that Pat Cummings "recently completed a one-man benefit bike ride for Chicago PADS, Catholic homeless shelter in southwest Chicago. Pat raised $15,000 cycling from Chicago to Champaign/Urbana." Pat measured it as 130 miles and a tube of Preparation H.
There was also a bit of news about Mike Powers and heading up something called the 45 and 20 Club. I'll try and get more information on that before the next column.
I also heard from Tom Swanson who is living just down the highway from me in Bethesda, MD. Tom is married with three daughters and as he puts it, "I basically work for shoes."
Chris Smerglia dropped a note to say that he and two other gentlemen are starting a new full service bank in Beachwood, OH. The new venture is called Ohio Commerce Bank and they expect to open the doors on July 1 this year.
Somewhat further south, we hear from David Murphy. He and his wife, Joanne, now reside in Boca Raton where David works as a customer support manger for Hamilton Sundstrand.
And since we find ourselves in Florida, I should report that Brian Henke, Stan Mambort, Mike Downing, Bob Keir, Dave Cullen, Urban Picard, Bill Gagliano, Dr. Al Hess '79 and John ("JR") Rutherford gathered once again for their annual spring training trip. They converged on Naples this year. Nancy (Cunningham) Benacci, who was also in Naples visiting her mom, joined the boys for "Roman dinner" on Saturday night. Terry Roberts also found the time to join the boys for a cocktail or two. She lives in Naples and works for Gulf Shore Insurance. They were all in Naples for St. Patrick's Day but apparently they were not able to pull together another impromptu parade like the one we had in Fort Lauderdale in 1973. That is probably a good thing.
Keep those cards and letters coming. Dennis
Winter 2006
It's kind of strange. No sooner does the John Carroll magazine arrive in the mailbox than we class columnists get hit with the deadline for the next issue. Even though the cover of the magazine says that it is the fall issue, it didn't show up in my home until the very tail end of fall. I suppose this column is intended for the winter issue which means it is probably March when you're reading this. Well, for what it's worth, it's January when I writing it! It makes you wonder if JCU has outsourced the printing of the magazine to India.
Okay, enough with the venting. The truth of the matter is that I am writing this column a week later than the official deadline anyway. You came here for class news and that is what I intend to give you. The first person I heard from after the last column was Mike Perry. Mike writes that he is living in Mentor, OH, with wife of 27 years, Lucille. They have four children, two of whom have already graduated college, one still in college and one in junior high school. Mike mentioned that he recently attended a Delta Alpha Theta reunion in Cleveland. No further details were provided on those festivities.
Mike asked if I knew the whereabouts of Mike "Duke" McCarthy. The alumni office has him in Wilmette, IL, but not much else. I checked in with my back up researcher on lost alums, John "JR" Rutherford to see if he could add any info. JR fired back an e-mail saying that he ran into him "in an Italian restaurant on 56th Street in New York City last year." So there you go. I guess we need to hear from Mike McCarthy now.
I also heard from Susan Bergquist. You may recall that I singled Sue out in last month's column to see if I could generate some a response from her. It worked. It seems that Susan is busy "turning teenagers onto the classics in literature: Shakespeare and Poe, Cervantes and Twain." She writes that she is working with "multicultural, multiethnic, inner city kids." She thinks that next year she may end up in the principal's office though. No surprise there. Sue invites all former JCU friends to feel free to send her an e-mail at smberg99@yahoo.com. Susan asked if I could find out anything about Leslie Koczur. "She was always a blast, funny and wonderful. I haven't seen her in forever and, with my erratic reading of our class notes, may have missed what she's up to now." Well Sue, you picked a tough one. My handy little excel spreadsheet with all the class information has absolutely zero, zip, nothing on Leslie. If anyone reading this has anything to share please do so.
And speaking of zero, zip, nothing, I didn't get any response from my rumor about Peter Gailey raising emus in Encinitas. Nothing yet from Peter Norton either. So the missing persons file now contains two Peters and a Leslie. Stay tuned. Dennis
Fall 2005
Once again I find myself writing this column while flying back to Baltimore from Cleveland. This time I was in Cleveland for the inauguration of John Carroll's new president, Father Robert L. Niehoff, SJ. One of the perks of the class columnist gig is that you get invited to things like that. I was asked to represent our class in the ceremony along with our class agent, Bill Gagliano. Jonathan Ivec was also in the ceremony since he is John Carroll's vice president of finance and administrative services. Who'd have thought that one day one of us would be running the joint?
Continuing on with that inaugural thread, I have received two e-mails from former classmates since my inaugural column. The first to check in was Ann (Fissinger) Manning. Ann is currently residing in Traverse City, MI, where she has been since 1993. She has a son, Andrew, who is attending Central Michigan University and a daughter, Amy, who is attending the University of Michigan. Her other son, Craig, is a freshman in high school. She is teaching figure skating and she still acts and sings. Anyone recall her role in The Fantastics in our senior year?
Anyone remember Cosmic Joe? Joe ("Cosmic") Haytas was the impresario of the Student Union Film Series in Kulas. After John Carroll, Joe headed west and eventually enrolled in the film school at the University of Southern California. He graduated from USC in 1986 and dabbled in the film industry for a few years before heading back to school yet again to get his law degree and he is now in private practice.
I actually received a third e-mail from Brian Henke, but that doesn't really count since I wrote about him in the last column. All Brian had to add was that no one was ever likely to offer to replace me as class columnist and that I would never win Pulitzer for my efforts. Thanks Peaches.
I may never win a Pulitzer but I do intend to exercise a fair degree of poetic license in this quarterly update. One of the tools that the alumni office provides me with is a list of all of our former classmates and their last known whereabouts. It's fairly accurate but there are mistakes and gaps. In any event I have decided to utilize it to see if I can provoke some response from other members of our class. In the last column I pondered on the fate of Peter Norton (still no word). This month's target is Sue Bergquist. I last spoke with her about 10 years ago. My handy dandy alumni list has her hiding out in Palos Heights, Illinois. So Sue, it's time to check in before I pull out my poetic license start making stuff up.
That is apparently a common practice amongst class columnists. I met a few of my fellow scribes at the inauguration and picked up a few tips on column fabrication. So unless you want me to start spreading rumors like the one about Peter Gailey being an emu rancher in Encinitas, ya better drop me a note.
Dennis
Summer 2005
I'm sitting at 30,000 feet winging my way back to Baltimore from Cleveland where I spent the weekend celebrating Bill Gagliano's fiftieth birthday along with fifteen other members of the Class of 1977. It is appropriate that I should begin my first column as the new class columnist with Gags' party since he is the one who shanghaied me into this new job. I ended up as the new class scribe after my predecessor, Kim Petrovich, decided to go into retirement. Of course all of that is now academic. In a weak moment I accepted the job and so now my fellow members of the Class of 1977, you are stuck with me unless someone else is prepared to take the pen from my hand. — No takers? — I didn't think so. This is a good year to take up this task. Most of us are hitting the half century point in life this year and so there should be lots of news to share from those of us still standing. Twenty-eight years have passed since we matriculated on the quad and most of us are bona-fide adults now. – Well, sort of anyway. The other '77 alumni attendees at Gags' party were Stan Mambort, Dave Cullen, Urban Picard, Brian Henke, Joe ("The Dictator") Crogan, Kathy (Coffey) Kenny, Bob Kenny, Nancy (Cunningham) Benacci, Betsy (Heben) May, Don May, John Rutherford, Kevin Hinkel, Bob Keir, and Mike Downing. When I left to go back to the hotel at 1:30 a.m. the party was still going on. Even though the snow is on the roof, the fire isn't out in the furnace!
One of the perks of this job is that you get to hear from other folks that you haven't kept track of lately.
The alumni office sent along a note from Demaris (Levitt) LaBlanc. She and Maura (Shields) Powers and Kris (Kress) Gehring collectively celebrated their fiftieth birthdays together by going white water rafting. There's that "sort of adult" thing again. They sent along a picture as proof but it was hard to be certain that it was really them, what with the splashing water, bulky life vests and yellow helmets. I'll guess we'll just have to take their word for it. Demaris wanted to know if we could include this activity at our 30th reunion. Where would we do that? The Johnson Natatorium?
In other news, I've learned that Barbara (Donahue) Corrigan is teaching computer classes in Cleveland. Her husband, Bob, recently retired from the U.S. Navy Reserves as a commander. She writes that they "are celebrating a lot this summer." Seems to be a good deal of that going around.
I also received a blurb from Mark McMullen. Mark is currently residing in Mableton, GA, just outside Atlanta with his wife, Jan. Mark is a senior vice president with The Integer Group. Rumor has it that Peter Norton was last seen in Atlanta also. The alumni office has him in Raleigh. So Mark, if you happen to run into Peter, tell him to please check in with me. Stan has been asking about him.
That's the way this column is going to work. If you are reading this and you haven't seen your name here in the past twenty-eight years, drop me a line. If you don't, you are likely to see the same names over and over again, at least until they boot me out with a new class columnist. Now that could be something to celebrate. Dennis
Spring 2005
Ed Rybka's son, Keith, was named the most valuable player on the Gilmour Academy varsity hockey team for the recently completed season. Keith, one of three seniors on the team, was cited as being a steady influence and team leader.
Mike and Julie (Hubish) Marjenin's son, Matt, graduates from St. Ignatius in May and will be attending Ohio University to study engineering. His sister, Jennifer, will be a junior at OU in the fall majoring in early childhood education.
Tom O'Grady '78, who is the Council president in North Olmstead, was chosen the acting mayor of that city when the current mayor retired in March. Tom, who is an 8th grade government and history teacher, plans to run for mayor in the May primary.
Kim Petrovich, the head counselor at Thomas Jefferson Middle School was recognized by Forest City Enterprises as a Community Champion at an Idealism in Action luncheon held in March. Forest City, the school's corporate sponsor, chose Kim for the award because she is "A dedicated individual who has inspired countless young people" through her position. We thank Kim for her years of dedication to the class of 1977 as class columnist.
Winter 2005
By the time you read this we will be well into the New Year. I hope 2005 is bringing you good health, happiness and continued success. It's hard to believe most of us will be turning the big "50" this year and some of us will be getting ready to retire in a few years.
Unfortunately, I have no news for the second straight issue. I have been writing this column since the early '90s and it has become increasingly difficult for me to keep the class of '77 informed. Therefore, I feel it is time to move on and allow a fellow alum to try their hand a reporting.
If you are interested in the class columnist position, please contact Jerry Pockar at journal@jcu.edu or Michele McFarland at mmcfarland@jcu.edu.
Until we meet again at our 30th class reunion, take care, Kim
Summer 2004
Summer has flown by once again and I can't believe it's time to go back to school. I hope everyone enjoyed the sunshine, warm weather and their family vacations! Thank you to the several classmates that sent updates. John Naso lives in Aurora, OH with his wife and daughter. He is the VP of distribution services for Office Max.
Robert Stall is an administrator, RMP with the Cleveland Clinic Foundation and lives in Lakewood, OH.
Joanne (Hammer) Chaten is a busy lady. She is not only a pediatrician practicing at Noblesville, (IN) pediatrics, but she is the president of the medical staff at Riverview hospital. Joanne and her husband are also raising five children between the ages of 14 and 21. You could certainly teach me a thing or two about time management, Joanne. … Congratulations to Bob Hennessy on being named the vice president of human resources for Gibraltar Processed Steel Products. Gibraltar is a manufacturer and distributor of more than 5,000 residential and commercial building products, one of North America's leading metal processors. Bob will be responsible for the human resource functions all across the processed steel products group and will support the current resource personnel in their roles. He will be involved in developing and enhancing current programs and policies to better serve and support employee and leadership requirements. Bob is well suited for this new position as his career includes more than 20 years of progressive human resource experience in the manufacturing sector. Way to go Bob and good luck in your new job!
Well that's it for now – I hope you continue to send me updates. Until next time, take care, Kim
Spring 2004
Hello everyone! I hope your spring is off to a great start and your summer will be one filled with sunshine and good times with friends and family.
I received a note from John Buckley who would like to say hi to his JCU buddies. John is a plastic and reconstructive surgeon in Youngstown, OH. He is also the director of plastic surgery at St. Elizabeth Hospital Medical Center. John is married and has three children who all play soccer. He would like to hear from the guys and girls from Rockside Rd. and Silsby — jbuckl9176@aol.com.
Maura (Shields) Powers also sends greetings from Audubon, PA where she lives with Mike and their two children. She is the cash department supervisor with Genex Service INC.
Congratulations to Joe Fornal who was chosen as the "Good Joe" by the Cleveland Society of Poles in March. He has been a longtime leader in Greater Cleveland's Polish-American community. Joe is currently the chief financial officer for Jack Matia Chevrolet and Honda in Elyria. He and his wife live in Westlake with their two sons, one who attends Bowling Green University and the other who attends Ohio University.
Finally, in February, Nancy (Cunningham) Benacci's husband, Dave '76 passed away. He was very involved in both the John Carroll and Cleveland business communities. Our condolences to Nancy and her family.
Condolences to Patty (Sobczak) Hamilton on the death of her younger brother in March.
Until next time, take care Kim
Winter 2004
Hello classmates! I hope everyone's New Year is off to a good start. Congratulations to Debbie Calevich Wilson who married Mike Wilson on August 2 at Sacred Heart Co-Cathedral in Charleston, WV. Among the attendants were Michele Raeder as matron of honor and Carla Calevich '79 as maid of honor. The wedding was held two weeks before Carla was granted her Ph.D. from Kent State. Debbie and Mike live in Charleston with Mike's son, Tyler, and daughter, Emily. Both children still wear their JCU gear that was bought while on campus last year during reunion. Debbie is senior vice president of Kimley-Horn and Associates and Mike is the senior historian for the West Virginia Division of Highways.
Frank Zevnik has accepted a new position with Farval Lubrication Systems after 25 years with Lubriquip. His sales area includes Ohio, Michigan, Indiana, Kentucky, Western New York and Pennsylvania. He and his wife, Laura, have three children (12, 20, and 22) and they live in Willowick.
Katherine (Ledwith) Benson recently joined WETA, the nation's largest public television station as vice president of eastern sales. Katherine brings impressive national advertising and sponsorship sales experience to the new WETA sales division. Based in New York, she previously worked at Bravo Cable Network where she served as vice president of national advertising sales. Other former experience includes affiliate sales with the Disney Channel and corporate development for United Artists Cable.
Congratulations are in order to Bill Gagliano who's been named one of Northeast Ohio's Leading Lawyers by Inside Business. Bill, a partner at Ulmer & Berne LLP, chairs the Real Estate Group and practices Business Law, Business Litigation and Nonprofit Groups. He is also a member of the National Board of Governors of the American Red Cross, National Association of Corporate Directors, Greater Cleveland Mortgage Bankers Association and Ohio Housing Council.
That's all the news for now. Please make a belated resolution for 2004 and send a news item in to the column. Your classmates would like to hear from you.
Until next time, take care … Kim
Spring 2003
Spring is finally here! Once again it's been a long winter in Cleveland with more snow and cold temperatures than I would like. I'm jealous of all the alums that live in warmer climates. … Well on with the news — two of our alums have moved halfway around the world. Kathy Monaghan (Luttrell), her husband, George Luttrell, and two sons (ages 10 & 9) have moved to Nanjing, China. They sold their home in Texas and are looking forward to learning a new language and experiencing a new culture. You can e-mail Kathy in China at gluttrell@prodigy.net.
After living in Austin, TX for the past eight years, Jim Koerner and his family moved to Tokyo, Japan this summer for a two year business assignment with IBM. Jim is the vice president for IBM Software Sales in the Asia Pacific region. The Koerner family traveled to Beijing during Thanksgiving and to Australia at Christmas. Jim's daughter, Katie, is a junior at the American High School and his son, Tom, is a freshman. Jim's wife, Noreen is involved in their church and has become skilled at Japanese crafts. If you have plans to visit Asia or Japan you can e-mail Jim at jkoerner@jp.ibm.com.
Gregory Nemecek dropped me a note that he is the president of Gasko Fabricated Products in Medina. He lives in Willoughby Hills with his wife and three children.
That's all I have for this column. Please e-mail me with news about yourself, your career and your family for the next issue. Until next time, take care! Kim
Winter 2003
What a reunion – a long weekend full of interesting activities, lively entertainment, mouth-watering food, memories of simpler times and renewed friendships. Our alma mater really knows how to throw a reunion! This was the first reunion where I've attended the entire weekend, although I chickened out on spending nights in the dorms. The weekend was a wonderful experience. The festivities began with a family picnic on Friday where I had the pleasure of dining with Virginia (Byer) and John Ivec and Kathy (Norris) and Joe '76 Michael and their children. Both Kathy and Virginia are stay-at-home moms. The Ivecs have two daughters (one is a sophomore at JCU) and a son at St. Ignatius. The Michaels have two daughters at Gesu and a son at St. Ignatius also.
I ran into Joann (Gura) Mindorza, who works for IBM. Her son recently graduated from the University of Dayton and she is busy helping him plan his August wedding.
Randy and Deirdre D'Amore brought their 5 week-old daughter, Bridget, with them – she's a real cutie. They also have a 5 year-old son and a 4 year-old daughter, which keeps them both busy.
I attended the "State of Carroll" address where an impressive video showcasing influential alums was shown. Our own Nancy (Cunningham) Benacci was part of the video and shared what a Carroll education has meant to her both personally and professionally. Both the President's Reception and the class dinner on Friday were well attended by the class of '77. Len and Deborah Barbe, Kathy and Bob Kenny, Bob Hennessy, Marty and Mary Kay Kelly, MaryAnn Garvey, Ann Mannen, Terry Bedell, Pat Cummings, Nancy and Dave '76 Benacci, Mike and Maura Powers, Urban Picard, Stan Mambort, Nancy Pierce, Bob Keir, Kathy Berry and Bill Gagliano were some of the alums having a good time.
I spent time with Tom and Debbie McNeil reminiscing about the IPTs and the Carroll News. Tom and Debbie have two daughters and a son, who is studying engineering at CASE. They are avid boat racers and had to leave the party early because they had an early morning boat race on Saturday.
I spent time with Laura (Runzo) Childress and her husband. They are both respiratory therapists in PA.
Ed Liva and his family came in from Philadelphia. Ed is with KPMG. I met Ed's three sons; the oldest will be attending Notre Dame in the fall. They were very interested in hearing my stories about their dad during his college days.
Later in the afternoon I ran into Sue (McCue) Harris and her family. Sue has three children and the family has a vacation home on Florida's west coast where she meets up with MaryAnn Garvey, Linda (Hall) Gillen and her sister Mary '78 for a vacation every year.
Al Baldarelli has a son who attends Carroll. Al is busy being a high school principal in PA.
MaryAnn (Osgood) Fiely is on the opposite career path. After years as an elementary school principal, she went back to the classroom. MaryAnn has two children who graduated from JCU.
Saturday night's alumni class Mass was very moving. Marianne Kerr represented our class during the moment of remembrance for deceased class members. Urban Picard and his wife, Christine '93, presented the gifts. Marianne had surgery on her leg in May due to a curling accident so she spent the weekend getting around in a wheelchair.
After 13 years in the MIS field, 7 years as owner of a retail furniture store and 4 years of retirement, Jeff Kasper brought a horse farm (Auburn Stables) in Auburn Twp. The whole family is involved in boarding and training 31 horses. They also give riding lessons.
Jim DiSiena was taking pictures Saturday night at the dinner. Check them out at http://www.jcu.edu/alumni/CLASSES/1977/Index.htm.
Jim Koerner was unable to attend because he and his family have moved to Japan. He is the vice president of software sales for IBM Asia Pacific. Jim will be on this assignment for two years and will be traveling throughout Asia. Jim's e-mail address is jkoerner@us.ibm.com.
Patty (Sobczak) Hamilton was also unable to attend reunion, but she made it to JCU earlier in June for new student orientation. Her son, Michael, is now a freshman. Patty is the principal at East Carlisle Elementary School in the Midview Local School System.
Tim Leddy sent his regrets. He couldn't make the reunion because he was in London on business.
This was our largest class reunion – 110 alums participated. In the 25 years since our graduation, we have donated $500,000 to John Carroll.
I hope everyone who made it to our reunion had as good a time as I did. For those of you who were unable to attend, hopefully you will make it to our 30th! Kim
Spring 2002
Hello classmates. I can't believe it, but our reunion is right around the corner. It hardly seems possible that twenty-five years have gone by so quickly! I hope you've marked your calendars for the weekend of June 14-June 16 and plan to attend. You should have received several mailings by now with information on the weekend activities. I'm sure everyone is busy with their jobs, families, and a hundred other things, but you owe it to yourself to take time out of your busy schedule to relax and kick back at the place where it all began — JCU. If you haven't registered yet, DO IT NOW! It doesn't cost you anything to attend; that's right, all meals, activities, and dorm accommodations are FREE. So don't delay making your plans. You can contact Rosalie Massey who is the reunion coordinator.
I have received several e-mails with news about our fellow alums. Tom O'Grady is building quite a career out in North Olmsted, OH. In 1995, he was elected as a councilman, where he was the only challenger to unseat an incumbent. In the '99 election, he was re-elected, finishing first among six candidates. In November 2001, he was elected president of council in an upset victory over a 30-year incumbent, winning by a landslide. Congratulations! Could the mayoral election be next?
Dave Cullen who is president of Cullen Wealth Advisors Inc. in Findley Lake, NY held his 11th annual get-together this past summer at his home on the lake. The Bill Gaglianos, Stan Mamborts, Urban Picards, Brian Henkes, J.R. Rutherfords, Bob Keir, and the Mike Downings enjoyed the fun with Dave and his family.
David Murphy sent greetings to his fellow IPT's from Boca Raton, FL where he is the regional marketing manager at United Technologies Corp. He is enjoying sunny Florida with his wife, Joanne, and their two teenagers.
Mary (Tomino) Joyce is an instructor in French and Spanish at The Ohio State University. She lives in Mansfield with her husband, Steve, and their three teenagers.
Ralph Stilphen's son, Ryan, was named one of the Plain Dealer's Players of the Week in February. He is a junior on the St. Ignatius basketball team. Ryan helped the Wildcats to several overtime victories. He is also an honor student.
Received an e-mail from Kathy Schade Kobyljanec saying – "Since I have come back 'home' after 25 years, I thought I'd send in my news. I obtained my JD in 1982, spent several years in law practice, then returned to Kent State and got my MLS (master's of library science) in 1992. I spent 8 years at CWRU Law School Library, and recently took the position of Periodicals Librarian at JCU. I live in Aurora with my husband, Will, and have 2 children. We enjoy our 4 horses at home, and our mountain property in the wilds of western North Carolina. Thanks for the update, Kathy!
Well that's it for now. Take care and see you at our reunion! Kim