1959
Spring 2017
We have another published classmate. Thomas Nahra's "Poetic Reflections" was published Dec. 20, 2016. It's a wonderful collection of his poetry and only the first of several books to come. It includes 200 pages of poems about hope and sorrow, love and romance, beauty and charm, philosophy and mystery, spirituality and the mystic, anguish and defiance, human frailties, death and rebirth, and reflections in rhyme. Congratulations, Tom.
On a sad note, Dr. Norbert Roughton '61G died Jan. 14, 2017. His wife, Judy (Weber) '64G, provided the following: "He earned his B.S. and M.S. at John Carroll and Ph.D. at St. Louis University in 1969. He was a rocket scientist in California, an astrophysicist with Colorado University in Boulder, and a translator of astronomical Babylonian tablets with research at the British Museum – all the while teaching physics, astronomy, and computer science at Regis University in Denver. He and his wife, Judy, who received her M.A. at John Carroll, were married for 55 years and had six children. After 36 years of teaching at Regis, Norbert retired as professor emeritus of physics.
I heard from Philip Cusick, who was wondering if I was OK after the accident totaling my Camry hybrid. I'm fine, lucky, and more alert now when driving at night. Thanks for asking, Phil. Phil taught at Michigan State University for 45 years in the College of Education. He retired five years ago and moved to Connecticut when Suzanne took a job at UConn. They have a lot of family not far away. Phil was promoted to assistant dishwasher in the Covenant Soup Kitchen in Willimantic, Connecticut, where he volunteers weekly.
I'd like to know what's going on in your life, so drop me an email. Mary Jo and I are taking an African safari in Tanzania, so I'll report on that trip. Hope you're doing well. God bless you.
Rick
Richard E. Dodson
804-748-8432
Dodson59@verizon.net
Winter 2017
On Nov. 12, after 148,963 loving miles, I totaled my Camry hybrid, but enough about me. Frank (FX) Walton passed along additional information about the June 2016 celebration of the life of Bill Marks. In addition to what you read in the summer edition of John Carroll magazine, Frank recalled class of '60 youngsters Jerry Schweickert '65G, Jim Mason, and David Nichting '68G, who joined them at the memorial wake. Frank also remarked, "Some of the fellows behaved pretty well, which was a disappointment to the rest of us." On a personal note, Frank said, "I'll remember my running mate as a fiercely determined football player, a man with an excellent professional reputation as a labor attorney, a great funmaker, and one of my closest friends. Thanks for the memories, Bill."
From Bob D'Alessandro, a look back to 1958-59 when the Booster Club became a Greek fraternity known as Iota Chi Upsilon (IXY). Although the fraternity no longer exists, there are almost 450 alumni members who are active in their private lives. At the Carroll homecoming in October, the IXY fraternity had a 57th reunion on campus. About 250 alumni members attended. Five of the charter members returned for the reunion. In addition to Bob, Robert Martin, James Atten, J. David Ross, and J. Peter Fegen, M.D., attended. JCU President Fr. Robert Niehoff, S.J., praised the fraternity alumni for their tremendous spirit for each other, the storied history of the fraternity, and the significant scholarship endowment for Carroll students. The fund will soon reach $2 million. Talk about boosters!
God bless you in the new year.
Rick
Richard E. Dodson
804-748-8432
Dodson59@verizon.net
Fall 2016
Richard E. Dodson
804-748-8432
Dodson59@verizon.net
Summer 2016
Some, in fact most of the entries, might fall into the history category because of the length of time between receipt and publication. On Jan. 20, 2016, the office of alumni relations notified me about the death of Thomas O'Toole. His funeral Mass was held at Immaculate Conception Church in Willoughby, Ohio.
I received a call from Anne Marks, who informed me her husband, William (Bill) Marks, passed away Feb. 6, 2016, in Sturgis, Michigan. An email from Roger Risher in late June informed me Anne had a memorial wake for Bill in Elkart, Indiana, the last weekend in June 2016. Classmates Joe Ruble, Tom McGann, Paul Brust, Bill Colson, FX Walton, John Breznai, Jerry Burke, and Marty Dempsey, along with Roger and all their wives, attended. Talk about a great support group.
In April, Joan and
Edward Novak
celebrated their 50th wedding anniversary with a gathering of family and friends at their home in North Canton, Ohio. Monsignor James A. Clark, pastor of St. Paul's in North Canton, celebrated Mass at their home as they renewed their wedding vows. Edward and Joan were married on April 16, 1966. They have five children and six grandchildren. Congratulations! Enjoy retirement and the grandkids.
In June, I received a call from Mary Stanoch, who informed me her husband, Phillip Stanoch, passed away May 1, 2016, in Downers Grove, Illinois. On June 7, 2016, we lost Marion Amato. Mary Grace and Marion were married for 57 years. A Mass of Christian burial was celebrated at St. Paschal Baylon Catholic Church preceding entombment at Lake View Cemetery in Cleveland. To all the families of our deceased classmates, I offer my condolences and prayers.
God bless you.
Rick
Richard E. Dodson
804-748-8432
Dodson59@verizon.net
Spring 2016
On an unusually warm Sunday in March, I was waiting for my youngest daughter, Anny, and her husband, Clayton, to arrive for a predinner discussion about our pending trip to the Amalfi Coast when the phone rang. A voice from the past, Sal Casarona, called to say hi. (Sal's timing has always been amazing. I was just starting to draft these class notes.) Sal, another dayhop, was one of my closest friends while at JCU. We were active in ROTC and Pershing Rifles, and both received our private pilot license at Horn's Flying School in Chardon, Ohio. After flight school, we went our separate ways in the Army. Sal served time and then flew for TWA (Trans World Airlines) and American Airlines for 37 years. Sal is retired and lives in New Jersey. We discussed my upcoming trip to Italy, and he wanted to know where we're going. I gave him our itinerary and promised to send him a few photos when we return.
In case you haven't heard, we lost our classmate and very good friend Bill (Harpo) Marks on Feb. 6, 2016. He passed away after a courageous battle with cancer. As you know he is a member of the Carroll Athletic Hall of Fame and was a player on the undefeated team of 1959. He was drafted by the New York Titans (Jets), graduated from law school (University of Detroit Mercy School of Law), and had a successful law practice in Sturgis, Michigan, for over 50 years. Our travels together — whether by car or cruise ship — are unforgettable and filled with fond memories. At our annual get together at John Breznai's on March 6th this year he was badly missed and warmly toasted. The Thursday Night Study Club has lost another charter member. "Fish on Bill, your turn."
I received an email from John Breznai with a report on the JCU Florida group's 16th annual seafood extravaganza, which was held on March 6 in Safety Harbor. Donna and John Breznai, Dolores and Paul Brust, Bonnie and Jerry Burke, Philomena and Bill Colson, Gracie and Tom McGann, Carolyn and Joe Ruble, Mike Tracy, and Kathy and F.X. Walton attended the extravaganza. John said the group missed Annie and Bill Marks, who never missed the party before. John said they're tentatively scheduling next year's event for Sunday, March 5, 2017. If any of you are in the area, contact John to let him know if you can attend. I'm already planning to attend after our Florida sweep of Ponte Vedra, Islamorada, and Key West. (See, the Army logistics training pays off.) In the interim, let me know what you're doing.
God bless you.
Rick
Richard E. Dodson
804-748-8432
Dodson59@verizon.net
Winter 2016
It's always sad when we lose one of our own, as was the case with the passing of Don Palmer on Saturday, Sept. 19, 2015. I was notified by his daughter, Julie Kipers, at her mother's (Joanne) request, about Don's unexpected death. At the time, Joanne was in physical therapy with a broken bone
in her upper right arm. She and the family, which have been a big help, are moving on. May Don rest
in peace.
I received an email from Mike Campo, who updated me about Tom Barrowman. It seems
Mike was trying to arrange a get-together, but Tom and Dolores had just completed a two-week tour
of Turkey, Greece, Israel, and Egypt. Tom said it appeared to be good timing. They were getting ready to head to the Southwest for their winter spell. Mike and Lynda, who were back in Florida for the winter, were looking forward to the St. Ignatius High School gathering on Jan. 31 in Naples and the JCU gathering in Naples in March 2016. The St. Ignatius High School Mike attended in Chicago has now
become St. Ignatius College Prep. Also, Lynda and Mike had lunch this past summer with Jeanine and
John Briatta '58 at their place just outside Chicago.
My life seems pretty mundane. I attended the Photographic Society of America's annual conference at Yellowstone National Park again. The eight-day fling was filled with photographic classes and tours. I forgot how wondrous and beautiful Yellowstone is.
God bless you.
Rick
Richard E. Dodson
804-748-8432
Dodson59@verizon.net
Fall 2015
Flashback: Flight training at Horn's Flying School in Chardon, Ohio, in 1958 and 1959. The JCU ROTC department initiated a flight-training program for cadets. Successful completion of the 40-hour program led to a private pilot license and a three year active duty commitment after graduation. To that end, Sal Casarona, John Szuch, and I, along with two others, signed up. Wow! That was 57 years ago. I haven't heard anything from Sal, but I'm in contact with John, who keeps me informed about what's going on in his life. One bonus is I receive the most recent copy of the NE Ohio Polish American newsletter. John, the organization's president, appears to bring it high energy.
I haven't received much input from classmates, which means ya'll (I've been in Virginia too long) are busy doing things with family and friends – and that's good.
I received a happy birthday greeting from the alumni relations office, and I thank the staff for that. I encourage you to stay in touch with JCU by updating your information. And when you do, copy me because I'm anxious to hear from you. I'll be traveling to West Yellowstone, Mont., for the Photographic Society of America's (PSA's) weeklong convention, which offers daily tours of the national park. I've signed up for at least one each day, and my lifetime senior pass will admit me to the park for free. Hopefully, I'll be able to expose you to park wildlife in the winter issue. I hope you're all doing well and enjoying Pope Francis' outlook on life as much as I am. God bless you.
Rick
Richard E. Dodson
804-748-8432
Dodson59@verizon.net
Summer 2015
Flashback: ROTC summer camp 1958. Gary Furin recalls that during a training session involving 18-wheelers, the sergeant/instructor, after he had successfully negotiated driving one through an obstacle course without knocking over any cones, smugly asked one of us cadets to volunteer to do likewise. Rube rose to the occasion, hopped up into the cab, and successfully completed the course to the amazement of us all, including the sergeant, who he had never had a volunteer before. The story is that Rube's dad owned a trucking company in New Jersey, and Rube had been driving semis since his early teens. Incidentally, Rube had All-PAC honors in our senior year as a guard on the football team.
On May 22, Barbara and Don Gould and Mary Jo and I returned from an eight-day river cruise on the Rhine, from Amsterdam to Basel, followed by a week of independent travel to Lake Como, Florence, and Venice. The trip resulted from a conversation at our 55th reunion last year. I was relating to Don how wonderful our riverboat cruise from Paris to Normandy had been two years earlier. In response to Don's question, "Would you like to go on another riverboat cruise?" I said, we would. Two weeks later I received an email from Don with a detailed itinerary. It's great traveling with a friend, especially when he's a (retired) travel agent. In our three previous trips to Italy, I, with the help of Rick Steves, made all the travel reservations and hotel accommodations. It was nice having a pro do it this time. We love Italy and have never had a bad meal, always drinking the house wine.
Last week, my Kiwanis Club sponsored a dinner to celebrate the 70th anniversary of the end of WWII. We had 39 WWII Veterans attend. They shared their stories, had quality time with their fellow Vets, and reminded all who attended how much we have to be thankful as a result of their willingness to serve to preserve our way of life. They truly are the greatest generation.
I hope you're all doing well and enjoying your time to the fullest. God bless you all. Drop me a line, and let me know how you're doing.
Rick
Richard E. Dodson
804-748-8432
Dodson59@verizon.net
Spring 2015
The following emails were received from alumni relations for inclusion in this column.
"Charles Edward Hogan, 78, passed away peacefully in the early morning of Wednesday, Dec. 3, 2014, at his residence. He was born in Youngstown, Ohio, on Jan. 14, 1936, and was the son of Paul J. and Elizabeth Jane (Hubbard) Hogan Sr. Living in Niles, Ohio, most of his life, he was a 1954 graduate of Niles McKinley High School. He studied at Georgetown University before graduating from John Carroll with a bachelor of science in social science. He was commissioned into the U.S. Army Reserves in 1959, serving his country as an active reservist for 15 years before receiving an honorable discharge as a captain in 1974. Charles retired from Community Skilled Health Care Centre in Warren, Ohio, where he served as administrator and CEO from 1980 to 1996. He began his 20-year nursing career in 1976, when he joined Windsor House. He became licensed by the state in Nursing Home Administration. His early career began with 10 years at the Trumbull County Welfare Department, where he was director from 1965 to 1970, followed by an appointment to executive director of the United Way of Trumbull County from 1970 to 1976. Charles was a member of the American College of Health Care Administrators, the Ohio Health Care Association, the Visiting Nurse Association Board of Directors, the Northeast Ohio Drug Abuse Council, the Trumbull County Social Services Advisory Committee, the Trumbull County Community Chest, and the Warren Kiwanis Club, where he had the opportunity to help plan the first annual Warren Kiwanis Turkey Trot. After retiring, Charles enjoyed many years traveling to visit family and friends. Like his grandfather before him, he enjoyed being "Pop Hogan" to his six grandchildren. A golf enthusiast like his father, Charles enjoyed numerous golf trips throughout his life, the highlight being his 1999 trip to Ireland. He was an inaugural member of the family's 26-year annual Hogan Cup. Mr. Hogan enjoyed listening to jazz music, not missing a chance to see live shows whenever he could, and taking fishing trips to Canada. He was an avid reader and never stopped rooting for the Cleveland Browns."
The second email was a request from David Vitatoe '00, executive director of alumni relations at Carroll, to include classmate John Chuchman's new book notification. Information about John's new book can be found at sacredtorch.com.
John Szuch; his grandson, Jonathan Szuch; and Jonathan's parents gathered on the football field before the Walsh Jesuit-Benedictine game when Benedictine senior players were honored. "To say I was a proud grandfather would be a gross understatement!" John said.
I hope you're all doing well, enjoying family and friends, and traveling when possible. I'll give you a recap of our trip to Europe with Barbara and Don Gould in the next issue. God bless ya'll.
Rick
Richard E. Dodson
804-748-8432
Dodson59@verizon.net
Winter 2015
Roger Risher had looked forward to the noon kickoff on Nov. 29, 2014, between the Blue Streaks (10-1) and Wheaton College Thunder (11-0) in Wheaton, Ill. An interesting note is that No. 25 for the Thunder, senior Michael Risher, the starting right corner back, is Roger's grandson.
John Breznai reports that classmates gathered at Kathy and F.X. Walton's home Oct. 2-6. Jerry (Bonnie) Burke, Marty (Davey) Dempsey, Bill (Annie) Marks, and John (Donna) Breznai were there. The Waltons were fantastic hosts. There was plenty of great food, shopping for the girls, several competitive games (including cricket), fishing, and beer.
On the home front, I had a great opportunity to attend the Photographic Society of America's annual conference in Albuquerque, N.M. I drove from Virginia, taking pictures along the way and marveled at the varied landscapes of our wonderful country again. In addition to attending classes about various aspects of photography, postprocessing of digital images, lighting, and a myriad of associated subjects, I was able to take four tours of the area and a balloon ride. There was an international flavor because members from 25 nations attended. A bonus was the opportunity to attend the annual Albuquerque International Balloon Fiesta and observe and take photos of 600 balloons during the morning mass ascension and the evening Twilight Twinkle Glow. A three-day drive home capped a two-week adventure and left me excited about next year's convention in Yellowstone National Park. I hope you are all well and reveling in the Blue Steaks banner year. Let me know how you're doing. God bless you.
Rick
Richard E. Dodson
804-748-8432
Dodson59@verizon.net
Fall 2014
REUNION YEAR
I express my condolences to Lynda and Mike Campo for the loss of their daughter, Traci, in August. You'll be in my prayers. Next, I want to apologize to John Breznai and his fellow friends and classmates Marty Dempsey, F.X. Walton, Tom McGann, Gerry Burke, and Bill Marks. Years ago, I sought updates about classmates for the Journal, and John sent me an article complete with a photo of the group's annual gathering at F.X.'s home in Chapin, S.C. I failed to get the article and photo in the Journal after John's effort to answer my calls for help. To those classmates, be it known John responded, and I dropped the ball. Mea culpa. I'll buy the first round of drinks for that group at our 60th reunion.
It was a busy summer. Mary Jo and I made three trips to Cleveland this summer within a four-week period: The first was for our 55th reunion; a week later we visited her brother at the Cleveland Clinic; and finally, a week after that we attended my family reunion. As the oldest living member of the Dodson clan, I had the opportunity to share time and libations with 63 attendees. (There were 15 that couldn't make it because of various reasons). Then we hit the road again to visit Mary Jo's recuperating brother in Maine. In route, we continued the hunt for the best lobster roll in New England. In late September and early October, I was in Albuquerque, N.M., for the Photographic Society of America's Annual Conference, my first with PSA. Expect to see a picture of the conference's 500 to 750 ascending balloons in the winter issue of the Journal.
This column is light on news because not much input was received because everyone is out having fun. Remember, you can correspond with me via email, Facebook, and LinkedIn. Have a great summer.
God bless you.
Rick
Richard E. Dodson
804-748-8432
Dodson59@verizon.net
Summer 2014
What a great reunion! It's hard to believe 55 years have passed since we departed the hallowed halls of JCU to make our imprint on society. We had a good turnout, as 29 classmates turned up for three nostalgic days of merriment and memories revived and relieved. Friday offered a city sightseeing tour aboard Lolly the Trolley. Lolly transported us from the Heights on a comprehensive two-hour tour of the Cultural Gardens, University Circle, the Cleveland Clinic, Playhouse Square, Ohio City, West Side Market, Warehouse District, Gateway Sports Complex, downtown Cleveland, Great Lakes Science Center, Rock and Roll Hall of Fame, and the Flats. The overriding comment from us long-goners was how clean the city looked. What a wonderful way to ease back into our reunion weekend. On Friday afternoon, we gathering at the designated class areas for drinks and a wide variety of food, a prelude to greeting old friends and renewing friendships. Background music set an inviting tone and atmosphere for conversation. As the night progressed, the music was more prominent and drew the dancing crowd to the floor. The beat went on until midnight. On Saturday, we offered opportunities to participate in a fun run/walk, a family scavenger hunt, a tour of the Cleveland Art Museum, campus tours, and a family picnic lunch. Later at Mass, we remember our 99 classmates who are no longer with us. A photo of attending classmates was taken before our class dinner. Music and dancing was available until midnight, and a Father's Day brunch was available Sunday morning before everyone headed home. During the weeks before reunion, I received emails and calls from classmates who, for various reasons, couldn't attend. Donald Palmer's wife, Joanne, had a complete right hip replacement, which included a complication with her femur, which was slightly cracked and required a longer recovery period. Don wished us all a happy reunion and looks forward to our 60th. Geraldine Turk, (evening college) wasn't able to attend but sent best wishes to fellow classmates. She lives in Southern Pines, N.C., is affiliated with the USGA, and worked the U.S. Open at Pinehurst Resort during the reunion period. Lynda and Mike Campo are in Wheaton, Ill., with their daughter, Traci, who isn't doing well. It's too early to tell if the experimental program at the University of Chicago is doing any good. Your prayers are welcome and appreciated.
An email from Gary Furin – received days after the cutoff date for the spring edition class notes – says a Duke law classmate and best man at his wedding 49 years ago, insisted Gary write to me to include: "On Nov. 23, 2013, Thanksgiving morning here in Atlanta, I again ran the half marathon, finishing first in my age group – 75-79." Congratulations to Gary. His email said, "He hoped to see us at the 55th." He still stays in touch with Pete, Don Springer, and Leland Hall.
I received an email from Peggy Muraco, who has a 1959 Carillon yearbook for sale. It only has one word written in it on the inside back page and is in excellent condition. If interested in it, let me know, and I'll pass on her email address.
And now a list of all those attending the reunion: Jim Atten, John Breznai, Thomas Brunn, Paul Brust, Gerald Burke, Robert D'Alessandro, Rick Dodson, J. Peter Fegen, Donald Gould, Donald Hagerty, Joseph Harrison, Fredric Kramer, Thomas McGann, Gerald McGivern, William Marks, Joseph Miller, Paul Moon, Thomas O'Toole, Ivan Otto, J. Edward Paglione, Thomas Ribar, Roger Risher, J. David Ross, Joseph Ruble, John Ryan, Gary Silverberg, John Szuch, Wesley Toles, and John Toronski. (All attendees, except Pete Fegen, are in the class picture).
Post reunion news: I learned from John Breznai that Tom McGann lost his beloved wife, Louise, this past January. They had been married for almost 52 years. Please remember them in your prayers.
A few nights after reunion, Edie and Roger Risher were attending a cocktail party at a Jesuit endeavor in Chicago. While waiting to be picked up after the function, Edie talked to the piano player who was working the gig. When he asked her name, she responded, "Risher." He said he knew a Roger Risher from John Carroll, so Edie pointed to Roger. Arnie Lanza '57 began talking about John Carroll and Roger. Now they'll see each other more often. A group of classmates and most of their wives went to the Lodge at Geneva-on-the-Lake at Geneva State Park for a few days. During their stay, Donna and John Breznai, Dolores and Paul Brust, Bonnie and Jerry Burke, Annie and Bill Marks, Mary Beth and Gerry McGivern, Ed Paglione, and Carolyn and Joe Ruble were joined for dinner by Connie and Tom Brunn and a fish fry by JoAnne and Jack Ryan. The most interesting event occurred on Sunday evening when the group went to the Ferrante Winery where they met the Baldarelli family from Hermitage, Pa. Three of the children are JCU graduates: Levio'09, Lauren '10, and Elise '14. They exchanged Many stories, and all had a good time. The young alums were excited to spend time with the '59 group.
God bless you.
Rick
Richard E. Dodson
804-748-8432
Dodson59@verizon.net
Spring 2014
REUNION YEAR
While I prepared input for our class notes, I listened to the soothing melodies that emanated from Roger Risher's tenor sax and got excited about our reunion this coming June 13-15. While I don't have much news to share, I intend to catch up when I pick up all the latest gossip, tidbits, and opinions when we gather at JCU.
In response to the photograph inserted in the 2014 winter class notes, Mike Campo sent an email saying he had enlarged the photo with the baby shark taken while we were at Fort Eustis. He also correctly identified himself – standing next to me on my right – and remembered the day. Mike recalls we were hot and sweaty and went into the water to cool off. Then somebody said, "Hey, I got a fish." When somebody said, "It's a shark," we lept out of the water quickly. He still wonders if the mama shark was hanging around. He didn't remember if anyone else went back in the water but remembered he didn't. Mike, a confirmed coward, says he and his wife can use all the prayers we can provide because their daughter, Traci, has finished her chemo and radiation after surgery to remove cancer. Her husband, Tony, received chemo through March.
After responding to Ed Coyne, thanking him for his input to the winter column, he said he wouldn't be attending our 55th. So those of you who intended to pump him for information about scuba diving, Tae Kwon Do, and his religious order (the Irish Catholic Urban Monks of SW Florida) will have to wait until our 60th. Alternatively, you can contact me for his email and then plead with him to change his mind and attend.
Donald Palmer said he would attend reunion. Meanwhile, he's playing lots of golf and entreating me to take plenty of photos (my hobby) and not so many (golf) shots per round. I heeded his advice and lowered my shots per round by playing only 16 holes. On the other hand, I've improved my digital photo shooting by joining a local camera club, which has weekly Saturday morning shoots in and around Richmond.
The picture below is of our 50th reunion. If you can't find yourself, you left before the photo was taken or didn't attend. You have the opportunity to add your smiling face to the happy group. Consider revisiting your alma mater and the guys and gals who helped shape your lives and care about you. God bless you.
Rick
Richard E. Dodson
804-748-8432
Dodson59@verizon.net
Winter 2014
REUNION YEAR
I hope you're all doing well and are preparing for the big bash, formally titled the 55th reunion, which will take place June 13-15 on campus. Mary Jo and I will be attending. I'm a happy camper because my six-month driving restriction has been lifted. During the first week back on the road, I put 628 miles on the Camry. I didn't realize how confining it was for me or burdensome for Mary Jo who became my wheels in addition to the wind beneath my wings.
An email dated Oct. 20 from Bob D'Alessandro informed me classmate and good friend J. Peter Fegen suffered a stroke. Pete said he was out of the hospital and involved in acute stroke rehab through the Cleveland Clinic and making daily strides. Pete appreciates all additional prayers that are coming his way. To that end, I heard from Nancy and Chuck Ward from their home in Ireland. They will definitely keep him in their prayers. The Wards – who returned to their home in Decatur, Ga., in December – will attend our 55th reunion. Chuck's response, along with other replies to me from John Szuch, Gary Silverberg, Bob Bracken, Don Palmer, John Lloyd, and Dennis Coleman were forwarded to Pete. I apologize for those classmates who didn't receive my email notification about Pete. My email listing was out of date, so I received an updated one from Carroll.
I received an email from Mike Campo advising me I wouldn't be receiving his input from Naples, Fla., in 2014 because he'll remain in Wheaton, Ill. this winter. In early October, their son-in-law, Tony, was diagnosed with cancer, and five days later their daughter, Traci, (Tony's wife) also was diagnosed with cancer, albeit a different kind. Lynda will be helping with the three granddaughters while Traci is recovering from her operation and prepares for chemo and radiation treatment. "Tony is undergoing chemo every Friday, which wears him out for a few days thereafter," Mike says. Tony has lost all his hair, so he and Lynda bought him a Bears' knit cap. Now his son and son-in-law look like twins. Please keep Lynda, Mike, and their family in your prayers.
I received news from Tom Barrowman that his wife, Dolores, was diagnosed with cancer and is undergoing chemo and radiation treatment. Tom and Dolores would welcome your prayers. I also pumped Tom to find out if he was still skeet shooting. Tom said, "I have been shooting skeet for 40 years and have 281,800 targets in registered National Skeet Shooting Association competition, 19th most worldwide. I was named to the old persons (70 plus) All American team for 2013."
Barbara and Don Gould are working hard on their schedules and plan to attend our 55th reunion in June. I'm hoping to pay them a visit in the spring in Ponte Vedra and possibly get in a round of golf. I'll need strokes to be competitive.
The other day I was digging through my 58,000 digital photographs and found a photo taken during ROTC summer camp at Fort Eustis, Va. I believe the photo was taken at Virginia Beach, on one of our weekend breaks. See how many classmates you can identify. We can see how many of those lean bodies have survived the trials of the past 50 years. I hope to see you at our 55th reunion in June. Plan now, no excuses. God bless you.
Rick
Richard E. Dodson
804-748-8432
Dodson59@verizon.net
Fall 2013
As I sit here on the 50th anniversary of Martin Luther King Jr.'s "I have a Dream" speech and listen to the melodic strains of B-flat 1357 (Roger Risher) soothing blues, I reflect on my strategic move to increase classmate input for the quarterly class notes. That strategic move, opening accounts on Facebook and LinkedIn, was to provide new channels of communication through which classmate input would flood to me, and my only problem would be staying within the 450-word submission limit. In reality, I've found some classmates on LinkedIn, my first is Donald Palmer. Don is an independent management consultant in the Washington, D.C., metro area. He's planning to attend our 55th reunion next June. Because he's the first classmate to contact me, I'll pay for his first round of drinks at the reunion.
I also found Dave Ross on Facebook. He lives in Columbus, Ohio. I'll be dropping Dave a message to catch up on the past 54 years. Hopefully, he'll be at the reunion next summer.
I also found Mike Campo on Facebook, although he's been communicating with me via email for years. This electronic age is amazing.
I received a message from Don Palmer, who says he lives about two hours from me in Gainesville, Va., at a place called Heritage Hunt – a 55-and-older active adult community. He plays golf three times a week. His house is between holes 3 and 4. "And no, my handicap isn't improving – but so what. I'm having fun. Come join us any time." So there you have it, guys. I'll make my way up to Don's as soon as I can. I'll drive again, call and coordinate our calendars, and get a guarantee of 3 stokes a side.
I look forward to getting to JCU for a visit to the city of my birth, where 60 percent of my family still lives, and swap tales of how it used to be at our 55th reunion. Until then, stay healthy, keep active, and God bless you.
Rick
Richard E. Dodson
804-748-8432
Dodson59@verizon.net
Summer 2013
I wish you all a hardy hello. The new Rick will be entering the 21st century as he becomes a member of Facebook and LinkedIn. I fought it for years and was (and still am) leery of sharing what I had to eat for breakfast, who did what to whom, and forcing, or allowing others, to read mundane trivia about me. But with renewed interest in opening lines of communication, especially with my classmates, I'll give it a go. For those of you who've tried to "face up" or "link in" with me only to be ignored, please give me another opportunity to catch up to the rest of the modern world.
In January, I suffered two fainting spells that led to testing, stent implantation, and a small change in medication. In May, a seizure led to more testing and new medication with restrictions of no driving or alcohol for six months. The driving restriction puts a burden on Mary Jo, and the absence of my two glasses of red wine daily sucks. The good news is my youngest daughter (age 41) married in April to a fine young man (age 41), and they planned the wedding, reception, and all the other details in a calm, well-thought-out manner. Life is good, and we look forward to the second half of the year. I've managed to regulate my heartbeat during the Indians' long winning streaks (wearing my brilliant red Indians tee with Kenny Lofton's name and number 7 on the back) and my blue, paint-spattered 1995 American League Champions Indians sweatshirt during the losing streaks. Let's hope they can overcome the curse and stay in front of the Tigers.
Lynda and Mike Campo attended the Naples, Fla., JCU cocktail party at the exclusive Port Royal Club on the gulf. The featured speaker was the new JCU football coach, Tom Arth '03. About 60 people attended, and for once, Mike found some people from the class of '59. He and Lynda talked with Dennis Fagan and caught up on the past 53 years. Then Dennis pointed out Carol and John Lloyd, who sat at their table. John said they spent a number of years in Glenview, Ill., but now call Cleveland home. (John sent an email in March announcing the spring 2013 Gold Streaks Luncheons, neither of which I was unable to attend this year.) I'll make sure to plan for one of next year's luncheons. John, as the class of '59's POC, will get that info to me, and I'll make sure I pass it on to all through Facebook, LinkedIn, or email.
Marlene and John Szuch met Carol and Gary Silverberg at the reunion dinner at Carroll and celebrated Carol's birthday (June 16). Gary and Carol left the following Monday for a few days in Vegas before heading to the Seattle area to visit their daughter.
I was hoping to get to Cleveland in August this year because my old flight school classmate, Kris Kristofferson, was at Cain Park on the 9th, and it would be nice to see him again. It would also be great to spend time with family and friends and visit the campus to see firsthand how it's growing. I'm planning to hoist a few with ya'll at our 55th reunion next June. Please put that on your calendars. I welcome updates, comments, suggestions, and/or pictures of things that make your lives meaningful. Use Facebook and/or LinkedIn if that's easier for you than email. Hope you're well. God bless you.
Rick
Richard E. Dodson
804-748-8432
Dodson59@verizon.net
Spring 2013
As I composed this spring note, I felt closer to JCU because snow accumulated on the lawn, a rare occurrence in Chester, Va. On March 6, Mary Jo and I were scheduled to arrive in Lisbon, Portugal, on a pilgrimage with other members from the Cathedral of the Sacred Heart in Richmond. A fainting episode and subsequent blood pressure problems forced us to cancel that trip. So we focused on the wedding of our youngest daughter, which was in April.
I received feedback from my Carroll voice from the South, Mike Campo, who reported on the JCU cocktail party at the Port Royal Club in Naples, Fla. Two classmates attended, and Mike had an opportunity to speak with each to catch up on how they're doing. Mike said it was great to see Dennis Fagan again. Dennis pointed out John Lloyd and his wife, Carol, who joined Mike and his wife, Lynda, and caught up on their news. The Lloyds spent a number of years in Glenview, Ill., before moving to Cleveland, which is where they call home. John also has provided input for the Cleveland alumni chapter's email promoting the spring 2013 Gold Streaks luncheons. A brief history of the Gold Streaks (of which we're all members) can be found at jcu.edu. Although the luncheons will be history by the time you receive this edition, future offerings would entice me to drive the 483 miles for a visit with family and a hearty lunch in the O'Connell Reading Room in the Dolan Science Center. John Szuch, president of the Polish Genealogical Society of Greater Cleveland, sent a copy of the Jan./March edition of Our Polish Ancestors. The feature story chronicles the life of The Polish Gangster of Cleveland, Smiling Joe. Thanks, John. It was fascinating reading. Interested parties can find more at rootsweb.anscestry.com.
Hope you're well. God bless you.
Rick
Richard E. Dodson
804-748-8432
Dodson59@verizon.net
Winter 2013
U.S. Marine Corps veteran and Lorain County Domestic Relations Judge David A. Basinski was the featured speaker at the Elyria AMVETS, Post 32 for the Corps Aviation's 100th anniversary. David, who joined the Corps after graduation, was commissioned a second lieutenant before entering flight training in Pensacola, Fla. He related a few of his experiences during training, including his first touch- and-go landings on a carrier 50 miles off shore. After completing the two qualifying landings, he continued to fly additional practice landings until a warning light came on. All traffic was cleared out of his path as he landed, taxied to the elevator, and was lowered to the hanger deck. His engine quit on the elevator deck. That must have been exciting. David said, "Here I am, an old man who drives a black Chevy pickup that has a Semper Fi sticker on the back. That's how important the Corps was to me."
In response to the Take John Carroll With You campaign, I posted a photo of JC and me below Mont Saint Michel Normandy on the website (http://sites.jcu.edu/withyou) in late September. Shortly thereafter, I received an email from Roger Risher saying he attended Mass in the abbey chapel at the top Sept. 29, St. Michael's feast day. We missed each other by 12 days. Had I known, I'd have left a message for him on the abbey's bulletin board. Roger timed his trip right and was able to watch the French paratroopers jump in the lowlands.
My apologies to Gary Furin, who sent an email with news about participating in a local 10K race. While I didn't receive it (I had problems with Verizon at the time), I didn't I pick it up off the JCU website either. So without further delay – news flash! – Gary ran the Rite Aide Cleveland 10K in May 2012. He placed ninth in his age group and ran with his daughter, Andre. Congratulations, Gary. Once a jock, always a jock. (That's jealousy you're hearing.) Gary said his time would've been better had he not stopped several times to point out the Old Stone Church, the Soldiers and Sailors Monument, and various church structures on the lower east side, which he said didn't used to be one of his haunts. Gary ran a half marathon – his first – on Thanksgiving morning, finishing in 3 hours and 1 minute, placing 19th in his age group. "I earned my turkey," he said. He ran this one with his daughters Adele and Andre.
I look forward to hearing from you. I have plenty of room in my email inbox. God bless you.
Rick
Richard E. Dodson
804-748-8432
Dodson59@verizon.net
Fall 2012
As I sit here composing the class notes for the fall quarterly, the sun is shining, birds are singing, and the humidity is falling. Things are a wee bit frantic as Mary Jo and I prepare for a French river cruise in six days. Mitigating that anxiety are the melodious strains of classmate Roger Risher and friends playing a lil' blues, a lil' bossa, a lil' love. The music is good for the soul and relaxing. Thanks, Roger. I've just extracted John Carroll from the spring issue of the magazine, and he'll be accompanying us on the cruise. Look for pictures in the winter issue with us at notable French landmarks.
John Lloyd has become more active in Carroll's alumni association and is serving as a board member of the reconstituted Cleveland chapter. John joined fellow alums in April at the Cleveland Food Bank for an evening of sorting canned/packaged foods for distribution to the hungry. He joined fellow Gold Streaks processing at graduation in May and attended the chapter's inaugural reception held reunion weekend in June. In July, he attended an exhibit about Pope John Paul II and the Jewish people titled "A Blessing to One Another" at the Maltz Museum of Jewish History in Beachwood, Ohio. In August, John attended the watch party on campus with other Gold Streaks and saw the Blue Streaks beat St. Norbert College in Dublin. Be still my heart! John, thanks for your activity in the association. It appears you've jumped in with both feet.
Mike Campo and I are staying connected so we can identify whether the JCU-hosted cocktail party at the Naples Yacht Club is, or will become, an annual event. President Niehoff presented a Carroll state-of-the-University address, and all had fun. As soon as we can nail the date down for the spring '13 event, I'll get word to you. I might have to use email for alerts. If you're interested in the party at the yacht club, send me your email address, and I'll make sure you're notified. I'm making plans to visit relatives in Florida in March and attend the party.
Let me know how you're doing so news can be shared with your classmates. Life is too short to withhold the wonder of your life experiences from your interested classmates. For fun and a flash back to the good old days of $35-a-credit- hour tuition at JCU, visit http://oldfortyfives.com/TakeMeBackToTheFifties.htm. Start thinking about our 55th reunion in 2014 because it will be here before you know it. If there's anyone you've lost track of and would like to see at our 55th, let me know his name, and I'll run a "those you'd like to see at our 55th reunion" section in each class column. God bless you.
Rick
P.S., the picture of the classmate blowing hot in the spring issue is Roger Risher.
Richard E. Dodson
804-748-8432
Dodson59@verizon.net
Summer 2012
I received the following from the Toledo Blade: "Retired Ottawa County Common Pleas Judge Paul Moon was inducted into the Port Clinton Academic Boosters Academic Hall of Fame May 2. The Port Clinton High School alumni annually recognize individuals for their outstanding academic achievement. Judge Moon, a 1955 Port Clinton High School graduate, sat on the common pleas bench from 1991 until he retired in 2009. He graduated cum laude from John Carroll University and Georgetown University law school. He started his law career in Port Clinton in 1965 as the assistant city solicitor and police prosecutor. He became a partner in Moon, Moon, and Noblitt Lawyers in 1965, and was a member and president of the Ottawa County Bar Association. He served as special counsel for the Ohio Attorney General through 1979. He edited the Chronicle, a statewide newsletter for judges and legislators and was a member of the faculty of Ohio Judicial College, a trustee of the Ohio Association of Municipal/County Court Judges, as well as other professional organizations. Judge Moon is president of the Ottawa County Historical Society, serves on Mercy College's board of trustees, and was president of Port Clinton City Council. He and his wife, Maria, raised two daughters, Laura and Elisabeth '07, who are Port Clinton High School graduates." Congratulations, Paul.
From Mike Campo: "Just a note to let you know about the cocktail party given by JCU at the Naples (Fla.) Yacht Club March 13. My wife and I attended. There were a number of people from the classes of '53, '54, '56, and '58 but no one from the class of '59 (present reporter excepted). I hoped some of my classmates would attend. Mr. and Mrs. Moran from the class of 1958 were at our table. Mr. Moran said he'd been the football team manager while at JCU and remembered the (summa cum laude) water boy, Vince Punzo '56, and our famous class of 1960 quarterback Jerry Schweickert. Fr. Niehoff gave a nice talk and mentioned there will be a freshman class of 700 to 800 students this fall. When I started as a freshman in 1955, the whole school numbered about 900. There was no charge for the party or hard sell to contribute money to the school. I found that refreshing and think the rest of the crowd appreciated that, too. As I looked around the room, I was surprised because I never realized I went to school with such old guys."
I understand from Mike this is an annual event. I encourage all class of '59ers who live in the area to put it on your calendar for 2013. I will plan to be there and buy the first round of drinks. I've been holding off joining Facebook, but I might join to facilitate the reception of input from classmates. Keep me updated via mail, email, or carrier pigeon. God bless ya'll (been in Virginia since '76).
Rick
Richard E. Dodson
804-748-8432
Dodson59@verizon.net
Spring 2012
I received the following from John Chuchman: "John Chuchman was ordained by the Catholic Dioceses of One Spirit in July 2010 and has just published his 14th book, 'I am because love is; God as verb.' John's books are available from him (poetman@torchlake.com) or at amazon.com and Kindle. He continues to facilitate workshops, seminars, in-service programs, and retreats about loss in life, grief, church, spirituality, and nurturing."
Paul Oswald is employed as a retirement specialist at A.I.W. where Paul says he's the boss. Thank God we have Google, or so I thought, before it offered me nine distinct options for A.I.W. I'll explore American Independent Writers, Art Institute of Washington, and Absolute Intense Wrestling for starters and have something definitive for the summer notes.
Paul Moon provided an update that reached me after my submission date for the winter notes, but it's better late than never: "I just returned from Quito, Ecuador, to visit my daughter, Laura, who works with The World Bank. What a lovely little country, and they use only U.S. currency, which makes it easy. I visited the jungles, the high Andes and completed my own Ignatian pilgrimage. A must see in Quito is La Iglesia de la Compania de Jesus, the Jesuit Church built in 1609. I'm told it's the most unique in the world. The interior is all gold, more than 70 tons of gold leaf. It's the most amazing church I've ever seen. I think the Jesuits had a corner on the Inca gold market. On the way home, I stopped in San Diego to visit my daughter, Elisabeth '07, who's employed by the Episcopal Diocese of San Diego in the administration of health- and nursing-care services. She received her master's from San Diego State last year. The girls are so far away, but at least they're both on the West Coast." I've since been informed Paul has been named to the board of trustees of Mercy College in Toledo, Ohio. Congratulations, Paul. The college is fortunate to have your guidance.
Gary Furin sent a note from Shiloh National Military Park in Corinth, Miss. Gary said Don Springeropined he looked like a member of the Pershing Rifles. Well, not quite. The uniform is a little boy's uniform borrowed from the visitors' center in Shiloh. The Park Service hastened us out the door as we were having fun. Gary looked snappy in the uniform.
Look at the picture above, and see if you recognize who's blowing hot. Hope you're well and making plans for our 55th reunion. God bless you.
Rick
Richard E. Dodson
804-748-8432
Dodson59@verizon.net
Winter 2011
Roger Risher says: "I never thought I'd do this, or even admit to it, but in addition to my regular weekly gig with the great American song book, I'm playing with a rock-and-roll group called Good Call. At the first gig, I played the first seven tunes never having heard or knowing the names of what I was playing. We play The Stones, Cocker, Cash, Buffett, Mellencamp, Springsteen, Harrison, and Tower of Power (they're good). Ever hear Dead Flowers? I hadn't either, but I've played it twice. The music is fun."
This will be short because my news sources have – dare I use the words – dried up. With renewed enthusiasm, I've vowed to take a more proactive approach to news gathering by going to the sources. Therefore, in the future, I may drop in on fellow classmates when my travels take me near your neighborhoods. I'd announce where and when I'd be in certain parts of the country, but the time lag between class notes submissions, JCU's publication, and receipt of your news is normally at least three months. My plea is that you be as proactive as possible and provide me with updates, as Roger did, about your lives, loves, accomplishments, dreams, flashbacks, and/or fantasy football standings.
On the home front, Mary Jo and I participated in a unique fundraising event for a local charity, the Hospital Hospitality House of Richmond, Va., with our oldest daughter, Katie. We attended a White House state dinner experience with special guest Chef Roland Mesnier, who served as the White House executive pastry chef for 26 years. He had interesting stories about the Carter, Reagan, Clinton, and both Bush presidencies. His dessert course was to die for. The income from the ticket sales, donations, and auctions – silent and live – guarantee adequate funding for the HHH, which provides safe, affordable, comfortable lodging for families in medical crises. Because it was a formal event, I found myself in a tux for the first time since my last child's wedding.
I look forward to hearing about your adventures. Hope you're doing well. Write me. God bless you.
Rick
Richard E. Dodson
804-748-8432
Dodson59@verizon.net
Fall 2011
Greetings from Chester, Va. As I prepared this edition of class notes, the temperature outside exceeded 100 degrees. Undaunted, I pressed on in my air-conditioned cave. On July 3, I spent time with Dick Krebs '61, senior co-captain of the 1959 Blue Steaks basketball team who averaged 17.2 points a game. Dick is doing well and asked to be remembered by fellow classmates. Mary Jo and I were in Cleveland to help celebrate his wife's 70th surprise birthday party. Rita was Mary Jo's maid of honor and lifetime friend.
In the midst of cleaning my cave and simplifying life, I came across our junior dance program, which is amazing because I have three left feet, no rhythm, and my name and dance were never used in the same sentence. With failing memory, I see The Commanders provided the music and Hotel Cleveland the dance floor. A belated thanks to dance committee members: George Lutjan, Bob Bracken, Ed Coyne, Tim Crotty '60, Phil Cusick, Marty Dempsey, Bob Dietrich, Gary Furin, Gerry Grant, Don Hagerty, John Lloyd, Bob Martin, Bob McFaul, and Gerry McGivern. It seems the same names keep surfacing as class contributors and movers and shakers. It would be interesting to hear from the committee members with their reflections about the dance.
John Szuch and Gary Silverberg and their wives hooked up for the Gold Streaks dinner and Sunday commencement walk during Commencement & Reunion Weekend. Thanks for representing our class as part of the 125th anniversary celebration by joining fellow alumni from the classes of 1936 through 2010 as we led the class of 2011 for graduation.
I also came across a 1964 comic strip that featured John Szuch, a helicopter pilot who made a guest appearance in the Tarzan syndicated comic strip. (www.poles.org/ DB/S_names/Szuch_JF/JFS&TarzanStrip_a.JPG).
I spent a week in Florida this past March with Barbara and Don Gould. We hooked up with Dolores and Tom Barrowman for a few days of shopping, dining, and catching up. In May, I was back to Florida where my son Kevin and I played golf with Don and his son, Donnie, at Marsh Landing Country Club in Ponte Vedra. We also attended The Players golf tournament to see how the game was supposed to be played.
Additionally, a St. Ignatius High School of Chicago gathering will take place Sunday, March 11, 2012, at the Naples (Fla.) Hilton Hotel. Mass will be at 10:30 followed by a long lunch starting at 11:30. The gathering, which costs $40.00 a person, is open to all graduates. There's usually a couple hundred in attendance.
I hope ya'll are well. Send me your short bios, news you'd like to share with classmates, and/or a simple hello via email. God bless you.
Rick
Richard E. Dodson
804-748-8432
Dodson59@verizon.net
Summer 2011
Mike Campo offers the following about a gathering in Naples of St. Ignatius High School of Chicago graduates, a number of whom attended JCU: "The gathering was held Sunday, March 20, 2011, at The Hilton Naples, with a suggested donation of $40 per person." I'm assuming this is an annual event, so those interested should be on the lookout next year in the spring issue. I'll be happy to act as an intermediary and send advanced email notifications to those interested in next year's event. Those interested in receiving early notification, send me an email, and I'll pass Mike's information to you as soon as I receive it.
Marty Dempsey provided a picture of himself and his wife, Davy, with fellow classmates and wives at the annual October gathering of friends at Kathy and F.X. Walton's home in Chapin, S.C. Donna and John Breznai, Louise and Tom McGann, Bonnie and Jerry Burke, and Ann and Bill Marks also attended. The gathering includes competitive games and many laughs. As Marty says, "No friends like old friends."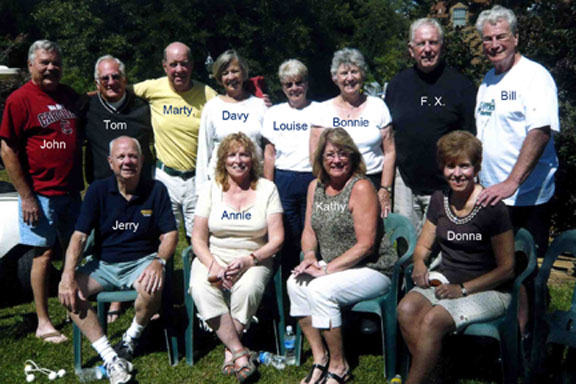 In response to my request in the winter 2010 issue for bios of classmates, I received a few and feature Paul Oswald's:
"For starters, Ellie and I were married for 38 years. She died in 1997 from a massive heart attack.
"We have two sons. Gary is a specialist in veterinary internal medicine and lives in Clearwater. Kevin is the communication director for Kent Displays and lives in Medina.
"We have four grandchildren. Taylor is a sophomore at Clearwater Central Catholic. Amanda, who's a senior at Buckeye High School, is student council president and was captain of the dance team. She has a full accademic scholarship to Kent State. Dan, who's a freshman at Buckeye, was a starter on the varsity soccer team. (I spend most of my summer and fall watching him play.) Lauren is a seventh grader at Buckeye Junior High.
"I retired from the Cleveland Public Schools in 1992 after four years at Collinwood and 28 at John Marshall High (JMH). I taught geography in an urban age, and American government. I coached JMH varsity bowling for 20 years and was the director of the Greater Cleveland Interscholastic Bowling League for seven years. I also was the senior Class advisor for 10 years and faculty social committee chairman for way to many years.
"From 1992 to 1997, I worked for the Cleveland Scholarship Program. I spent time with seniors at Bay High, Aviation High, and Rhodes High.
"I started spending winters in Florida in 1997, after my wife died, first as a camper and then buying a place in Clearwater in 2004 to be near my son, Gary, and his family. He's a great sports enthusiast, as am I. We have season tickets for the Tampa Bay Bucs and the University of South Florida football and basketball. It's not a good substitute for Ohio State, but it's better then nothing. We'll also catch a half dozen or so Ray's baseball games before I return to North Olmsted for a summer of soccer.
"I also enjoy time on the beach, boating, biking, and walking. Marathon is a place to get away to. I like to sit on the dock and read or head out to Florida Bay or Strait when my son is there to pilot the boat. I love spending time exploring Key West and enjoying good food there. There are great sunsets there. I also like walking or biking on the old seven-mile bridge. I love the boating, but not much for fishing."
Well, there was a lot of excitement in Richmond, Va., as the Virginia Commonwealth University Rams competed in their first Final Four Championship, which was in Houston this year. My son, one of three children to attend VCU, acquired tickets to the event and attended with his son. My two daughters provided long-distance support. VCU's surprising run through the regionals has brought notoriety to the school and city. At the annual Ukrops' 10K race, about half the 41,000-plus entrants adorned back and gold VCU T-shirts, which symbolize their support and pride for what the team accomplished.
Hope you're doing well. Write me. God bless you.
Rick
Richard E. Dodson
804-748-8432
Dodson59@verizon.net
Spring 2011
Happy new year! Now from John Szuch – big news. "I became a great-grandpa Oct. 28. My granddaughter Ashley (Jim's daughter) had a baby boy, Ashdin Paul. Now that'll make a guy feel old." John also wants us to know the monument honoring General Casimir Pulaski has dodged another cannonball. Read about the "Polish Rifle," and its return at: http://www.cleveland.com/tipoff/index.ssf/2011/01/memorial_to_polish_hero_of_ame.html.
Bob D'Alessandro reports four grandchildren received their degrees this past year – one received a bachelor's degree in chemical engineering from the University of Toledo; two others received Ph.D.s from The Ohio State University, one in chemistry and one chemical engineering; and a fourth received a Ph.D. in psychology from the University of Akron. Does it sound like we're proud grandparents? On the macho side, Bob is recovering from a spill into a bunker on Sanctuary Ridge Golf Club (a real goat course) in Clermont, Fla. His three-rotation spill, culminating in a landing on the right shoulder, broke it in three places and tore the right rotator cuff. Bob's summation: "I got screwed, that is, I now have a large plate with eight screws in the shoulder."
From Mike Campo: A paraprosdokian is a Greek figure of speech in which the latter part of a sentence or phrase is surprising or unexpected in a way that causes the reader or listener to reframe or reinterpret the first part. Thanks, Mike. One of my favorites is: Why do Americans choose from just two people for president and 50 for Miss America?
It's with sadness I report the passing of John V. Czerapowicz, Ph.D. (Nov. 22, 2010) and John P. (Jack) Hyland (Dec. 11, 2010). We have our special memories of these two fine classmates and friends. God bless them, and may they rest in peace.
Please send me your updates. God bless you.
Rick
Richard E. Dodson
804-748-8432
Dodson59@verizon.net
Winter 2010
In response to my e-mail plea for information about your summer experiences with family and friends, travel, and the best lobster roll in Maine, I received interesting replies. Paul Oswald returned in early September from his annual trip to Thousand Islands, N.Y.; Montreal; and coastal Maine. He started camping in Maine in 1969 and has been going back every year since. As for lobster rolls, he's tried them from Cape Cod to Prince Edward Island, and year after year, he keeps going back to Lobster Shack at Two Lights Road in Cape Elizabeth, Maine. Paul added that in 2002 he attended Lobster College in Prospect Harbor. Now that's my kind of school.
Joanne and Don Palmer celebrated their 50th wedding anniversary June 18. They hosted a big party July 31 at the Heritage Hunt Golf & Country Club in Gainesville, Va., where they live. Classmate and groomsman Dennis Fagan gave a superior toast.
John Lloyd says that, once again, he has no news to share, other than he's well and enjoying retirement. He hopes the same is true of all our classmates. John continues: "I'm struck by how few of the names of our classmates I still recognize and how fewer I can now associate with a memory or face. I'm sorry to say I've lost touch with all classmates. What might help me (and others) reconnect is a biographical sketch (500 words max) of each living classmate along with 'then' (yearbook) and 'now' photos of each, as well as current contact information." [Please provide me your thoughts about John's suggestion. I have the yearbook photos and would be willing to pull together and print the sketches and current pictures provided by each of you.]
Delores and Tom Barrowman celebrated their 50th wedding anniversary Aug. 7 at a party with 75 family and friends who enjoyed dinner, drinks, dancing, and partying. Family came from Ohio, New York, North Carolina, Florida, and South Dakota. Some came early, and some stayed late. Tom said: "It was great, and we'll probably never all get to together again for this kind of thing." In addition to his busy shooting competition schedule, Tom also will be squeezing in a trip to his 55th high school reunion in Utica, N.Y.; a trip to Tucson, Ariz.; and possibly a wine venture in California.
I hope all classmates are well and will share their life stories, through me, for fellow classmates. Please tell me what you'd like to hear and see in future class notes. God bless you.
Rick
Richard E. Dodson
804-748-8432
Dodson59@verizon.net
Fall 2010
It's 102 degrees as I start these notes – a great way to beat the heat. In the summer column, I mentioned that the Goulds, Barrowmans, and Dodsons had a great time at our "Reunion in Jax." A follow-up to the Fegen/Furin adventure at the Masters golf tournament in Augusta, Ga., my favorite, Phil Mickelson, won, and I'm more envious. Pete Fegen was rewarded for his tenacity and scored four practice-round tickets in the Masters lottery. Pete and Carol treated Gary Furin and wife, Adele, to Wednesday's practice round and Par 3 tournament. At Gary's urging, almost 10 years ago, Pete entered the lottery for the "Toughest Tickets in Sports." Payback is great. Gary has been a holder of two badges to the Masters since 1995. I've had Masters lottery anxiety for the past four years having settled for annual therapy trips to the Players.
John Szuch is the recipient of my older, unique unit aviation patches. John's passion for collecting has its roots in his design of the 114th Air Mobile Co. "Knights of the Air" unit patch just before its deployment to RVN. If any classmates have an old John Carroll ROTC patch, John would love to acquire one.
John Chuchman has reentered my life and provides stimulation for my mind and heart. John is a bereavement counselor, a former Ford Motor Co. executive (1959 -1992), and has been a hospice volunteer since 1990. In 2000, he was awarded a Master of Arts in Pastoral Ministries from Saint Mary's University of Minnesota. His website provides information about his regular retreats and information about his books. He also writes a "Poetman" blog – www.torchlake.com/ poetman/ — and is a contributor to "Catholica" – www.catholica.com.au.
To view additional class bios or unabridged copy too large for inclusion in this column, visit www.jcu.edu, then Alumni & Friends, then JCU Magazine under JCU Connect Home, then
Class Notes at top center, which opens to a page containing all the individual classes from the '30s through the '00s). Selecting 1959 opens all 1959 class notes from the current (including the additional and/or unabridged copy) back to 2002.
Let me know what's happening in your lives. God bless you.
Rick
Richard E. Dodson
804-748-8432
Dodson59@verizon.net
Summer 2010
Spring was beautiful except in Florida — all the locals reminded me that the temperature hadn't been above 80 for more than 100 days. Undaunted, Barbara and Don Gould, Dolores and Tom Barrowman, and Mary Jo and I spent a few days together in Jacksonville, FL, in late March. Our initial goal was to see a Key West sunset. The additional 581 mile, 10 hour drive allowed reality to creep into our euphoric plan to sip margaritas while listening to old Jimmy Buffet offerings. We settled for a few days of buying "treasures" at the local San Marco Arts and Craft Show, dinners at Whitey's Fish Camp and The Players Club, and many reminiscent moments not previously shared — looking forward to an annual get together.
Rev. Wesley Toles is one of five recipients of the 2010 Alumni Medal. The award is the highest honor awarded annually by the Alumni Association for an individual's accomplishments in his/her profession, exemplary family and personal life, contributions to their community, and dedication to John Carroll. Wesley will be honored at the Alumni Awards Dinner on Friday, May 21. Well done, Wesley.
Dr. Chuck Ward's e-mail "for the States" has changed to: cjwardmd@.att.net. His Irish e-mail address is unchanged. He passed along his wishes for "a very pleasant Easter."
Dianne and Jack Toronski celebrated their 50th wedding anniversary at Our Lady's chapel at St. Jude Cathedral, St. Petersburg, FL, with an intimate family Mass on February 20 (their actual day). A family dinner with their oldest children and local residents Cammie and John, and youngest daughter Stephanie and family, who flew in, was very special. They also had the opportunity during their lengthy stay to spoil their sixth grandchild who was born 16 days later.
At Gary Furin's urging, Pete Fegen entered the lottery for master's practice round tickets. After almost 10 years of trying, Pete hit. Pete and Carol treated Gary and Adele, to Wednesday's practice round and Par 3 tournament. Then Gary, who had waited 19 years for the "toughest tickets in sports," and who has been a holder of two badges since 1995, went on with his sons for the weekend's two final rounds. [columnist's note: it was great to see Phil Mickelson take home the Green Jacket.]
Not quite as earth shattering but having local reverberations, Rick Dodson finally broke through with a hole-in-one on the 138-yard second hole on the Cardinal Golf Club Red Course with a 7-iron while playing with two old friends. The best thing about it was no one was around after so I didn't have to buy drinks. I bought my friends lunch. Classmates, I anxiously await news of what's going on in your lives. God bless you. Rick
Spring 2010
Happy New Year! Our own Thomas J. Scanlon has been recognized for his dedication to the community and support of his Irish heritage. Tom has been honored with the Pillar Award from Smart Business Network and was also included in the 2009 Irish Legal 100 by Irish America Magazine – www.irishcentral.com. Check out Tom – http://www.collins-scanlon.com/ – he hasn't changed much.
Dave Ross enjoys keeping in touch, especially since nothing exciting happens in Columbus, OH. So for Christmas, they went to Las Vegas to see their grandson and family at Nellis AFB. Haven't any feedback yet on whether he found evidence to confirm his suspicions that some of our classmates came from Area 51.
Marty Dempsey reports a wonderful, annual, pre-holiday gathering at Walton Pond in Chapin, SC, with hosts Kathy and F.X. Walton. The Breznais, Marks, Burkes, and McGanns were also on board reliving old times and aggrandizing old stories. Marty wants to stay in touch with new Google products. See the Carroll website for specific information and URLs.
Paul Moon, at age 72, says "I finally have at least one child out of school and employed"! Daughter Laura (Denison grad and Fulbright scholar) received her MA from Georgetown's School of Foreign Service in May and has taken a position with the World Bank in Quito, Ecuador. Daughter Elisabeth '07 is working on a master's in communications at San Diego State. It all tends to keep me young (and working, although formally retired).
Mike Campo from his Naples, FL, abode reports that the annual gathering in early March, for anyone in Florida who ever attended Saint Ignatius College Prep, Chicago, will be held at either the Naples Country Club or (more recently) the Kensington Country Club. About 200 people usually show up. Care to crash the party? Contact Mike – playwright3@comcast.net – for details.
Don Gould, Tom Barrowman, and yours truly decided at Reunion that Key West in March would be a good place to have a great meal, watch a "killer" sunset, and get reacquainted. Since I'll be in Florida in March, you snowbirds and local classmates may get an unexpected visit and be featured in the 2010 summer edition.
For additional, unabridged copy, access: www.jcu.edu/alumni/publications/classnotes.htm#50s, then select 50s, then 1950. You'll find biographies there also.
Hope you are well, God bless you. Rick
Special November 2009 Entry Paul Oswald sent the following "50 Years in a Nutshell" and I encourage all classmates to do the same because there are many who do care about what's going on in your life.
I had hoped to make the "50 Year Reunion," my first trip to JCU since graduation; however, I didn't make it back north from Florida until a week or so after the Reunion. I was really looking forward to it. So here it is — I'll try to cover the highlights of the last 50 years in a nutshell. Following my stint at Ft. Eustis and Ft. Story, I spent 33 years with the Cleveland Schools. Twenty-nine of those were spent at John Marshall High School teaching Geography, Government, and serving as senior class advisor. Coached varsity bowling for 20 years and served as director of the Greater Cleveland Interscholastic Bowling League as well. After leaving the Cleveland Schools in 1992, I spent a number of years as a student advisor with Cleveland Scholarship Programs Inc. at Bay, Aviation, and James Ford Rhodes High Schools before deciding it was time to retire. Ellie, my wife, and I had two sons, Gary of Clearwater, FL, and Kevin of Medina, OH. Ellie and I had been married 37 years when she passed very suddenly in 1997. Gary is a specialist in veterinary internal medicine in Largo, FL, and lectures all over North America. He is married with one daughter. Kevin is the communication director for a high tech company in Kent, OH. He is also married and has two daughters and one son. I've been calling Clearwater home since 2003, but still maintain a small condo in North Olmsted, OH, where I spend most of the summer. I'm usually in Florida late October to June and North Olmsted from early June to late October. This way I get to spend time with both my kids' families and lots of time in the Florida Keys! Glad to hear from anyone who cares to get in touch in either location.
Marty Dempsey wants to stay in better touch using some of Google's coolest new products. If you already have Gmail or Google Talk, visit: http://mail.google.com/mail/b-aea4bc5fbb-6129c94e57-889d3515ff6737fd You'll need to use this link to be able to chat with Marty Dempsey.
Bob D'Alessandro sent in the following in response to my inquiry about his upcoming 50th wedding anniversary. "In 2009, Barbara and I will celebrate our 50th wedding anniversary. To celebrate this event we took our family (our three daughters, their spouses, and our grandchildren — 13 people in all) on a cruise to Alaska. Our grandchildren range in age from 27 to 14 years of age. Our thanks go out to Bob Dickinson '65 (retired president and CEO of Carnival Cruise Lines and commencement speaker at this years' JCU commencement) for his arranging for Barbara and I to receive VIP status on this cruise. It was a great trip — the cruise was a great success! The best part was that we had the family together for a whole week. With the varied lives and interests of all the family members, who knows if there will be another time when we will all be together again. Since returning from the Alaskan cruise, I have been keeping busy trying to play golf as often as possible, continuing my involvement in Kiwanis International, and solving problems as the president of the Homeowners' Association in the cluster home development where we live.
FYI – I'm sure all classmates who attended the 50th Reunion have received an official class of '59 Reunion picture and some may be wondering who the he_ _ is that guy next to me? Well to assist you in recalling who he was, and is, I'm providing the names of those in the photo.
CLASS of '59 Reunion picture [left to right]
Row 1: Phil Stanoch, Paul Sabatino, Jerry McGivern, Tom O'Toole, Bob D'Alessandro, Jack Hyland, Leon Matthews, Bill Colson, Mike Campo, Don Gould
Row 2: Rick Dodson and Tom Ribar
Row 3: Chuck Novak, John Szuch, Jim Witting, John Tronski, John Chuchman, Jack Wolf, Mike Tracy
Row 4: Tom Barrowman, Bill Marks, Joe Miller, Don Palmer, Ed Novak, Jerry Burke, Dave Ross, Paul Moon
Row 5: Tom McGann, Roy Streetz, Bob Dietrich, Ed Coyne, Frank Walton, John Breznai, Gary Furin
Row 6: Tom Dwyer, Joe Ruble, Joe Harrison,
Row 7: Jack Ryan, Paul Brust, Ed Paglione, Tom Brunn, Roger Risher, Don Hagerty, Fred Kramer
Row 8: Carl Roth, Gary Silverberg, Tom Tully, David Karnak, Marty Dempsey, Pete Fegen, Jerry Grant, Dennis Fagan, Dave Ludwick
Winter 2009
Thanks for your comments, life summaries, and updates on what is going on in your lives. We are a fascinating group. Gary Furin said: "If there is a 55th Class Reunion, I will be there – God willing. I enjoyed myself so much last month." I've heard from so many, in addition to Gary, about what a wonderful job the reunion committee did. So let me thank them publically on behalf of the class. Thank you, Tom Brunn, Jerry Burke, Bob D'Alessandro, Marty Dempsey, Peter Fegen, Don Gould, John Grady, Fred Kramer, Kat McGann, Gerry McGivern, Paul Moon, Ed Paglione, Don Palmer, Joe Ruble, David Ross, Tom Tully, and Wes Toles. You made our Reunion an experience we'll remember for years.
Bob and Barbara D'Alessandro celebrated their 50th wedding anniversary with family (13 in all) on an Alaskan cruise. Since returning, he tries to play as much golf as possible, continues his involvement in Kiwanis, and is a problem-solving president of the homeowners association for the cluster home development where they live.
John Szuch said his second son and son-in-law went to Chicago for a Saturday night Indians/Cubs game that the Tribe lost in 13 innings. Ah, some things never change. It's tough being an Indians fan.
Pete Fegen and his charming wife, Carol, said they enjoyed visiting with classmates at Reunion. Mary Jo and I were happy to be included in that group.
Don Palmer, after a great Reunion, finds himself back at Heritage Hunt, a 55+ community in Northern Virginia 35 miles west of Washington. Don is one of three resident directors of their homeowners association. Don plays 18 holes of golf three times weekly. "Life is never a dull moment and my 34 years with RAND Corporation in both California and Washington are but a fading memory."
Dan Carney – dcarney@thorpreed.com – said he missed the Reunion but will send a thumbnail sketch of his life and times.
Marty Dempsey now has his own e-mail – martydempsey@gmail.com. No one is happier than Davy, who said his e-mails were clogging her site.
Paul Oswald, unable to make the Reunion, provided an interesting "50 years in a nutshell" highlight. Check the Carroll website: www.jcu.edu/alumni/publications/classnotes.htm. Paul would love to hear from you – p_oswald@msn.com.
Roger Risher is playing a mean saxophone every Friday night with his band in Kenosha, WI. His wife, Edie, is his groupie. Roger started to play when he was 60, something he always wanted to do, but thought age was against him. "It's been the most wonderful thing I've ever done, in a really good life, filled with great things."
I'm off my memory-robbing heart medication and the prognosis for recall is good. But don't take a chance, you with total recall, pen or e-mail your updates. I can remember where your missives are on my computer. I hope you all are well and smiling. Rick
Fall 2009
Dear classmates, it was wonderful to see everyone at Reunion Weekend (see below for the wrap-up). I was, and am, impressed by the turnout, but mostly by the sincerity, warmth, and approachableness of classmates that I never got to know as a dayhop. I just wish the Reunion was longer so I could have talked to more of you. I will try to share my time more equally in the future. I encourage all to correspond with me between reunions and let me know what local John Carroll events you host and or participate in. I will send out a form to gather information about your life. It will be strictly voluntary and designed to foster interchange between those of us who suddenly realize what we have been missing. I'll develop the information gathering form (FORM) in the next month and distribute it via e-mail or snail mail.
In the interim, see the comments below that have been provided by classmates for the purpose of filling in the 50-year gap since graduation. Philip Cusick provided this "made for website only"
144 Word Life History.
Philip A. Cusick:
1955: graduated: Catholic High, Elmira, NY.
1955: Came to Carroll: For no good reason.
1959: Graduated: Barely, but learned to read and write.
1959-62: U.S. Army, Neckarsulm, Germany, 46th Artillery Group.
1962-1967: Elmira, NY, Public School teacher.
1967: G.I. Bill reactivated.
1967-1970: Syracuse U., Ph.D. program, education.
1967-1970: Worked in several schools and at Colgate U.
1970-2009: Worked in Educational Administration Dept. at Michigan State U. –Taught, administered, researched, worked in schools, ran programs, wrote four books, writing a fifth.
2010 to —: Retired part of the time to upstate NY where we have an old farm: 350 acres, barns, gardens, fields, woods, etc.
Marriages: Two
Kids: Four. Smart, successful, and better looking than I. Nice people, too.
Regrets: At 10th John Carroll Reunion, got all drunked up and behaved badly. Never did it again, but apologies nonetheless.
Best to all, Phil Cusick
David Ross writes, in his February e-mail, that most of the interesting things in his life center on kids and grandkids. "We just got back from Las Vegas where we spent time with daughter Kelly, her husband Kevin (Vin – a Lt. Col. at Nellis Air Force Base), and grandson Aiden (3) along with son Mike and wife Holly who just had second child Brandon (1 mos.) and older brother Nicholas (1). Their son Bill, wife Cari, and children Cooper (8) and Nina (5) live in Cleveland." Dave is retired and Mary has her decorating business. She works so Dave can afford his golf fees. Dave shot his low 78 last summer!
Joe Harrison wrote in his February e-mail that they were enjoying their second three-month stay in Tucson. Prior to retiring in 2008, they spent a month each winter in Tucson. He would love to hear from classmates who might be visiting or living in Tucson.
Barbara and Bob D'Alessandro will be celebrating their 50th wedding anniversary this year. Two 50th celebrations in one year – WOW! They have three daughters and feel blessed that all of them and their families live within 10 miles. (I'll bet the daughters are happy also for the built-in babysitters.) Bob and Barbara have five grandchildren ranging in age from 14 to 27. The oldest is working on a Ph.D. in psychology at The University of Akron, OH. His sister is working on a Ph.D. in chemistry at The Ohio State University. Their third grandchild will receive a bachelor's degree in chemical engineering in December from The University of Toledo, OH. The younger grandchildren are in high school. Bob has remained closely aligned with John Carroll and is a great source of information and encouragement for me.
Here's my Reunion wrap up that appears in print in the fall 2009 issue of John Carroll magazine. What a great turnout – 67 strong! I heard many wonderful comments about the support provided by the John Carroll staff and faculty and the reunion committee. Gary Furin – "Kudos to the Class Reunion Committee, a wonderful time was had by all."Mike Campo – "JCU really took great care of us. I've never seen people so helpful and eager! And they were all quite willing to give you a lift in those golf carts. To be honest I probably wouldn't have been able to attend even half of the affairs without the use of the carts."Paul Moon – "I think it was a superb Reunion." John Szuch – "I can't begin to tell you how much my wife, Marlene, and I enjoyed the Carroll reunion. The University took care of us in royal fashion."The following observations were made throughout the weekend. Rita Szarwark was seen with friends Dianne Toronski and John Szuch at Saturday dinner, the night that would have been her and Tom Szarwark's 50th wedding anniversary. Peter Fegen, a wonderful dancer, was "strolling" my wife, Mary Jo, around the dance floor. Tom Tully and Roger Risher enjoyed renewing old times at the 5 Alarm BBQ lunch while chowing down and listening to The Sweet Carrollines (Carroll's female student a cappella group). Donna and Robert Shipka were seen being entertained by Ed Paglione and Frank Walton at the Welcome Home to Carroll Reception. Arvell and Wes Toles shared a dinner conversation with Tom Ribar prior to the presentation of their 50-year Gray Streak pins and pewter plates. Sue and Joe Harrison looked great and obviously enjoyed seeing many returning friends. Bill Marks, whose best moves were not necessarily on the football field, was seen cutting a rug with Mary Lavin '87 spurred on by the heated beat emanating from Tom Brunn's drums! Connie Brunn sat out the set with Mary and David Ross. Incidentally, Roger Risher plays a mean sax! Donna and Bob Dietrich headed for the Casino after dinner where Donna was seen with chips cascading from her hands as she approached the "cash in" table. Davy Dempsey and Mike Campo were simultaneously cleaning up on the roulette table. I have a few facts to share with you from various sources – Tom Barrowman and wife Dolores ran in the Reunion Fun-Run 5K race Saturday morning. Tom came in first while classmate Gary Furin placed second. Wes Toles represented our class during "A Moment of Remembrance" at Mass when we paid our respects to 77 of our classmates who have gone before us. Items of interest: A number of wives got their heads together and came up with an informal list of those classmates who have best stood the test of time – the names Bill Colson and Jerry McGivern were mentioned often. This spring, Harvard University Press published Jerry Grant's latest book, Hope and Despair in the American City: Why There Are No Bad Schools in Raleigh. Jerry officially retired from teaching at Syracuse University two years ago. Jerry says his former roommate, Phil Cusick, wrote what has become a classic book in the field of sociology and education: Inside High School: The Student's World. See above for Phil's 144-word history will be available on Carroll's website – www.jcu.edu/alumni/publications/classnotes.htm – as will other individual notes. Ed Coyne lives in Bonita Springs, FL, had a great time at Reunion, and wants to make sure his correct e-mail address is published – efcoyne@embarqmail.com. The tradition continues as Col. Tom "Nails" Barrowman with wife Dolores recently pinned the eagles on their oldest son, Rick, Army Corps of Engineers, Commandant of the National Geo-Spatial Intelligence School at Fort Belvoir, VA. Rick's wife, Dawn, a lieutenant colonel in the U.S. National Guard, returned from Iraq in March and was selected for promotion to colonel. Mary Jo and I had a great time with them and our other tablemates, Joanne and Don Palmer and Barbara and Don Gould. We relived all the good times. It was quite a game of "do you remember?" For more information about Reunion, check the JCU website. I'm proud to be a part of this wonderful Class of '59. Until the winter edition, Rick
Summer 2009
As I pen these notes, we have 52 classmates who have committed to attend Reunion Weekend in June, which is three months hence. Clare and Jack Piatak "are still vertical" and were in Augusta, GA, helping their daughter who underwent knee surgery in February. She fell off a ladder putting a "Welcome Home" sign up for her husband, who returned from Iraq. The Piataks will be in Cleveland in June for their nephew's wedding and the Reunion!
John Szuch provided his business card, which shows him standing before a picture of General Casimir Pulaski. As president, Polish Genealogical Society of Greater Cleveland, John is a speaker, collector, and author about "Anything Pulaski Wanted." He will be on campus in June.
An e-mail from Joseph Kung, who worked day and night in the comptroller's office for his entire four years in order to put himself through John Carroll, did not remember me nor I him. After a peek in the Carillon 1959, page 156, I remembered seeing him around the halls. Joseph is the president of the Cardinal Kung Foundation – www.cardinalkungfoundation.org. They are advocates of the underground Roman Catholic Church in China. Please feel free to read their Christmas 2008 newsletter at the link provided.
Bob Twohey regrets that a standing reservation at Chautauqua Institution in New York State will preclude him from attending the Reunion. He will be thinking of the Reunion that weekend and remembering the wonderful years at Carroll.
Most of the interesting things in Mary and Dave Ross' lives center on kids and grandkids. Daughter Kelly, husband Lt. Col. Kevin, and son Aidan live at Nellis AFB, NV. Son Mike and wife Holly just had their second child, Brandon, so Nicholas will have a playmate. Son Bill, Cari, Cooper (8), and Nina (5) live in Cleveland ("the Best Location in the Nation" as I remember). Dave's retired and Mary has her decorating business, which provides the funds for Dave's golf fees. If you twist Dave's arm at the Reunion, he'll probably tell you all about the 78 he shot last summer. Dave provided e-mails for Roger Risher and Phil Cusick, which I will make available if you request. In addition to this being our 50th Reunion, it is the 50th wedding anniversary of Barbara and Bob D'Alessandro. Their three daughters and families live within 10 miles. They have five grandchildren ranging in age from 27 to 14. The oldest is working on a Ph.D. in psychology at the University of Akron. His sister is working on a Ph.D. in chemistry at The Ohio State University, and their third grandchild will be receiving a bachelor's degree in chemical engineering from the University of Toledo. The younger grandchildren are in high school. Bob would arrange lunches for classmates Ed Coyne, Tom Hoban, J. Peter Fegen, Dennis Fagan, and Dave Washtock when they used to winter in Bonita Springs, FL. Ed, J. Peter, and Bob are planning on attending the Reunion. Bob also provided me Ed's correct e-mail address, which I will make available upon request.
Philip Cusick says hi, he is doing well and provided me his 144-word life history, which will be available on the '59 web site.
Marty Dempsey called me to task when I sent an e-mail and attachments to all classmates for whom I had addresses. One of the attachments was a picture of classmates in bathing suits at summer camp in 1958. I captioned the photo: "1958 picture is summer camp at Fort Storey." Marty reminded me that we were never at Ft. Storey at summer camp in 1958. We were on our way there and President Ike put us on alert in Lebanon. We turned around and went back to Ft. Eustis to finish our Alert Status. We were at Virginia Beach in the picture I attached. Marty then charged me to be a little more accurate when I submit the quarterly class column. Make sure you ask Marty about his personal reunion kit as it appears he's thought about everything.
Delores and Tom Barrowman just returned from four weeks in Florida. Their oldest son, Richard, is a colonel in the U.S. Army. He and his wife, Dawn, who is serving in the National Guard, are returning from Iraq. (Thanks to them and all our young men and women who have and are serving in the Middle East.) Tom is still competing annually in the Armed Forces Skeet Competition, which will be held this year in Albuquerque, NM. He is looking forward to catching up with classmates at Reunion. Sue and Joseph Harrison are coming off their second three-month stay in the Tucson area since retirement in 2008, and they are looking forward to the Reunion. They would love to hear from classmates who live or are staying in the Tucson area, so please drop them a line or e-mail. Barbara and Don Gould will be attending the Reunion. Don is into cruising and recently spent some time in San Francisco and Bodega Bay, the town made famous by Hitchcock's The Birds, where they did some wine tasting with friends and overnighted at the Inn of the Tides before sailing Carnival's Splendor of the Seas for a two-night cruise to nowhere. Don stayed on to attend trade meetings while Barbara flew home. Well, I think I've busted my 600-word limit, so I'll sign off with a request (plea) for updates from all classmates. God bless you all and I'll see you in June. Bring pictures (high resolution, says the Alumni Journal editor) for possible publication. Rick
Spring 2009
I read in the winter 2008 issue of the John Carroll magazine that the position for class columnist was open. I was taken aback because for years I have enjoyed the writings of Jerry Burke. Jerry has a wonderful rapport with classmates and a clear and expressive writing style, the sign of a good down-to-earth communicator. However, violating the first axiom I learned in the army, I volunteered to be the columnist for the class of '59. I would like to personally and, on behalf on our class, thank Jerry for his years of volunteer service as our class columnist. I spoke with Jerry and a health issue and "burn out" inspired him to take a break and focus in other areas. He still has the same quick wit and hearty laugh and is planning to attend our 50th Reunion. I know that many of the regular contributors, the dorm students, are saying, "What does this day hopper, who has been out of state for 47 years, know about us?" Well, now is your opportunity to tell me about you. After contacting my list of 17 classmates with Reunion information, a song kept popping into my head. Do you remember Engelbert Humperdinck's recording of "Two Different Worlds"? Part of the lyrics say "They say we are so far apart." This is probably most true of our class, the composition of which was approximately 170 day hops [hoppers] and 87 dorm students [dwellers]. Additionally, we had 32 evening school classmates, one a dweller, but not in the dorm. The daily life of a hopper went something like this: early classes, afternoon job, dinner with the family, and homework in the evening. There was not much, if any, socializing with classmates, outside of classes. The life of a dweller, at least as it appeared to me, presented ample opportunities to intermingle during breakfast, lunch, and dinner in the dinning hall and after hours in Bernet Hall. The notorious Thursday Night Study Club was symbolic of the comradeship enjoyed by many dwellers. This is not meant to be critical of any group or individual … it's just the way things were because of our individual circumstances. Jerry Burke has chronicled the comings and goings of the dwellers over the past 20+ years, but the adventures of the hoppers have not found print often. Jerry has reached out but has not received much input from us hoppers. I am at fault for not taking the time to respond to but one such request. There are many of you that I really miss and would like to see again. Now we have the opportunity to renew acquaintances. It is our 50th Reunion year and the June 19-21 Reunion Weekend is fast approaching. You don't want to miss this year's big blast. Class of '59 Reunion chair Tom Brunn has gotten the ball rolling, and the Reunion committee, composed of classmates Jerry Burke, Bob D'Alessandro, Marty Dempsey, Rick Dodson, Peter Fegen, John Grady, Fred Kramer, Kat McGann, Jerry McGivern, Paul Moon, Ed Paglione, Don Palmer, Joe Ruble, David Ross, Tom Tully, and Wes Toles are calling, e-mailing and/or mailing letters to all classmates to get the word out. I have contacted everyone on my list, and John Szuch, fellow Horn Flying School buddy, said he can't wait to tell us about his exploits as an armed helicopter pilot during the Vietnam War. Jim Strainer in Big Falls, MT, is considering leaving the natural beauty of Flathead Lake and Glacier Park for the more sedate climes of University Heights in June. Roy Streetz will be making the trip from Willoughby Hills for the Reunion. John Toronski will commute from Brooklyn Heights, OH, for the Reunion, as he has for all the five-year reunions. Geraldine Turk, one of our evening school classmates, will not be making the Reunion. Gerry said that back in the 50s, when JCU was all males, she had no option but to attend night classes and did not have the opportunity to socialize or make friends with the day students. She did offer to make dinner for my wife, Mary Jo, and me when we pass through Southern Pines, NC. I'll do it just to meet this gracious lady. I have received a response to my letter from Alan Tokungaga in Kihei, HI. Naga says he and Jimmy Hirotsu, Spokane, WA, have been talking about the 50th Reunion and are trying to work out the travel portion. Unfortunately, John Stukbauer will be out of the country at reunion time, but all subsequent Reunion Saturday evening events are FREE for alumni of 50+ years, so maybe we'll see John next year. Wesley Toles, Cleveland Heights, OH, will be at the Reunion and will participate in the formal program. If you haven't heard from one of the committee members, pick up the phone and call or e-mail me to reserve your spot. The first 10 callers will be guaranteed a seat at my table! Every classmate has a reason for attending our 50th, besides the fact that it's FREE. My reason for attending is straightforward: I was a hopper commuting daily to campus, then withdrawing each afternoon to a home-cooked dinner with family. The glamorous life of the dweller was the envy of all us hoppers, as rumors of their plush beds with silk sheets, spacious designer-decorated color-coordinated living space, tastily prepared four-course meals served thrice daily, and lavish night life within the confines of Bernet Hall spread to our ears. (My only real experience with the dwellers of Bernet Hall came one morning during a PR drill session at 0630 when we received a torrent of water…under clear skies.) Then, at our 45th Reunion, some insights into dorm life were shared with me by dweller classmates with a promise that additional tidbits would be forthcoming at the 50th! So, for the last 4 ½ years, I have been looking forward to getting the rest of the story. I have always admired the camaraderie and enduring friendships of the dwellers. If it sounds like I'm trying to work my way back in with them, then I must be transparent, BUT that is my reason. Whatever your reason, please come and share in the fun and make someone's day with your presence. Call one of the committee members that you know and tell them "I'll be there." Remember, the first 10 callers can sit at my table, which should guarantee a few lines and, maybe, a photo in the fall 2009 issue of John Carroll magazine. Rick
John Carroll magazine thanks and sends good wishes to Jerry Burke for his many years as Class of 1959 columnist.
Winter 2008
It's the 50th Reunion for the Class of 1959! Join your fellow classmates on the John Carroll University campus next June 19-21, 2009. We'd love to see as many of our classmates attend as possible – let's reconnect – let's see how campus has changed – let's relive those John Carroll years!
Contact Carla Gall – cgall@jcu.edu – reunion coordinator, to be part of your reunion committee.
Fall 2007
Sadly, as I write this, the Cleveland Indians are going down to defeat to the Boston Red Sox in Game Seven of the baseball playoffs. After performing so brilliantly against the Yankees and the early part of this series, they appear finally to have caved in to the pressure of the situation. What is that you say? How did my Chicago Cubs do? Don't even ask! The recurring theme song: Wait Till Next year.
Tom Basehart has joined the ranks of the unemployed. Tom has retired. He and his wife, Joyce, are currently residing in Rocklin, CA. If you can find Rocklin, CA, you are invited to come by for a visit.
Tom McGann is doing quite well after successful hip replacement surgery. He is cooperating with his therapy program with an eye toward getting down to his Florida home by the end of October. Out of respect for my old roomie, I will mention nothing about the football prowess of his beloved Fighting Irish.
Bonnie and I recently enjoyed spending some time with Ann and Bill Marks while hiking in the mountains of North Carolina before journeying down to South Carolina for the annual "Walton's Pond" weekend as guests of Kathy and F.X. Walton.
This weekend has a sports theme and this year the Female Sports Trophy went to Donna Breznai and the Male Sports Trophy to our host, F.X. Walton. I was able to wrest the Basketball Free Throw Shooting Trophy from John Breznai this year.
Roger Risher has won the state lottery, worth $ 40,000,000. He is inviting any one from JCU to contact him. Roger, in responding to my complaint that no one was sending information for this class column, suggested that I make up information about people. Thank you, Roger. I think that was a great idea!
As the leaves start changing colors and the temperature slowly starts to drop, I look forward to seeing a number of you in Florida this winter. If you will be down there this winter and would like to get together with some of the class of '59, please contact me. In fact, even if you can't be in Florida, please contact me. Your fellow classmates and I would like to hear from and about you. Be well – stay warm. Peace, JB
Summer 2007
Mike Campo and Leland Hall both checked in to see if I was still alive when they discovered no column in the last Journal. From Mike I got a letter, e-mail and phone call. He reports that his son, Chris was married recently in a somewhat non-traditional ceremony. The wedding was held on a farm with the reception taking place in a barn with a bar-b-queue dinner and country western motif. Chris is also moving to a rural area and planning to open a bar with a mechanical bull. Mike and Lynda are still scratching their heads.
Leland Hall reports that he is alive and well and still living in Florida and he is finally retired. This is his third attempt but he assures me this is real. He is also a candidate for a hip replacement for his 14-year old hip replacement. With two new knees our sweat face has paid a price for athletic prowess at JCU. But he has no complaints. As he said, who would listen?
Some time ago I received a visit from Art Granzeier who happens to live in my town. My latest visit was from his wife who, like Art, is also a retired social worker. They are both doing well and enjoying their grandchildren.
We just returned from our tenth annual McGann weekend as guests of Louise and Tom McGann. Also joining us were Donna and John Breznai, Mary and Ed Paglione, Carolyn and Joe Ruble, Ann and Bill Marks, Dolores and Paul Brust, who joined us all the way from Scottsdale, AZ, and Bill Colson and Philomena Malizia (Nat's sister). Philomena also informed us that Nat's brother Jerry Malizia '60 is getting married in AZ. Our heartiest congratulations to him!
We missed Mattie Mathews this year who stayed home to teach kids how to fish at a local Skaneateles Fair. The kids were lucky to have him but we sure missed Mattie and those delicious pancakes. Hopefully we will see him this fall at Cathy and F.X. Walton's in South Carolina with Dempsey, Breznias, Marks and McGanns.
If you are planning on being in the Tampa Bay area this winter be careful. Joe Ruble and Tom McGann are looking into a franchise for geriatric motor scooters. I am not sure if the entire state of Florida is ready for this dynamic duo.
Finally readers of the Journal I am sure noticed that Jerry Schweickert recently took over the column for the class of '60. When John Veres, who did an excellent job as our columnist, passed the baton some years ago I took over the job. However, I think the time has come for someone else to step forward. I would very much appreciate it as I am sure would the folks at Carroll who have had to endure my technological illiteracy for too long. If you have any interest contact either me or the school.
Peace, JB
Winter 2007
Although the Blue Steaks basketball team lost to Division I Loyola University back in November, the event drew a good crowd of Chicago area alumni that made for a very enjoyable evening. Loyola was kind enough to provide accommodations for gatherings before and after the game which afforded us the opportunity to catch up with some old friends. Among those in attendance were Jim Mason '60 and Jerry Schweickert '60 who journeyed over from Cleveland. The subject again turned to a joint '59/'60 mini-reunion which seems to be generating a fair amount of interest. Our maiden voyage will be at next year's Homecoming weekend of September 28-30, with wives included. Director of Alumni Relations Ryan Daley '99 has offered his full cooperation. We do understand that most of the Class of '60 is required to take afternoon naps to get the proper rest, but we felt some competitive events would be appropriate and welcome your suggestions. We have agreed on a prune juice chug-a-lug contest. Jerry Schweickert assures us that golfing arrangements can be made for those interested. More arrangements will be forthcoming but if you are interesting in attending mark your calendar and contact either myself or Ryan Daley at JCU 216.397.4516.
Marty Dempsey is organizing a one week rafting trip out west (probably Utah) in late June or early July that should be a very fun-filled and exciting experience. If you are interested, contact Marty to see if any slots are open.
The Toronskis are alive and still working – Jack, part-time and Dianne, full-time. They are convinced it keeps them young. In October Dianne and some of her family including Tom Szarwark's widow Rita, made a special trip to the land of their ancestors, Poland, which included a pilgrimage following the footsteps of Pope Paul II.
Bonnie and I are off to Able Rock State Park, SC, to spend some time with Kathy and F.X. Walton and their family. Then it is on to Florida. First stop will be at the Breznais for some golf and good cheer with the JCU/Tampa crowd. Then we head over to the East Coast for fun and sun with the McFauls and the Beahans. From there we fly to Buenos Aires to spend the month of March with our oldest son, Joe, and his family.
John Breznai reports that he heard from Dave Ross, who sends his regrets at not being able to join the Tampa crowd this year. He and his wife will be going to the Florida East Coast to visit with Jack Piatak in Ponte Vedra Beach.
By the time you read this, the Chicago Bears may have won the Super Bowl, which is truly remarkable considering their inconsistent play on both sides of the ball – but we will take it! Hope you survive the winter – still waiting to hear from you. Peace, JB
Fall 2006
In a very sad and ironic twist of fate, John Chuchman reports the death of his son, Mark, on July 24. Mark was 46 years old and a JCU class of '82 graduate. John states that his son suffered much in life and never complained. He was truly a gentle man. After a distinguished career in the automotive industry, John has devoted his life to grief counseling and, in his own words, now walks the grief journey that he has walked with many others as pastoral bereavement educator and companion. John, be assured that you and Maureen and your family are in our thoughts and prayers as you attempt to cope with this tremendous loss.
Congratulations to Don Hagerty who recently received the prestigious Circle of Distinction Sales Award for his work with Prudential Residenz, Realtors. Don has been specializing in the sale of houses, condominiums, and other residential properties for the past 15 years and is a well known realtor throughout Dayton's southern suburbs. He and his wife, Phyllis, are residents of Centerville, OH, where they are active members of the Ketterings Central Christian Church and the Hithergreen Senior Center.
On November 10 Nat Malizia's sister, Philomena, is having a one year Memorial Mass said for her brother that will be attended by friends Bill Colson, Marty Dempsey, Duffy Moran, Roger Risher, Ed Doody, Jim Hill, Bill Marks, Tom McGann, Tom Tully, Jim Atten, John O'Brien, Mike Campo, Ken Rowley, and Jerry Burke. We will then adjourn to Nat's favorite restaurant to raise a glass and honor the memory of a truly wonderful guy.
A week later most of the group will gather again at Loyola University as the JCU Blue Streaks basketball team comes to Chicago to play our fellow-Jesuit school. We believe it will be the first time these two teams have met since our era. We are hoping for a large turnout of JCU alumni to root the Blue Streaks to victory over the Ramblers.
Bonnie and I were guests of Tom and Ellen Tully for the ND-Stanford game a few weeks ago. We also had a chance to visits there with Tom McGann. He was anxious to get down to his new home in Florida, which he purchased last year.
Think your financial overhead is high? The Tullys have three kids at Georgetown University this year. Retiring any time soon, Tom?
Had to miss the Walton weekend this year because a friend was entering our high school Hall of Fame, but did get a call from John Breznai announcing that he again won the basketball free throw shooting contest with a perfect score. Of course, we were thrilled.
Finally, I can conform that there is no truth to the rumor that the Cleveland Indians and Chicago Cubs are going to merge and move the new team to the Island of Manila – the new team to be called the Manila Folders. Stay warm. Would love to hear from you. Remember – this is your column. Peace, JB
Summer 2006
Mike Campo checked in with a tribute to Nat Malizia who he described as one of the best people he had ever known. He recalled how Nat helped to guide him through some serious personal problems at JCU and later during law school, when his car wouldn't start, how Nat would go out of his way to give him a lift. Years later, Mike bought a condo for his aged mother, only to discover that she had ignored the tax bills and was about to lose her property due to back taxes. Once again, Nat was there for him, guiding him through the process and making sure everything was done quickly and correctly.
We just returned from a fun-filled weekend at Louise and Tom McGann's – which has become a much-anticipated tradition. Carol and Joe Ruble and Mary and Ed Paglione came from New Jersey and Donna and John Breznai journeyed over from Ashtabula, OH. John hadn't touched a golf club since undergoing serious heart surgery less than two months ago, but you would never have known it. Dolores and Paul Brust, however, get the gold star for traveling all the way from Scottsdale; AZ. Bill Colson joined us Saturday with Nat Malizia's sister, Philomena and told us how proud he was that he could still beat all of his sons at golf. John Deagan was looking forward to attending and introducing everyone to his fiancée, but was a last minute cancellation when he experienced some complications from surgery and was instructed not to travel. John has had a history of serious health problems, so please keep him in your prayers.
Mattie Matthews, Bob Fitzgerald '60, Jerry O'Malley '62 and Jerry Schweickert '60 had lunch recently with the widow of Connie Pappas '60. Connie had played football with them on the '59/'60 undefeated team and had finally lost his battle with cancer. Mattie had stayed very close to Connie. The group presented Connie's widow with a check from his old teammates, with letters of great memories and support. Hats off to Bob Fitzgerald for taking the lead in this thoughtful and worthwhile tradition.
Speaking of the class of '60, I received a call from Jim Mason after Nat Malizia's death. We discussed the possibility of a joint '59/'60 reunion. Jim and I both agreed that it would be fun and based on Jerry Schweickert's enthusiastic endorsement, I am sure the Class of '60 would be interested. Any thoughts or suggestions from the Class of '59 would be appreciated.
Go, White Sox! Peace, JB
Spring 2006
Yes, Phil Cusick, I am alive and well, although when the due date for my last column arrived in January, I was in Washington, DC, and sick as a dog with bronchitis and in no shape to submit a column. We had just returned from a cruise with Cathy and F.X. Walton to celebrate their 45th wedding anniversary and decided to visit our son and his family in our nation's capital before heading home. Unfortunately, my health did not cooperate.
Sadly, our class lost one of its really good guys with the passing of Nat Malizia, who died of a heart attack. Many of the Class of '59 were in attendance at Nat's funeral to pay their respects, including Nat's close friends Bill Colson, Tom Tully, Ed Doody, Marty Dempsey, Jerry Burke, Rog Risher, Duffy Moran, and Mike Campo. The funeral eulogy was given by Nat's brother Jerry '60, who did a terrific job. Any additional thoughts on Nat would be much appreciated.
We lost another good friend of Nat's who attended law school with him at Northwestern University with the death of "Mendotta Flash" Jim Phelan, who died of cancer in Washington, DC. Jim had a long and distinguished career with the Pentagon before joining the private sector. Our class was represented at his funeral by his close friend Duffy Moran who had known Jim since they both attended Campion High School in Wisconsin before attending JCU. They were also the best men in each other's weddings.
Two members of our class also lost their mothers. Tom Tully's mother died at the age of 105 and F.X. Walton's mother left us at age 102. They were both blessed with good genes as well as loving and caring sons.
Mike Campo understands that to most of us this is old stuff, but he reports that his daughter just presented him and wife Lynda with their first granddaughter. They are thrilled to death.
Betty and Louis Kastelic are alive and well and residing in Silver Springs, MD, where Louis is president of Jordan-Crandus, PA. They have three children – Anthony, Ann and Ellen.
Ed De Voy and wife Marilyn live in Hartford, NY. Ed is retired after a distinguished career as a psychologist/registered nurse at the Mohawk Valley Psychiatric Center. They have six children.
Mattie Mathews checked in to say thanks for the JCU jacket that Bill Marks, F.X. Walton, Dave Nichting '60, Gerry Porter '58 and myself gave him to celebrate his being inducted into his high school's Hall of Fame. Special thanks to Dave Nichting for taking the lead on this.
We had nice visits this last winter with Barbara and Bill Beahan in Coral Springs, FL, and Wendy and Bob McFaul who had just moved permanently to Wellington, FL, on the East Coast. We then journeyed over to the Breznai's on the West Coast. We enjoyed playing golf with the Donna and John Breznai, Louise and Tom McGann, and Ed Paglione. We also enjoyed a luncheon date with this group who were joined by Mary Paglione, and Carolyn and Joe Ruble.
John Breznai is having a heart valve replaced and then is off to Hungary to visit the land of his ancestors.
Joe Ruble, Bill Marks and Tom McGann recently treated Pete Pucher '60 to a round of golf. They were joined by the Pagliones, Carolyn Ruble, Ann Marks, and Louise McGann for dinner to celebrate Pete's birthday. Joe Ruble presented Pete with a Rolex watch. Joe was able to obtain this watch at a wake he recently attended. He claimed the previous owner was no longer able to tell time. Pete was overwhelmed by this act of kindness and claimed that he was never treated this well by his Cleveland friends.
In reviewing this column, it sounds like this was written for a medical journal. Let's see if we can't come up with some more uplifting, positive news for the next newsletter! … Stay well. Peace, JB
Fall 2005
Jack Toronski called with some sad news. After a long struggle with heart and lung problems, Tom Szarwark passed away on September 12 in Chesapeake, VA. Jack's wife Dianne and Tom's wife Rita are first cousins. Tom had contacted me to let me know that he was probably not going to be able to attend our last reunion, but indeed he and wife Rita did show up. It was only when we walked from Mass to the class picture and he had to stop and rest that I realized how weakened and vulnerable he had become. He was a man of great faith who fought the good fight as long as he could. Tom was involved for many years with the JCU alumni recruiting program (JP – do you think he means alumni in admission) when he lived in Pittsburgh and played an important role in making that program the most successful one in the country. Our class has lost a very special person.
Leland Hall checked in to let us know that "Sweet Face" is still alive and well and living in Florida. Lee received his Ph.D. in Mental Health Administration in 1975 and since 1987 has been a professor at the Union Institute which is classified as a "college without walls." He recently retired but still helps out as a consultant.
Marty Dempsey and I made the trip from Chicago to JCU recently for the Mount Union football game. We were joined by Frank Dempsey '60 and Dave Nichting '60 who gave us a tour of the new football stadium facilities. Everything was fun except the score of the game.
Dave Nichting also plans to join us as Bill Marks, F.X. Walton and I journey over to Auburn, NY, to attend the Auburn High School Hall of Fame Induction of Leon "Mattie" Matthews. If Mattie performed as well in high school as he did on the JCU gridiron, this is a much-deserved honor.
Bonnie and I had dinner recently with Bill and Barbara Beahan, who were in from Florida for the Notre Dame/USC football game. A good time was had by all!
Tomorrow we plane over to Washington, D.C., for the swearing-in ceremony of our oldest son, Joe, into the U.S. Foreign Service. After training in Washington, D.C., he will be stationed in Buenos Aires, Argentina with his wife Danielle and their two children.
Our thanks to the editor for including my picture in the recent article on Chicago-area residents. It was undeserved, but helped make up a little bit for my being dethroned as free-throw-shooting champ by John Breznai at the recent Walton weekend in South Carolina as guests of F.X. and Cathy Walton. I also knew that I was in trouble when Paul Brust called and asked to speak to "Sparky."
Hopefully, by the time you read this, the Chicago White Sox will have won the World Series. The last time they participated was the year we graduated – 1959. Stay warm … Peace, JB
Summer 2005
John Curry checked in with some very important news. It seems the Army Transportation Corps, which at one time included all of our JCU ROTC officers, has moved from Fort Eustis, VA, to Fort Lee, VA.
John, who made a career in the military, spent three years at Fort Eustis starting in 1974 as the resident training management director – whatever that means. He has many fond memories of this military base. John also reports that his son, Chris, who is currently stationed in Alaska as a cavalry scout platoon sergeant, will be headed to Iraq in August. I am sure I speak for all of our class when I wish him a safe return.
Also, on behalf of our class, I want to offer a fond farewell and congratulations to outgoing President Rev. Edward Glynn, SJ, for his tremendous contribution to the university. I was singularly impressed with his unpretentious manner. I will also never forget his enthusiasm, along with the athletic director, Tony DeCarlo '66G in posing for a picture with me, Marty Dempsey, Paul Brust, Bill Marks, and Ed Paglione. He helped hold up our Thursday Night Study Club banner after the Muhlenberg football play off game in November 2002. Well done, Father Ed.
Tom Brunn sends along yet another death notice from the Cleveland Plain Dealer. This one is for Denny Bixler who was with us briefly at JCU. Denny died from injuries following an unexplained accident in Fort Lauderdale in April. He resided in St. Petersburg where he was a yacht broker. Denny had a very interesting career that included being the White House liaison at the NATO 50th anniversary in Washington, D.C. May he rest in peace.
We have just concluded a very successful "McGann" weekend as guests of Tom and Louise McGann. The group included the Brusts (who flew in from Arizona), the Breznais, the Pagliones, Leon Matthews, the Rishers, the Malizias, Bill Colson, the Marks, John Deagan and his much improved golf game. We were also joined this year by M.T. and Mike Geraci, who are now retired and promised this won't be their last appearance.
The news has been a little scarce lately so I would humbly solicit your cooperation to inform us as to what is going on in your world. Hope everyone is having a great summer. Peace, JB
Spring 2005
Nick Antonazzo and wife Donna journeyed over to our nation's capital recently where Nick was admitted to the U.S. Supreme Court. Nick said it was a great honor and thrill to see the workings of the court. They also visited the new World War II Memorial which he described as "very impressive." The Antonazzos look forward to their annual Hilton Head getaway with their entire family, which includes nine grandchildren. They are also planning a fall trip to Fatima and Lourdes. Nick still works as a consultant to the Pennsylvania Real Estate Investment Trust.
In February Bonnie and I went out to Scottsdale, AZ, to visit Paul and Dolores Brust at their new home in the desert. We also got to spend some time with Jerry McGivern, who spends his winters in the area.
While out there, we had lunch at Harold's Cave Creek Corral in Cave Creek, AZ, which has become well known as a "home away from home" for displaced Pittsburgh Steelers fans to watch their beloved Steelers on TV. Over 1400 Steeler fans crowded into Harold's to watch the Steelers/New York Jets playoff game. Pittsburgh mayor Tom Murphy sent a letter to Cave Creek mayor Vincent Francia, praising the restaurant for supporting the Steelers. Turns out Tom Murphy and Vincent Francia are long-time friends — they attended John Carroll together (both class of '67) and served in the Peace Corps in Paraguay thirty-five years ago.
Next we headed south to join Tom and Louise McGann and Bill and Ann Marks. We also got to visit Joe and Carolyn Ruble and spent a few days with John and Donna Breznai. Tom McGann, Joe Ruble and I also got to attend one of John Breznai's famous Tampa Bay luncheons which included Jeff Rogo '72, Jack Lyons '60, Pete Pucher '60, Don Podnar '58, and retired chemistry professor, Jim Walsh. Jack Toronski was supposed to join us, but he was called back home for personal reasons. Seems like half our class is succumbing to the lure of Florida. The McGanns and Pagliones recently purchased part time homes in the Tampa area. Bob and Wendy McFaul are moving to the east coast.
Speaking of moving, Jack Ryan checked in to report that once again he has moved. He had a cup of coffee in Coral Springs, FL, before spending a few months in Virginia and has now located to Hilton Head, SC, where he has started an insect repellent business. (Bonnie is still convinced that he is "CIA.")
When the only hospital in Batavia, NY, threatened to close for financial reasons, the local Rotary Club came up with a unique fund-raising effort. They marketed a calendar featuring 13 pillars of the community wearing a few strategically placed props and not much else. Mr. March (Dennis Dwyer '85, age 42), a shoe store co-owner, was chided by his minister for posing behind a pair of size 17 wing tips. This sounds suspiciously like the son of our own Tom Dwyer. Mr. June is John Gerace, which just might be our own John "Sam" Gerace. Some further explanation is due here, Dweasel.
I get to point the car south again in a few weeks as the Dempseys, McGanns, Marks, Breznais, Burkes and Mattie Matthews join F.X. and Kathy Walton on the Chattanooga River for some white-water rafting.
Have a great summer and remember – it takes only a few minutes to e-mail me. Peace, JB
Winter 2005
It took 35 years, but on October 22, 2004, Bill Marks was finally inducted into the JCU Athletic Hall of Fame for his efforts on behalf of the JCU football program. It was an honor that was long overdue. Bill averaged 5.7 yards per carry during his career, which is the third best in JCU history. His single season average per carry of 6.3 yards in 1959 also ranked fourth all-time at JCU. Like his teammates F.X. Walton and Leon Matthews, Bill played a major role on JCU's first undefeated season in 1959 before being drafted by the New York Titans.
Thanks to the generosity of Bill Beahan, Jerry Burke, John Breznai, Tom Brunn, Paul Brust, Marty Dempsey, Tom Dwyer, Mike Geraci, Nat Malizia, Leon Matthews, Tom McGann, Jerry McGivern, Ed Paglione, Gerry Porter '58, Roger Risher, Joe Ruble, Tom Tully, and F.X. Walton we were able to take out a full page ad for Bill in the Hall of Fame dinner program. We also placed an ad in the weekly football program and still had money left over to make a generous donation to the Blue Gold Club on behalf of Bill. Bill and Ann Marks were joined by Jack Hyland, Jack Toronski, Mattie Mathews, F.X. Walton, Chuck Schmitzer, John Breznai, Tom Dwyer, Ed Paglione, Mike and M.T. Geraci, Tom Brunn, Tom and Louise McGann, Jerry and Mary Beth McGivern, Paul and Dolores Brust, Bonnie and Jerry Burke, for this special evening. The following day the Brusts threw their own farewell party prior to their move to Arizona. Everyone enjoyed a brunch and wished them well in their new home. An added attraction for Bill was that he got to see his grandson, Noah, a freshman at JCU, play in the Homecoming Football Game. The weekend was capped off by a party at the home of Gerry and Miriam '62G Porter after Saturday's football game. We were joined by fellow columnist Jerry Schweickert '60 who explained how bad he felt that his wife had to file suit against John Breznai after being launched from John's moving golf cart at the Breznai summer golf tournament. John has never been a good loser. (By the way, welcome aboard, Jerry.) Special thanks to the Porters, who went above and beyond by throwing this party two weeks after Gerry underwent hip replacement surgery. Special thanks also to Tom McGann for getting us a special rate at the local Holiday Inn. It was truly a memorable weekend.
One month later we had what felt like another JCU homecoming at the wedding reception of our daughter, Barbara. We were joined by Bill and Barbara Beahan from Florida, F. X. and Cathy Walton from South Carolina, Ed and Mary Paglione from New Jersey, Mattie Mathews from New York, Tom and Louise McGann from Michigan, Bill and Ann Marks from Indianan, Roger and Edy Risher, Bob and Wendy McFaul, Marty and Davy Dempsey, Paul and Dolores Brust, Jim and June Hill, Tom Tully, for a fun-filled evening.
No e-mail news for this issue. Hope you had a good winter and are thawed out enough to drop us a line and let us know what is going on in your world. Peace … JB
Fall 2004
Tom Brunn sent an interesting article from the Cleveland Plain Dealer regarding our own Tom O'Toole. Tom and his wife, Joanne, work as freelance travel writers and photographers and have been Cleveland Indians season ticket holders for 37 years. Since the Indians moved to Jacobs Field in 1994, Tom decided to spice things up by wearing a different Indian's hat for each inning and has become a local celebrity as "Tom (the Hat Man) O'Toole." Way to go, Tom!
John Curry complained that he had not received any information on our last reunion. John, perhaps if you had called before the reunion
I do recall John calling ten years ago and assuring me he was coming, but failed to materialize, so he remains consistent. John, retired, remains in Newport News, Virginia with wife Julie and stays active as the resident historian and curator. He has written books on the history of the area and used to have his own radio program before he was "bumped" by Howard Stern. Let's try again in five years, John. I know you can do it!
Alan Tokunaga reports from Hawaii that Jimmy Hirotsu has retired from military service as a lieutenant colonel and lives in Spokane, Washington. He and Naga correspond often by e-mail. Sadly, George Ruiz passed away in Seattle in February.
Don Muroki is retired and living in Ankeny, Iowa, where he stays close to home. Naga could not talk him into joining him and other high school friends for a high school reunion in Las Vegas, Nevada. Naga himself has been retired since 1994 but golfs, walks and rides his bike. He did give assurance he would attend the 50th, but still wants it held in Hawaii.
Bob Shipka was looking forward to the reunion, but his wife's recent back surgery prevented her from traveling. Bob reports that his health is good but he did have heart by-pass surgery in April. (With Carolyn Ruble's recent knee replacement surgery and Tom Tully's upcoming hip replacement, I am starting to wonder if any of our group still has all their original body parts.) Ship runs a small government consulting practice but plans to retire soon. He has eight grandchildren who keep him very busy going to sporting events.
Tom Szarwark retired in October of '02. He and wife Rita moved from Pittsburgh to Chesapeake, Virginia where their youngest daughter and two grandsons reside. Tom had very serious lung surgery in 2001 and has required extensive medical treatment, but continues to do well.
Mike Campo also checked in with apologies for not attending the reunion but claims that he received no information. Mike, I will personally make sure you get notification of the 50th. For 39 years Mike ran a very successful travel agency, primarily booking junkets to Las Vegas. He closed the agency in November 2001. He and wife Lynda have two children, Traci (29) and Chris (27), who are both active in real estate. The Campos divide time between their homes in Wheaton, Illinois and Naples, Florida. They would love to get together with JCU classmates. .
While my requests for participation in this column have not met my expectations, Art Granzeier certainly went above and beyond. He knocked on my door. Art, who was a Parma, Ohio dayhop at JCU, recently, discovered that we were practically neighbors and decided to drop in – I am glad he did. Art received his M.S.W. at Loyola University in Chicago after JCU. He has worked in Chicago off and on in the field of social work. We had a very nice visit. Bonnie and I look forward to getting together with him and his wife Helen in the near future.
Stay warm and keep in touch! Peace, JB
Summer 2004
Our 45th JCU Reunion is now history and it certainly appeared that a great time was had by all. The Reunion did not officially start until Friday, but a group of us came over on Thursday for an early kick-off. Bull Beahan flew to Chicago from Florida and the Burkes, Brusts and Bill drove to Cassopolis, MI where we boarded the McGann motor home with Tom and Louise McGann for the rest of our journey. We were joined on our campus by John and Donna Breznai, Dr. John Deagan, Tom and Janet Dwyer, Mike and M.T. Geraci, Bill and Ann Marks, Leon Matthews, Jerry and Mary Beth McGivern, Ed and Mary Paglione, Roger and Edy Risher, Joe and Carolyn Ruble, and Dr. F.X. and Cathy Walton.
JCU provided us with two vans and JCU drivers for the night that started with a great cocktail party at the home of our reunion chairman: Tom Brunn and his wife, Connie. We were joined there by JCU professor Dr. Joe Miller and his wife, Helen, Fred and Merici Kramer and Dr. Leland Hall, who journey up from Lauderhill Florida for his first reunion. Our next destination was Mick's Pub in Willoughby where we were joined by JCU football coach Regis Scafe, basketball coach Mike Moran and JCU's new athletic director Laurie Massa who comes to JCU from the University of South Carolina. Paul Brust had special beer mugs made up to honor Bill Marks, who will be inducted in the JCU Sports Hall of Fame in October. It was also a treat to spend some time with Dave Nichting '60 who continues to be a real JCU booster.
University President Fr. Edward Glynn, SJ welcomed us all back to the campus on Friday and was very proud to announce that JCU had just completed the most successful fund raising effort in the school's history. He expressed his gratitude for all who participated. This was followed by a delightful president's reception cocktail party where we were joined by Tom and Dolores Barrowman, Rick and Mary Jo Dodson, Gary Furin, Rita and Bob Martin, Paul and Maria Moon, Don and Joanne Palmer, Bob D'Alessandro, Dave and Mary Ross, Jack and Dianne Toronski, and Dr. Jim and Sylvia Witting. Also in attendance were Lucy Rivera who attended night school and traveled all the way from Stanton, CA, and Marty and Davy Dempsey. We also visited with Marty's brother Frank '60 who is now a professor at JCU and got to meet his new bride, Mary Pat. Saturday started with a river cruise and lunch on the Nautica Queen. I was thrilled to have Dr. Pete Fegen and wife Carol as my personal tour guide pointing out many points of interest. We attended Mass at Gesu parish where Rev. Wes Toles read the names of our deceased classmates in a very moving ceremony. Next we gathered for the class picture and then the Saturday night cocktail party and dinner. Professor Joe Millor gave us a JCU update at dinner and we even got our class president, Bob Martin, to say a few words. Luci Rivera got the prize for coming the farthest and was in delightful company. She came to Cleveland from the Philippines and ended up at JCU night school almost by accident. Her professor had to help her with rides home because the buses stopped running before class ended. She continues to work as a counselor at the LA county mental health department and plans to eventually return to the Philippines and set up her own clinic. My bet is she'll pull it off. We sat with Tom Barrowman and Rick Dodson, who have both retired after military careers. Both looked like poster boys for military service as they seem to have forgotten to age. Speaking of the military, one of the things I regret about our dinner is that we did not recognize Jack Piatak and his wife, Clare. Jack recently retired from the army as a two star general, which I think all would agree is no small accomplishment. He served two tours of duty in Vietnam and during the first Gulf War was in charge of all United States ports. He and his wife, Clare, currently reside in Jacksonville, FL.
To my mind everyone who attended deserves special recognition but space does not permit plus my memory has slipped to new lows. It was great to see Leland Hall who looks great. It was also great to see Gary Furin who drove straight thru from Atlanta. Despite some serious health problems Tom and Rita Szarwark joined us from Virginia. Tom's positive attitude is an inspiration. John Deagan lost his wife to cancer some years ago leaving him with twelve children. He is also a recent kidney transplant recipient — But he looks great and continues to survive. Say a prayer for Bob D'Alessandro's wife Barbara who is suffering from a very serious liver aliment.
Let me close by offering thanks, on behalf of all of us, to Tom Brunn who once again did a great job as reunion chairman. Many thanks also to JCU reunion coordinator Rosalie Massey who was always there for us. Rosalie, you are a true credit to the university. We cannot thank you enough. Peace, J.B.
Spring 2004
Attention: Class of '59 – Reunion Alert! Our 45th reunion is literally right around the corner (June 18-20th) but it is still not too late to register and join the fun. You can even register online. We are assigned to Millor Hall which is air conditioned but if you choose to stay off campus or have any questions call reunion coordinator Rosalie Massey at 216-397-3014 or rmassey@jcu.edu and she will be happy to assist you.
The reunion doesn't start this year until Friday, June 18 but a group of us are planning on going back Thursday, June 17, if you are interested in joining us please contact me or Rosalie so that arrangements can be made to stay on campus.
I have been amazed recently how friends and former classmates seem to feel the need to reunite with their past. JCU gatherings in Chicago have been remarkably well attended – and early indications are that this will be the biggest reunion turn out we've ever had. So pick up the phone and call an old friend from our class that you haven't seen for a while and let them know you will be attending reunion and would love to see them. Maybe all it takes is a call from you. The reunion committee consists of chairman Tom Brunn, Jerry Burke, John Chuchman, Bob D'Alessandro, Pete Fegen, John Grady, Jack Hyland, Fred Kramer, Paul Moon, Ed Paglione, Don Palmer, Tom Scanlon, Wesley Toles, and Dave Washtock.
I was shocked to discover that we have lost 54 members of our class since graduation. While the names are too numerous to mention here I do want to pay special tribute to a friend and special person, Dale Brown, who we lost in March of last year. Dale was a former president of the Lake County Bar Association and the Catholic Big Brothers of Greater Cleveland. He was extremely active in his legal profession, his community and his church. He was also someone who was loved and respected by all who knew him. I was also saddened to discover the death of Dick Delaney who was another of the truly good guys of our class. Perhaps you would like to personally pay tribute to one of our classmates who have left us. You will be given the opportunity to do so at the Saturday night dinner — or write or e-mail me to have it included in our Alumni Journal '59 column. The names of the deceased will also be read at our Saturday evening Mass by Wesley Toles.
If you haven't returned for a while you will be impressed with the physical improvements and how they have expanded while maintaining the charm of our compacted campus. Come see the new Don Shula Football Stadium, the Boler School of Business, and the magnificent new Dolan Center for Science and Technology that is the envy of the academic community.
Rick Dodson will be there. Rick has retired from military service but still resides in Chester, VA. In 1981 Rick received an MBA from the Florida Institute of Technology. He and wife, Mary Jo, have four children – Rick Jr. (40), Kathleen (39), Kevin (35) and Anne (31). One of Rick's favorite JCU memories was his involvement with the Pershing Rifles thru ROTC.
Elias Abood will also be on hand. Elias and wife Norma currently reside in Massillon, OH. They have three children – Nathan (35), Dany (32), and Hany (30). Elias reports that he can't wait to see everyone at the up coming reunion.
The Brusts, Breznais, Burkes, Marks, McGanns, McGiverns, Pagliones, and Rubles were off to sea again in March on a Caribbean cruise to the Panama Canal. A good time was had by all and all look forward to the reunion.
I hope everyone is enjoying good health and their retirement or whatever else they are choosing to do. See you in June. Peace , J.B.
Winter 2004
The Thursday Nite Study Club's name will be permanently placed on the Kresge Challenge Donor Wall thanks to donations by Paul Brust, Jerry Burke, John Breznai, Tom McGann, Bill Marks, F.X. Walton, Joe Ruble, Tom Brunn, Marty Dempsey, Gerry McGivern, Tom Dwyer, Mike Geraci, Ed Paglione, Tom Tully, Bob McFaul, Bill Beahan, Al Tokunaga and Jack Ryan. – Thanks to all of you.
Can you believe its time, once again for, the class of '59 reunion. On June 18-20 we celebrate 45 years since graduation from our beloved J.C.U. and it's definitely time to return to the campus and renew the special friendships and relationships that we made. Chairman Tom Brunn, the committee, and JCU reunion coordinator, Rosalie Massey, have been working very hard to insure that a good time is had by all. We're looking for a good turn out. (Leland Hall will be there and after some very serious surgery John Deagan looks forward to attending) but it won't be the same if you're not there. As Tom Brunn says "Come on back before you get on that list that no one wants to get on."
Please join us, you'll be glad you did. Peace, JB
Spring 2003
On May 11, 2002 John Sheldon Lloyd married Carol Marie Lally Bang after a one-year long distance courtship. They met in first grade in 1940 but it took John sixty years to work up the courage to ask her on a date. Actually, they were both recently widowed and between them have four children and six grandchildren. Heartiest congratulations, John! What a great story. John received his Ph.D. at Case Western Reserve and recently retired from Loyola University Chicago Stritch school of Medicine. He is enjoying living back in the Cleveland area after a 34-year absence.
Nick Antonazzo and his Donna were engaged at our senior year military ball and married in August of '59 with the late John Reardon, Jim Atten, Ron Tipul and Rege Stafford in attendance. They have four daughters and nine grandchildren. Nick attended the University of Richmond Law School before returning to his beloved Johnstown, PA. He has been employed for 35 years as general counsel for Crown American Realty Trust which operates shopping centers in the East and South. He recalls that his only Thursday Night Study Club activity at JCU was to track down "Doc" Bender so they could drive back to Altoona for the weekend. He promises to attend our next reunion and is issuing a "Nick" challenge to others out there to send in some news like he did.
Speaking of Johnstown PA, Marty Dempsey, Paul Brust, Bill Marks and I drove 12 hours to Johnstown in November to watch the JCU football team defeat Muhlenberg in the Division III playoffs. All of us should be very proud of this squad that made it all the way to the final four.
Bonnie and I arrived in Florida a few days early for the group Caribbean Cruise to spend some time with Bill and Barbara Beahan. While there, we got to watch the super bowl with our man of mystery, Jack Ryan and his JoAnne. The Ryans have re-surfaced in Coral Springs, FL and hopefully will join us at a group gathering on the West Cost of Florida in mid March.
John Breznai called to let us know that Dave Ross will be joining us and Ed Coyne checked in to remind us that he and Tom Hoban are interested in being included. A golf outing is planned and Paul and Dolores Brust will also be hosting a shrimp boil party. So far this retirement life doesn't seem too bad. Have a great spring and remember the "Nick" Challenge. Peace … J.B
Winter 2003
John Chuchman continues splitting his time between Arizona and Northern Michigan, and claims it does not hamper his grief work at all. He conducts grief support groups, hospice caregiver training, workshops, and lectures on grief. He also does seminars and retreats for church groups in both locations. He has also written two very successful books and is just completing a third. Contact him at his Web site — John Chuchman poetman@freeway.net
Mike Geraci checked in to inquire about my prostate surgery. Michael, I did indeed have the prostate removed. The good news is I am now cancer free. The interesting news is that they biopsied the prostate after surgery and found no cancer. (Anyone know a good malpractice attorney?) Mike also enjoyed the group photo in the last journal issue and inquired if Paul Brust has joined the 20th century and purchased a computer with an e-mail address. Mike claims to have backlog of East Texas jokes to send him.
Ken Rowley also enjoyed the photo and wanted to know if the unidentified person to the far left is John O'Brien. Yes it is Ken, but the person to contact is Roger Risher. It seems the university recently received a letter over Roger's signature demanding to know who that unidentified person is. The letter voiced strong concern that he could be a terrorist. Roger is in denial and we all know John O'Brien would not do anything that petty and deceitful, so it remains a mystery.
Paul Moon reports he spent a month last summer in Europe with his two daughters. Daughter Laura spent a semester at the University of Frieburg in Germany before graduating with honors from Denison University. She next returns to Germany to teach English on a Fulbright Teaching Assistantship. Doesn't sound like dad is too proud!
Daughter Elizabeth will be a member of the class of 2008 at JCU. If my math is correct, that makes her around 16-years old, which automatically makes us all very proud of Paul. Paul is unopposed for his last 6-year term as Judge of the Ottawa County Common Pleas Court. Upon completion, he will have been a judge for 28 years.
Thank you to the professor, Phil Cusick, who checks in from Michigan State University with a good thought regarding my surgery. Phil, I know the next reunion is 2 years away, but I feel it is not too soon to start nagging you. Your presence is mandatory.
Dave Ross was delighted to hear about the Florida winter gatherings. He and Mary are down in Indian Shores (west of Tampa) for the month of February, and hope to get involved. Dave reports he is always looking for someone to play golf with and would appreciate hearing of anyone who might be in the area. Dave, there should be a bunch of us nearby this winter so stay tuned. Dave also keeps in touch with Roger Risher and reports he just got a note from Bob Manzella.
The McGann weekend set a new record for attendance and we are delighted to learn that Tom and Louise are also going to join us for the first time for the "Walton" weekend in South Carolina.
Bill and Ann Marks came up with a great bargain for the Caribbean Cruise so in January the Marks, Waltons, McGiverns, Rubles, Pagliones, Breznais, Brusts, McGann and Burkes are sea bound again.
Remember e-mail provides an easy and convenient way to stay in touch. Hope you had a great summer! … Peace, J.B.
Spring 2002
Greetings from the Windy City!
Had a nice long chat with Leland Hall, who followed up on his previous e-mail. Leland talked about many things including how he ended up at JCU and how the devastating loss of his mother almost caused him to flunk out. He eventually was forced to drop out of school for a while, but came back to graduate and went on to earn his Ph.D. Leland's athletic career at JCU clearly had its ups and downs, but for anyone doubting his athletic ability, let me pose the following question: Who still holds the individual game basketball record for rebounds? The answer — Leland Hall — 26 vs. Allegheny College on 1-12-59 (this information compliments of our favorite immigration atty., Gary Furin). Guess whose record he broke? You guessed it, Gary Furin, who earlier that season tied the previous record of Bob Eckert '56, at 25 rebounds. Gary also reminded me that Lee was high point man in that game with 23 points. Sweet Face, after all this good press, you darn well better show up at the next reunion. My final sports question: Am I the only one who thinks Jack Hyland would make an awfully good candidate for the JCU Sports Hall of Fame?
It appears the class of '59 has been well represented this winter on Florida's West Coast. On February 20th Paul and Dolores Brust, Joe and Carolyn Ruble, Tom and Louise McGann, and Bill and Ann Marks joined John and Donna Breznai at a dinner reception for the JCU Tampa Bay alumni association. Paul reports it was a delightful affair and a good time was had by all.
On February 25th, a little further south down the road, Ed Coyne (a full time Bonita Springs resident), Bob D'Alessandro and Dave Washtock '60 (winter residents of Bonita Springs) joined Tom Hoban (a full time resident of North Naples) and Dennis Fagan (a winter resident of Fort Myers), for some lunch and good cheer. They had such a great time reminiscing over their JCU years that they agreed to continue these gatherings once a month during the Florida winter season (November-April) and they invite any classmates who might be in the area to join them. You can reach Bob D'Alessandro at 239-947-0049 during winter season or via e-mail at RNDAL@aol.com.
Of course, if you find yourself on the East Coast of Florida Coral Springs, be sure to stop in and say hi to Bill and Barbara Beahan. Bill checked in to wish me well on some upcoming surgery and reports that he may have turned the corner on his 20-year struggle to quit smoking.
Hope your winter was as mild as ours — Stay in touch! Peace! J.B.