1952
Spring 2017
REUNION YEAR
Hello. Sorry I missed the last column. We've lost another one. John James Zupancic left us on Jan. 27. John was a CPA, married to Josephine since 1952, the loving father of eight, and grandfather of 11. He'll be missed greatly.
I heard from Bill Perusek, who played basketball at Carroll from 1949 to 1952. He was honored to be invited to join Carroll's team at a pregame meal when they played in a tournament in Daytona Beach, Florida. Bill challenged the team to meet or exceed his collegiate free-throw shooting percentage of .808. One player did, with an average of .939 percent. Wow!
Betty and Bill Kenealy tried to give me information, but I couldn't open it.
I hope many of you will be able to attend our 65th reunion in June. Please try. In the meantime, stay safe, and God bless.
Dorothy
Dorothy Poland
PolandMomdot@aol.com
Winter 2017
REUNION YEAR
Dorothy Poland
PolandMomdot@aol.com
Fall 2016
Dorothy Poland
PolandMomdot@aol.com
Summer 2016
Dorothy Poland
PolandMomdot@aol.com
Spring 2016
Hi, all. Well, I sent out an S.O.S. to those whose emails I have. What was the response? Well, I did hear from my most faithful correspondents. Even though Bill Kenealy was in the hospital, Betty (our adopted classmate) responded. Thanks, Betty. I hope Bill is feeling better. Bill did comment about Don Shula, who  graduated a year before us. Don has a perfect record in the NFL, 17 wins and 0 losses. Does anyone know if he's the only coach with such a record?
OK now, where are you, Mike Gavin, Pat Trese, Gerry McDonough, and all the rest of you? I know the ranks are growing slim, but there must be a few more around. I believe the next magazine will be the online edition, which I don't do, but that allows you several months to contact me. Jim Previt sends things all the time, but not anything for this column.
On March 20, the first day of spring, I left for church, and it was snowing. The grass was covered. Three hours later (we had choir practice after Mass), it was all gone. Freaky. That wraps up this column. I hope you all had a glorious Easter. Hopefully, some of you made it to the JCU graduation and will make it to the reunion and memorial Mass.  God bless, and stay safe.
Dorothy
Dorothy Poland
PolandMomdot@aol.com
Winter 2016
I try to make sure I put everything I receive in this column. I apologize because I might have missed this one – Charles Toepp of Bethel Park, Pennsylvania, died on Sept. 25, 2015. He was predeceased by his wife, Carolyn, and daughter, Margie. He's survived by his children Patrick, Maureen, and Michael. I'm sure his friends are sorry to see him go.
I haven't received any news this time. Where are you, Patrick Trese, Michael Gavin, Jerry McDonough, and all the rest who are around? As for me, my youngest and her husband, the wine-maker, took me to lunch in Little Italy and a Christmas concert at Severance Hall by the Cleveland Orchestra. It has been at least 73 years since I was in Severance Hall, so I forgot how enormous and beautiful it is. We also went downtown to see the crystal chandelier hanging in the middle of Euclid Avenue. What a treat and early Christmas gift.
I hope you all had a wonderful Christmas and a safe and happy New Year's. Please write, and let me know how things are going for you. I love you all and pray for your safekeeping. God bless.
Dorothy
Dorothy Poland
PolandMomdot@aol.com
Fall 2015
I have two wonderful pieces this time. We should celebrate (belatedly) with two classmates. My very faithful correspondent (Betty) and Bill Kenealy told me about their 60th wedding anniversary celebration. Many (65!) friends and family attended. Fr. Howard Gray, S.J., a classmate from St. Ignatius High School, blessed the occasion. Wow! Bill has led an interesting life (and Betty has supported him) in the Navy. He was aboard the USS Missouri during the Japanese surrender. Their daughter is a deputy director with JAG in California, and one son just retired from working for Queen Elizabeth II. Betty was recovering from shoulder surgery and should be all healed by now.
Joe Lynch and his wife, Viola, celebrated their 60th wedding anniversary, June 11, on June 14. Seven of their nine children and 16 of their 20 grandchildren attended. After graduation, Joe (he was class president) entered the Army through ROTC. After the Army, he received his JD from Cleveland-Marshall College of Law and passed the Ohio Bar in 1961. He never practiced law, but used it in business. In 1963, he earned an MBA from the Harvard Business School. Living in the Boston area, Joe has been active with his Harvard reunions. He was treasurer of his class. Their 50th was a four-day affair, the third largest in the history of the school. Joe and Vi were expected to win the jitterbug contest at their party. He claims they were practicing and are very good. Joe is semiretired and would like to hear from any classmates. The best way to reach him is by email – jevmlynch@hotmail.com. I have more but will save it for next time.
I received a nice note from John Wetzel, who lives in Medina, where he and his wife, Elizabeth, moved in 1960, the year they were married. John says he's reasonably well. I hope to hear from you again with more news.
That's all for now. God bless, and stay safe.
Dorothy
Dorothy Poland
PolandMomdot@aol.com
Spring 2015
Hi. Well, I don't know what happened, but I finally have news. Some good, some sad. There probably will be more sad news as time goes on. I hope you all survived the winter that wouldn't quit. I did by visiting my middle daughter in Florida, where we visited Harry Potter and then went on a weeklong cruise. It was wonderful!
I talked to Dan Flower recently. I don't know how many of you have been involved in the Honor Flight held every year, but Dan considers himself fortunate to have been included. Last October, Dan was part of a group that was flown to Washington, D.C., on World War II Honor Flight out of Cleveland. After a continental breakfast, the group flew to Baltimore, where it boarded a bus to D.C. It visited the World War II Memorial, the Marine Corps War Memorial Iwo Jima Statue, Korean War Veterans Memorial, and the Vietnam Veterans Memorial. After a buffet lunch the group saw the changing of the guard at the Tomb of the Unknown Soldier. Everything was fully paid for by a corporate sponsor. The trip included all transportation, food, snacks, a hat, and a T-shirt. World War II vets interested in future flights should visit Honor Flight Cleveland (honorflightcleveland.com). That sounds wonderful. That was the good news.
Here's the sad news. An email from Pat Smock informed me about the passing of classmate David Smock on President's Day and his wife of 56 years, Jean, six days later on Feb. 22. David and Jean met in the Navy, in which they served during the Korean War. Together they raised five children – Christine, Thomas, Michael, Patrick, and Matthew – and enjoyed three grandchildren. They were active in St. Angela Merici Couples Club, Holy Trinity Church, and kept busy with other activities. They were interred at the Ohio Western Reserve National Cemetery in Rittman, Ohio, on Friday, March 6, 2015. Rest in Peace.
Jim Previt says Joe Vishey's wife, Mary, is trying to sell their house and a building Joe owns. Joe is under lock and key in a nursing home because he keeps trying to go home. Mary is in assisted living because of Parkinson's disease. Jim also is experiencing health problems. His daughter, Renee, has been on the kidney transplant list for seven years. Renee is blood type B, which is difficult to match. Prayers for all are requested.
Lastly, I heard from Joe Lynch (jevmlynch@hotmail.com), who would like to hear from classmates. Joe, who lives in Medfield, Mass., sent news that I've saved for next time. Thanks for the news, and keep it coming. God bless and stay safe.
Dorothy
Dorothy Poland
PolandMomdot@aol.com
Winter 2015
Greetings. Well, I sent an SOS for news from the few remaining members of the class of '52. As usual, the response was underwhelming! Jim Previt sent news about Larry Casey's passing but had no details. Jim; his wife, Jo; and their daughter, Renee, have been faithful attendees of the annual reunion weekend Mass and dinner, but they had to forgo this year because of Jim's health problems. That left me as the only person from '52 who attended. I sent Larry's wife, Jeanne, an email asking for details about Larry's passing, but I haven't received a response yet. Maybe for the next column. Jim also said Joe Vishey isn't doing well, but he had no more information about his condition.
I had an incorrect email address for Betty and Bill Kenealy and finally looked up the last email I had from Betty – bandbkenealy@gmail.com. After I requested news from them, Betty said Bill broke his kneecap. That must hurt.
I'm getting ready to join my middle daughter in Florida, as we visit Harry on the Hogwarts Express and Diagon Alley. Then her husband is lending her to me for a weeklong cruise.
I hope your holidays were joyful and filled with family and Christ. I wish everyone a safe and happy 2015. Take pity on an old lady, and send me news. God bless.
Dorothy
Dorothy Poland
PolandMomdot@aol.com
Fall 2014
I have good news and bad news. First the good news. I found out there are at least four alums in Ravenna, Ohio: Al Stoessner '55, John P. O'Neill '62, Kristina Drnjevich '09, and me. What's weird is three have been to law school, and I'm the mother of three lawyers, including a judge. Strange.
Don (Warren) Terrell moved from Naperville, Ill., to Hammond, Ind. He lives at 33 Wildwood Rd., 40324, and has the same phone number and email address.
Old faithful, Bill Kenealy, says his daughter Kathy, the deputy judge advocate of California, was one of the first Americans allowed by the State Department to visit Cuba. (We're the only country to impose a travel embargo.) Her report can be summed up in one sentence: "Time stood still." Kathy was a toddler in Key West, Fla., when Bill was involved in the Cuban Missile Crisis from 1960 to 1962. Bill's wife, Betty, says the organization Pearl Harbor Survivor no longer exists because there are too few members. Betty might be the only living survivor of that historic event. If so, JCU can claim her as such!
Now for the bad news. Out of a class of more than 300, you'd think there would be more than one representative at the Mass and dinner held during reunion weekend. I know we've lost many, while others aren't well enough to attend, but come on, there must be a few remaining. Jim Previt, his wife Jo, and his daughter, Renee, usually attend, but Jim has been dealing with health problems this past year. We hope all is better now. My son, Judge Kevin Poland, accompanied me. The Mass was beautiful, and dinner was pretty good. We sat with three other couples from different years. It was pleasant, but I wish our class could make a better showing. Now I'm waving the white flag. I've tried everything I can think of to encourage you to cooperate. There are few of you who even take the time to send news. I knew this would be a thankless job, but I told Sam Wetzel I'd help, and then he goes and dies on me. Stay safe, and take care of each other.
God bless.
Dorothy
Dorothy Poland
PolandMomdot@aol.com
Summer 2014
Dorothy Poland
PolandMomdot@aol.com
Spring 2014
Betty Walker Kenealy, who we've adopted as a member of our class, celebrated her birthday in February. She's one of the few who survived the attack on Pearl Harbor and was strafed on the morning of Dec. 7. Betty and Bill Kenealy send news about their children: One works for the Queen of England, a daughter is deputy JAG (Judge Advocate General's Corps) with the U.S. Navy in California, and another son is head of contracting for the National Security Agency. Bill is the most senior JCU alumnus Naval officer. God bless you all.
Al Lipold, who attended JCU with our class but didn't graduate with us, published a book, "The Permanent Establishment of Peace," on Nov. 14, 2013. Al has had a busy, successful career as an attorney. Based on the reviews, we should read the book.
While talking with Pete Bernardo '67, '72G, I learned the University rating with Moody's might drop. Moody's bases ratings (for loans, etc.) partly on the percentage of alumni who donate to the University. This year, the percentage of donors has declined, even though the dollar amount hasn't. If we want to keep our good rating, it's important we support JCU, even if it's nominally. Remember, it's the percentage of donors to the University that's important.
Michelle Jahnke '92 is busy here in Ravenna, Ohio, with her dermatology practice. (I didn't tell her I was going to mention her.)
I heard from Jim Previt, Larry Casey, and Don Terrell, but there's no news this time. That's it for now. Please send news. God bless, and keep safe.
Dorothy
Dorothy Poland
PolandMomdot@aol.com
Winter 2014
In November, my youngest daughter and her husband were here for a few weeks working on their property in Novelty, Ohio, where they're going to open a wine-tasting room in the near future. They helped me decorate for Christmas. Now I have to wait until they return from Washington state in the spring for them to undecorate.
On to business. We lost another great one, not our class, but lots of class – Bruce Thompson '43.
Don Terrell's computer went belly up, so he has another e-mail address – mwdt84@gmail.com.
I always receive great stuff from Bill Kenealy. I've decided our class should adopt Betty as an honorary alumna. After all, we only had three women in our class. Betty is a remarkable woman, who survived being strafed by Zeros on Pearl Harbor, Dec. 7, 1940. She survived many health problems, earthquakes, and hurricanes, but no tornados. She has been a briefer in the Newseum, which housed a neat exhibit about Tim Russert '72. It's a tribute to JCU. That and the statue of Don Shula in Miami are wonderful PR for Carroll.
Bill Perusek, who has a new e-mail address (blperusek@gmail.com), has been busy picking up food from a nearby Catholic church and delivering it to Catholic Charities for distribution. He'll soon be expanding this service to include backpacks for children to take home for the weekend. Bill also is mentoring recent college grads and others with advice about conducting job searches, writing resumes, and interview counseling. He has time to get in a few rounds of golf, too. He challenged his younger partners, age 62, to beat his score. There weren't any takers.
I don't know if I wrote about this previously, but Frank Jakielaszek (Jak) '53 issued an invitation to Bill Kenealy to join fellow classmates from the class of 1948 of St. Ignatius High School on the first Thursday of the month to break bread if he's ever in Cleveland at that time of the month.
I hope you all had a safe and happy holiday season. Stay safe, and take care of each other. God bless.
Dorothy
Dorothy Poland
PolandMomdot@aol.com
Fall 2013
Hi. Sorry I missed reunion weekend. I was visiting family – first to Houston (oldest daughter) and then to Ramona, Calif., for a grandson's high school graduation. The celebrant at the baccalaureate Mass was a Jesuit missionary, even though the school is run by Augustinians. He was an alum. Then I traveled to Eugene, Ore., for a granddaughter's graduation from the University of Oregon. Last, but hardly least, I went to Kennewick, Wash., to see my youngest daughter before she and her husband move back to Ohio to open a wine-tasting room in Novelty.
I tried to look up Frank Schmitzer in San Diego, but his wife said he died a few years ago. I also tried to find Lenore Chambers '76 in Ramona, but couldn't find her. Oh, well. I tried.
Bill Kenealy reported the undersecretary of the Army invited all Korean War veterans to attend the 60th anniversary of the signing of the armistice ending that war. The evening consisted of a buffet and full dress ceremony on the Fort Myer parade grounds. Bill knows many alums served in that conflict, but thinks he was the only one present. He also visited the Newseum, which has many exhibits, but most importantly for us, a replica of Tim Russert's '72 office at "Meet the Press." This exhibit is new and temporary, so if you get to Washington, try to see it before it's replaced. Additionally, Bill's wife, Betty, worked as a briefer at the first Newseum in Roslyn, Va.
Bill Perusek's new email is blperusek@gmail.com.
I hope Joe Valencic's fishing in Florida improved and he's back in Ohio.
Larry Casey traveled to California this year, too. He visited his brother and sister, who live there. While there, they celebrated their brother Richard's 80th birthday with 200 guests. It sounds like they had a grand time. Keep safe, and God bless.
Dorothy
Dorothy Poland
PolandMomdot@aol.com
Summer 2013
Dorothy Poland
PolandMomdot@aol.com
Spring 2013
I hoped some of our classmates awoke from their long winter hibernations to send me news for this column. I sent out an SOS to the few email addresses I still have after my computer was hacked last year, but only Joe Valencic responded. He told me the fishing in Florida wasn't good, but the sunshine was outstanding.
Last year, my computer was hacked by some idiot who was telling people I was in Spain and had been mugged. That time, they didn't ask for money. The second time they weren't as nice and asked for money. Thank goodness no one sent any, but my feelings were hurt because no one rushed to my rescue. Have any of you read "The Harbinger" by Rabbi Jonathan Cahn? It's an interesting book.
I know Betty and Bill Kenealy have a lot to tell me, and I know that somewhere I've stashed stories Bill sent me. But right now, things are at sixes and sevens, and I can't find anything. Mea culpa, mea culpa!
I have good news from my family and for my friends. My daughter, Mary, and her husband, Doug, are moving back to Ohio from Washington state. They're planning to open a wine-tasting room in Novelty, just north of Chagrin Falls. Doug won a silver medal for his red blend last year at a competition in the Finger Lakes in New York. It was his first try. Mary keeps everything on the straight and narrow because she's a lawyer (one of three in the family).
Well, I have no more to say, so if you don't want to be bored silly, send news. Stay safe, and pray for our new pope. God bless.
Dorothy
Dorothy Poland
PolandMomdot@aol.com
Winter 2013
Set scene … fell down, hit head, hospital and rehab. Recovering, then hit with a computer hacker, who said I was in Spain, had been mugged, and lost all my money. Thank goodness no one fell for that ploy. However, as a result, almost all of my email addresses were wiped out. I sent an SOS to the few remaining and received two wonderful replies.
Jeanne and Larry Casey celebrated their 60th wedding anniversary on Thanksgiving Day with six of their 12 children and some of their 18 grandchildren. As an anniversary gift, Larry removed some chocolates from a Whitman's Samplers box and substituted money. I'm sure Jeanne will have fun shopping. What a clever idea. On Dec. 7, Bonnie Manning, my oldest daughter, flew to visit me for a few weeks until she returned home to spend Christmas with her family of five.
This report from Joe Valencic is too long and fascinating to be relayed in one sitting. Joe and Nancy started out on a 12-day cruise in the Mediterranean. After two days in Barcelona, Spain, they boarded the Holland America New Amsterdam for the cruise. They traveled along the west coast of Italy and ended in Venice, on the east coast. I can relate to this cruise because friends and I took a similar cruise a few years ago. We started with three days in Rome, then went over to Monaco, Barcelona, and a few other spots before ending in Venice. I have much more to tell about Joe and Nancy's travels, but I can't fit all of them in this column. Stay tuned for the next episode. They had a great time.
I hope you had a very Merry, Holy Christmas and a safe New Year. God bless. Send news.
Dorothy
Dorothy Poland
PolandMomdot@aol.com
Fall 2012
REUNION YEAR
Well, you did it. You blew off our 60th reunion. Shame on you. I realize some live too far and others aren't well enough to travel, but to have only seven of us attend is just a shame!
I fell in May and spent a week in the hospital and 2.5 weeks in rehab (physical therapy), which meant I had to depend on someone to drive me everywhere. I was fortunate my daughter came up from Columbus, Ohio, to take me to our reunion. Mass was beautiful, as usual, with Jim Previt walking the Rose of Remembrance to the altar. Dinner was very good. We sat with Betty and Bill Kenealy; Lois and Joe Sigmund '51; and Jo, Renee, and Jim Previt. Tom Dannemiller, John Wetzel, Kathleen and Bernie Niehaus, and Marcia and Andy Kaschalk also were present.
I received an email from Don Terrell with a new address. He's in Naperville, Ill., but his email address is the same (wdt84@cox.net). If anyone would like his new home address, email him or call me, and I'll be happy to share.
This isn't a long column, but I'll print what you send me, so send me something!
That's all for now, but I bet Bill and Betty's son has tales to tell about the Olympics and the Diamond Jubilee of Queen Elizabeth II.
Until next time, stay safe, and let's keep each other in our prayers.
Dorothy
Dorothy Poland
PolandMomdot@aol.com
Summer 2012
REUNION YEAR
Dorothy Poland
PolandMomdot@aol.com
Spring 2012
REUNION YEAR
Hi. I hope this winter doesn't presage a summer we won't enjoy. The big 60 will be celebrated during reunion weekend June 15-17. God willing and the creek don't rise, I know at least three people who plan to attend. I saw Marcia and Andy Kaschalk earlier this year, and they're planning to attend. I hope to be there. There's lots of news for a change. Bill Perusek brought me up to date about Charlie Toepp. He's progressing nicely, and his daughter and family have moved in with him to make sure he continues to improve. Bill also included a write-up of the Betrothal Bonanza story in The Cleveland Press years ago about the ceremony conducted by Fr. Castellano, S.J., for the 21 couples who were engaged. The photo was in the 125th anniversary video the president's office sent.
Joe Valencic sent word that Lou Spreitzer's funeral was Nov. 11, 2011, in Columbus, Ohio.
Jeanne and Larry Casey had a grand time on a cruise to the Bahamas aboard Carnival's Sensation. There were too many attractions to take in on one trip, so they'll have to return. Larry also is requesting prayers an Indiantown Kiwanis will be built. He believes in miracles and would appreciate any help you can provide, as far as prayers go.
Betty and Bill Kenealy didn't get to Hawaii this summer, but they traveled to Las Vegas. They won some, lost some, and had a good time. They also went to New York with daughters Teresa and Kathy and three grandchildren. They enjoyed a jazz concert and saw "Billy Elliott" on Broadway. Betty was on local TV as a Pearl Harbor survivor. There was a club of PH survivors, but it no longer exists because of a lack of members. Daughter Kathy is the Deputy Judge Advocate of California and lives in Pasadena. Bill Jr. is the only American working directly for Queen Elizabeth. I imagine he'll be quite busy with the Olympics this summer. Bill is probably the most senior Navy rep at JCU, and that, coupled with Betty being one of the few Pearl Harbor survivors, certainly gives our class a special place in history.
For me, two of my daughters, one husband, and one grandson went to the Wizarding World of Harry Potter in October. The day was perfect, and if you've seen the commercial, we flew with Harry. I've never spent eight hours in an amusement park in my life, but I'd do it again in a heartbeat. Then, we sent Matthew back to Columbus to school, picked up the other husband and my sister-in-law for a week on the high seas and sailed on the Allure of the Seas. I love cruising, and it was great to be with people I love.
That is it until next time. In the meantime, keep the dates in June open for our 60th reunion. You never know how many more we'll have. Be safe, and God bless.
Dorothy
Dorothy Poland
PolandMomdot@aol.com
Winter 2011
Reunion year
Our 60th reunion is approaching – June 15-17, 2012. Registration packets will be mailed in April. I know it's difficult for some of us to even think about attending, but I hope some try. There should be more than Jim Previt, his wife, and yours truly to celebrate 60 years. Please think about it and try to come. It will be fun, and who knows how many more we'll be able to attend.
I receive emails from Jim, Larry Casey, Bill Kenealy, and Don Terrell. An especially poignant one came from Jim. Some of you might have read it, which was about a school bus trip to Washington, D.C., to visit the Iwo Jima Memorial. The statue depicts six young men who raised the flag on Iwo Jima, but there are 13 hands on the statue. The artist, when questioned about the extra hand, said the 13th hand was the hand of God, without whom none of these young men would've been able to raise the flag.
Charlie Toepp is finally home (1124 Tidewood Dr., Bethel Park, Pa., 15102-1063; 412-883-3964) after a year rehabbing from his fifth and sixth knee surgeries. He's supported by his daughter's family and friends, Paul Stitzel and Betty, Anne and Bill Perusek, and Chuck Ferry. His spirits improve when the Steelers win.
I know our time is drawing to a close, so I hope many will be able to join us for what could be our final reunion. Please let me hear from you with any news, or just to chat. Take care, and God bless.
Dorothy
Dorothy Poland
PolandMomdot@aol.com
Fall 2011
I talked to Mike Gavin a bit ago, and everyone is doing well. He and family divide their time between Cleveland and Florida.
Larry Casey celebrated his 81st birthday July 7. His son, Larry Mike, gave him a 2006 Hummer H3. Even his wife, Jeanne, has a leather, six-way power seat on the passenger side. The dashboard TV screen displays a GPS map, and when the transmission is shifted into reverse, the screen shows a large area behind the vehicle to prevent him from backing into anything, such as trash cans and children. Larry's philosophy is he has had so much fun and he only has 19 years to reach 100.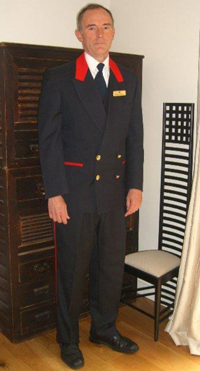 Betty and Bill Kenealy had to forgo their planned trip to Hawaii with eight grandchildren. Try to explain to young people that because grandpa broke his hip in May, the trip wasn't going to happen. Bill was able to take his granddaughter, Olivia, to her Girl Scout dance before his unfortunate fall. Get well soon, Bill. They also sent a photo of their son, Cmdr. William Kenealy, U.S. Navy (retired), who holds dual citizenship in the U.S. and England, dressed as a Guide at Buckingham Palace. Bill Jr., speaks four languages and is a rare guide because most are young Brits.
Don't forget, next June will be our 60th reunion, so let's try to have a good crowd attend reunion weekend. Don't leave Jo and Jim Previtt and I the only ones who show up. Be safe. God bless.
Dorothy
Dorothy Poland
PolandMomdot@aol.com
Summer 2011
Hi. I don't want you to think I'm being sarcastic when I thank you for all the news you didn't send in reply to my email. I hear regularly from Don Terrell, Larry Casey, and Jim Previt, but this time, they didn't send any news.
I heard from my best correspondents Bill Kenealy and Bill Myers, who's a true loyal son of Carroll, but he has a hard time hanging on to his ring – he's working on his third. I lost mine near a tennis court on St. Thomas years ago. Bill has seven daughters, one son, and 21 grandchildren, including twin grandsons, one named John Carroll Boone. After a successful career as an agency general manager in Akron, Ohio; Detroit; Washington; and Baltimore; Bill retired 22 years ago and credits his success to his Jesuit education. Several of his family members have attended Jesuit colleges, including sons-in-law, grandchildren, and nephews. One nephew went so far as to recruit several friends to attend JCU with him. Another graduated with honors. Thanks, Bill.
Bill Kenealy and his wife, Betty, have much to celebrate. Their daughter, Kathleen, was just promoted to the deputy judge advocate of California; and their son, Kevin, was promoted to a high managerial position at the National Security Agency in Washington. Bill and Betty are planning to take six grandchildren to Hawaii, where Betty lived during Pearl Harbor. Bill and Betty were with Senator Inouye in Fort Myers, Fla., in early April when the senator crowned the Cherry Blossom princess nominee for the Hawaiian-Washington Club. On a sad note, Bill's brother Jim '58, a basketball star at JCU, passed away. His funeral was celebrated by an old high school classmate, Bishop Gries, at the Benedictine Abbey. We also lost Bob McCarthy since the first of the year. We send our condolences.
Please send news and continue to think about joining the reunion weekend in 2012 for our 60th. Be safe, and God bless.
Dorothy
Dorothy Poland
PolandMomdot@aol.com
Spring 2011
Hi. I hope you survived the holidays. My youngest daughter and her husband were here for a fun-filled10 days. They're hoping to open a winery in the area, so we're looking at property.
Heard from Lee Cirillo '51, the Old Codger, Larry Casey, Jim Previt, and Don Terrell. Larry and his wife, Jeanne, are active in their church as Eucharistic Ministers, readers, and greeters. Larry also ushers at Holy Cross Catholic Church in Indiantown, Fla. They're also anticipating a wedding of Larry Mike, their son who lives next door to them with his two children. Larry, who walks two miles three days a week, is probably hoping to find people to join the Kiwanis group, which he has been working on setting up for some time. Don Terrell had the bad luck of falling off a ladder while cleaning the gutters on his house. Fortunately, he landed on the ladder and not on the brick patio. He banged himself up, but with the help of good emergency care and lots of physical therapy, he's improving slowly. Don's children are after him to research the family genealogy. Some of the wild tales from his youth imply Attila the Hun and Jon Hus (the 14th century heretic) may be on the family tree.
Please send news. We'd like to know what the rest of you are doing. Take care and drive safely. God bless until next time.
Dorothy
Dorothy Poland
PolandMomdot@aol.com
Winter 2010
By the time this publishes, it'll probably be snowing, or at least it'll be cold. We lost two good ones in September – Jim Conway and Bob Lyons, both '50. Although they were two years ahead of us, I'm sure most of us remember them. Cousin Ken Callahan '50 also lost his wife, Jeremy, in September.
I had a shout-out from Joe Valencic on Facebook, so, hi, Joe. I still don't understand how I got on Facebook.
Lee Cirillo '51 sent an e-mail of Andrea Bocelli singing an Our Father, and we commiserated about hip replacements.
Larry Casey has been hard at work trying to build a Kiwanis chapter in Indiantown, Fla. It's been slow going, even though the dues were lowered. I don't know how many of you are near Indiantown, but perhaps you could look up Larry and help him out. His son offered to help him, and maybe that'll get this effort off the ground. Good luck, Larry.
Dan Boland, who started out at Carroll and worked on The Carroll News with me, sent an e-mail about the English language that sent me into fits of laughter. It's too long for this column, but if anyone is interested, e-mail me, and I'll send it on.
On the day I heard from Don Terrell, it was about 2 p.m. and 113 degrees – not fun. Don is involved in the successful Men's Garden Club, which has raised several thousand dollars to landscape a portion of the new multimillion dollar terminal being built for the Santa Barbara Airport, which is scheduled to be completed in 2011. The various trees and plants boggles the mind because they have between 700 and 800 varieties. According to Don, most of the trees in his area are doing well, with the exception of the tomato plants that need more consistent sunny days to ripen. The club's sale at the Home and Garden Show generated $2,000, but considering not many members were involved, the club decided to go back to one sale in the spring.
God bless until next time, and stay safe.
Dorothy
Dorothy Poland
PolandMomdot@aol.com
Fall 2010
Greetings, all. Went to the reunion dinner June 19 and sat with Jim Previt, his wife, Jo, and daughter, Renee. The only other '52er was Bob Tayek, who was busy providing nice dance music. He always does a good job. The Mass, as usual, was very moving, but too many were represented by yellow roses. Jim said Jeanne and Larry Casey would be in town this summer.
Betty and Bill Kenealy spent time in Hawaii this summer. Bill had an interesting meeting with London Fletcher '97. As a long time supporter of the Redskins, Bill was invited to a team practice, followed by face time with the players. Bill's daughter, Teresa, won an autographed football and was treated graciously by the players. It seems London has acquired a reputation as one of the good ones, coming in as a walk-on and proving himself as an athlete and a gentleman, which does Carroll proud.
Larry Casey said he was trying to start a Kiwanis Club in Indiantown, Fla. Maybe next time he'll let me know how that's going.
Don Terrell said damage from earthquakes in their area had been minimal. He keeps busy with chores on his property and gardening. He also said he met a retired surgeon general who left JCU in 1948, the year Don entered. He was there for special classes before med school.
I had a pleasant experience during the reunion. Coming out of Millor Hall, I was approached by a gentleman who asked if I was Dorothy Callahan and worked in the library. I confessed I was guilty, and Ted TePas '51 said he remembered me. I hope I wasn't being the Wicked Witch of the West and demanding he return books. What a long time ago that was.
Hope you can all start making plans now for our 60th Reunion in 2012. Stay safe. Prayers for all.
Dorothy
Dorothy Poland
PolandMomdot@aol.com
Summer 2010
Hi. Well, it didn't work. Even though I threatened you with tales of Dorothy, I only received two replies. Admittedly they are very good ones, but I know there are more than two of you out there. I do receive e-mails from Jim Previt and Larry Casey, but they aren't news about them and their families.
I have two great reports from Bill Kenealy and Don Terrell. Since space is limited, I will do Bill's report this time and save Don till next time. His is too good to condense. Bill said that even being used to lake effect snow, he was surprised at the Washington, D.C., weather, which was worse. He and Betty took five grandkids to the Great Wolf Lodge Resort in Williamsburg, VA, during spring break. I think visiting Williamsburg is a trip that should be required of every American family — to learn about our history and appreciate what we have been given. In June Bill and Betty will journey to Hawaii with son John and wife Kelly to help celebrate their 25th wedding anniversary. They plan on visiting Waikiki Beach where Bill and Betty met in 1954. An article in the Ft. Belvoir, VA, paper about General Carter Ham '76 caught Bill's eye, as the General is one of the two DOD officials who will be preparing a possible revised policy on "Don't ask, Don't tell." Bill used a term that I was not familiar with, VOG, and I asked for an explanation. VOG is the term used by weathermen in Hawaii to denote the dense stuff that comes out of the 26,000 foot volcano on the big island which is still spewing small eruptions.
Jim Previt did send an article written by Sam Miller, a Jewish Cleveland businessman, which I read with pleasure and pride. In the article Mr. Miller gives reasons why we should all be proud to be Catholic. It did the heart good to know that sometimes we as a people are appreciated.
By the next column, the flower show that Don is participating in will be over and I can give an update on his success. Having a black thumb (Jim was the gardener) I am looking forward to hearing about the show.
Till next time, stay safe. Dorothy
Spring 2010
Greetings one and all — Well my friends, you brought it on yourselves. I warned you that if I did not receive news from you that you would have to read about my recent trips. I have heard from Larry Casey, Bill Kenealy, and Don Terrell, but I've already printed their news.
Last June, I flew to San Diego, CA, for the graduation of a grandson from the eighth grade. Talk about impressive, WOW. They were mentors for the kindergarteners and walked into First Friday Mass wearing blue robes and holding the little kids' hands. Of course this was a Catholic school and it did the heart good to see these young people dressed so appropriately and being so aware of their surroundings. Next, off to Oregon to visit my oldest son, then to Washington state to the youngest child and her husband (with a heated pool and umbrella drinks). I missed Reunion Weekend – a family reunion in July at Maumee Bay Resort in Ohio was held at the same time. I had a granddaughter's wedding in Wisconsin in August, and I worked all summer and fall for middle son Kevin's bid to be elected a Portage County Municipal Judge (mayor of Ravenna, OH, at the time). It was a nasty campaign (not on his part) but he did win. Mid-December back to Washington for Christmas but home in time to see Kevin sworn in and help him don his father's judicial robe on December 31. That was my exciting year now please tell me about yours!
God Bless and stay safe in these troublesome times. Dorothy
Winter 2009
Hi. There were 382 graduates in 1952. We have lost 116 to death and perhaps less than 50 who choose not to be found. I have been in touch over the years with less than 50 via e-mail. I have heard from three people. Bill Kenealy and Don Terrell sent news and Joe Lynch said he would respond.
Bill and Betty took five grandkids to Betty's home state of Hawaii this summer. Betty is one of the few survivors of the attack on Pearl Harbor and dodged low-flying Zeros on December 7. "We wanted the kids to know how she and her family waited for the Japanese troops to land," Bill said. "Gas masks were issued and bomb shelters assigned as Hawaii was placed under martial law. We felt it was time for a history lesson after 68 years. In 1941, Pearl Harbor was a very busy place as the home of the Pacific Fleet. It still is busy, filled with WWII reminders like the USS Arizona, where the kids' great uncle, Ensign Savage, lies interred. Except for the Mall in Washington, there is no other place so filled with war time memories, including the new Pacific Aviation Museum Pearl Harbor on Ford Island next to the USS Missouri, the USS Bowfish guarding 52 stone monuments to lost submarines. Before we left Hawaii, we saw the USS Hawaii, a nuclear fast-attack submarine assigned to Pearl, the first submarine equipped to operate without a periscope. Our navy is ready now, if not before." We had another "Day of Infamy" on 9/11/01. Remember both days!
Don Terrell sent some lovely news. His ninth great-grandchild, Hailey Terrell, was born in September, a first grandchild for her parents. Though there were problems at first, she is healthy. With prudent treatment and care, and prayers, her future looks bright. Don spent part of the summer helping one of his sons move from Santa Maria to Mission Viejo, CA (over 200 miles). Any of you who have driven in California can imagine how nerve wracking that must have been. Moving from a 4,000+ sq. ft. dwelling to 2,800 sq. ft. could not have been easy. Then you have to consider the four dogs, three cats, and a father-in-law whose health is not the best, to deal with a bit of stress. Plus plants, furniture, not to mention two daughters, an exchange student from Australia, and a college student.
Now comes fall and the annual tasks of pruning, mulching, cleaning the fish pond, cutting firewood for four fireplaces, cleaning chimneys, starting seedlings for spring, and planting winter vegetables. I am exhausted!
Now send me some news or you'll hear all about my West Coast swing. God bless, Dorothy
Fall 2009
Hi, everyone. Hope your summer has been as good as mine. One advantage of having many children in far-flung places is you get to travel. That is what I did — first to Ramona, CA, for a grandson's graduation from elementary school; then to Portland, OR, to see another son and some old friends; then off to Kennewick, WA, where my daughter has a heated swimming pool. She and her husband got me hooked on Deadliest Catch, about crab fishing in the Bering Sea, and chocolate pudding. I missed the Reunion Weekend, but did go to the Poland family reunion at Maumee Bay and to a granddaughter's wedding in Wisconsin. I'm tired! Happy news
Betty and Bill Kenealy have had a busy summer, too — from Chicago and the AIDS half marathon to Hawaii. Chicago also included going to the American Girl doll showcase with daughter Teresa and granddaughter Olivia after the marathon. Next, off to Oahu and Pearl Harbor with three grandchildren, Alina, Brennan, and Connor. At the time of Pearl Harbor, the navy allowed civilians to live in Navy Quarters. Betty was only nine years old and under attack by Japanese Zeros. She is one of the few survivors and tells the story to school kids in the Washington area. They intend to show the children the Arizona and the Missouri and give them a sense of what their grandmother went through. Jet Blue is seating the children in row 11, seats A, B, and C. Their mother's business is called A, B & C Pharmaceuticals. Bill is also going to contribute a letter to the editor about General John Lavelle '38 for a future issue.
Now for the not-so-happy news: From San Diego comes word of the death of Frank C. Schmitzer on June 30. After WWII, during which he served in the U.S. Army in Italy, Frank enrolled at John Carroll and received a degree in chemistry. He worked for several companies, including Ohio Brass in Barberton, OH, and Dow Chemical in Baltimore, MD, and retired from Kyocera in San Diego in 1991. He was a genealogy buff and traced his family back to the 1600s. He was preceded in death by his first wife, Shirley, and a son, Michael Joseph. He is survived by his wife, Patricia; sister, Mildred Rose of Fort Myers, FL; sons Frank (Patti) of Craig, CO, Steven (Shelley) of Denver, John (Peggy) of Loveland, CO, and Matthew of San Diego; and daughters Sandra Tanner (Roger) of Albuquerque, Darla Miller (Terry) of Vail, AZ, and Jenna Fox-Raguindin (Joel) of Denver; 15 grandchildren, nine great-grandchildren, two nieces, and two nephews.
Word has come that Thomas E. Day Sr. has also passed away. Tom succumbed to Parkinson's Disease on July 4, 2009. He was well known for his work with Cleveland Municipal Court, where he was chief bailiff until he retired in 1988. He was a volunteer at St. Michael Church in Independence and Holy Name High School in Parma Heights. Tom leaves a family of eight children: Thomas Jr., Michael, Mary Colvard, Timothy, Kathy Hartman, Kevin, Parma Councilman Brian, and his wife of 58 years, Joann. Also son Patrick (deceased). Tom and Joann have 29 grandchildren and four great-grandchildren. In 1946, after graduating from Saint Ignatius High School, Tom joined the U.S. Army and served in Japan, and then attended John Carroll. He then got a job as a bailiff in the Cleveland Municipal Court system. As his daughter-in-law Colleen Corrigan Day reports, he sent all his children to Catholic grade school and high school and volunteered his time for his church and his community. He was a class act, dignified, graceful, but one who stood up for the values he held dearest — faith, family, country, service, and hard work. He attended St. Michael Catholic Church every day and was past president of the Holy Name Society. He also served as president of the Holy Name High School Dad's Club, volunteered his time as vice commander of the Independence VFW Post 3483, and served as president for the Ohio Bailiffs Association. He received the 1978 Arata Award from Holy Name High School, presented to a non-alumnus for dedication and service to the school. He was named 2008 member of the year by the St. Michael Southwest Deanery Holy Name Society. These were really good guys and we can be very proud of them.
Till next time, stay safe. Dorothy
Summer 2009
I hope by the time you read this that all this silliness will be over. It is April 6 and I am looking out at SNOW. Not enough to cover the ground – just enough to be annoying.
Betty and Bill Kenealy spent New Year's on a cruise (their eighth) from Los Angeles to the Mexican Riviera. This is the same route that the humpback whales take. While on a bus tour from Puerto Vallarta, they ran into a JCU student who recognized Bill's class ring (the second, he lost the first in the Pacific in 1954). He then introduced his father, also a JCU grad, who retired from the Secret Service and now lives in St. Louis, MO. Bill has also connected with Larry Kelley '36; reading his column, Bill learned of the late Jack Lavelle '38, who is probably the first general officer from Carroll and who was commander of the 7th Air Force during the time Bill was in Vietnam. Gen. Lavelle was relieved of his command by President Nixon based on somewhat trumped-up charges of striking unauthorized targets. He was later pardoned by President Bush. He had been in line to succeed Curtis LeMay as Chief of Staff of the Air Force (Gen. LeMay spoke at graduation). A small world indeed but it shows that the Blue Streaks play a disproportionately strong role in the affairs of our nation. (Think Shula and Russert – world class in their fields, for example.) Bill also reports that son Kevin and daughter Teresa represented Carroll in the April Washington Cherry Blossom 10-mile run. Good for them. Thanks Bill and Betty.
I also lost my ring several years ago while Jim and I were playing tennis on St. Thomas. Back in the day, they did not have rings for the women, so we wore men's rings.
I received some photos from Chuck Ferry of himself, son Mark, and two of Joe Weber's sons, Joe and Jim. They got together for breakfast one Sunday so that Chuck could give the boys a copy of John Carroll magazine in which they are mentioned.
Don't forget Reunion, June 19 to 21. It should be a blast. For the first time since our 50th, I will not be in attendance. One of my grandsons is graduating in Ramona, CA, and I am going out to help (or not) and then up to Portland, OR, and on to Kennewick, WA. Can't just visit one!
I also heard from Dan Boland '54 who would be celebrating his 55th Reunion if he hadn't transferred to Notre Dame. I tried to tell him that was a mistake; young people never/rarely listen. Dan would love to hear from any former classmates, or anyone who worked on the Carroll News with him – bolandparke@sbcglobal.net.
Until next time, stay safe and God bless. Dorothy
Spring 2009
I am sitting here looking out at all this white stuff and wondering why I am not visiting my children who live in warmer climates. Of course, then I remember that I talked to my daughter in Houston this morning and it was 35 degrees there.
The last time, I said I would bring you up-to-date on an e-mail from Bill Perusek: During summer 2007, the son of Chuck Ferry was having lunch at a restaurant in Phoenix and mentioned that his dad had attended John Carroll University. A man at the next table overheard this and said his dad had also attended JCU. The man turned out to be Jim Weber, son of Joe Weber. Jim was only two when his dad died, so he was thrilled when Chuck contacted former Bernet Hall dorm mates. Larry Snitzky, Paul Stitzel, Charlie Toepp, Bill Perusek, and Chuck Ferry all sent notes, letters, and photos to the remaining five children of Ruth and Joe telling of the four years they spent together as dorm mates. The children were thrilled to learn of their father's past at Carroll, and the men have kept in touch with the family. I think this speaks well of the connections established at our alma mater.
I think I can finally finish the saga of Betty and Bill Kenealy's trip around the British Isles and Normandy. Their son, who has dual citizenship, works for the Lord Mayor of the City of London and was a great asset during their trip. One of their missions was to search for family roots. Bill's mother left Kilkenny in 1927 and sailed from Southampton. This was the port from which Bill and Betty sailed to Wales, Dublin, Glasgow, Belfast, Edinburgh, and the Orkney Islands and Normandy before returning to Southampton. Betty's name was Walker, which is an old English-Scots name. I could find reference to a clan but no kilt. In Le Havre, they saw the remnants of D-Day and the magical light in that area, which drew the artists who started the impressionist style of painting. Despite the common roots of England, Wales, Scotland, and Ireland, these countries are all separate and distinct political entities and want to remain that way. The Scots still speak of independence with their chief spokesman, Sean Connery. Bill also included a blurb about the 23rd running of the Army Ten-Miler held yearly in Washington. Bill and Betty's son and two daughters were part of the 26,000 runners on Oct. 7. They all finished in less than two hours, but the real winner was six year old granddaughter Olivia, who streaked the course in 49 seconds. She ran the 100-meter course for her age group and received a medal and other precious memorabilia. I haven't heard whether Bill and Betty took the cruise to the Mexican Riviera in December.
Finally met Tom Fields '71 at an open house during the Christmas holidays. Nice to finally put a face to the name and voice. Tom is still very involved in trying to get enacted laws against "elder abuse."
That's it for now. Let's hang on for the coming bumpy ride! Be safe and let me hear from you, please. Dorothy
Winter 2008
Well what do you know! The e-mail I sent out requesting news worked! Of course there are some slackers who haven't answered yet. You know who you are. First you may know that math was never my strong suit, so I was delighted with an e-mail I received from a friend with a novel idea. (Some of you may have read this too.) The idea was to not bail out Wall Street and use that money for the adult population (over 18) of the United States. I believe the amount would have been around $ 485,000.00 each. Of course, then Don Terrell had to burst my bubble and tell me the math is all wrong and it would be a mere pittance. Oh well! Don, who lives in Santa Barbara, CA, is enjoying retirement since 1994 but it sounds like he is busier than ever. Between meetings, reading, and doing chores on their property, he is enjoying spending time with his six children, nine grandchildren and five (soon to be seven) great-grandchildren. He is also renewing his studies in philosophy, economics, political science, and health related subjects. Whew, I'm tired and I was just reading about all he is doing.
Larry Casey has undergone surgery for the relocation of the ulnar nerve and carpal tunnel on this left arm. The surgery was a success and Larry has now had some pain free sleep. Since this was so successful, he is planning on having the ulnar nerve on the right side taken care of, maybe in late November. Several of Larry's children sent him loving messages which I also received. Good luck Larry. Be safe.
I received an e-mail from Jim Bauer, a '76 psychology major, telling of the death of his father Russell R. Bauer, marketing major, on September 15. He is survived by his wife, Joan (Slowey), and children: Jim '76, Patricia '77 Mary, Philip '80, Charles, Eric, Robert, and 27 grandchildren. After serving in the army, he worked at Babcock and Wilcox in Barberton, OH. He also worked for the U.S. Treasury Department (ATF) and the Public Utilities Commission of the State of Kentucky. He retired from both of these jobs. He authored two books, Bear Tracks (1996) and a privately published sequel, about his experiences in the ATF. He also published Poppa's Road Sign Tales (1995), a compilation of stories told to his children during long pre-interstate drives from Middlesboro, KY to visit family in Northern Ohio during the 1960s. A guest book is available at www.BlackburnandWard.com.
I had a note from Jim Previt saying he was rear ended on Labor Day, and his car was totaled. His guardian angel was with him and he is fine.
This is getting too long so I will have to stop and give you the news from Bill Kenealy — fascinating and Bill Perusek — equally fascinating! Love to all, Dorothy
Fall 2008
Happy summer everyone (at last)! Much has gone on since the last column. First there was the Alumni Awards Dinner, at which I was given the Silver Quill award for being a columnist. I never thought I would be given this honor so I was delighted. I had some of my children and their spouses to help celebrate, which made it even more memorable for me.
June 21 was the annual dinner on Reunion Weekend. I sat with Jim Previt, his wife Jo and daughter Renee. I asked Jim why he never sent me any news and he said Larry Casey is in charge of that department. Well, Larry does send me news, but mainly funny e-mails. The food was good, even though there was a major power failure. The outage affected Bob Tayek's musicians since some of them were wired for sound. Joe Valencic was sitting at the next table. So, all told there were three 1952 graduates at the dinner. I realize it was an off year, but it is still a nice time and I think more of us should attend.
We lost another classmate recently, Judge Timothy Cotner.
I also hear from Don Terrell. Don says his wife, Ann, has been having great results from taking Norwegian Cod Liver Oil after having surgery. As Don says, after fighting taking it as a child, it just may be worth it now.
Now I get on my soap box. I think we should all vote to shorten the campaigning in election years to August, September and October. There should be a cap on money spent for electioneering. I am up to here with both candidates, but don't know if it is legal to vote for "none of the above"! This would also help the candidates who supposedly have "jobs" as Senators to do what they are being paid for.
Till next time, stay safe. Love and prayers, Dorothy
Summer 2008
Hi everyone. It looks like spring is finally here (although I do expect snow sometime in April). I heard from Mike Gavin. He and wife Marjorie entertained the presidents of Beaumont School and Ursuline College and Sr. Angelita (Mother Superior of the Ursuline Order in Cleveland) at their home in Florida. There was boating, lunch and dinner. By the time this goes to press, Mike and family will be home in Ohio.
I have had several e-mails, from friends and alumni suggesting that everyone should stop what we are doing at 8 p.m. Central time each evening for one minute. A one minute prayer from everyone contacted could work wonders. It couldn't hurt!
I also had an e-mail from Don Terrell, Santa Barbara, Ca., forwarded from someone who claimed that Bill Gates and Microsoft would give money if the message was forwarded on. I don't think I did that because I never got any money. Anyone else? I've also gotten many e-mails from Tom Fields '71 re: elder abuse, physical, psychological and financial. I feel very fortunate to have not one, but three, attorneys in my family.
Jeanne and Larry Casey will be in the Cleveland area soon, but won't be here for Reunion Weekend. Larry sends me some great e-mails, which I appreciate!
My computer and I are barely on speaking terms, so I can't give the rest of Elizabeth and Bill Kenealy's trip yet but I will.
George Englehart and I were the only '52ers at the Gray Streaks Luncheon in April. One last one, on Tuesday, May 20, when Father Niehoff will be the speaker.
Well, I am off to Houston tomorrow, where my daughter tells me it is warm and sunny. Till next time, please let me know how you are doing. God bless, stay safe, Dorothy
Spring 2008
Well, it's snowing. What a surprise for Northeast Ohio in the middle of January. So far the winter hasn't been too bad but we are only part way through it. This column will be very short. I have a new computer and the person who is supposed to be helping me only has a limited amount of time. He works three jobs, so you can tell I am not a very high priority! That said, I hope all of you had a great Christmas and a safe and happy New Year.
I missed the first Gray Streaks Luncheon of the year. Those of you who are in the area should make an effort to attend. The food is good, the price is okay, the companionship is irreplaceable, and they even let you bring your spouse!
I have had several communications from Larry Casey and Don Terrell, and I still have to finish the saga of Betty and Bill Kenealy's cruise. Lee Cirillo '51 tried to send me a photo, but I couldn't download it. Fortunately another friend sent the same picture and that time I was successful.
I have also had numerous e-mails from Tom Fields '71 of Mentor. Tom is deeply involved with elder abuse and the laws that try to rectify said abuse. If any of you have any problems in this area, you might want to contact Tom – tvfields@oh.rr.com.
Until next time, when I hope to have retrieved my information, stay safe and enjoy the weather. Dorothy
Fall 2007
I CAN'T STAND IT! After literally years of drought, I have so much news that I will have to carry some of it over to the winter edition. First, Boo-Hoo for the Cleveland Indians. They did give us an exciting season.
Good luck to John Wetzel in his run for president of City Council in Medina. John has served on council but would like to take it in another direction. He is one of three vying for the position.
Jeanne and Larry Casey will be in Cleveland from November 8 till after Thanksgiving. Their stay will include attending Benedictine High School's November 11 Memorial Mass, breakfast, and alumni meeting. They will visit family and friends, finishing up with a Thanksgiving feast at the home of daughter Mary Beth in Chagrin Falls. Larry talks about a July 4th family reunion when they lived in Chesterland at which there were 197 present. Wow!
As promised, Bill Kenealy wrote about the cruise he and Betty took around the British Isles and Normandy. I want to do justice to their account, so I will delay the report until next time. Bill did mention that John Carroll was well represented in the 23rd running of the Army Ten-Miler held yearly in Washington. Their son and both daughters were part of the 26,000 runners who participated. They all finished in less than two hours but the real winner was six-year-old granddaughter Olivia who streaked the course in 49 seconds. (She ran the 100 meter course for her age group and received a medal and other precious memorabilia). Being a devoted cruiser I will not forget to give you all the low down on their cruise.
I received a note from Bill Myers in Lutherville, MD. His enthusiasm for John Carroll has filtered to some of his family. His nephew, Mark Despoth '07, was the recipient of the Cleveland Public Accounting Firms Award at the Senior Awards presentation. Mark's brother, Matt '10, also attends Carroll and brought along six of his classmates from Toledo St. John's High School. Bill is trying not to lose his Carroll class ring, he is on number three. Bill also mentioned Msgr. John Schmitz as the person responsible for encouraging him to attend John Carroll.
Sunday, October 21, I saw Mike Gavin at calling hours for his sister, Therese Motko, a classmate of mine at Ursuline Sacred Heart. The first thing he said was "I supposed you are going to bawl me out for not sending news for your column."
So take care that I don't start nagging. Check out the rest of the news next time. God bless and stay safe, Dorothy
Summer 2007
Well gentlemen, I thought I might have some news after the latest issue of our magazine arrived. I did hear from Jerry Miller, but he will send news later. You missed a good reunion, our 55th, June 22 to June 24. The weather was good and the students working the events were so helpful. I had the privilege of reading the names of our deceased classmates at the Moment of Remembrance during Mass on Saturday evening. We have lost another 34 from our class. After Mass there was the class picture, then cocktails and dinner. Ten members of the Class of '52, and in some cases their spouses, had a great time talking over old times. Thomas Dannemiller from Akron, Mary and Thomas Emling from Bedford Heights, Jim Harrington and Bob Regan came from Toledo. Marcia and Andy Kaschalk came from Willowick and June and Bob McCarthy came from Mentor. Jo and Jim Previt brought daughter Renee from Seven Hills, Nancy and Joe Valencic hopped over from Euclid, Bob Tayek was here from Sagamore Hills, but he was busy playing keyboard with the band. And I popped in from Ravenna.
The ones who get the prize for traveling the farthest are Elizabeth and Bill Kenealy from Virginia. From what Bill said, the sea is in his blood. Even though he is retired from the Navy, he and Elizabeth love to cruise. Last fall they took the Scandinavian tour. This August they plan on visiting ports in England, Ireland, Scotland and Normandy. Their oldest son, who works for the Lord Mayor of London, will join them as a tour guide. What fun! Bill also made me aware that Elizabeth may be the only person with ties to John Carroll who is a survivor of the attack on Pearl Harbor.
Stay safe and God bless till next time, Dorothy
Spring 2007
It is a beautiful spring day, after all the snow we have had, and I am enjoying the sunshine. This column will be very short because I have not heard from many of you. I have had e-mails from Don Terrell and Lee Cirillo '51 and Tom Fields '71, but where are the rest of you hiding? If any of you are interested in "Elder Abuse/Law" the go-to guy is Tom Fields. I have his e-mail address if any of you are interested. This is our 55th Reunion year and I hope many of you are planning to attend at least some of the events. I did get to the last Gray Streaks luncheon early in April and saw George Englehart. Any of you who are still in the vicinity should try to make some of these luncheons. The food is good, the company is exceptional and the speaker brings a wealth of knowledge to us. I have been writing this column since November of 1981 to August of 1992 when Paul Mooney took over. When Sam Wetzel asked for help a few years ago, I was happy to help. It is really difficult to give out news of classmates when nobody tells me what is happening in their lives. I would rally appreciate hearing from you! Till next time, God bless and I hope to see you at the Reunion in June. Dorothy
Winter 2007
Greetings. Hope everyone had a wonderful Christmas and a safe and Happy New Year. Now we can get ready for Valentine's Day and then Lent and Easter. Wow the year is going by quickly! … I have had several e-mails from Tom Fields '71 about the ongoing efforts to protect older citizens. Unfortunately, his e-mail refuses to recognize his address. If anyone knows about this please contact me at my e-mail address.
I received a great Christmas card (e-mail) from Don Terrell and I frequently hear from Tom Corrigan '42. Tom and his wife, Marian, live in Salt Lake City. … Larry Casey sent news too. He and his wife Jeanne live in Indiantown, FL, not in Miami as the 2004 Alumni Directory states. They were blessed with seven daughters, five sons, 18 grandchildren and three great grandchildren. And Larry, you are listed in the directory as a 1952 graduate. … Received a wonderful, long e-mail from Joe Valencic with tales of his daughter Michelle's trek through Hong Kong, Cambodia and Viet Nam. It was an eye-opening experience for her. She is now at home in Chicago and is an equity partner in a law firm in that city. Joe's son-in-law was recently promoted to lieutenant on the Beachwood Police Department. … Wonderful news from some very nice people. I appreciate your e-mails. Please keep them coming. Until next time, stay safe and God Bless. Dorothy
Fall 2006
Well, they say "no news is good news," but I don't believe it! I'd love to hear from my classmates so there is something interesting to read. In the meantime, put Reunion Weekend, June 22-24, 2007 on your calendar – our 55th!
I hope everyone had a delightful fall, and a Happy Thanksgiving – now on to Christmas fun. Please send me some news. I have written about the e-mails I have received, but haven't gotten any since the last issue. Stay safe and God Bless. Dorothy
Summer 2006
Hi, Hope you are all having a great summer, even if the weather has been a bit strange. I have news from some classmates and others from JCU. Tom Dannemiller still lives in Akron. We spoke at the reception for Fr. Niehoff. He is looking forward to the 55th Reunion in 2007, even though his wife, Evelyn, has passed away. She really enjoyed talking with our classmates and the Jesuits. Two of their six children are also JCU grads.
I have had brief notes from Don Terrell and Dan Boland '54, both from California. I also had a very long e-mail (with the attachments) from Tom Fields '71. Tom was very involved in the White House Conference on Aging December 11-14, 2005. He was busy with handouts about "Preventing Financial Fraud, Abuse and Exploitation," especially of Alzheimer's patients. This is so important. I can't include all the information but you can contact him via e-mail for more information — TvFields@aol.com.
Missed graduation this year, it was downtown because of the rainy weather. I did attend the Reunion and as usual it was very enjoyable. Andy Kaschalk and wife Marcia and I sat together. The only other '52 grad was Bob Tayek who was playing nice music with the band.
I suppose I will have to start nagging now about our 55th next June. The Reunion Weekend is a really nice time and I hope some of you will make an effort to attend. It would be nice too if someone besides Bob Tayek, George Englehart and I would attend some of the monthly luncheons.
Till next time be safe. Dorothy
Spring 2006
Greetings on this lovely spring day. I hope you all had a great Easter and that this nice weather is helping our old bones to start moving again. I am on the mend after knee reconstruction and am being very good and doing all those exercises that hurt but you have to do them anyway!
Sad news: at the March Alumni luncheon, which was held at JCU, Gene Wetzel '53, said that brother Sam had passed away and would be buried on Friday. Sam was a good friend to many and will be missed. Rest in Peace, Sam.
I had a couple of very nice e-mails from Warren (Don) Terrell. Don and his wife, Ann, live in Santa Barbara, CA, in an old hunting clubhouse built in 1908. Doesn't that sound neat? They have six children, nine grandchildren and six great grandchildren. Don retired in 1986 after 16 years of teaching high school, several years with the sheriff's department and then as a financial consultant with a local bank. A very full life — contact Don — wdt84@cox.net. Thanks for the notes Don.
Also heard from that "old geezer" (his words, not mine) Lee Cirillo '51 who sent me four e-mails with this new e-mail address — lee.cirillo@comcast.net.
Till next time, be safe and please send me some news. Don't forget, #55 is coming in June of '07. Dorothy
Winter 2006
Gentlemen, Hope you all had a great Christmas and a safe New Year. No one has written me for this column, but I was able to glean some information from various sources. The reception I attended in Akron for Father Niehoff was elegant. I saw Tom Dannemiller there.
I attended the January golden alumni luncheon on January 11. This time it was held at JCU. There was quite a nice crowd, but there were only three of us from '52. Bob Tayek, George Englehart and I made up the contingent from our class. The food was very good and the program by John Scarano, director of Campus Ministry, gives hope for the future of our faith. It appears to be in good hands, at least as far as the students at JCU are concerned. They are doing some very good things. The next luncheon will be at Massimo Da Milano, on W.25th. If you are free at the time of the luncheon, you should try to come.
Saw George Wetzel at the luncheon and he said Sam is doing okay.
As a member of the board of trustees for Reed Memorial Libary, I invite you to come and take a look at our renovated library. We have expanded from just over 13,000 sq. ft. to over 34,000 sq. ft at a cost of over 7 million dollars! So come one, come all — we will open to the public January 21. If any of you are in the vicinity of Ravenna, stop in.
Now if some of you would be so kind as to drop me a note, or an e-mail, I would be most appreciative. Till next time, when I hope to have some news, take care and stay safe. Dorothy
Fall 2005
Greetings once again. This column came up rather quickly after the last one but I do have a bit of news. It was a busy summer. We (the seven children, their spouses and some grandchildren) met for a mini reunion in Ramona, CA, for a week in August. Cookouts, beaches, spa, golf — lots of fun.
I must apologize. I ask for news from you and then neglect to print the news I do get. Larry Buynak sent me a note last March and it got away from me. Sorry Larry. He is retired, lives in Gahanna, OH, and is keeping busy restoring a 1966 Dodge Charger hard top, slant back sedan. According to Larry, this is the model year that put Chrysler back into the lead in auto racing. The car was found in Pennsylvania, a total basket case, but is being worked on with great hopes for success. I admire you for your dedication. I know where the gas cap is and the tires need air, but that's about it. Good luck!
I also had a note from Ray Wiemer '51 who lives in Rocky River and is also retired. Ray especially remembers the time he and Pat Trese put out a special edition of the Carroll News for the JCU/Syracuse game. Pat Trese was editor in chief and Ray was managing editor. He enlisted in the Coast Guard from 1952-1956, married in 1953 and raised four children, a boy and three girls while working in the advertising business. Ray's wife has also retired from a career as an RN. Thanks Ray.
Lee Cirillo '51 sent a note mentioning memories of putting the Carroll News together, but regrets he never had one of those hot fudge sundaes. Sorry, Lee, you weren't invited. Lee mentioned faculty advisor professor Bernard Campbell, trying to hold the line between control and chaos. It was all hot lead (linotype machines), cold beer (but not on campus), brash talk and heated debates. Lee and wife Joan are off to London to play grandma and grandpa to two Brit grandsons, offspring of youngest daughter Leslie.
I was honored to represent the class of 1952 at the inauguration of the 24th president of John Carroll. It was very impressive! Thanks for the news gentlemen. I hope this means that a few more of you will do the right thing and send some tidbits my way. Take care of each other till next time. Dorothy
Summer 2005
Hi again. There has been so much going on, that I don't know where to start. Then again, yes I do. I was present at the awards night when Sam Wetzel received the Silver Quill Award. Of course that wasn't the only one given that night, but Sam seemed happy to receive it. It was a very nice affair. The following Sunday was graduation and I did mention to Pete Bernardo '67 that the Grey Streaks should lead the grads instead of having to stand and wait while 900 YOUNG people parade in. In a few years he'll realize what I mean. There is always a very nice reception after the ceremony, and God smiled on us and it didn't rain! It's too bad that Bob Tayek and I were the only ones from the class of '52 present.
Next was Reunion Weekend which is always fun. During the dinner, I sat with Bob McCarthy and his wife, June, and Bob Tayek was playing in the band!
I received an e-mail from Daniel Boland '54 that brought up memories and names from the far distant past. Dan transferred to Notre Dame in '52, but we worked together on the Carroll News when I was the first female editor. Lee Cirillo '51 was editor, Bob Huddleston '51, Pat Trese and Paul Mooney, plus several other staff members put out a pretty good paper! The thing I remember most about that time is Jim (later husband) picking me up after we finished putting the paper together and going over to Howard Johnson's on Cedar for a hot fudge sundae with coffee ice cream and high test coffee. What a blast.
That's it for now. I would really appreciate any news you can send me. Stay cool till next time. God Bless, Dorothy
Spring 2005
Dear classmates, I am back again. I thought I had done my duty by this column the last time. Paul Mooney took over from me, and who can remember back that far. At any rate, the arm/shoulder is improving, as are my typing skills. I promised in the last column to tell more about Joe Lynch and Louis Colussi. It seems they are both lawyers — and having three children in the practice, I will stand for no smart remarks about lawyers! As you may remember, Joe was president of our illustrious class and has gone on from there. He graduated from Cleveland-Marshall College of Law and went on to get his MBA from Harvard. He and Vi have lived in the Boston area since 1967. Their nine children, four boys and five girls, live as far away as Texas and as near as the Boston area. They have 14 grandchildren, and two more are expected in 2005. Joe was here for the 50th Reunion in '02 and wasn't that a grand affair! Joe has asked me to include his e-mail address in case anyone would like to contact him. jevmlynch@hotmail.com
Lou Colussi remembers rooming next door to Don Shula '51 and Carl Taseff '51 in Rodman Hall. After leaving Carroll, Lou served two years in Alaska, then went on to Georgetown Law School. He served 10 years as an attorney-advisor with the U.S. Dept. of Justice in examination of the Federal District Courts throughout the United States. He is still practicing law in Erie, PA, and still enjoys working full time.
Sam Wetzel is being awarded the Silver Quill on May 20 at John Carroll. I am planning on being there to cheer him on. This will be after I return from the West Coast; Portland, OR; Kennewick, WA; and Ramona, CA. Can't just visit one or I would be in deep trouble. Till next time (unless I can convince one of you to take over) God Bless, Dorothy
Winter 2005
Hi guys. Since I had rotator cuff surgery on January 3rd, of course on my right shoulder, this will be short and sweet. Darn it and I finally have news! First of all, Sam's new address: 12799 Doula Lane, #115, North Royalton, 44133, 1-440-237-5397. I know he would enjoy hearing from any of you.
I did receive two e-mails, one from Joe Lynch, president of the class of '52 and one from Lou Colussi. I will give more info next time. My left arm is growing weary, since it is not used to working this hard.
Two last things saw Mike and Marge Gavin at calling hours for Judge John V. Corrigan '43 on January 2nd, also Don '44 and Grace McDonald. John V. and wife Eileen were two very nice people. My family and his family were friends since I was a small child — a long time.
Charles Dolan '52, if you read this, either you or Helen, please call me at 330-296-4259. Thanks.
Hope all of you had a great holiday season and 2005 will be a wonderful year. The offer to take over writing the column still stands — take care, Dorothy
Fall 2004
Hi guys. Since Sam didn't feel up to writing this column, I said I would stand in for him. Sam is still at Anna Maria in Aurora. His e-mail is working suwetz@aol.com. I picked Sam up for the Institute of Catholic Studies program in September. The program was quite interesting. We saw Bob and Bernadette Tayek there and several other (older) alums. I have also gone to the last two Wednesday luncheons at the Play House. Both speakers were really informative. If any of you are interested, I think you would enjoy the experience. Tim Ryan '49 is the guiding light behind the luncheons. George Englehart was at the last luncheon. As for me, I finally married off my last chick in July. The wedding took place in Columbus, with the reception held at Deer Creek State Park. We were also having our annual Poland family reunion the same weekend, so it was a busy, fun time.
If any of you would like to take over writing this column, I would be glad to give it up. If not, at least PLEASE send some news. Again, Sam's e-mail address is suwetz@aol.com. My e-mail address is PolandMomdot@aol.com. Waiting to hear from you — thanks. God bless, DP
Spring 2004
To the Class of '52 — a long time ago I was your correspondent, and then came Mooney, then Sam. Well, Sam has had some health problems and is in assisted living at Anna Maria of Aurora nursing home. I had lunch with him the other day and he is looking good. He said he gets out to lunch with some of you once in awhile but can't drive which limits him somewhat. I agreed to type this as a way to let you all know that he would appreciate any news you can send him. He still has the same e-mail address, suwetz@aol.com. We had a nice chat about last year's reunion which was very enjoyable, but Sam missed Saturday evening because he didn't feel well. I thought it was great, and sat with Mike and Marge Gavin, who looked great as always. Hoping to see more of you at this year's Gala. For my part, I have moved back to Ravenna because I was anticipating knee surgery and needed to be on one floor. They tell me it was very successful and things are coming along. I did have a chance to go to Australia and New Zealand in February, on a cruise, and joined three friends in the fall on a cruise from Rome to Barcelona and over to Venice. Was pleased to attend the dedication of the Dolan Center in September. Both Charles and Helen looked well and the structure is something to be proud of. Thanks to them JCU is continuing to grow. If you have ANY news, please send it to Sam or to me at PolandMomdot@aol.com. Or, if one of you would like to become the new correspondent, please feel free! Thanks, stay well and safe — DP
Winter 2004
I regret that I don't have a newsy column for this issue.
I had hoped to have reunion updates
I attended reunion on Saturday but became ill and was unable to stay for the dinner and the festivities. I've been having a little memory problem but physically am doing well. Temporarily, I'm at Anna Maria of Aurora for rehab. When I've done all the rehabbing I can, I won't be returning to my apartment in Aurora – I'll be moving into one of the assisted living units here at Anna Maria. Please drop me a note at the above address or give me a call at 330.562.6171 and ask to be connected to my room.
Take care and I hope to hear from you. Sam
Summer 2003
"Now is the winter of our discontent"
W. Shakespeare. This lament rings clear every year the last week of February in N.E. Ohio and this winter 2002-03 has been one that will disgruntle even the most philosophical of men!
But there is always a bright side to every time of year and this year it was the birth of Jacob Matthew Zuzek, the first grandchild for Z. Joseph and Nancy Valencic. Parents are Nina and Mark '92 Zuzek.
The Carroll Cruisers met for dinner in Aurora recently. Walter and Judi Patriski, Z. Joseph and Nancy Valencic, Edward and Mary Pat Mundzak '53, and yours truly with my friend Barbara Burns.
This just in from sunny Florida, where many of our alumni spend winters or are year round residents. Z. Joe and Nancy Valencic sent the following: During our stay in Florida the month of February, Nancy and I visited Ed and Mary Pat Mundzak at their condo in Bradenton and then went down to Naples and stayed with Walt and Judy Patriski for a week. While in Naples, Jerry and Helen McDonough invited the Patriskis, Valencics and the Jim Schills to dinner at their condo on the Gulf Shore. Helen McDonough had her cousin Mia visiting and we really had a very nice evening with Helen serenading the group on her grand piano. Helen was very modest about her musical abilities but in fact played very, very well. Helen claims it is therapy for her arthritis to play the piano. We should all try it. Then the next day, the Patriskis, Schills and Valencics drove up to Port Charlotte to have lunch with the Mundzaks and Lavonne Padden. Had a great time and on the way back to Naples, the Schills invited the Patriskis and Valencics to visit their beautiful home in Bonita Springs. The weather was beautiful and so was the company as we thoroughly enjoyed a respite from this terrible winter.
Not much else happening this bleak winter of '03. Spring cannot be far away and with summer comes reunion time again. Hope to see some of you June 12-15 on the Carroll campus. 'Til then, let's hear from you, and you, and, oh, you too over there. Only you can make this column newsy and worth all the effort. E-mail me at suwetz@aol.com. Sam
P.S. Yes, it's true , I did have surgery, but I won't give an organ recital at this time!!
Winter 2003
It's unanimous! The class of '52 reunion on the magnificent campus of John Carroll University was an unqualified success in every sense of the word! The one aspect that could have possibly been improved upon would have been an even larger participation! Make no mistake about it — it was a "wing dinger" weekend of good food, good fellowship, and great reminiscing! On a personal note, it was the very first time I had lived on campus, even for just a weekend. The accommodations were beyond my expectations. The days and evenings were filled with interesting and fun activities. There was at least one solemn moment: Late Saturday afternoon at the statue of St Ignatius of Loyola in front of Saint Francis Chapel. It was there that we paid a devout tribute to a very special friend and educator, Fr. Joseph Schell SJ. Then, accompanied by bagpipes, we marched across Miramar to Gesu Church for Mass and communion. On Friday there was a parade of classes to Kulas Auditorium for the "State of Carroll" address. The Saturday night dinner/dance was a convivial evening of relating old stories of those bygone years. Those attending also received a commemorative silver plate and other mementos of a fabulous weekend. 1952 was also the 50th wedding anniversary for many of those present. It was truly a nostalgic and rewarding weekend for us all. It reinforces once again just "why we chose JCU in the first place."
Ed Mundzak is the only class of '52 alumnus, to my knowledge, who walked, with his wife Mary Pat, to the reunion festivities. They have been married 39 years and live in a Fairmount Circle apartment. Ed retired this summer. He was associated with Dean Witter/Morgan Stanley Corp. for some 48 years. Now, it is going to be golf, traveling and winters at their Florida condo. Ed and I first met at the VFW post on lower Broadway in Bedford, OH, 54 years ago.
The Carroll cruisers '52 dined at the very trendy Bronte Bistro on Shaker Square. Celebrating 50 years of friendship were the following: Gerald and Helen McDonough, Edward and Mary Pat Mundzak, James Schill, Lou and Eleanor Spreitzer, Walter and Judi Patriski, Z. Joseph and Nancy Valencic, Dr. Frank and Marjorie Zeleznik, and yours truly with my dear friend Barbara Burns. Dr. Zeleznik is a retired NASA scientist.
This is from a Spanish proverb: "The lucky man has a daughter as his first child!" Sure worked for us and then we had 2 more girls and 5 boys. Add to that 31 grandchildren, 2 great grandkids and a third due in March 2003. Surely my cup runneth over. Have a safe and satisfying holiday season. Sam
Summer 2002
I received the following letter from Bill Kenealy to the editor of John Carroll and thought I'd pass it along to everyone. Dear Jerry, Winter edition of the JCU magazine is great — maybe because it answered some questions I've had for years. Also, because it converged the lives of so many of our JCU alumni who were in the same time and place.
First – Ensign Halloran – The Arizona — I visited this shrine many times as an official Navy guide but never heard his story. One of my distant relatives, Ensign Walter Savage, was on the Arizona and died at the same instant. They must have known each other (Ensigns band together out of mutual sympathy). Could have been roommates. Ensign Savage was the Arizona's paymaster so he knew Halloran for sure. A destroyer was also named after Savage.
Second – Pearl Harbor Survivor — As a child, my wife lived in Navy housing at Pearl Harbor. She saw the attack, as her housing unit was one of the few units actually strafed by zeroes. Her father was a member of the rescue teams that may have tried to save Halloran and his shipmates from the burning Arizona? We'll never know.
Third – Vietnam 1971-1972 — Thanks to your story about General Lavelle, now I know the rest of his story. I was in Vietnam at the same time he was and am familiar with the issue of the 7th AF hitting unauthorized targets. I was interested because US Forces were pulling out of country and those remaining behind had only US air support and the Army of the Republic of Vietnam (ARVN) to protect us. Lavelle was only a name in the news to me and it was only later that I found out he was a fellow JCU alumni. It is an interesting convergence because for a period of time — June 1971 – April 1972, it could be said that the alumni from a very small university in Ohio controlled the air (7th AF); all Naval resources, littoral, river and Support Bases (I was the comptroller for US, Vietnam and Korean navies) and by a little stretch, the ground transportation? (JCU TC alumni). I am not an apologist for the General, but having been there I can tell you that I am glad he modified the rules of engagement and kept the bad guys off our neck. The battle of An Loc was a classic example of the use of air power and took place not too far from my headquarters. In another war, like the ones being pursued right now in Afghanistan, Lavelle would be a hero. For bending the rules to better protect his people, he lost two stars.
During the same period, but not related to the Lavelle issue, a fellow JCU '52 alumni, Navy Commander Herb Hetu, visited Navy Headquarters in Vietnam. Had not seen Herb since graduation and to my knowledge he was my only other classmate to enter the Navy. He was the aide to Admiral Zumwalt, the Chief of Naval Operations who was visiting his former command together with the Secretary of the Navy, Chaffee. Another strange coincidence of time and place, and I have never seen or heard of Herb since that meeting in Saigon 30 years ago.
Your 2001 summer edition was good in that it celebrated the scholastic and business achievements of our alumni. Unfortunately, we are not free to pursue these worthy goals unless there is someone guarding the gate. The winter edition put a timely spotlight on those who provide that which we formerly took for granted — national security. Come to think of it, wasn't Ignatius a soldier before he became a saint? Sincerely, Bill Kenealy '52
Spring 2002
"We few, we happy few, we band of brothers; for he who today signed up for our 50th anniversary Reunion, June 14-16, 2002, shall be my brother!" A parody from Wm. Shakespeare's Henry IV, St. Crispians Day. Of course, we should expect a very large "band of brothers" and "sister" chair lady, Dorothy Poland. This is a "bench mark " anniversary, and there are many other incentives to join this "merry band" to be sure. If you are in reasonable good health and want to have a great weekend of reminiscing, imbibing and celebrating our longevity, you won't want to miss this opportunity. On this weekend, the campus is as alive as a medieval festive affair. The main tent is bigger than the Ringling Bros. ever dreamed. There are activities, meals and events from Friday noon 'til breakfast on Sunday morning. The accommodations are great and completely free of charge and designed to entertain and accommodate you every minute. Put yourself in the picture and come enjoy!
Lavonne Padden sent word of the wedding of son William Raymond Padden and Alexandra Ann McKelvey. They were married August 2001 and now reside in Sarasota, FL. She said: "My sweet husband Bill (deceased) would be so happy that our grandson, Michael Roesch is planning to attend St. Ignatius High School. It will be a long commute for him from Chardon, OH., but his grandfather, Bill, used to hitch a ride every morning and afternoon for 4 years to attend school there. Thank you Lavonne for keeping in touch and we sure would like to see you in June. Bruce McAuliffe, who is a reunion committee member, sent this note: "I am planning to attend the 50th class reunion. My wife, Nancy, died 2 years ago of cancer. We were married 31 years. We have four children, two boys and two girls. We sold the optical business and retired seven years ago. I am here at home taking care of the yard and house myself. Best regards, Bruce."
And now this e-mail message from Bill Perusek
"Hi Sam: Nice to hear from you and enjoy reading your column. Retired after 30 plus years with GE in numerous Human Resources positions ending up in Gainesville, FL. That followed 3 plus years in the Navy. Anne and I have 3 children and 4 grandchildren in Atlanta and Daytona Beach. One more due in April. We really enjoy all the GATOR sports, especially basketball, and the college environment here is great. Enjoying golf, umpiring tennis at the collegiate level and some pro tournaments, volunteering at Catholic Charities food pantries, Boys and Girls Clubs and do some HR consulting. Had the great pleasure of a brief discussion with Don Shula '51 when he was here at the University of Florida for a speaking engagement before 2,000 students and community members. Very motivational and inspirational and mentioned John Carroll more than once during the Q & A session. He was wonderfully received by the students and stayed to sign autographs forever. What a great credit he is to our school and the quality of a Jesuit education. Wow Sam, 50 years! You must be very old by now! Best regards, Bill"
Bob Grindereng e-mailed the following: "Got the latest meeting minutes today from Rosalie. I have been calling the few classmates that I still have contact with. Dr. Bill "Muggs" Malone will be at the reunion, as will John Gordon Gay. I saw Bill Perusek at the Niles McKinley High 50th reunion in '98. Haven't heard from him yet, but hope to get him to this 50th. I was 13 years in Venezuela, and lost contact with most of my JCU classmates. My four children grew up there and all but the youngest attended the local Loyola HS in Puerto Ordaz at least one year. The family returned to the States in 1977 and I worked as accounting manager for Texas Uranium Operation US Steel Corp. I retired from USS in 1989 and moved to Arizona as Controller of Malapai Resources, the mining operation of Pinnacle West Capital Corp. In 1991 Malapai was sold to EDP, a French Utility Co., and I retired again. My wife, Mary, loves Arizona, so we are still here in Phoenix. Bought a new house at South Mountain two years ago on the Legacy Golf Resort. I hadn't played golf in years and went to an Orinoco Mining Co. reunion in Orlando, played 18 holes, and haven't recovered since. Went to Mayo Clinic in Scottsdale and the surgeon who did my hip replacement 3 years ago, said it was just bursitis in my knee and not to over exercise it. Still hurts after 4 months. Sincerely, Bob "Ole" Grindereng"
And just the other day, an e-mail from John Wetzel of Medina, Oh. He writes: "Sam, with each issue of JCU magazine I promised myself that I would get in touch with you but somehow never got around to doing so. You know what they say about good intentions. I just wanted you to know that I am alive and well and living in Medina. My wife and I have lived here since 1950, reared 3 children — none of which will probably set the world on fire. We're proud of them never the less. I am "sort of" retired. I have a part time job which keeps me out of trouble and out of the house and therefore not under foot. My wife is pleased about this. My primary interest, aside from my family, is serving as a councilman on Medina City Council. I spend a lot of time doing this, as I enjoy it very much. I will probably continue doing so as long as I am able to, and as long as I can continue to get reelected. I have been able to fool the voters for some time. That's about all I have to say, Sam. Just wanted you to know that I read your column and look foreword to each issue of the magazine. I believe that I remember several of your brothers and would be pleased to hear news about any of them that you would like to share. I think that I was in a physics class that was taught by your brother John. I could be wrong about this. I will have to confess that I have never returned to JCU since graduation day. I would like to do so some time. Please keep in touch if you are so inclined. Your fellow alumnus, John Wetzel"
And this from Larry Buynak: Greetings to all his classmates, from suburban Columbus, OH. Following a formal engagement ceremony in John Carroll's Chapel, Larry wed Mary Elizabeth Gahan, Ursuline '53 the morning after his last test. The happy couple is looking forward to celebrating 50 years of marriage next year. Parents of three and grandparents of seven, they are enjoying their extended family. On his return from Korea, Larry joined Western Electric, where he was quickly promoted and given the task of pioneering a marketing program with Ohio Bell. The program's success led him and his family to an assignment at headquarters, in Manhattan, and a home in Westfield, NJ. Two of his major telecommunications projects out of New York were the first Houston domed stadium and the now closed Denver Stapleton Air Terminal. Larry happily took a transfer to the Columbus manufacturing facility, where he held a number of second level manager assignments in personnel, industrial relations, benefit services and public relations. After a 35+ years employment history with AT&T, including 20 years in public relations, he took retirement the last day of l989. In retirement, he keeps busy with managing his children's 401Ks, financial and investing, photography, and the oversight of the restoration of a 1966 Dodge Charger Classic Car. He also heads up a group of retirees, making monthly dinner arrangements for them and their wives, so the group can stay in touch."
And lastly, but not leastly, this e-mail from Z. Joseph Valencic regarding his recent cruise: "The cruise was really terrific. Started in Curacao (Dutch Island), then on to LaGuaira, Venezuela, where my cousin came to meet us. He negotiated a van to take us on a tour of the devastation as a result of the flood they had awhile ago where they lost 80,000 people. It looked worse than Japan after the B-29s got through with bombing Tokyo. There were silt filled buildings up to the third story and remnants of buildings teetering in broken foundations because of thousands of boulders (as big as a good-sized room in your house) rolling down the mountains. There are still some luxurious hotels which are still standing empty — guarded by the army after the scavengers looted them taking all of the toilets and fixtures that were removable including any copper pipes. They are still digging up, on a daily basis, the many bodies that were buried. Many of the abandoned buildings have been occupied by the barrio people and they cannot get them out. They told us that theater is just like our "Wild West" used to be where your six shooter was the law. It is a lawless territory where you take your life in your hands if you drift into the wrong areas. IT IS UNBELIEVABLE! We then went to a very nice hotel restaurant not too far from where the ship docked and we had a terrific lunch with a couple bottles of wine. We sang a few Slovenian songs, took some video, had some good conversation and then he took us back to the ship. LaGuaira is about 35 miles east of Caracas and my cousin lives about 150 miles west of Caracas. He was about an hour and a half late because of an accident that backed up the traffic plus the demonstrations that were going on in Caracas trying to oust Chaves. We were together from about 8:30 a.m. until 2:20 p.m. He was a little eager to get past Caracas and be home before dark. We then went on to Port-of-Spain, Trinidad, Fort-de-France, Martinique, St. Thomas, Half Moon Cay and they back to Ft. Lauderdale. Food and entertainment was out of this world. They picked Nancy to assist a comedian/magician on stage and on one of three formal nights the chorus line doing the can-can came down and took me up on the stage to dance with them in my tux doing the line kick. That was out 15 minutes of fame. Great time!" Big ZZZZ
We hope to see you all in June. 'Til then, I remain your delighted columnist these last 8 years. Sam