With commencement right around the corner, here's a look at the more well-known commencement speakers John Carroll has hosted in the past.
By John Walsh
The John Carroll community knows how special it is to experience commencement on the University's beautiful campus, even if it isn't a sunny, blue-sky day. Having it take place inside the Wolstein Center in Cleveland – where the University has had commencement more recently if the weather doesn't cooperate – is a letdown. This year's speaker is Fr. Myles Sheehan, S.J., M.D., the assistant to the provincial for senior Jesuits of the Maryland and Northeast provinces. Fr. Sheehan, a physician with specialties in internal medicine and geriatrics, works alongside provincial assistants to oversee health-care centers and strengthen care for older Jesuits. Additionally, the following alumni from the medical profession will receive honorary degrees at commencement: Michael Anderson, M.D. '86; Robert Juhasz, D.O. '77; Robert Hostoffer, D.O. '81; George Lewandowski, M.D. '78; and Holly Perzy, M.D. '85. As commencement approaches, here's a look at some of the more high-profile speakers who've imparted their wisdom on Carroll's most recent alumni.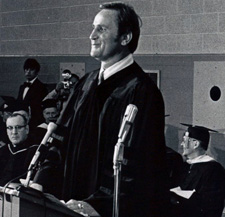 1973 – Don Shula '51
"There was a threat of rain, and we had to move into the gym. It was hot, muggy, and crowded, so I think Don Shula kept it brief."
– Bob Larocca
"My brother Bob Patno '73 and I were residents of Winter Park, Florida, when we started our freshman year at JCU. We actually lived in Miami during the time the Dolphins were established. We were born in Cleveland and moved to Miami, so we were first and foremost Browns fans, but the Miami Dolphins, especially when Don Shula became head coach, were a close second. Coach Shula was still riding high in fame and football fortune when he agreed to speak at our commencement and receive his honorary doctorate in philosophy, his favorite subject at JCU. It was a great thrill and honor having him back on campus for our big day – even more so as time went on and he became the winningest coach in the NFL. Thank you, Coach Shula. I met him years later at JCU for the dedication of Shula stadium and got him to autograph his "Man of the Year" Sports Illustrated cover."
– Gerry Patno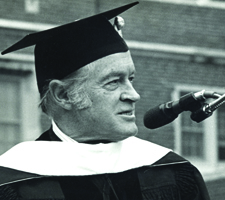 1976 – Bob Hope
"He was terrific. It was the country's bicentennial and people throughout the nation and John Carroll were ready to celebrate. In some file at the school there should be a brochure of Hope's speech. All graduates got them. They were mailed with our diplomas."
– Diane Coolican Gaggin
"I was the singer for our graduation and sang the national anthem and the JCU alma mater. It was a very foggy, humid, hot day, but the greatest day of my life. Bob Hope was a great speaker, and he acknowledged my singing and voice. He was kind."
– Patrick Cataldo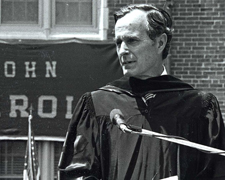 1978 – George H. Bush
"On a dreadfully hot, humid, broiling day, he began with the usual thank yous and recollections. He then held up a binder and said, 'Here is the text of the address I planned to share today … but it is waaaay too hot for that.' He then visibly turned a large chunk of pages in the notebook while continuing, 'So in conclusion …' Laughter and cheers filled the Quad. I don't remember what followed, but his folksy common sense won the day – and a few elections after that."
– Dr. George Lewandowski
"The biggest highlight for me was that my oldest friend, Jack Schufreider '78, was the first Millor Orator who shared the podium with then-presidential candidate Bush. Though I remember little of Bush's remarks, I believe Bush, though not known well at the time (even after his stints in China, with the Central Intelligence Agency, and as chair of the Republican National Committee), was a good representative of JCU's core ideals."
– Bruce Luecke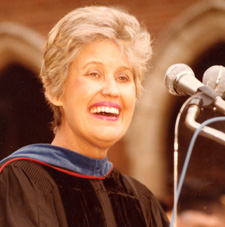 1983 – Erma Bombeck
"She was a treasure of our time, and I was thrilled she was our commencement speaker. Honestly, my graduation experience was spent laughing rather than in deep thought. I remember her telling stories about her children and thinking about how fun it would be to have this funny lady as my mom. I also remember her sharing that if she could do it, so could we. I believe she was referring to the elusive success she had achieved in her published books, weekly columns, and various speaking engagements. Having her as our commencement speaker is one of the highlights of my JCU career. I'm grateful my four years culminated in laughter and joy, as she shared her wit and wisdom on that sunny May afternoon.
– Suzanne Greenberg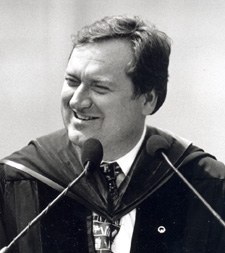 1997 – Tim Russert '72
"He talked about having a successful career after school. But he also talked a lot about the Jesuit principles of social justice and emphasized that the best ways for us to be successful were to not only do well for ourselves but to give back to the community, whether it was financially or through service. He also described the trials and tribulations he had gone through in his years at JCU, many of which, as a fellow communications major, were familiar to me. After he was done talking, I was ready to make a difference. I've tried to live out his message in what I do today."
– Brian Sparks
"I just remember everyone was very excited to have such a well-known speaker come to JCU."
– Rev. John Shea, S.J.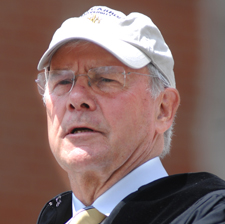 2010 – Tom Brokaw
"He talked about his friend Tim Russert '72, saying that, in Tim's eyes, only now would Tom have officially 'made it' by being the commencement speaker at JCU. It really stuck with me; not just the pride that Tim had for the school, but how much of an advocate he was to have someone like Tom Brokaw being proud to give the commencement address there."
– Joe Toohey
"I sat in the bright sun and watched Tom Brokaw put on his baseball cap in honor of Tim Russert '72. I could tell the close connection the two had, and Tom Brokaw mentioned how every day and in every interaction Tim Russert would share something that could be related to his time with the Jesuits at JCU. That was the kind of person I wanted to be, and that even if people didn't know about JCU before me, they would understand what it meant to be a Blue Streak and a man for others. It was empowering to see Tom Brokaw at commencement because I had seen him so many times on television, meeting with the president, heads of state, foreign dignitaries, and celebrities. The focus on JCU was special, and I felt the charge to become part of the next greatest generation.
– Chris Lewandowski
____
Following is a list of commencement speakers dating from 1954:
1954
Thomas Patton
Assistant president and first vice president
Republic Steel Corporation
1955
John Greene
President
Ohio Bell Telephone Co.
1956
Paul Martin
Minister of national health and welfare
Ottawa, Canada
1957
Carlos Romulo
Ambassador of the Philippines to the U.S.
1958
Benjamin Fairless
President
Iron and Steel Institute
1959
Frances Payne Bolton
U.S. Congresswoman, Ohio
1960
Fred Andrew Seaton
U.S. secretary of the interior
1961
John Allen Krout, Ph.D.
Vice president and provost
Columbia University
1962
Kurt von Schuschnigg
Former chancellor of Austria
Political science professor, Columbia University
1963
James Roche
Executive vice president
General Motors Corp.
1964
Kent Smith
Founder
Lubrizol Corp.
1965
Very Rev. Hugh Dunn, S.J.
President (1956-67)
John Carroll University
1966
Theodore August Distler, Ph.D.
President
Commission for Independent Colleges and Universities
1967
Abe Silverstein
Director
NASA Lewis Research Center
1968
Glenn Seaborg
Chairman
U.S. Atomic Energy Commission
1969
Edmund Muskie
U.S. senator, Maine
1970
Rev. Robert Henle, S.J.
President
Georgetown University
1971
William Taft III
Scientific affairs officer
U.S. Department of State
1972
Fred Harris
U.S. senator, Oklahoma
1973
Don Shula '51
Head coach
Miami Dolphins
1974
Lowell Weicker Jr.
U.S. senator, Connecticut
1975
Rev. Henry Birkenhauer, S.J.
President (1970-80)
John Carroll University
1976
Bob Hope
Comedian
1977
Most Rev. James Hickey
Bishop of Cleveland
1978
George H. Bush
Chairman, executive committee
First International Bank of Houston
1979
Dr. Robert White
Director of neurological surgery, Cleveland Metro General Hospital
Co-chairman, department of neurosurgery, Case Western Reserve University
1980
Philip Crane
U.S. congressman, Illinois
1981
Vice Admiral James Bond Stockdale
Senior research fellow, Hoover Institution on War, Revolution, and Peace
Stanford University
1982
Rev. John Powell, S.J.
Professor of theology
Loyola University of Chicago
1983
Erma Bombeck
Author and syndicated columnist
1984
Rev. William Byron, S.J.
President
Catholic University of America
1985
Mark Hatfield
U.S. senator, Oregon
1986
John Powers, Ph.D.
Author and playwright
1987
John Breen '56
Chairman and CEO
The Sherwin-Williams Co.
1988
Very Rev. Howard Gray, S.J.
Provincial, Detroit Province
Society of Jesus
1989
His Eminence Joseph Cardinal Bernardin
Archbishop of Chicago
1990
Lawrence O'Rourke, J.D.
White House correspondent
St. Louis Post-Dispatch
1991
J. Joseph Whelan '65
Fellow in Urban Education, JCU education department
National Distinguished Principal, 1988
1992
Most Rev. Rembert Weakland, O.S.B.
Archbishop of Milwaukee
1993
Dr. Bernadine Healy
Director
National Institutes of Health
1994
John Boler '56
Chairman of the board
The Boler Company
1995
Wayne Embry
President and COO
Cleveland Cavaliers
1996
Charles '52 and Helen Dolan
Chairman and CEO, Cablevision
Artist and civic leader
1997
Timothy Russert '72
Senior vice president and Washington bureau chief
NBC News
1998
Sr. Mary Rose McGeady, D.C.
President and CEO
Covenant House
1999
Rev. Howard Gray, S.J.
Director, Center for Ignatian Spirituality
Boston College
2000
Sr. Maureen Doyle, O.S.U.
Director
Urban Community School, Cleveland
2001
Sara Bloomfield '77G
Director
U.S. Holocaust Memorial Museum
2002
Leslie Lenkowsky, Ph.D.
CEO
Corporation for National and Community Service
2003
Col. Carl Walz '79G
NASA astronaut
2004
Rev. Gregory Boyle, S.J.
Founder and director
Jobs for a Future/Homeboy Industries
2005
Rev. Jim Wallis
Founder of Sojourners and editor of Sojourners magazine
2006
Sr. Mary Peter Traviss, O.P.
President, Queen of the Holy Rosary College
Professor emerita, University of San Francisco
2007
Sandra Pianalto
President and CEO
Federal Reserve Bank of Cleveland
2008
Patrick Rombalski
Vice president for student affairs
John Carroll University
2009
Robert Dickinson '65
Retired president and CEO
Carnival Cruise Lines
2010
Tom Brokaw
Special correspondent
NBC News
2011
Rev. Timothy Kesicki, S.J. '84
Provincial, Chicago-Detroit Province
Society of Jesus
2012
Charles Geschke, Ph.D.
Co-chairman of the board and co-founder
Adobe Systems
2013
General Carter Ham '76
U.S. Army
2014
Deborah Delisle
U.S. assistant secretary for elementary and secondary education
2015
Dave Short '81
Chair, JCU board of directors
Chairman and co-chief executive, American Funds Group
2016
Beth Mooney
Chairman and CEO
KeyCorp
---
Leave a Reply