Jake Oresick '06 publishes his first book about his high school in Pittsburgh
By Julie Hullett '18
Jake Oresick '06 has always enjoyed writing. He remembers what George Bilgere, Ph.D., an English professor at John Carroll, suggested he do in life. On the back of one of Oresick's assignments, Bilgere wrote, "My advice: Become a writer. I never say that, but I don't think you have a choice." Oresick was thrilled yet terrified. It was the best compliment he had ever received, but becoming a writer felt burdensome.
Recently, Oresick, who wrote for The Carroll News, realized his dream of being a published author. His first book, "The Schenley Experiment: A Social History of Pittsburgh's First Public High School," was published in April. "The Schenley Experiment" tells the history of Schenley High School, but the book also serves as a call to action about the inequity in public education, especially among minorities and the poor.
The school's history, especially its controversial closing, is important to Oresick, who graduated from Schenley in 2001. In 2008, the superintendent of Pittsburgh Public Schools, Mark Roosevelt, took control of the district. Roosevelt decided to close Schenley because of the expensive renovations needed to remove asbestos from the building. He also planned to separate Schenley students into an honors track and a mainstream track, which caused a racial divide among the students. Most white students were on the honors track, while most black students were on the mainstream track. Many local citizens believed there was a conspiracy within the school system. Oresick, who served on Student Union while at JCU, wanted to analyze the disputed history of his beloved high school.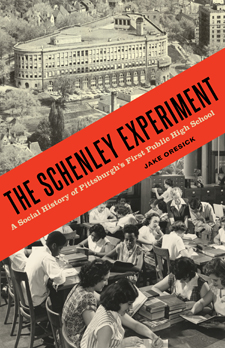 Research and publishing
Originally, Oresick researched Schenley's history on his own. He planned to write about his findings, self-publish, and share 100 copies of his book with family and friends. However, when he couldn't easily find answers to some of his questions, he began to search more thoroughly.
"That was my original purpose, but it changed and evolved," he says.
Oresick, who wrestled while attending JCU, emailed several former teachers and conducted six interviews to help satisfy his curiosity. He connected with the interviewees and enjoyed their conversations. He now had a new outlook on his project. He learned the school wasn't great because it was 100 years old or because it was the first high school to cost more than $1 million to build in Pittsburgh; rather, it was the people who made it great.
"I wanted to hear more people's stories," he says. "I completely changed my outlook and made it a social history."
Oresick cites Sheila McGinn, Ph.D., the chair of the theology and religious studies department, who helped him to develop strong research skills. McGinn explained to him that when studying history, one must examine political, racial, and social aspects of the time.
Oresick's book is based on information gathered from interviews he conducted. He interviewed more than 100 people from Schenley, including former students, teachers, and administrators. He also interviewed people of various ethnicities, which is reflective of the diverse student body. At times, the interviewing process was strenuous and time consuming.
"It took on a life of its own," he says. "In the summer of 2014, there were weeks when every night, Monday through Thursday, I received a call. They were almost like little dates. But I left all of the interviewees feeling great."
Keeping organized proved to be difficult. Oresick had a collection of recordings, notes from interviews, and spreadsheets full of information. At times, it was overwhelming. As he arranged the chapters, he addressed three or four topics in each one. Each chapter also covers social and demographic changes within each decade.
Oresick's father, Peter Oresick, has authored and edited 10 poetry books, so, with his experience, he guided his son's application process to publishing companies. Peter Oresick, who also spent part of his career working at the University of Pittsburgh Press, encouraged his son to apply there, as well as to Penn State University Press and University of Pennsylvania Press. Penn State showed interest in the book in August 2015, then scholars read the book and approved it in February 2016. Finally, 12 faculty members from Penn State approved the book, and Oresick signed a contract with Penn State University Press.
Once Oresick secured a contract, the book underwent three major rounds of revisions. Oresick's editor, Kathryn Yahner, was concerned about the racial and political aspects of the book because the author is white and the school was mostly black when it closed. Oresick had to choose his words carefully to avoid sounding insensitive. After attending a diverse high school, Oresick, who was involved in service-learning at Carroll, thought he understood everything about empathy and how to engage with people who had different backgrounds. JCU taught him to keep an open mind to help him learn more. The University encouraged him to have empathy for everyone and take action to improve the lives of others.
Oresick was hesitant to make significant changes to the book at the beginning of the editing process but was grateful later for his editor's assistance.
"When the editing process started, I was defensive because I thought I knew what I was doing," he says. "But pretty soon, I realized my editor was good at her job, and the edits she suggested made the book better. For any writer, editors serve an important function."
After about seven months of editing, "The Schenley Experiment" was complete. It's available for purchase from Penn State University Press, Amazon.com, and Barnes and Noble.
Oresick credits much of his success to his father, who died last year. Oresick's father encouraged him to apply to an academic publisher, supported his love of writing, and shared advice with his son.
"My father pushed me and believed in me when I didn't believe in myself," he says. "He taught me how to write a pitch letter and all these things I never would've known otherwise." JCU
---
Leave a Reply