Head basketball coach Mike Moran maximizes his opportunities in life
By John Walsh
Shortly after Mike Moran was hired as the head men's basketball coach at John Carroll in 1992, succeeding Tim Baab, he was quoted saying how much he wanted the job: "The only thing I wanted more than this job was my wife when I was pursuing her." That kind of desire is inextricably linked to Moran's success as a competitor. Here's a glimpse: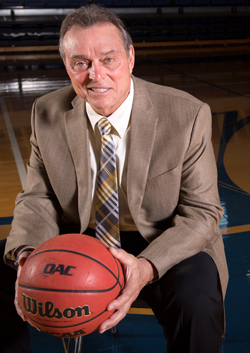 • His record at JCU is 442-221 in 25 seasons.
• He made 12 trips to the NCAA Division III tournament.
• He won 10 regular season Ohio Athletic Conference championships
(three consecutive from 2003 to 2005) and four OAC tournaments.
• He made one Division III Final Four appearance (2004) while coaching
two of his sons, Pete '08 and Matt '04.
• He's tallied 11 20-win seasons.
• In 25 seasons, only six student-athletes (one was his own son) became
ineligible, but they all elevated their GPAs and graduated.
• He was named OAC Coach of the Year five times and Great Lakes Region
Coach of the Year twice.
• He has had more than 20 players selected to the Academic All-OAC team.
And that's just basketball.
The Greater Cleveland Sports Hall of Fame inductee also has been the JCU golf coach for the past 22 years and has led the program to five NCAA tournaments and three OAC titles. He has earned Conference Coach of the Year three times. Ten of his former golfers have received All-American honors, and he has coached more than 35 golfers who've earned All-OAC honors.
The longest-tenured head coach in JCU men's basketball history was inducted into the University's Athletic Hall of Fame in 2010. His success also has bred a long list of basketball coaching proteges – including three of his sons and a son-in-law – in Northeast Ohio. More than 50 former players, affectionately known as the Moran Clan, have coached at some point in their careers.
Athletics early
Born at Saint Ann's Hospital in Cleveland, Moran, who had a brother and has two sisters, always wanted to be a coach. Growing up near E. 93rd and Union Ave., he reaped the benefits of following his older brother, Edward, around.
"I was fortunate to have an older brother who let me tag along," he says. "I was playing sports with older kids, and that's how I developed a love of sports and competition. It was the best thing that ever happened to me."
Edward Moran, who played in the band at Cathedral Latin High School, drowned
in a lake while fishing when he was 16. The tragic incident occurred during the summer before Mike Moran started his freshman year at St. Joseph High School.
When Moran was in the eighth grade, his family moved to Avalon Road in South Collinwood, and he transferred to Christ the King School in East Cleveland. Before the move, his father, Edward, a flooring mechanic for the New York Central Railroad, became athletic director at St. Catherine's in his old neighborhood after the priest who ran the athletic program passed away. His father-in-law, Pat Flowers, was his football coach at Christ the King. These two men influenced Moran significantly.
Bernie Guilfoyle, a basketball coach and athletic director at St. Joe's, befriended Moran's father and encouraged the younger Moran to attend St. Joe's. Moran played basketball for coach Bob Straub and football for the legendary coach Bill Gutbrod, the ninth all-time winningest high school football coach in Ohio, according to the Ohio High School Athletic Association. Moran learned how to motivate and inspire athletes from Gutbrod and the technical aspect of coaching from Straub. Moran was the captain of the football team his senior year in 1969 when the team finished 10-0, becoming the first undefeated team in school history.
To put Moran's high school athletic success into perspective, one should realize how competitive St. Joe's was. More than 200 boys tried out for the freshman football team, and more than 100 boys tried out for the freshman basketball team.
"The first two days of basketball try-outs we just ran – we never touched a basketball," he says. "I think the coaches weeded out some of the kids that way."
Of the two sports Moran played, he liked basketball more because he thought it was more fun and he didn't get as beat up as he did while playing football. On the gridiron, he broke his thumb, wrist, and shoulder.
During Moran's senior year in 1969, 21 classmates received football scholarships
to Division I schools mostly. Moran was one of four student-athletes who received a full scholarship to Xavier University in Cincinnati. These players followed in the footsteps of St. Joe's alumni such as Rich Moore, who played for the Green Bay Packers, and Brian Stenger, who played for the Pittsburgh Steelers.
It was no surprise Moran received a scholarship to play football at Xavier, according to Paul Spicuzza '75, a former athletic trainer for the Cleveland Cavaliers and Cleveland Indians who's now an assistant athletic trainer at Carroll.
"He was tough," says Spicuzza, who knew Moran in high school through his brother, who was a classmate of Moran's.
The Queen City
Moran played defensive end for Xavier, but its teams from 1969 to 1973 were poor, winning 11 games in five years.
"We were awful," he says. "We had no depth. But we learned a lot of humility."
The Marshall University Thundering Herd beat Xavier in the first game it won after a plane crash that killed 37 Marshall players and its head coach, forcing the school to rebuild its program. The game-winning touchdown pass against Xavier was thrown over Moran. Xavier discontinued its football program the same year Moran graduated, 1973.
After graduating with a business degree (a marketing major and math minor), Moran remained in Cincinnati for three years, coaching freshman basketball, track, and football, as well as teaching business courses, at Archbishop Elder, an all-boys Catholic preparatory high school. He was hired with help from Rev. Albert Bischoff, S.J., now a campus minister at Xavier, who married Moran and his wife, Joanne. The job paid $6,400 a year. To earn extra money, Moran waited tables at a restaurant and started a painting business – striping parking lots – that he learned from his father-in-law. In fact, the Morans took some of their wedding money to buy painting equipment for their business.
Then one day Moran received a phone call from Guilfoyle, who asked him if he would like to return to his high school alma mater to coach and teach. The offer was appealing because Moran's and his wife's families were in Cleveland. However, he questioned the pay.
"I told Bernie, 'You have to pay me $10,000 for me to come back," says Moran, who had two of his six kids at the time.
Back in town
When Moran returned to Cleveland in 1977, he started at St. Joe's as freshman basketball coach, assistant football coach, and business teacher. In 1981, he moved up to coach the junior varsity basketball team. By the following year, he was head varsity basketball coach, succeeding Straub, who wanted to retire for health reasons.
"I always thought I'd be a football coach," Moran says.
While teaching and coaching at his alma mater, other teachers and coaches worked for Moran's painting business on the side. While coaching basketball at St. Joe's as an assistant, Clark Kellogg – former NBA player, vice president of player relations for the Indiana Pacers, and lead college basketball analyst for CBS Sports – was a standout.
"Not only did Clark have a great presence and demeanor on the course, he was even better off the floor," Moran says, acknowledging he didn't coach Kellogg because he was the freshman coach at the time. "He put St. Joseph basketball on the map. Anybody who had a quality kid that lived anywhere near St. Joe's wanted to go there."
Moran coached other well-known local talent who played professional football, such as Elvis Grbac, Desmond Howard, and London Fletcher '98. One of the great athletes he coached at St. Joe's, Stan Kimbrough, played at Xavier and helped put the Musketeers basketball program on the national map in the late 1980s. However, Moran says he improved as a coach when his teams weren't so stacked with talent.
In 11 years at St. Joe's, Moran compiled a 224-53 record and won two state championships – in 1991 and 1992. The championship in '91 was the most memorable accomplishment at St. Joe's, partly because it was at the Division I level, Moran says.
For his high school coaching success, Moran was named Northeastern Ohio Coach of the Year, Greater Cleveland Coach of the Year (twice), Cleveland Plain Dealer Coach of the Year (twice), and Lake County News- Herald Coach of the Year (three times). Looking back on that success, Moran, who has had two hip surgeries, views himself as a man who held the reins while riding along in a horse-drawn cart.
"My great players were like Clydesdales that I was riding on," he says.
But at the time, Moran's success was the furthest thing from his mind.
"I was thinking about survival most of the time," he says. "I had six kids to support. I was running the CYO league on the weekends and a painting business after school. And things weren't getting any cheaper."
Luckily, his oldest child, Bridgette Chicone '97, received a basketball scholarship to Robert Morris University in Pennsylvania.
"If she didn't get a scholarship, I don't know where we would've sent her," Moran says.
Chicone eventually transferred to Carroll after Moran was hired as the head men's basketball coach and earned a business degree in accounting from the Boler School of Business.
While at St. Joe's, Moran looked into coaching opportunities at Mentor High School and Youngstown State University. The job at Mentor never panned out, and he didn't take the YSU job because he couldn't afford to give up his lucrative painting business.
In the early '90s, riding high from two state championships, Moran attended a fundraiser with former JCU wrestling coach Kerry Volkmann '71, '78G, who Moran played high school football with, and former JCU football coach Regis Scafe. Volkmann and Scafe approached Moran to ask him if he would like to work at Carroll. Another St. Joe-JCU connection existed at the time. Joe Farrell, who had taught at St. Joe's, was the dean of students at Carroll.
"There were a lot of St. Joe's connections," Moran says. "Kerry and Regis got me interested in JCU.
"Tony DeCarlo [former head wrestling and football coach and athletic director] gave me a hell of an opportunity," he continues. "One of the nicest compliments Tony said to me before he retired was, 'You're my best hire.'"
There were more than 100 applicants for the head basketball coaching job. Some applicants couldn't afford to take the job, but coming from St. Joe's, the job was a pay increase for Moran. Enough so that after three years at Carroll, Moran sold his painting business.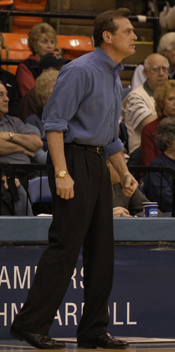 Platoon
Moran says coaching high school student- athletes at the Division I level groomed him well for the JCU job.
"I knew I had to work," he says. "I knew I had to recruit good kids who were great students."
When Moran was hired at Carroll in 1992, most, if not all, coaches coached two sports. So, when DeCarlo hired Moran, he offered him a choice – in addition to coaching basketball, he could be an assistant soccer coach or the head golf coach.
"When Tony told me that once the kids are on the course, you can't talk to them, I was sold on golf," says Moran, who isn't a golfer himself.
Currently, Moran says he's the only Ohio Athletic Conference coach with two coaching jobs.
A few years after he started at Carroll, Moran started to run more basketball camps in the summer, taking the place of the painting business he sold. At that point, he didn't have to worry as much about paying for his children's college education because of the tuition exchange benefit available to Carroll employees.
Moran is known for his five-in, five-out platoon system, the principles of which he borrowed from the undefeated 1958 Louisiana State University football team, which featured an 11-man first unit that played both ways, 11 offensive backups and 11 defensive backups. Moran first tried the platoon system at St. Joe's in the late '80s when he told a group of players who played hard they could play in the game until they gave up two baskets. They didn't even have to score.
"I grew tight with the kids at St. Joe's," he says. "They all wanted to play, and I wanted to play them."
Moran implemented the platoon system once or twice during his first year at JCU and by his second year was sold on the system when he recognized the talent gap between his starters and backups was insignificant. Then he decided to adopt the platoon system full time. As a result, players seldom log more than 25 minutes a game.
"I would never have continued using the platoon system if it wasn't successful," he says. "Instead of having five kids who love you, five kids who put up with you, and five kids who hate you, I have 15 kids who are really into it. We see other teams using the platoon system 10 times more now than we did 15 years ago."
Moran's high winning percentage isn't solely a result of his coaching. Throughout the years, he's had help from capable coaches, such as John Stavole '58, Johnny Steadman, Frank O'Brien '77, and Larry Arthur.
"I've surrounded myself with great assistants," he says.
Stavole, who was the head basketball coach at Valley Forge High School in Parma Heights, Ohio, for 20 years, has known Moran since high school, when they played basketball against each other. Stavole played for St. Ignatius before playing for Carroll. He was an assistant under Moran from 2004 to 2012.
"One of the things about Mike is that he pays close attention to detail," Stavole says. "He's a hard worker. He never wanted to be outworked by anyone. He never left any stone unturned. He's dedicated. The other thing is how he motivates the kids. He doesn't always have all-stars, but he gets the most out of his players. He demands a lot."
Come here
By implementing the platoon system, Moran recruits unselfish players, those who know they'll share their time on the floor with their teammates, as well as those players who know they'll play up-tempo ball. JCU teams have been OAC leaders in scoring and rebounding because of the quick pace of play.
Another helpful aspect to Moran's recruiting is that Carroll is a regional school and he's a local guy who has developed a close, local network of coaches and players.
"JCU is an easy sell partly because of its wonderful reputation and great alumni connections," Moran says.
Moran won't recruit a student-athlete unless he's a Carroll kid, meaning he understands his academic goals come first.
"If a kid is borderline academically, or if we don't have the academic program he wants to take, or if the family is struggling financially and he doesn't get a good financial-aid package, we won't recruit him. You have to be fair to these kids."
Moran doesn't subscribe to any recruiting service, of which there are hundreds. Instead, he relies on his aforementioned network of high school coaches, including more than 50 former players, who screen student-athletes for him.
Mike is like …
Spicuzza came into Moran's life more regularly when he retired from the Indians and began working for JCU as an assistant athletic trainer. The two would meet for coffee regularly.
"Mike is easygoing and easy to talk to," Spicuzza says. "But when he steps into the coaching box, he becomes a competitor. He brought his competitiveness to his coaching philosophy. He's fair when it comes to players, and he communicates well with other coaches. He accepts others' opinions, such as when I advise him to rest a player and evaluate him day to day."
After games, Moran and Spicuzza, who travels with the team, grab a bite to eat, enjoy a few libations, and talk about that night's game.
"Mike is a super guy," Spicuzza says. "He's comical and knows when to say the right things to the officials, even though he's yelling and screaming at them. He respects people, and in return, he expects his players to respect him and his coaching staff."
Family
Three of Moran's sons – Pat '99, Pete, and Matt – have played for him.
"My kids could have gone elsewhere, but they chose Carroll," he says. "They chose to play for me, but there's no doubt I was rougher on Matt and Pete than anyone."
"It was John Carroll from day one," says Pete Moran. "I wanted my dad to be proud of me, so I went to play for him and win games in front of family and friends."
Pete Moran, an exercise science major, says it wasn't difficult to play for his dad because he knew his father's system and he was confident in his own abilities.
"I worked harder because of my last name," he says.
Two of Moran's children, Pat and Matt, are head high school basketball coaches in Northeast Ohio. Before joining his father's coaching staff, Pete was a high school coach as well.
What might be surprising to some is that Moran never coached his sons in elementary school or high school.
"He was hands off when it came to our own skills," Pete Moran says, adding that he knew his father was a successful coach at a young age. "He never pushed us."
But Moran's children know his success off the court means more to them.
"He's a more successful father than coach," Pete Moran says. "He's a father 365 days a year. In the eyes of our family, our father is much more than basketball. He taught us many life lessons outside the gymnasium, and we cherish that."
When Mike Moran started at John Carroll 25 years ago, he felt the head basketball coach was his dream job and his family could be content for life here. This season being his last before he retires, Moran reflects on his career.
"All my dreams and wishes came true," he says. "I can't thank this University enough for all it has done for me and my family."
"I'm excited for Mike," says Kellogg, who has stayed in touch with Moran throughout the years. "He's a huge family man, and he'll be able to spend more time with them."
Moran's wife, six children, and 14 grandchildren will appreciate that. JCU
---
Leave a Reply