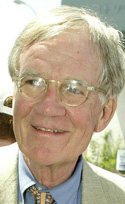 A life in Hollywood
Actor Jack Riley '57 portrayed the neurotic character Elliot Carlin on "The Bob Newhart Show" in the 1970s. He provided the voice for the absent-minded dad, Stu Pickles, on Nickelodeon's animated "Rugrats" and its spinoff, "All Grown Up." He appeared in the Mel Brooks films "History of the World: Part 1," "High Anxiety," and "Spaceballs." He also voiced commercials and made guest appearances on numerous TV shows including "Seinfeld," "Night Court," and "Different Strokes."
The Lakewood, Ohio, native attended St. Ignatius High School and served in the U.S. Army. He was a popular radio personality, along with his radio partner and straight man Jeff Baxter, on the "Baxter & Riley Show" on WERE (1300 AM) in Cleveland. Riley gave up the radio show in the early '60s and moved to Los Angeles, where his friend Tim Conway helped him receive work writing comedy sketches, which later led to acting.
Riley was a regular on the 1962-63 ABC sitcom "Occasional Wife" and went on to guest on dozens of popular TV series, ranging from "I Dream of Jeannie" and "Rowan & Martin's Laugh-In" to "The Partridge Family" and "Hogan's Heroes" before landing what would become his signature role on "The Bob Newhart Show." He also had guest appearances on comedies as "M*A*S*H," "The Mary Tyler Moore Show," and "Happy Days," along with dramas such as "Cannon," "Columbo," and "Police Woman."
Riley passed away in Los Angeles on Aug. 19. He was 80. He's survived by his wife, Ginger Lawrence, and their two children.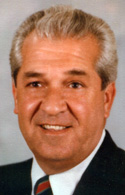 Active in athletics
John DiCillo Sr. '67G had served the University in various capacities for the past 30 years – assistant coach for the men's and women's golf programs, assistant athletic director, department recruiting coordinator under athletic director Tony DeCarlo '66G, and offensive and defensive line coach under former head football coach Jerry Schweickert '60, '65G. DiCillo started the women's golf program in the mid-1990s.
Aside from John Carroll, DiCillo taught mathematics, was a guidance counselor, and coached football and golf at West Geauga High School for 28 years. He held athletic administration roles for West Geauga and the city of Highland Heights (where he was also a councilman), served as a football and wrestling official, and oversaw district soccer tournaments for the Ohio High School Athletic Association. He had high school football coaching stops at St. Edward, Holy Name, Elyria Catholic, St. John Cansius, and Gilmour Academy.
The U.S. Army and Coast Guard veteran graduated with a dual degree in mathematics and physical education from Kent State University, where he lettered in golf four times, before earning his master's in guidance and counseling from JCU. His family members who've also earned, or are earning, degrees from Carroll include his wife, Bonnie '89G; children David '88, Dawn Ferrante '90, and Dan '92; daughter-in-law Laurene '87; and grandchildren Dan '18 and Felice Ferrante '20.
DiCillo passed away Aug. 23 after a prolonged illness. He was 81. He's survived
by his wife of 52 years and his four children, the three aforementioned and John Jr., and 13 grandchildren.
_____
The John Carroll community extends its condolences to the families and friends
of the recently departed and prays the Lord will welcome them into everlasting life.
Robert M. Kraus '42, 8/11/16
Charles J. Tucker '48, 8/26/12
Charles A. Marks '50, 9/21/16
John Patrick McCauley '50, 8/4/16
John J. Waldron '50, 8/29/16
Charles D. Missar '51, 1/26/16
Charles M. Struffolino '51, 7/30/16
Robert A. Breiner '52, 8/22/16
James M. Previt '52, 9/3/16
Eugene J. D'Amico '53, 9/25/15
Sr. Teresemarie McCloskey, SND '53G, 9/11/16
Carl R. Munn '53, 9/10/16
Robert H. Slattery '55, 9/9/16
Raymond W. Tapajna '55, 10/1/16
Paul A. Carlotta '56, 8/15/16
Robert J. Reitz '56, 12/29/15
Philip P. Ripepi '56, 8/7/16
William B. Comiskey '57, 9/4/16
Jack Riley '57, 8/19/16
John R. Phillips '58, 6/17/16
Nicholas A. Gambatesa '59, 8/17/16
Edward B. Bierman '60, 8/13/15
Donald E. Huettner '60, 9/18/16
Michael "Tim" Browne '61, 9/7/16
Thomas L. Rochford '62, 8/15/16
Marie S. Sawyer '62, 3/27/16
James M. Johnson '63, 8/18/16
Joseph F. Maruna '63G, 6/9/16
Frank W. Zalar '63, 8/2/16
Edward "Steve" Brown '66, 8/6/16
John F. Pilch '66, 5/3/16
John DiCillo Sr. '67G, 8/23/16
David E. Wagoner '69G, 9/24/16
David Masek '72, 8/8/16
Carol A. (Mangold) Thayer '72G, 8/23/16
Margaret DiJulius '73, 9/19/16
Lola Falcone Rosso '73G, 4/13/15
Mary Carol O'Brien '81, 9/6/16
Joseph Zevnik '81, 5/7/16
Noreen A. Norka '82, 7/12/16
Richard N. Poorman '85, 8/12/14
Jean (Hulseman) Kloos '86, 8/8/16
Jeffrey M. Sabo '92, 9/21/16
This is a list of recently deceased members of the John Carroll community as of Sept. 30, 2016. To inform the University about the death of a member of the Carroll family, contact Joan Brosius at 216-397-4332 or jebrosius@jcu.edu. We apologize for any omissions.
---
Leave a Reply