From the tower
• In December 2015, the JCU Board of Directors approved a new strategic plan called "Promise and Prominence that will secure the University's future and raise its reputation. The promise is to develop the intellect, character, leadership, and service potential of every student so they'll become thought leaders, change agents, community builders, and ethical thinkers needed in the 21st century. Prominence will be achieved by aligning mission-driven initiatives with market-driven demands. Carroll will increase its competitiveness to expand its geographic reach, enrollment, fiscal resources, partnerships, and philanthropic gifts. The plan will focus on three main goals: academic excellence for student learning and success, faith that does justice, and engaging campus community.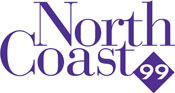 • John Carroll has been named a 2016 NorthCoast 99 winner and has been rated one of the 99 best employers in Northeast Ohio determined by the Employers Resource Council. Hundreds of employers in 22 Northeastern Ohio counties applied for the prestigious honor. JCU President Robert L. Niehoff, S.J., expressed his gratitude to all employees for distinguishing the University as an outstanding place to work and an exemplary place to learn.
• The National Association of State Boards of Accountancy released the Uniform CPA Examination Candidate Performance Book, which features comprehensive statistical data from all four testing windows of the 2015 Uniform CPA Examination. This year, JCU accountancy graduates ranked No. 14 nationally and No. 1 in Ohio in overall pass rates for first-time sitters for medium-sized programs (21 to 60 reported sitters). The JCU pass percentage was 70.6 percent compared to the national average of 55 percent. These results continue a multiyear string of national recognition. JCU has ranked nationally during the past three years and No. 1 in Ohio in 2014.
• JCU ranked eighth nationally in College Choice's Best Catholic Colleges and Universities ranking this year. College Choice is an independent online publication dedicated to helping students and their families find the right college.
• The official number of service hours for the 2014-15 academic year is 136,875, according to the Center for Service and Social Action. The CSSA is in the process of collecting and collating data from the 2015-16 academic year.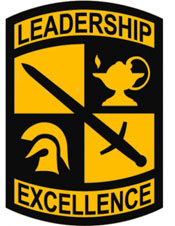 • ROTC hosted its commissioning and hall of fame induction ceremony in May. Ten cadets, who were commissioned as officers (second lieutenants) in the Army, took their oath of office and were given their first salute, which a long standing 19th century tradition that requires newly commissioned officers to give a silver dollar to the recipient of their first salute. Bishop Neal Buckon '76 was inducted to the hall of fame as an infantry officer. Gen. Carter Ham '76 was the guest speaker. Bishop Buckon also was inducted into the national ROTC Hall of Fame June 10 at Fort Knox in Kentucky.
• The University appointed Dennis Hareza '81 vice president for finance and corporate treasurer. Hareza will lead and manage the University's finance, budget, treasury, and investment functions and work collaboratively with leadership, faculty, staff, and students to foster strong communication and dialogue about JCU's finances and institutional priorities. He'll help create a more open, participative, and integrated budget process linked with helping the University to accomplish its new strategic plan.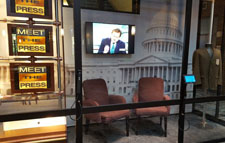 • The Tim Russert Department of Communication and Theatre Arts unveiled a display of portions of the set of "Meet the Press," which is a gift from Tim's widow, Maureen Orth, and son, Luke. Russert '72 was the former moderator of the Sunday morning political talk show on NBC. The display – dedicated by JCU President Robert L. Niehoff, S.J., during Reunion Weekend – includes excerpts from historic interviews he conducted during his era at the network.
• David Sipusic, JCU's first full-time Title IX coordinator, is responsible for the University's efforts related to gender equity and gender-based harassment prevention and response in compliance with federal regulations. He'll coordinate campuswide Title IX planning, monitoring, reporting, grievance procedures, education, prevention, and training. Sipusic will report to the president.
• The University hired three inaugural postdocs – Ken Chaplin, Ph.D. (sociology/sports management), Nathalie Nya, Ph.D. (philosophy), and Ficawoyi (Charles) Donou-Adonsou, Ph.D. (economics).
• The Kulas Foundation provided support for the renovation of Kulas Auditorium. Chairs were upholstered, the sound systems were improved, and the stage has a new lift to make it handicap accessible. The new student convocation this fall will mark the first time a large gathering takes place in the auditorium.
• The University has been awarded a $300,000 grant from the Burton D. Morgan Foundation to renovate a classroom to promote creative, entrepreneurial learning.
Our teacher scholars
• The winner of the Lucrezia Culicchia Award for Teaching Excellence in the College of Arts and Sciences for 2016 is Debra Rosenthal, associate professor of English. The selection committee considers Rosenthal an exceptional teacher-scholar, who artfully balances passion for her subject matter with compassion for the students in her classrooms. Rosenthal is described by those who recommended her as dedicated, challenging, supportive, responsive, and innovative in her pedagogy.
• Rosanna Miguel, Ph.D., professor of management, marketing and logistics in the Boler School of Business, received the Wasmer Outstanding Teaching Award.
• French professor Helene Sanko, Ph.D., education professor Amy Hoffman, Ph.D., psychology professor David Rainey, Ph.D., communication professor Alan Stephenson, Ph.D., and management professor Jonathan Smith, Ph.D., retired. Rev. Donald Cozzens, writer-in-residence, retired, too. Fr. Cozzens taught courses for the theology and religious studies department. Read their biographies.
• English professors Phil Metres, Ph.D., and George Bilgere, Ph.D., were honored with Individual Excellence Awards from the Ohio Arts Council in April. The council approves 75 awards, each worth $6,000, out of 392 applicants. Metres and Bilgere have received this award on several previous occasions.
• Education professor Kathy Roskos, Ph.D., along with co-authors Linda Gambrell and Lesley Morrow, wrote the book "Oral Language and Comprehension in Preschool: Teaching the Essentials," which was published by Guilford Press in New York. For a complete faculty bibliography, click here.
Student spotlight
• Madeline Smanik '16 received this year's NBC/John Carroll University "Meet the Press" Fellowship. Smanik, who majored in communication and political science, served as the campus editor for the University's student-run newspaper, The Carroll News, and held internships at Cleveland Magazine, WKYC-TV 3 (NBC), and Wingspan Care Group. The fellowship was created in 2009 in memory of the Sunday morning program's legendary host, Tim Russert '72.
• Remote controlled snow plows, a traveling disco party, and a virtual marketplace to connect lifestyle eaters were among the ideas pitched at the 2016 ideaLabs competition, which took place on campus March 31. The competition is a signature program of the Entrepreneurship Education Consortium, which provides practical, experiential, and theoretical entrepreneurship education opportunities to students at 11 colleges and universities in Northeast Ohio. William Cameron '16, Michael Hurley '16, Tyler Gentile '16, and Derik Young '16 received second place honors and $3,000 for their Main Street Disco idea, which seeks to host large disco parties at various cities throughout the U.S.
• Matt Sokol '17, a communication major and entrepreneurship minor, won the Entrepreneurship Organization's state contest and was selected to be one of 25 competitors at the national contest held in Miami, Florida. His product is a new paint designed to protect the bottom of boats from the harmful effects of marine wildlife, parasites, and water erosion.
• Robin Goist '18 was awarded a Newman Civic Fellows Award by Campus Compact, a national coalition of 1,100 colleges and universities committed to the public purposes of higher education. The award honors inspiring college student leaders who've demonstrated an investment in finding solutions for challenges facing communities throughout the country. The 218 students honored this year represent the next generation of public problem solvers and civic leaders. Goist was nominated for the award by JCU President Rev. Robert Niehoff, S.J.
---
Leave a Reply