By Jessica (Greco) Curry '03, '05G
My friends and relatives thought I was a bit off when I chose to move back to Cleveland from what others would consider a more desirable city – Charlotte, N.C. When asked the reason, my response never wavered: "I miss JCU and all my friends."
My obsession with John Carroll began in 1998 (my junior year in high school) and has grown exponentially throughout the years. Now, more than ever, I wish to re-engage with the school, its mission, students, and most importantly, my fellow alums.
I've lived in three other cities since graduating in 2003. During that time, I worked for other colleges and universities and spent several years teaching high school. As I reflect on my close ties with Carroll professors and students and the Jesuit philosophy of seeking to find God in all things, I realize we dedicate ourselves to the greater glory of God and the good of all humanity. This reflection shed a spotlight on what I already knew: I'm fortunate to be a small part of a spectacular, close-knit, and unique community.
I had mixed feelings about moving to Denver three years ago. On one hand, I was just married and overjoyed that my now husband (whom I met at JCU) and I no longer had to endure a long-distance relationship. On the other hand, I was moving away from my friends, family, and an institution that had become a home.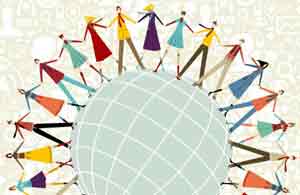 While on what seemed like another fruitless effort to uncover hidden teaching jobs in the Denver area, I took a break and visited Facebook. One of the first feeds that loaded was a posting for the Cleveland Alumni Chapter. Before I even realized what I had typed, there it was: "Why doesn't Denver have an alumni chapter?" Before an hour passed, my phone rang. Eric Eichoff, assistant director for alumni chapter programs, saw the post I typed only moments before and asked, "So you're interested in starting an alumni chapter in Denver?" Needless to say, the journey began.
Eric and the alumni relations staff have gone above and beyond my expectations to meet the needs and requests of the Mile High alums. From the first phone call, I've been engaged and feel like an integral part of the team. Once again, I've found a home in a far-off land. Eric guided us through the start-up process, explained the calendar layout and chapter guidelines, and provided examples of what other chapters were undertaking. The alumni staff orchestrates phone calls, emails, and mailings and touches base regularly to see if they can be of service. Mind you, this is going on two hours ahead of us, which makes for some late nights in University Heights.
During the past two years, I've attended more alumni events and connected with so many more alums from other classes than I had in the 11 years since graduation. Alums are engaging, hard-working, exciting, and fun. I'm honored to have the chance to connect with such amazing people with whom I already share a remarkable background. We've increased the number of participating alumni members. All of this is possible because the alumni relations staff laid out a plan to continue what began our first day on campus: cura personalis or care for the whole person. Through social happy hours and events, service-oriented activities that allow us to advocate for others, professional development and education programs, and the Alumni-in-Admissions program, we're able to better ourselves, assist others, and ensure the next generation of students is even more highly qualified than those before them.
Whether you're in a city where the alumni network is thoroughly rooted, or you live in a city where there's no alumni chapter, I challenge you to become involved. Take advantage of the opportunities that await you. The alumni relations staff is there for us – to continue our journey with John Carroll and stay connected with our peers as we change the world. JCU
---
Leave a Reply