News and notes
• Twenty-six Blue Streak student-athletes made the 2014 Spring Academic All-Ohio Athletic Conference honoree list, including eight from the women's track-and-field team, seven from the men's track-and-field team, four softball players, three baseball players, and one student-athlete each from the men's lacrosse, men's tennis, women's tennis and men's golf teams. To qualify for Academic All-OAC, student-athletes must be a sophomore or higher in class standing, maintain varsity status, and have a cumulative grade point average of at least 3.5.
• The first NCAA Baseball Tournament victory eluded the men's baseball team as it ended its season with a 24-17 record, tying for the second most victories in one year. The team capped its season at the NCAA Regionals, its first NCAA appearance since 1984 The Blue Streaks captured their first Ohio Athletic Conference tournament title in 2014.
• The men's lacrosse team won 13 games in its inaugural season. Seven players received All-OAC honors. Declan O'Grady as the lone All-Ohio Athletic Conference first team honoree. The freshman attacker, who led the OAC with 44 goals, played a key role helping JCU reach the OAC Championship game with three goals at Mount Union in the semifinals. Six Blue Streaks were honored with honorable mention All-OAC accolades: Tommy Adolf, Brian Bedell, Keegan Flinter, Jack MacLean, Kyle Patterson, and Dominic Starvaggi.
• Patrick Waldron, a member of the men's golf team, lost a brave and valiant fight with cancer May 19. A sophomore history major from Buffalo, N.Y., Waldron was a senator in the Student Union as a class representative and a singer in Rhapsody Blue. Waldron lettered for the golf team as a freshman, competing in nine rounds and averaging just over 78 strokes per round. As Waldron battled Hodgkins Lymphoma throughout the 2013-14 school year, he inspired many Blue Streaks to join the fight.

• The Blue Gold Club helps promote, support, and recognize varsity athletics at John Carroll in crucial ways to Blue Streak success.
• Kyle Basista was named the head coach of the men's and women's cross country and track-and-field teams.
Read about the 2013-2014 year in athletics in two parts: one and two.
Read more athletics news.
Calendar
Sept. 6
Football home opener vs. St. Vincent College
2:00 p.m.
Featuring 2013-14 Winter and Spring athletes and OAC Championships at half time
Sept. 20-21
Women's Golf Invitational Tournament
Eagle Creek Golf Course
Sept. 26
Athletic Hall of Fame induction and dinner (by invitation)
Eric Biro '03 – track and field
Chris Cubero '04 – football
Antoine Dunklin '04 football, track and field
Chris Heslep '04 men's soccer
Walter Karrenbauer '94 – wrestling
J.J. Richardson '97 – men's basketball
Sept. 26
Women's Soccer vs. CWRU
7:00 p.m.
Wasmer Field at Don Shula Stadium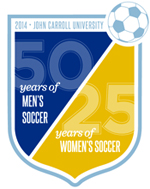 Soccer Celebration
Join the JCU soccer community for a celebration of 25 years of women's soccer and 50 years of men's soccer at Jake's at Pizzazz, $10 per person, cash bar with live music.
Sept. 27
Andrew "Dewey" McCarthy '81 Memorial Alumni Mass and Game and Scholarship Luncheon
Events begin with 8:30 a.m. Mass
Volleyball alumni/parent social
and game vs. Wilmington
3:00 p.m.
DeCarlo Varsity Center
Softball alumni game
11:00 a.m.
Bracken Field
Men's soccer vs. Geneva College
Noon
Wasmer Field at Don Shula Stadium
Men's lacrosse scrimmage
4:00 p.m.
Wasmer Field at Don Shula Stadium
Football vs. Baldwin Wallace University
7:00 p.m.
Wasmer Field at Don Shula Stadium
Oct. 18
Blue Gold Community Day – Free admission
Football vs. Marietta College
1:30 p.m.
Wasmer Field at Don Shula Stadium
Nov. 1
JCU hosts OAC Cross Country Championships
Nov. 8
1994 football team social and half-time recognition
1:00 p.m.
Shula Room, Don Shula Stadium
More events.
---
Leave a Reply