From the tower
• The University's board of directors renewed the contract of Fr. Robert Niehoff, S.J., as president of the University. In May, the board voted unanimously to extend Fr. Niehoff's term through June 2020. "Fr. Niehoff has demonstrated tremendous leadership," says David Short '81, board chair. "The board appreciates how he has enhanced the focus on the John Carroll student experience, ensuring it prepares graduates to be 21st-century leaders in the Jesuit tradition of being men and women for others. Fr. Niehoff has led the way in strengthening JCU's fiscal management, and the University has built strong relationships with the city, region, and world." Fr. Niehoff, who began his tenure at JCU in 2005, is the University's 24th president.
• After a national search process, Jeanne Colleran, Ph.D., '76 was named the University's next
provost and academic vice president
, effective Aug. 7. As the chief academic officer, Colleran will lead JCU's commitment to outstanding teaching and learning while helping raise the University's profile for distinctive excellence. She'll work to develop and implement educational strategies focusing on integrating students' learning experiences throughout the University. Colleran work with the vice president for finance, Rich Mausser, to prioritize the budgets of academic programs and operations. She'll help plan an effective transition to the new core curriculum, which JCU inaugurates in the fall of 2015, and determine how best to implement the recommendations from the Higher Learning Commission report. She'll also collaborate with the vice president of
mission and identity
, Edward Peck, Ph.D., to create a Jesuit culture that permeates all aspects of the University's identity.
• Newly appointed administrative leaders in the College of Arts and Sciences include the following: Graciela Lacueva, Ph.D., professor of physics, will serve as associate dean for science, mathematics and health, as well as interim dean for the 2014-15 academic year; Rodney Hessinger, Ph.D., former professor of history and co-director of the gender studies program at Hiram College, will serve as the associate dean of the humanities; and Pamela Mason, Ph.D., associate professor of political science, will serve as associate dean of social sciences, education, and global studies. Mark Storz, Ph.D., associate professor of education, will remain in his position as associate dean of graduate studies for the 2014-15 academic year.
• Archbishop Michael Fitzgerald, M. AFR., Apostolic Delegate to the Arab Republic of Egypt (2006-2013) and Delegate to the League of Arab States, will have an office in Theology and Religious Studies. On Oct. 7 in the Conference Room in the D. J. Lombardo Student Center, the archbishop will talk about recent events in Egypt.
• Lauren Bowen, associate academic vice president for student learning initiatives and diversity, was named the provost at Juniata College in Huntingdon, Pa. Bowen had been at Carroll since 1989, serving as a faculty member in the political science department as an assistant and associate professor. She served as the director of the Center for Teaching Excellence, director of the University Core Curriculum, and chair of the political science department. She also was part of the founding group of the Arrupe Scholars program. Bowen supervised the Honors Program, the Center for Career Services, and the Early College Program. She co-chaired the Diversity Task Force and chaired the Diversity Steering Committee.
• Commencement 2014 was held Sunday, May 18, on the quad.
• The state of Ohio awarded an Ohio Historic Preservation Tax Credit in the amount of $1,907,300 for Murphy Hall, which is one of 35 historic buildings selected by the state, the Ohio Development Services Agency, and the State Historic Preservation Office to receive a tax credit. The award will help to rehabilitate the building and modernize the interior, while maintaining its historic fabric and features. The goal of the renovation is to maintain its historical look and feel while creating a contemporary, residential living and learning environment for students. Murphy Hall is one of seven buildings situated in the JCU North Quad Historic District, which was listed in the National Register of Historic Places in 2013.
• The Woodrow Wilson National Fellowship Foundation named the 2014 Woodrow Wilson Ohio Teaching Fellows. Among them are three JCU alumni: Mary Doyle ('14, mathematics), Maribeth Keppler ('13, biology), and Dennis Lackey ('09, biology). Doyle and Keppler are among JCU's 2014 WW Ohio Teaching Fellowship class.
• JCU's education and school psychology department partnered with Gearity Professional Development School to earn a Straight A grant award for $484,608 from the Ohio Department of Education. Gearity's project – DigiLit (Digital Literacy) – will transform the look and feel of the elementary school classroom to engage students and help improve student achievement. The DigiLit project gives instructors a golden opportunity to develop, implement, and evaluate an innovative model of English instruction, according to JCU education professor Kathleen Roskos, Ph.D., who is leading the project. She conducts reading research and is widely published on literacy development and reading education topics. Heights Libraries will provide digital literacy opportunities to families, and Gearity PTA will meet and communicate with parents.
• Great Lakes Community Investments approved JCU for $147,933 in funding under Great Lakes' 2014-15 Career Ready Internship grant.

Forever Carroll
• James '65, John '67, and Dennis '70 Winchester, corporate officers for The Quikrete Cos. in Atlanta, will augment scholarships and financial aid for current and future students with a generous $1-million gift to the Forever Carroll campaign. Jack Winchester referenced the impact of scholarship assistance for his family, for whom a John Carroll education was a priority: "Our parents sacrificed everything to make sure we received a Jesuit education, and now that my brothers and I are in a position to pay it forward, we feel the Forever Carroll campaign is the perfect opportunity."
• JCU received an unrestricted $2.5-million gift from Robert Gunn '69, and his wife, Marianne, that will support the comprehensive goals of the Forever Carroll campaign, which include scholarships, financial aid, and academic immersion trips that help build an understanding of the University's Jesuit Catholic mission. After being the international controller at the Bank of Boston and the director of international finance at Digital Equipment Corp., Gunn founded Gunn Financial, which develops, purchases, and owns hotel, apartment, retail, and industrial real estate.
• See the impact of giving to JCU and why alumni are giving to the Forever Carroll campaign. So far, the University has raised $75 million toward a $100-million goal.
Faculty focus
• Carl Anthony, Ph.D., earned the Lucrezia Culicchia Award for Teaching Excellence in the College of Arts and Sciences for 2014. Anthony, who joined JCU's biology department in 1996, specializes in behavioral ecology, evolution, and herpetology. Students, past and present, praise his enthusiasm, availability, and commitment to encouraging them to think deeply about the effects humans have on their habitats. Many students described how Anthony ties basic ecological topics to broader issues, including examples from Ohio's conservation challenges.
• Margaret Finucane, Ph.D., received the 2014
David Hoch Memorial Award
for Excellence in Service, which honors the outstanding work in service-learning and/or civic engagement by a faculty or staff member at an Ohio Campus Compact member institution. Since 2006, Finucane has served as director of JCU's Center for Service and Social Action where she has broadened and deepened the scope of service and service learning throughout campus and significantly increased the University's engagement with the city of Cleveland. Finucane, a faculty member in the
Tim Russert Department of Communication & Theatre Arts
, has integrated service-learning into several courses she has taught, including a class dedicated to learning about the economic, political, historical, and religious complexities of an urban neighborhood in Cleveland. The class culminated in a service day, which has evolved into the Jesuit Day of Service that includes the 10 Jesuit institutions in Northeast Ohio.
• Several professors retired this past May.
More faculty news.
Student spotlight
• Mariah White '15, who is studying abroad this summer at the National University of Ireland Maynooth, was awarded a Gilman Scholarship of $2,500 by the Institute of International Education. The Gilman Scholarship Program offers awards for undergraduate study abroad and was established by the International Academic Opportunity Act of 2000. The scholarship provides awards for U.S. undergraduate students who receive Federal Pell Grant funding at a two-year or four-year college or university to participate in study and intern abroad programs worldwide.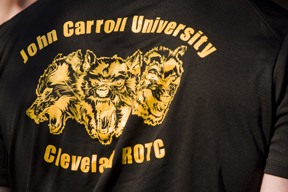 • The JCU Army ROTC Wolfpack Battalion team of 27 cadets and one faculty member performed well in the Mountain Man Memorial March in Gatlinburg, Tenn., in April. The MMMM consists of events for runners and marchers, military and civilian, teams and individuals. Heavy and light categories have uniform and ruck sack weight requirements. Rachel Botoulas '16 placed fourth (first for female) in the runner full marathon. The JCU ROTC team – Alex Cherpak '15, Michael Martin '14, Sean Rabbitt '14, Gino Lamantia '17, and Matthew Kisthardt '16 – placed third overall in the team military heavy half marathon. In the individual military heavy half marathon, Mason Morrow '16 placed fifth, and Rabbitt placed seventh. Patrick Hicks, military science assistant professor, placed first in the runner half marathon, and Summer Scanlon '16 won the female 19 and under in the runner half marathon.
• Ohio Campus Compact honored Edward Barnes '15 and Michael Gong '15 with the 2014 Charles J. Ping Student Service Award, which recognizes outstanding leadership and contributions to community service and service learning. Barnes and Gong created The Carroll Ballers, a unique service opportunity created by Barnes and Gong that combines the game of basketball with a mentoring program for youths in the Cuyahoga County Juvenile Detention Center. The goal is for the youths to re-enter society successfully after they're released from jail. Barnes and Gong started the program in fall 2012.
• In May, four neuroscience students earned awards of excellence for their research at the 68th annual Eastern Colleges Science Conference, which was held at Marist College in Poughkeepsie, N.Y. Christopher Benhatzel '14 received an award of excellence for outstanding poster presentation in health science; Rachael Libertin '14 received an award of excellence for outstanding research paper in health science; Anthony Lytle '14 received an award of excellence for outstanding research paper in cellular and molecular biology; and Ijaza Saadat '14 received an award of excellence for the outstanding research paper in psychology. JCU students have won excellence or first-place awards at the conference for 27 consecutive years. Neuroscience students conduct research on campus and at medical institutions such as the Cleveland Clinic.
• Roserita DiMillo '18 was awarded JCU's Tim Russert Endowed Scholarship. Roserita is a 2014 graduate of Lockport (N.Y.) High School, where she was an accomplished student, civic leader, and athlete. The Tim Russert Endowed Scholarship was established for students from Buffalo or Western New York.
More University news.
---
Leave a Reply