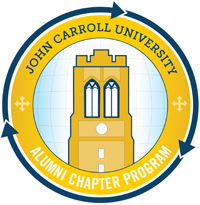 Chapter programs grow steadily
In 2011, John Carroll made a commitment to reestablish regional programming for its alumni. Based around the mission of the University, chapters are tasked with developing meaningful programming connecting alumni to each other and back to their alma mater.
The University started by giving more structure to the Chicago and Pittsburgh Alumni Chapters, the only two groups who had a chapter presence, as well establishing a chapter in Columbus, Ohio. During the next few months, chapters were established in Buffalo, N.Y.; Cleveland; Detroit; New York City; and Washington, D.C. Each of these chapters is led by a committee of alumni volunteers and supported by the alumni relations office. These original eight chapters constitute the vast majority of the alumni population.
As word spread about the alumni chapter program, the alumni relations office started to receive requests about creating alumni chapters in other areas throughout the nation, specifically in areas without a high concentration of Blue Streaks. As a result of the outreach of alumni in these smaller markets, the alumni relations office looked into the possibility of creating chapters in these areas. The first group established was in Research Triangle (N.C.). That was followed by chapters in Atlanta; Charleston, S.C.; Denver; Nashville, Tenn.; and Tampa, Fla. These groups vary in size from about 300 to as small as 60.
The alumni relations office is always open to discussing ways to connect alumni to each other and the University, no matter how small the population is within a given area. If you're interested to help develop an alumni network in your area, or help strengthen one that has been established, contact Eric Eickhoff, assistant director of alumni chapter programs, at eeickhoff@jcu.edu or 216-397-3061. We look forward to hearing from you.
——–
The University hosted more than 1,000 people during reunion weekend, which took place June 13-15. Highlights included:
• a groundbreaking ceremony for the St. Ignatius Plaza and the 1964 fountain;
• the kids camp, which included a photo scavenger hunt, s'more night, a trip to Sky Zone indoor trampoline park, and swimming;
• a wine and canvas painting event;
• a luncheon for class columnists; and
• a sneak peak of the newly renovated Murphy Hall.
View the photo gallery of the weekend.
——–
The Student Mentoring Network brings together students and alumni for mentoring. JCU graduates will have the opportunity to provide professional guidance to students without the pressure and expectations of traditional mentoring programs. Whether it's a simple email exchange through our secure system, a phone call, or a cup of coffee, the commitment level is up to you. Join the network, and help the next generation of Blue Streaks succeed.
Upcoming events.
---
Leave a Reply