Encouraged by his friend and college roommate, Jesse Capps '00, Christopher Siders '99 wrote as a cathartic way to recover mentally from a coma
By John Walsh
For his 30th birthday, which was Oct. 29, 2001, Christopher Siders '99 received a special gift from his boss at Jacksonville Magazine – a field pass to meet NFL quarterback Brett Favre before the Monday Night Football game between the Green Bay Packers and Jacksonville Jaguars on Dec. 3, 2001. Siders, a Clevelander, is a big fan of the soon-to-be Hall of Famer and had followed him his entire career. He attended the game, not as a journalist, but as a fan.
Siders, the head staff writer of the magazine at the time, met Favre that night but doesn't remember much about the encounter because after leaving the game, while he was driving home, he was blindsided by a street cleaner. The accident knocked him into a coma for two months.
"The accident knocked my memory for a loop, but Favre must have been a decent guy because he sent me a signed jersey when I was in the hospital via his public relations guy," he says.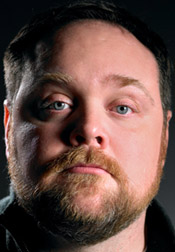 Siders left the game midway through the third quarter and was headed toward the house he rented in Jacksonville because he wanted to watch the rest of the game in the comfort of his home before having to go to work the next day. A stone-sober Siders was halfway there when he saw a street cleaner coming down a four-lane road moving between 35 and 45 miles an hour in a 25-mph zone. Wanting to turn left, he was constantly looking left and right. When he looked left again, he saw headlights immediately to the side of him and – BOOM!
The crash resulted in significant injuries to Siders' temporal lobe. His longtime girlfriend at the time contacted his parents, who came down to be with him in Shands Memorial Hospital in Jacksonville. Eventually, more family and friends, including old JCU roommate Jesse Capps '00 – who was in Philadelphia earning a master's degree at the University of Pennsylvania at the time – heard about Siders' condition. His family was there for the first month, then they returned in one- week intervals. Co-workers and his old boss visited periodically.
"Apparently, they didn't want to see me with tubes up my nose and in my mouth," he says.
Two months after the accident, Siders woke up in the hospital on Super Bowl Sunday and saw the game on TV, but he thought it was the Green Bay/Jacksonville game he attended just before the accident. Everything he could do before the accident, including talk, he couldn't do now.
"It was like the Metallica song 'One,' which describes a man injured from war who can't speak, touch, smell, hear, or see," he says, adding he was experiencing locked-in syndrome, in which everything registers in one's head but one can't do anything physically.
The first capability to return to Siders was his awareness of what was going on. His ability to speak came second.
"When I spoke, I sounded like the town drunk," he says. "I couldn't enunciate properly."
While Siders was in the hospital, his father contacted a lawyer and obtained legal counsel. After Siders emerged from his coma, he tried to piece together what happened with help from others.
"It was difficult," he says. "I had to differentiate between the lies and reality, and I couldn't weed through the crap at that point because I was so out of it."
For Capps, a Fulbright scholar who studied in Korea, the regular emails he was receiving from Siders suddenly stopped, and he wasn't aware his old friend was knocked into a coma. Then Capps received an email from Siders explaining what happened.
"I felt sorry I couldn't be there for him because graduate school was so intense," he says. "I apologized to him, and he was gracious about it."
Road to recovery
After his two-month stay at Shands Memorial Hospital, doctors put Siders on a fast track to rehabilitation in a nursing home in St. Augustine, Fla., where physical therapists put him in a standing frame to help him learn to walk again. He needed to train his muscles, which had contracted while in the coma, back in shape to support his frame. After that, Siders went to EMH Regional Medical Center in Elyria, Ohio, where his then-girlfriend's dad – a neurosurgeon who wanted to monitor his recovery – worked. While there, he couldn't get out of bed on his own and was still in a wheelchair. He was using a motorized device to get himself out of bed and working through intense physical therapy exercises.
"I played high school football, but nothing could match the intensity of the training rehab," he says.
From Ohio, Siders traveled to Charlotte, N.C., where his father lived, for one year (2003) to finish the more intensive part of his recovery.
"I wanted to be back in the South because I thought this case would go to trial, and I wanted to be available for the attorney," he says.
But recovering at his father's home wasn't as ideal as one would think.
"My dad is a man's man, not a soft-and-fuzzy kind of guy," Siders says. "It was pretty intense recovering in his house. When you're in a situation like that, you tend to lose a lot of people and strengthen some relationships. I couldn't do anything, so it was interesting to see who stuck around."
Those who did included Capps; Siders' brother, Mark; and his mom, who was living and working in Cleveland during his recovery.
"She had to work," he says.
In addition to the physical therapy, Siders also worked through occupational therapy to develop his hands. Finger splints and serial casting helped straighten his fingers to make them more functional. During much of his recovery time in Cleveland and North Carolina, Capps and Siders communicated via email and by phone every once in a while.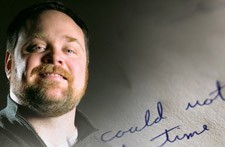 "My voice still wasn't there," Siders says.
Waiting on a friend
As English majors, Siders and Capps met in a British literature class at Carroll and enjoyed discussing books they read.
"We found out the different books we read were great for arguments over wings and beer," Capps says. "When it came to books, we fought like dogs. We never came to a consensus, but we never wanted a consensus because we liked to banter. We pushed each other as students, and graded each other's papers. With Chris, I had to remain sharp."
Capps and Siders have the stereotypical male relationship that doesn't require much communication, especially face to face.
"We didn't need to communicate often," Capps says. "We bought each other books for Christmas. We did as much as we could, but we were very busy people. When I returned from Korea, I was in an accelerated graduate program at the University of Pennsylvania, doing two years worth of work in one. From 2001 to 2004, we didn't see each other. I was broke, and he was sick."
Back to work
Siders' editor at Jacksonville Magazine offered him a job there working the phones. Siders, who used to write five articles a month, could work, but he wasn't as sharp. He found an apartment in Jacksonville and practiced improving his deficiencies. He researched traumatic brain injury and figured out what he could do to fix his weaknesses.
"I'd have notes taped to my apartment walls that reminded me what I needed to work on, such as focusing on stability while walking or memory techniques to remember people's names," he says.
One day on the phone, Siders told Capps about his recovery methods, including the journal he kept. Siders read him excerpts, and Capps said he should write a book because much of what Siders was reading Capps thought was funny.
"When I wrote stuff down, it was jumbled; but the more I wrote, the better I got," he says. "It was cathartic because I released a lot of emotion. I didn't go to a bar and drink away my depression like I wanted to. I stayed home and wrote a book, which is a metaphor for the big middle finger to those who said I couldn't live alone or be a journalist again. I talked to Jesse once a week and he always said, 'I hope you're still writing.'"
The magazine kept Siders for a couple months, but then he needed to move on. He had a string of random jobs, including selling men's shoes and teaching high school English as a substitute, to pay his bills. In 2008, he hosted a radio show about the NFL on WJXJ. He wanted to return to journalism, but the market was tanking, so he returned to school to earn an English-as-a-second-language certification. After earning the certification, he found a job in China teaching ESL at Shenyang Institute of Engineering and Liaoning University, both in Shenyang.
"It was the perfect place because if I sounded odd, the Chinese never knew," he says. "Because of my limp, speech, and crooked hand, I felt everyone was looking at me; but it was OK in China.
"Officials didn't want me speaking Chinese at all," he adds. "The universities didn't want the students to either. If a student asked to go to the bathroom, he had to use English. If he couldn't, he wasn't allowed to go. So the first thing I made sure of was that all students knew how to ask to go to the bathroom in English."
Learning a different language in China was helpful for Siders' brain development and recovery. He had the option to stay longer than one year, but he missed the U.S., specifically Cleveland, and returned.
In 2004, Siders attended Capps' wedding in New Hampshire.
"I saw he needed a little more effort for things one takes for granted, such as grabbing a drink off a table," Capps says. "The mind was there, but the body required more patience and calculation. My wedding was a big deal for Chris because it was the first time he was in a large social setting since the accident, and he had to be in tip-top shape."
Siders' book was about finished when he returned from China. Soon after, the debut novel, "From The Ground Up," was published. It's available on amazon.com. He got a job teaching ESL at Case Western Reserve University in Cleveland and has been there for 2.5 years. While at Case, he met his wife, Traci.
"I always said I'd never date a teacher," he says. "However, Traci, a third-grade teacher, is funny, smart, beautiful, and she challenged me."
Life goes on
Siders is at a comfortable point in his life: He's married; wants to start a family; has published a second book (for children) called "Faith Wishes She had Words;" is writing his third book, "Baseline," about his time in China; and teaches at the Seeds of Literacy in Cleveland.
"I don't know if I'm going to recover fully," he says. "There's always that possibility some things don't return. Thank God for GPS (Global Positioning System) because I still get lost easily while driving and forget where I park a lot of the time."
Life is better when people don't think about it too much, Siders says.
"I don't care if someone looks at me because I limp," he says. "I look at life differently now. Sometimes you're in a bad mood; sometimes you're in a good one. That's the way it is, but I realize how quickly life can change."
Capps, a high school history teacher in Virginia, attended Siders wedding in October 2013.
"He went through depression and physical pain I will never comprehend, but he easily remains my most cherished friend from college," says Capps, adding that their relationship is exactly where they want it to be. "We're working-class kids who like owning homes; drinking good beer; reading good books; and talking about sports, books, and women, as well as our successes and failures. I'm glad he's in my life. He still pushes me. He still challenges me." JCU
---
Leave a Reply