An increasing number of Jesuit colleges and universities are hiring non-Jesuit presidents
By John Walsh
It's possible the next president of John Carroll University – the 25th – will be a lay person. Fr. Robert Niehoff, S.J., has a commitment to the board of directors through 2020 and has positioned the university well for the future regardless of who's the next president.
A non-Jesuit at the helm of John Carroll might be strange to many alumni, but it's hardly new to Jesuit colleges and universities throughout the United States. Currently, nine of the 28 schools have lay presidents:
• Georgetown (John DeGioia, Ph.D., since 2001);
• Saint Peter's (Eugene Cornacchia, Ph.D., since 2007);
• Gonzaga (Thayne McCulloh, Ph.D., since 2009)
• Canisius (John Hurley, since 2010);
• Loyola Marymount (David Burcham, since 2010);
• Detroit Mercy (Antoine Garibaldi, Ph.D., since 2011);
• Saint Louis (Fred Pestello, Ph.D., '74, since 2014);
• Marquette (Michael Lovell, Ph.D., since 2014); and
• Le Moyne (Linda LeMura, Ph.D., since 2014).
Additionally, Creighton is looking for a new permanent president.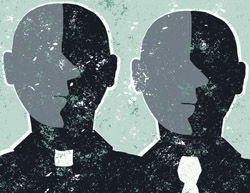 Georgetown, the first Jesuit university to hire a nonreligious president, has had one the longest.
"Georgetown picked someone extremely good," says Fr. Michael Sheeran, S.J., president of the Association of Jesuit Colleges and Universities, which works to advance the mission of Jesuit higher education: helping students lead exemplary lives and grow in service, faith, and justice. "Jack DeGioia had been at Georgetown since he was a student. Initially, there was opposition from some older alumni to select a lay president because the thought was, 'Can't we find a Jesuit to run a school like Georgetown?' Now, years later, most of those who were initially opposed to a lay person see why Jack was an excellent choice."
There also were some Jesuits who thought the oldest Jesuit university in the country should be in the hands of a Jesuit, according to Fr. Howard Gray, S.J., special assistant to the president, former board member, and vice-chair of the board at Georgetown. Furthermore, the board wanted sound reasons for not selecting a Jesuit.
DeGioia, who earned his undergraduate and doctorate degrees from Georgetown, was a senior administrator (dean of students and executive vice president) at the school before becoming its president.
He participated in Ignatian spirituality (including a 30-day retreat) and lived the culture before he was asked to represent it.
"I'm high on Jack," Fr. Gray says.
"Jack has been so successful in fostering the Jesuit Catholic identity of Georgetown that it's a nonissue for most, if not all, people," says Fr. Charles Currie, S.J., executive director of the Jesuit Commons at Georgetown. "Fr. Gray has been at Jack's side the entire time."
Like people in many professions, Jesuits don't start out in their careers wanting to be the president of a university, Fr. Sheeran says. The openness happens gradually over time as they accumulate administrative and leadership experience.
"Does a Jesuit candidate have to have been an academic vice president, or fundraiser, or dean of students? No, but it helps," Fr. Sheeran says.
In fact, the founder of the Jesuit order, Ignatius Loyola, saw the devastation that ambition and careerism inflicted on the Renaissance Church. Consequently, he built a strong prohibition against Jesuits seeking or accepting clerical honors into the Jesuit Constitutions.
When looking for a president, it's important for a search committee and board of directors to have a clear set of principles or guidelines to use to vet candidates. In Georgetown's case, it was looking for a person with day-to-day management experience and a clear vision for the future of the university.
"We needed someone with management skills and vision without losing our tradition," Fr. Gray says. "We were looking for a special person – the best person to do the job."
The selection process
When a Jesuit institution searches for a new president, its board and the Society of Jesus work collaboratively. A board (JCU's is chaired by Dave Short '81) is responsible for promoting the mission of an institution, and the Society is concerned with promoting the Jesuit Catholic character of that mission. At Carroll, the board has been working with Jesuits to make sure the University continues to carry out its mission appropriately. For a board/Society relationship to work well, mutual trust must exist. As such, it's important the lines of authority and communication, as well as expectations between a board and Society, are kept as clear as possible so an institution and its mission can flourish. While the local provincial (in JCU's case, Fr. Brian Paulson, S.J., who's the provincial of the USA Midwest Province) ensures the Jesuit mission is appropriately understood, he joins a president, trustees, Jesuit community rector, and Jesuit faculty and staff to make the Catholic faith and Jesuit charism realities within the institution.
"The Jesuits are respectful of the autonomy of each school's board, but if the board is smart, they'll want help from the school's provincial, especially if the man they're interested in is in another province," Fr. Sheeran says. "Ultimately though, the decision is up to the board; the provincial doesn't intervene."
The Society's role is important when an institution is looking for a president, who may or may not be a Jesuit. The provincial entrusts the school's Jesuit mission to the person whom the board chooses as president. In the eyes of the Society, the president, Jesuit or not, becomes the director of its apostolic work. According to the Society, a president – who's responsible for maintaining and promoting the well-being of a Jesuit Catholic institution – has three main responsibilities: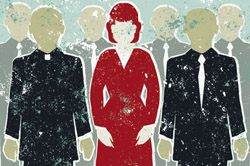 1. advance the Jesuit Catholic mission of the school;
2. maintain and develop a strong relationship with the local Jesuit community and its rector/superior through communication; and
3. maintain and develop strong relationships with the local Catholic Church and larger Society of Jesus and its other apostolic works, including the superior general of the Society, the local provincial, and other Jesuit colleges and universities.
The search process should be designed so a school and the Society can execute their responsibilities in a way that facilitates the work of the other. A school's search committee and board should keep the local provincial adequately informed about the process and candidates so the provincial can collaborate with them appropriately. The Society offers four guidelines for the search and selection process:
1. Candidates' availability. A board is encouraged to solicit recommendations of viable candidates from those in leadership positions at Jesuit and other educational institutions, as well as those with leadership responsibilities within the Society. It's the role of a Jesuit provincial to determine the availability of men from his province to be considered as presidential candidates.
2. The Society as a resource. It's anticipated a board name one or more Jesuits to the search committee and consult with the presidents of the Jesuit Conference and AJCU. "Almost all the schools that have been looking were in touch with me, and I gave them names to add to their lists," Fr. Sheeran says. "They asked about men's backgrounds, and I gave them names of people who could help."
3. The Society's role in the selection of the president. The local provincial should be satisfied those on the list of serious candidates meet expectations articulated by the Society. When necessary, he should signal early if a candidate wouldn't receive his approval.
4. The Society's mission of the president as director of the work. Because the local provincial missions the new president, it's appropriate he have a formal role in the inauguration.
The former president of Regis University in Denver for 19 years, Fr. Sheeran was involved only minimally in deciding who succeeded him in 2012. He wasn't on the search committee but was asked for names of people who were familiar with several candidates and could serve as references. During the last 10 years of his presidency, Fr. Sheeran was asked by the board chair to send him a list of people who had excellent leadership skills the board could turn to if Fr. Sheeran suddenly died or fell ill. When the board narrowed the candidate pool to three, the finalists interviewed Fr. Sheeran about what the job was like. The board chair asked Fr. Sheeran to let him know if any of the candidates asked him questions that indicated the candidate didn't understand the school, but that didn't happen.
The process Regis went through was interesting, according to Fr. Sheeran, because the board was convinced they weren't going to be able to find another Jesuit to replace him, partly because the school is unique, with 12,000 adult students. As such, the new president needed to understand adult education thoroughly. The board agreed to look for a Jesuit for six months, and if it didn't find one by then, it would throw it open to a larger pool and look for another six months. It turns out they found a Jesuit, Fr. John Fitzgibbons, S.J., within those first six months. Fr. Fitzgibbons then spent the next six months – originally set aside to search for a lay president if necessary – interviewing presidents at other Jesuit schools to help him transition more smoothly.
Once a president is hired, that person typically signs a contract for a period of years and is reviewed by the institution's board annually. It's rare for a president to sign a long-term contract.
Ignatian speak
Believing firmly in and being committed to Jesuit values, traditions, and practices is one characteristic a lay person should have to be a strong candidate for president of a Jesuit college or university. The Jesuit ideals can be learned and experienced in the Ignatian Colleagues Program, for example. The 6-year- old ICP, a national program headquartered at John Carroll, is designed to educate and form administrators more deeply in the Jesuit tradition of higher education so they can articulate, adapt, and advance the Ignatian mission on their campuses better. Ed Peck, Ph.D., is the executive director. (To read more about ICP, visit ignatiancolleagues.org, and to read about how JCU administrators are involved with the program, click here.) Peck was recently named vice president for university mission and identity. He begins that role Aug. 15.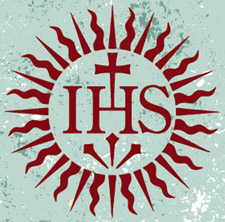 The ICP program isn't critical for a new president to have gone through, but the elements of it – which can be experienced outside the program – are important, says Fr. Sheeran, adding that requiring a new president to go through the program before he's hired would be artificial.
"Most importantly, one has to believe in and be committed to the Jesuit tradition," he says. That doesn't necessarily mean one has to be Catholic. Loyola Marymount president David Burcham, for example, is a Protestant, as well as that school's first lay president. Burcham, a graduate of LMU's law school, previously served as its interim president.
"The best way to become an academic leader is to work your way up from within the system," Fr. Gray says.
Reservations without the collar
Fr. Sheeran acknowledges that older alumni of Jesuit schools with lay presidents miss Jesuit presidents, but today's young alums treasure their college experience as much as their predecessors.
"Alumni wanted to reminisce about the people who taught at Regis when I visited them for fundraising purposes," Fr. Sheeran says. "Having a Jesuit president can make fundraising easier, but there are people in development who befriend older Jesuits and take them on calls. They sit back and let the alum and Jesuit converse, then enter the conversation at the appropriate time."
Some alumni mistakenly think once a lay person becomes a president there will never be another Jesuit president at that school. Sheeran cites Detroit Mercy. After the University of Detroit and Mercy College of Detroit merged in 1990, Fr. Robert Mitchell, S.J., was the first president. Fr. Mitchell was succeeded by a nun, Sister Maureen Fay, O.P., who was followed by Fr. Gerard Stockhausen, S.J., who was succeeded by Garibaldi.
"Jesuit schools aren't hiring lay people as presidents just because there's a decreasing number of Jesuits – it's not a fallback position," Fr. Currie says. "The laity is the hope for the future, and that dates back to Vatican II. The laity has a mission in the church just as much as the clergy do."
But just because Jesuits don't see the increasing number of lay presidents as a threat, it doesn't mean the Jesuit Catholic identity should be taken for granted.
"It's a challenge in a pluralistic, modern society," Fr. Currie says.
So whether John Carroll's next president is a lay person or Jesuit, there are clear guidelines for the board and Society to follow to select the ideal candidate. That person, in all likelihood, will believe in and be committed to Jesuit ideals. Furthermore, that person will have to understand the culture at John Carroll.
"The culture of each institution needs to be matched with the president," Fr. Gray says. "A president has the right to his own style, which he can adapt to a university's culture, but he can't let the culture overwhelm him." JCU
---
Leave a Reply