How college, football, and the military shaped me
By Terry Leiden '62
I never wanted to go to college, let alone attend John Carroll University. I graduated from Benedictine High School in Cleveland in 1958. I was absent four days in four years. Every morning I'd stare at the teachers with a steely eye and think, "Go ahead, teach me something. I dare you." All of my graduating buddies, who had new 1958 V8 Chevys, were going to work for Republic Steel, Jones & Laughlin Steel, White Motor Co., Ohio Bell, and the city of Cleveland. But I didn't want those jobs.
In July of that year, I went to enlist in the Marines. The recruiting sergeant gave me physical and mental tests and said I passed and could be in the U.S. Marine Corps. I went home to my father, who always told me I would never amount to anything, and told him I wanted to be a Marine. He wasn't happy about it and said he wouldn't sign the paperwork.
"When I turn 18, I don't need your permission," I said.
Dad was a little upset and so was my brother, Leo, who graduated from John Carroll in 1955 and was serving in the Ohio National Guard as a first sergeant. They convinced me to go to college.
"OK, how about Saint Louis University?" I said.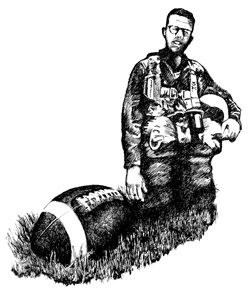 "I'm not letting you out of my sight," Dad replied.
So, following in my brother's footsteps, I attended John Carroll. But trying to get into JCU in September was problematic. Between my brother and father, who must have pulled some strings, I was accepted into the night school, where classes started at 6 p.m.
Because I was a full-time student, I had to take ROTC. The program school and drill, which was called the Night Battalion, started at 5 p.m. One day, someone said to me, "Why don't you join the rifle team?" I knew about the rifle team – members were required to shoot a .22 caliber rifle in the basement of the ROTC building. I said, "That sounds great." My father approved – he and I were avid hunters. So I was on the rifle team my first semester.
One day I met John Kneafsey '62, another freshman. He was from Chicago and on the football team. He asked me, "Why don't you walk on? Go see the new coach, John Ray." So I went to see Coach Ray. I was always under the impression he was middle aged at that time, but at the 50th reunion of the undefeated 1959 team, I realized the first time I met him, he was just 31 years old. He made me partake in the workout program. His assistant coach, Bill Belanich, said, "If you're going to play football, you have to have passing grades."
"Who the hell thought up that rule?" I said. "What difference does it make?"
"Those are the rules, and you have to take these cards to all your professors and have them indicate you're attending class and how you're doing," coach Belanich said.
"You mean, if I play football, I have to have good grades," I said.
"The NCAA sees it that way," coach Belanich said.
After the first semester of my freshman year, my grades were OK, so I enrolled in the day school. In September 1959, I started playing on the football team, which, 50 years later, was inducted into the University's Athletic Hall of Fame for being undefeated. I helped the team remain undefeated by not playing in too many games.
In September 1960, I was practicing football when Maj. Rein approached me and said, "Why don't you go into Advanced ROTC? It's elective on your part – that is, you have to apply; and it's selective on our part – that is, we don't have to take you. But if you apply, we could get you into ROTC."
"Why would I want to go into ROTC?" I asked.
"You'd make a good officer," Maj. Rein said. "I'd make a crummy officer," I replied.
"You'd also get a monthly stipend of $35.79," Maj. Rein said.
"Wow!" I said. "Sign me up."
So I became a cadet second lieutenant; but because I signed up in late September, I didn't have a uniform for three months. Meanwhile, I noticed seniors were getting their $35.79 a month, so I asked Maj. Rein where my checks were.
"You don't get a check until your uniform is paid for," he said.
"Well, I haven't gotten my uniform yet," I said.
"You'll have it in January," he said. "It costs $200, so for the first seven months, the $35 goes toward the purchase of your uniform."
"How can you charge me $200 when I can go to Richmond Brothers and buy a suit for $45?" I asked.
"It includes shoes and a hat," he said.
I thought I'd been hoodwinked.
Toward the end of my junior year, Jim Mullin '62 and I were called into Col. Howard Higley's '66G office. He said we were at the tail end of our ROTC class and we'd better straighten out. Well, fortunately, to my surprise, I aced the military history course. I added sketches and drawings of the Battle of Cowpens (American Revolutionary War), and Maj. Rein wanted to know if I copied from someone else.
"Did anybody have an answer like mine?" I asked.
"No," he replied.
My superiors sent me to ROTC summer camp where I blossomed. It was like advanced Boy Scouts 201. When I came back in September 1961, Col. Higley shook my hand and said I did a good job.
Meanwhile, coach Belanich had been making sure all the linemen were keeping
up with their classwork. We added the task of tutoring the backfield. I wondered what was going on when the linemen had a grade point average above 3.0 and the backfield was struggling to maintain a 1.8. What was the world coming to? We linemen all went on to become accountants, doctors, and lawyers.
After graduating from Carroll in 1962, I attended Northwestern University for graduate studies. While there, I wrote a letter to Army personnel administrators, explaining I wanted to attend law school. They said I couldn't change my curriculum, and if I did, they'd call me to active duty. Well, they kept their word. They called me to active duty in August 1963 and shipped me off to Korea. Temperatures during the winter of '63 in Chicago plummeted to -24 degrees. When I returned from Korea in 1965, my parents asked me how it was, and I said it was warmer than Chicago.
While I was in Korea, I joined the sport parachuting club and broke my leg. So, I wrote a letter to the Pentagon requesting to be sent to U.S. Army Airborne School so I could get an airborne assignment. Everyone laughed at me, but 60 days later, I received a letter saying I could go to airborne school in December 1964 and was assigned to the 18th Airborne Corps. Airborne school felt strange to me because I felt like I'd been there before. It was like football practice. I didn't find out until the 50th reunion of the 1959 team that Coach Ray had been a paratrooper and trained at Fort Benning, Ga., just like I had, about 20 years earlier. Many of his coaching techniques embodied airborne doctrine.
In 1965, I went with the Airborne as a first lieutenant and commander of our unit to the Dominican Republic as part of an incursion. Because we had a shortage of supplies and were having problems keeping our vehicles running, I wanted to see the commander of E Company. So I asked the first sergeant if I could see him. The first sergeant blew me off and said, "You'll never get any help from him."
So I walked in, saluted, and was about to say who I was when I recognized the captain, Francis "Herkey" Hofrichter '60, who was a senior when I was a sophomore on the football team. He said, "Terry, how are you doing?"
The first sergeant said, "You two know each other?"
"Yeah, he was the third-string tackle behind me," Herkey said.
The first sergeant shook his head and walked away. Herkey called him back and said, "Help him out, and give him whatever we've got. He's got headquarters and the commanding general on his side."
While I was in Vietnam in 1966, I heard about the GI Bill. So I wrote a letter to a senator and told him it would help many of the personnel in my platoon and company. I received a nice letter in return saying he appreciated hearing from someone in Vietnam. When I returned to the States, I applied to Case Western Reserve University School of Law in Cleveland, and the dean, Maurice Culp, said, "You know, under the GI Bill that's passed, the government will pay for school."
"I thought it only applied to undergraduates," I said.
"It applies to everybody," he said.
I graduated from law school in 1970 when I was 29. My brother said, "Welcome to the world of work. You haven't done a thing yet." My father said, "I hope you amount to something."
I've been lucky and successful, and John Carroll deserves the lion's share of the credit. JCU
Leiden is an attorney with the firm Leiden & Leiden in Augusta, Ga.
---
Leave a Reply