What an honor
On May 16, the recipients of the 2014 Alumni Medal, Campion Shield, Young Alumni Award, and Silver Quill were honored at the alumni awards dinner. The Alumni Medal, the highest honor awarded annually by the alumni association, recognizes individuals for accomplishments in their professions, exemplary family and personal lives, contributions to their communities, and dedication to the University. Recipients, who are selected by former presidents of the association from nominations submitted by members of the Carroll community, are: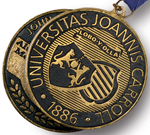 • Annette Haile '74;
• Robert Heltzel '70;
• William O'Brien '81; and
• Michael Sullivan '62.
The Campion Shield recognizes heroism and bravery among members of the Carroll community and affirms the Jesuit ideal of being men and women for others. This year's recipients are Dr. Charles Farrell '59, a retired surgeon, and his daughter Rev. Katie (Farrell) Norris '00, who established the Carolyn L. Farrell Foundation for Brain Health to help those with dementia and other mental illnesses through arts-based programs.
The Young Alumni award recognizes the outstanding leadership and service of undergraduate alumni 40 years old or younger. Standards of recognition include a demonstrated leadership capability, a commitment to serving others, and substantial dedication to the University and its mission. Recipients are Bridget Fitzgerald '10 and George Sample '02, 12G.
The Silver Quill is presented annually to the most well-written and consistent class columnist in the Alumni Journal section of this magazine, exemplifying dedication to his or her classmates. This year's recipient is Ray Rhode '55.
Take me out to the ballgame
Watch the boys of summer with fellow alumni at a ballpark near you. Contact your local chapter president or click here for more details.
June 21
Cleveland Indians vs. Detroit Tigers
Progressive Field
Cleveland
June 27
Mahoning Valley Scrappers vs. Jamestown Jammers
Eastwood Field
Youngstown, Ohio
July 12
Toledo Mudhens vs. Pawtucket Red Sox
Fifth Third Field
Toledo, Ohio
July 19
Akron Rubber Ducks vs. Erie SeaWolves
Canal Park
Akron, Ohio
Aug. 6
Cincinnati Reds vs. Cleveland Indians
Great American Ball Park
Cincinnati
Aug. 9
Pittsburgh Pirates vs. San Diego Padres
PNC Park
Pittsburgh
Aug. 9
New York Yankees vs. Cleveland Indians
Yankee Stadium
New York City
Aug. 9
Durham Bulls vs. Buffalo Bisons
Athletic Park
Durham, N.C.
Gathering in the Big Apple
Hello, fellow New York City alums. Happy two- year anniversary! Yes, it's difficult to believe, but almost two years ago, we trailblazed this region by launching the JCU NYC Alumni Chapter. With about 10 volunteers who came to the NYC area from Ohio, Michigan, New Jersey, and New York, we've energized the region with activities and service events that appeal to various alums. Activities have included gatherings to watch the Cleveland Browns play on Thursday nights, meeting in Central Park to watch the Philharmonic, and the annual Christmas Mass at St. Pat's followed by brunch. The service events include volunteering at the Church of St. Francis Xavier soup kitchen on 16th Street biannually. If there are other events or activities that would appeal to a larger group, contact us via the alumni website or call the alumni office. We'd love to hear from you.

As we bring this anniversary to a close, I'd like to introduce the next leaders of the New York City Chapter – co-presidents Meghan Betz '06 and Janet Vlosky '10. I'm excited to see how they take this chapter to the next level. You'll have the opportunity to meet them, along with other NYC chapter members, at some of our upcoming events. Here's a sample of what we have in store: JCU Visit NYC cocktail party in July, Indians vs. Yankees on Aug. 9, Philharmonic in Central Park in August, JCU homecoming football watch party in September, a Browns watch party in October or November, and Christmas Mass at St. Pat's followed by brunch in December. Details about the events can be found on our alumni website and in emails. We hope you have a great year and look forward to seeing you at one of the events.
– Nick Conyngham '82
newyorkcity@jcu.edu
---
Leave a Reply