By Edward P. Hahnenberg, Ph.D.
When Pope Francis appeared on the cover of Rolling Stone, it only confirmed what my students already knew: This pope rocks! After a year of Francis media-mania, my students still haven't tired of talking about the pope. They haven't forgotten those early images of the white-clad pontiff riding the bus, paying his own hotel bill, washing the feet of a young Muslim woman, embracing a severely disabled boy, and stopping to pose for a selfie with a group of college students. They like this guy. I like him, too.
My favorite Pope Francis moment so far came at the very beginning. Minutes after he was elected, Pope Francis stepped out onto the balcony, bowed, and asked the crowd assembled in St. Peter's Square to pray over him. The pope's word choice was significant. He didn't ask everyone to pray for him. He asked us to pray over him. The pope asked the people to bless him. In that simple gesture, Pope Francis suggested a Catholic Copernican revolution – one initiated by the Second Vatican Council (1962-65) and still struggling to take hold. It's a shift from seeing the pope as the center of the Catholic universe to seeing everybody – the whole people of God, clergy and laity – revolving around Christ and spinning out to serve the world.
From the beginning, the media have been asking: What will this pope do? But Francis has been asking a different question: What are we all going to do?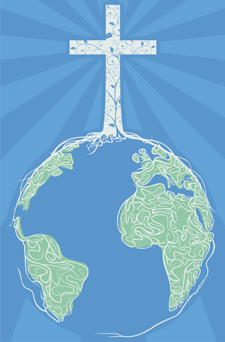 In my "Contemporary Catholic Theology" course, I push my students beyond the cult of celebrity and remind them Francis wasn't all that impressed with his picture on the cover of Rolling Stone. (In a recent interview he said, "To paint the pope as if he is a sort of Superman, a sort of star, I find offensive.") I ask my students to analyze the pope's writings and speeches and invite them to listen to the vision of church he's articulating. It's a vision of a community focused on mission – a community in which every member has a responsibility to go out to those on the margins of society, to those who are suffering, lost, or alone. In a special way, this community is called to stand in solidarity with the poor.
At a Jesuit institution like John Carroll, this message of service resonates with students. But there's an additional challenge that strikes a more discordant note. That is, Francis' call for full participation and active engagement extends into the very life of the church.
Most of my Catholic students (along with many non-Catholics) know the church asks a lot of them; but these expectations almost always are understood in terms of personal morality or private religious obligations. Very few have any sense they're called to play an active role within this tradition – to contribute to its development, help shape its future, and lead. Instead of calling them forth, the church socializes them into passivity.
And so, as a mentor to these young adults, I'm encouraged by a pope who asks for input, a pope who's willing to listen and open to change. Last semester, Pope Francis announced his intention to hold a special synod about the family in October 2014. He distributed a set of questions to take the pulse of the church on several issues, including controversial ones such as divorce, birth control, and gay marriage. In issuing this questionnaire on behalf of the pope, Archbishop Lorenzo Baldisseri asked bishops to share it widely within their dioceses to gather input from local sources.
My students accepted the pope's invitation. They each prepared a one-page response, identifying the most important issues they felt the synod needed to address. Their remarks were impressive – revealing a deep awareness of the pain of contemporary family life, a loving acceptance of their gay and lesbian friends, and a special concern for children and passing on the faith. I mailed their suggestions to the Vatican, and shortly after the semester ended, we heard back from Archbishop Baldisseri, who thanked the students for their insights and asked for our prayers.
In class, we were realistic about the nature of our contribution to the 2014 Synod on the Family. We discussed the sheer volume of responses flooding into the Vatican from throughout the world, the politics behind the process, the inertia of institutions, and the difficulty of doctrinal change. But for my students, the most important thing was the simple fact they had been asked. What they had to say mattered. And, in the person of Pope Francis, they felt like someone was listening. That might not sound like a revolution, but it's not a bad place to begin. JCU
Hahnenberg holds the Jack '56 and Mary Jane '91, '94G Breen Chair in Catholic Systematic Theology at John Carroll. For more information, visit sites.jcu.edu/breenchair.
---
Leave a Reply