A new book tells the story of how Jeff Matovic '95 suffered with Tourette syndrome for 31 years until a bold experimental therapy finally calmed his tics
By John Ettorre '80
It was March 4, 2004, less than a month since doctors at University Hospitals of Cleveland had first surgically pierced his skull, implanting the electrodes that would facilitate deep brain stimulation therapy to help calm Jeff Matovic's '95 Tourette syndrome. Now, after the batteries had been implanted to essentially serve as a brain pacemaker to regulate his severe body tics, he returned for the final, crucial phase of the essentially experimental therapy – in which doctors would fine-tune his brain's controls, almost like tuning the orchestra in his head.
"After a few more adjustments, the tics on Jeff's right side noticeably decreased," an author writes. "Then the settings for the left were added. In 30 seconds, the last of his tics – on both sides – simply and quietly melted away. His arms and legs fell quiet. No one talked. In the silence of the room, Jeff's body became perfectly still. Mouths hung open."
Against all odds, it worked. For the first time in history, deep brain stimulation completely worked on someone with Tourette syndrome.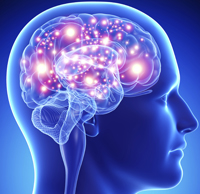 As Matovic left the hospital with his father that day, the pair entered a parking garage to return to their car. Matovic's dad headed to the elevator when Matovic beckoned for an alternative, one that would've taken too long to negotiate in his former tic-ridden state.
"I said, 'Dad, let's take the stairs,' and that was a beautiful moment," he says.
Matovic's dramatic medical victory prompted headlines throughout the world and would soon land him on national TV, with appearances on "Oprah" and "Good Morning America." As Oprah Winfrey introduced Matovic to raucous applause from a studio audience, she shouted "miracle man" three times.
Now, Matovic has co-written a book about his experiences – "Ticked: A Medical Miracle, a Friendship, and the Weird World of Tourette Syndrome" – with a fellow Tourette's sufferer, James Fussell, a columnist for the Kansas City Star. It took the pair almost a decade to complete the book as they struggled against the challenges of distance and their day jobs. Jeff Foxworthy – Matovic's favorite comedian and someone whose humor he credits with helping him persevere – wrote the foreword.
JCU's special role
But the book and Matovic's larger life narrative are striking for how his alma mater figures almost as a character in his epic struggle. Matovic makes it clear his roommate, his academic advisor, the Saint Francis Chapel, and even the campus itself played crucial roles in keeping him alive and on a path toward beating his medical disorder. He recalls being smitten with John Carroll from the first moment he saw it.
"As soon as I toured the campus my junior year in high school, I fell in love," he says.
"The entire campus provided me with a feeling of safety, security, and consistency, which, for someone with Tourette's and obsessive compulsive disorder, is extremely important."
But Matovic reserved a special affection for the campus chapel.
"The first time I laid eyes on the Saint Francis Chapel, I loved it because my faith was always important to me," he says. "It was my refuge, my rock. If I needed to get away at 11 p.m., I could be alone with God and my thoughts."
Because the chapel was open around the clock, it served as a safe haven and a spiritual refueling station at all hours.
"When he talked about Saint Francis Chapel, he got this indescribable look on his face, and I felt like I was there with him in a place of peace," Fussell writes.
For years, as a student and later, when Matovic visited as an alum, he would instinctively sit in the same place – the second chair in the second row from the back.
"Many times I'd talk out loud because I was the only one there," he says. "I'd go up and touch the wood altar."
As Matovic left, he'd always sign the chapel prayer book with an anonymous thought, something like, "Please let me beat Tourette's this week."
"I'd always sign it, 'Your disciple, J,' because I didn't want anyone to know who it was," he says.
While Matovic's classmates in grade school sometimes called him Spaz Boy and Tic Man, his symptoms weren't so obvious to casual observers by the time he was in college. And he refused to ask for special accommodations because he wanted to beat Tourette's fairly.
But it wasn't just the campus or chapel that provided him with peace. His roommate, Paul Knaus '95, and his academic advisor, Helen Murphy, Ph.D., 67G, also were instrumental in helping him get through college. Matovic and Knaus met during freshman orientation and became fast friends through their shared love of running. They had run cross-country in high school and ran together as college students, sometimes finishing a run with a prayer together. By junior year, they decided to become roommates.
Matovic recalls his junior- and senior-year roommate would finish his work and then sometimes spend a couple hours reading Matovic's notes into a Dictaphone.
"He never complained," Matovic says.
Knaus, a teacher in Cedar Rapids, Iowa, doesn't recall the situation so well.
"It's funny, it didn't feel like two hours," he says. "It just felt normal to me. Maybe it was because of the career path I was on as a teacher."
Murphy, a psychology professor who was Matovic's academic advisor through his four years at Carroll, was equally important to him.
"I knew this was a person I could share my disorder with," he says. "She became, in a way, my best friend. I'd visit her almost daily. Without her, I wouldn't have made it. She was there to listen and help me focus but also to challenge me. And that's the challenge I needed to take all this on."
In the book, Fussell writes: "For Jeff, college was something to survive as much as experience. But in a weird way, the difficulty of his courses helped him focus."
A rough road ahead
Graduation was a personal victory, but it was only the beginning of Matovic's challenge – beating the disease that had dogged him throughout his life. After college, he tried a number of jobs, including working with autistic children in Boston. But none really worked out. His Tourette's, which was becoming worse, always got in the way. He had a brief, failed marriage. He was enrolled in a master's program at John Carroll with hopes of continuing for a doctorate but had to drop that as well. His symptoms had grown so bad and quality of life so poor he contemplated suicide.
In August 2001, Matovic happened to watch a TV program about how deep brain stimulation was used on a Parkinson's patient. He then became obsessed with getting the same therapy. Once again, he faced an array of daunting challenges. DBS wasn't an approved therapy for Tourette's, and few doctors would perform the surgery on such a patient. Eventually, he found one, Dr. Robert Maciunas, who happened to be one of the world's leading authorities on DBS. But even he would perform the surgery only for the most acute adult cases. After a battery of tests that took months, Matovic was approved.
But there was still one more hurdle to climb. He had no health coverage, and the therapy would cost perhaps $250,000. So he moved up the date of his wedding so he would be covered on his new wife's plan; but he still sweated the fact the insurer might reject
coverage for this untested treatment protocol. It was eventually approved, to his relief.
While no one had been successfully treated for Tourette syndrome through DBS before, all Matovic's bets were riding on this surgery being successful. His doctor later told him that without the successful intervention, his body would have burned out possibly within
six months. Matovic and his family prayed that if the surgery was unsuccessful, he simply be allowed to die on the operating table.
As he anxiously waited for the surgery, he turned to JCU for spiritual strength once more. One week before the operation, he asked Fr. Casey Bukala, S.J., '54 to say a private Mass, where he would solemnly receive Last Rites. At his request, it was held in the early evening, when the sun would bathe the stained glass in his favorite spiritual refuge, the Saint Francis Chapel, in a pleasing array of soothing colors. He felt a sense of calm and peace come over him. He was ready for whatever lay ahead.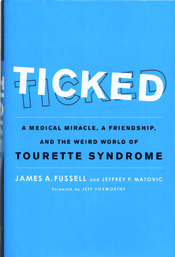 A household phrase
Today, Matovic is happily remarried to Debra Janning, whose emotional strength was crucial to help him through his ordeal. In addition to two children from her previous marriage, the couple has two children together. He notes with satisfaction that his son, Chris, was born exactly one year to the day he was approved for the surgery, and his son, Andy, was born on the anniversary of his initial surgery.
Matovic is now a full-time inspirational speaker, and he might have a future as a serial author as he thinks about writing another book. The psychology major, who was once intent on a career in community mental health, now says, "I don't need a Sigmund Freud couch to do my thing. I can just go out and talk to people about my experience."
In a recent presentation to those with Tourette's and their families in Columbus, Ohio, he was typically upbeat.
"I'm going to use my life and talents and set my own parameters," he says. "Never, ever, let anyone – doctor, parent, or friend – set the parameters of your life."
Also, Matovic occasionally speaks to JCU freshmen, conveying the message to keep their eye on their goal, no matter how insurmountable it seems, and always have a plan. In 2004, the University conferred him with the Campion Shield for courage.
Matovic is careful to note that while his tics are completely controlled, he's not cured. He still must carry backup batteries in case a security guard's wand or a store's antitheft devices cause battery failure – nor has DBS been completely adopted by all doctors. The FDA still doesn't approve DBS for treating Tourette's.
Matovic's larger goal is to help put the disease on the same public footing as cancer. He wants people to understand Tourette's isn't the swearing disease so frequently and misleadingly portrayed in popular culture; rather, it's a debilitating, chronic condition that robs sufferers of their humanity.
"I want Tourette syndrome to be a household phrase, like cancer is," he says. "I don't want children who suffer from it to have to go through what I went through." JCU
Ettorre, a former editor of this magazine, gratefully acknowledges reporting assistance from Mary Rose Coburn Sullivan '82.
---
4 Comments
---
Leave a Reply