Bob Heltzel's curiosity about his ancestry results in acquiring a fascinating and rare collection of Abraham Lincoln memorabilia, which he's donating to the University
By John Walsh
Bob Heltzel '70 never knew curiosity about his ancestry would lead to possessing a fascinating and rare collection of Abraham Lincoln memorabilia. Heltzel's collection, which took him 30 years to amass, started – unbeknownst to him at the time – while traveling on business in Philadelphia as president and CEO of Kenilworth Steel, a company he built from scratch in Warren, Ohio. While traveling through Pennsylvania, Heltzel visited the gravesite of his great-grandparents in the small town (population of about 1,100) of Abbottstown, Pa., which is about 15 miles north of the Mason-Dixon line. On the way back to Warren, he stopped in Gettysburg, which piqued his interest in President Lincoln and the American Civil War (1861-1865).
Heltzel's relatives were German immigrants who came to English America in 1733 and landed in Philadelphia, where they signed a pledge of allegiance to King George II. Subsequently, they fought in the Revolutionary War and Civil War. While researching, Heltzel discovered there were seven relatives who participated in the Battle of Gettysburg – five as part of the Union Army and two as part of the Confederate forces. The battle was fought July 1-3, 1863, during the Civil War.
"I feel as though it was after the Civil War that our country was defined as we know it today," he says. "The issue of slavery and the arrogance of the North and South were perpetually pushed under the rug. For 70 years, policymakers knew these aspects of the Civil War would have to be dealt with someday."
As Heltzel's interest in the Civil War and Lincoln flourished, he acquired more books and memorabilia, including presidential autographs and letters, as well as Ulysses S. Grant material. He built his collection from materials found in auction houses, rare-book stores, and antique shops. In his 30s, when Heltzel started the collection, the economics major did so as a hobby, not necessarily because he was a history buff.
"Purchasing these items was more personal," he says. "My wife thought I was crazy, and my five daughters didn't understand it. My business travels to New York, Illinois, and Pennsylvania provided me the temptations to expand my collection. I always found bits of information in books approaching subjects from a different angle."
The first item of Heltzel's collection – which also includes signed books from Walt Whitman and his experience with the Civil War (his brother was a casualty) – is a 24-volume assemblage of Lincoln's biography written by John Nicolay and John Hay, Lincoln's two secretaries while he was president. Heltzel has read many of the 500 books in his collection but still has a lot to read.
A part of history
John Carroll University's Lincoln collection, gifted by Bob Heltzel '70, includes:
• Civil War draft order and Lincoln photo framed together
• True Story of Mary, Wife of Lincoln by Katherine Helm
• Presidents of the United States chromolithograph
• Sea letter for a New Bedford whaler
• Union ticket: Abraham Lincoln and Andrew Johnson
• Following Abraham Lincoln: 1809-1865, four volumes by Bernhardt Wall
• An unusual soldier's autograph album of the first Rhode Island volunteers
• Lincolniana: Historical Portraits and Views
• The Complete Works of Abraham Lincoln – 24 volumes, Extra Illustrated, written by John Nicolay and John Hay
• The Bibelot, Volume IV, 1898
• An Oration Delivered on the Battle of Gettysburg
• Lincoln Centennial Medal
• Military History of Ulysses S. Grant
• African Game Trails: An Account of the African Wanderings of an American Hunter-Naturalist by Theodore Roosevelt
• Memoranda During the War by Walt Whitman
• Political Debates between Hon. Abraham Lincoln and Hon. Stephen A. Douglas in the Celebrated Campaign of 1858 in Illinois
• The Conspiracy Trial for the Murder of the President
• Declaration of the Immediate Causes Which Induce and Justify the Secession of South Carolina from the Federal Union
• The Military Telegraph During the Civil War in the United States
• Indenture by Simon Kenton
• Illustrations of the Manners, Customs & Condition of the North American Indians
"One thing would lead to another," he says. "When I started with the battle of Gettysburg, that got me into the Civil War, and those two subjects lead me to acquire books about Joshua Chamberlain [a brigadier general in the Union Army] and James Longstreet [a Confederate general]."
Heltzel cites the significance of the Civil War as the genesis for the industrial revolution. Around that time, Lincoln signed a bill to fund the construction of the transcontinental railroad, which led to an expansion and mining boom.
"The two people who were seen as misfits by the public, Abe Lincoln and U.S. Grant, were the ones who had the fortitude to persevere through four difficult years," he says.
During his historical research, Heltzel discovered interesting facets about the 16th president's heritage. Lincoln's great- grandfather operated a successful foundry business in Pottsville, Pa., and when he died, he left everything to his oldest son. As a result of that decision, Lincoln's grandfather was left destitute and moved to Virginia, then Kentucky, and was eventually killed by Indians while plowing a field when Lincoln's father was 5 years old.
"Abe had some pretty good genes," Heltzel says.
The former steel company executive also marvels at how Lincoln, a complex man, could be commander in chief during such a time of crisis when he was simultaneously dealing with his own personal problems: the death of his two sons; a troubled wife (her family fought for the confederacy, coming from Kentucky); and his own bout with melancholy.
"Somehow, he kept it all together," he says.
A means to an end
The traveling Heltzel did for his steel plate business, which provided him the opportunities to add to his collection, can be traced back to his summers in high school and college when he worked as a laborer in a metal fabricating plant. During his junior year at John Carroll, he told economics professor Sonia Gold, Ph.D., he was going to sell steel for a living. During his senior year, he interviewed with Bethlehem Steel and Republic Steel.
"Both said, 'Sorry, no room at the inn,'" he says.
As a result of that rejection, Heltzel went to work for two small steel service centers in Youngstown, Ohio, for seven years. He woke up one morning, and while having breakfast with his wife, Heidi, talked about the challenges of supporting and educating five daughters.
"I was determined to start my own company," he says. "Heidi asked me, 'What if you fail,' and I said, 'There is no failure.' I'd go back to selling steel if I had to."
So with the help of his godparents as investors, Heltzel started Kenilworth Steel, which still operates privately in Warren.
"I was preoccupied with that business each fall, winter, and spring," he says. "I needed a release from work, so I spent a lot of time reading, which lead to my interest in the Civil War."
Heltzel, a member of the University's board of directors, viewed his business as a vehicle to educate his children and provide security for his family. Once that was accomplished in 2006, he sold the business. As Heltzel thought about his Lincoln collection during retirement, he decided he didn't want to leave it to his family and have it split up or end up being sold at a garage sale; hence his decision to gift it to John Carroll.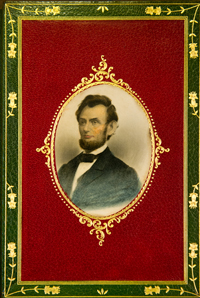 "Our daughters understood the decision, which was made by Heidi and me," he says. "I trust Carroll to protect the collection and use it in a manner that benefits the JCU community."
Of all the items Heltzel donated to Carroll, one rare item was unexpected, according to Charles Zarobila, Ph.D., '72, curator of special collections at Grasselli Library and Breen Learning Center and the keeper of the Chesterton Room – an early printing of the Gettysburg Address (which occurred Nov. 19, 1863) in book form.
"The Lincoln Collection has opened up a new area for us – 19th century Americana," Zarobila says. "It augments the couple of pieces we had from that era. History professors bring students over to look at the collection, so it feeds into the teaching at the University quite nicely."
Zarobila also admits a few of the Lincoln archives and museums throughout the country are jealous of JCU's collection.
Throughout the years of collecting Lincoln memorabilia, Heltzel never really thought about its value.
"I didn't realize it was such a gem," he says. "If my interest in the Civil War piqued today, as it did 30 years ago, I wouldn't have the collection because I'd have been doing research on the Internet." JCU
To view and read about some of the memorabilia, visit Carroll Collected, the University's repository.
---
Leave a Reply