Following the road to reading with e-books
By Kathleen Roskos, Ph.D.
_____________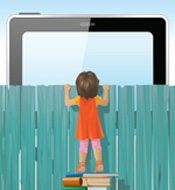 It's obvious technology is significantly changing many aspects of society. Education, from preschool to college, is just one. As such, schools are starting to use educational game players, tablets, and other electronic devices to enhance young children's learning. At John Carroll, Kathleen Roskos, Ph.D., a professor in the education and allied studies department, has been studying this trend as it applies to her teaching and research about early literacy development, early learning standards, and professional development for teachers. In the near future – if not already – students will have different expectations about technology in higher education classrooms. Those expectations will be based on their early childhood experiences with how technology supports reading, writing, and content learning. The following information and resources can inform educators and parents and help them make decisions about the use of electronic devices in early reading.
– John Walsh, university editor
_____________
There's no doubt about it – e-books are spreading rapidly into early childhood classrooms, inviting children to interact with books in ways they haven't done before. E-book sales have increased dramatically during the past few years, garnering about 18 percent of the children's book market. Even commercial reading programs for early reading instruction now include e-books.
Educators can't help but wonder, though: Are e-books good for young children's learning or merely entertaining gadgets? Are they on par with the wonderful children's books adults know and love as readers to young children – the likes of "Where the Wild Things Are," "Goodnight Moon," and "Are you My Mother?" Can they help young children learn to read just like traditional print books?
Reading resources
With an increasing number of e-books for young children on the market, these resources can help make it easier for parents and teachers to keep up with the latest and greatest.
Digital Storytime is a blog founded by Carisa Kluver, a mom and educator, and her husband Marc, who's an app developer. Carisa Kluver reviews interactive children's e-books, and her detailed ratings and information are posted on the site. Parents and teachers can search the reviews by several categories, including age range, price range, or quality. She also runs a corresponding Twitter account where she occasionally shares updates and notifies followers about free apps or special deals.
The Children's Technology Review is an online source edited by Warren Buckleitner. For a small subscription fee – $8 a month – the site provides complete and objective reviews of a full range of interactive media products for children. A newsletter (PDF) is published monthly, plus a weekly newsletter that features three noteworthy children's apps is sent every Wednesday morning. The most recent included "Bugs and Buttons 2" (math and logic activities for children ages 3 to 12), "Disney Animated" (all ages) and "Quick-Tap Spanish" (ages 5 to 11). All products are kid-tested and archived at Mediatech Foundation. This site is a treasure trove of information for educators and parents.
Little eLit is another excellent resource for parents and teachers of preschoolers. Produced by Cen Campbell, a children's librarian, Little eLit reviews apps and e-books for children ages 2 to 5. It also maintains a list of other review resources that provide information about digital and media literacy for young children. The monthly archives on the site are a storehouse of information about how to share apps and e-books with young children.
The local library is a valuable resource for learning more about e-books. Increasingly, children's librarians are media mentors who can lead the way in the intentional and appropriate use of dynamic technologies with new emergent readers. They can point adults in the direction of reviews of e-book apps for children. "Kirkus Reviews," for example, provides a list of the Best Book Apps for toddlers to teens (kirkusreviews.com/book-reviews/ipad/).
Well … maybe. And in some cases, perhaps even better than print books. Here's what researchers know with some confidence. One, e-books are appealing to young children. They're attention-grabbers. Not only are e-books on intriguing devices with screens and buttons, they're also magic. Touch, tap, swipe, push, and there's action: Cows moo, ducks waddle, rain drips, Sheriff Woody (from "Toy Story") comes to life; and those twinkling hotspots are so inviting. Background music, narration, word highlights, and animation enhance the visual and auditory input and heighten the attraction to the screen. As a result – and educators know this from research studies – children engage faster and stay engaged longer with e-books than print books. This means children – even those with lower attention spans – attend to print, story lines, and content longer, which increases their opportunities for learning from e-books.
But there's a downside to e-books. Studies also show they can be attention-splitters. All that magic can turn to dust when the sounds, animation, music, and hotspots are superfluous to the story line or draw children's attention away from the print. The physical play of touching, swiping, poking, and tapping takes over any mental exploration of print and story plot that support learning to read and thinking with print. The child's attention, in other words, is split; and when this happens, the opportunity for learning from e-books is reduced.
Does this mean educators and parents shouldn't use e-books for shared reading with children and helping them learn to read? Certainly not because e-books offer a rich, multisensory reading experience, and they aren't going away. Rather, adults need to be alert to what attracts and distracts children from engagement with e-books to achieve important literacy goals, such as how words work, what words mean, and what stories tell us.
Educators know e-books are engaging, but they're also learning that e-books can teach children early reading skills, such as how to sound out words, learn new words, and comprehend story lines and academic content. The electronics, or 'e' part of an e-book, allow for virtual tutors that can instruct and explain repeatedly on the spot, often with supplemental graphics and video.
One example is the dictionary hotspot, which is a popular feature of many e-books. A growing body of research shows these virtual tutors help children learn important reading skills faster and well. Two researchers from the Netherlands, Daisy Smeets and Adriana Bus, found that the strategic positioning of questions about word meanings, referred to as embedded instructional moments, improved the learning of target vocabulary words. An adorable, fuzzy bear-like virtual assistant guided children to match word meanings to pictures. Their research shows that vocabulary interruptions with this virtual assistant were as effective as an adult helping children learn new words. That's amazing!
The implication is that e-books can increase opportunities for reading instruction in addition to a parent or teacher. Consequently, it becomes possible not only to augment, but also to accelerate the learn-to-read process for young children. That might be a giant leap for what reading can do for the mind at an early age.
Transitional support
So let's face it. More likely than not, an e-book will be the young child's first reader by mid-century, replacing those heavy backpacks with slim, lightweight, personalized, connected mobile readers. Just like the iPod put a thousand tunes in kids' pockets, digital readers will put a library in them as well. We're just beginning to grasp what this might mean for reading and learning to read, not to mention the teaching of reading.
Adults can and should support this transition from print books to e-books, as well as ensure shared reading with young children continues to be the warm, enjoyable and educational experience it traditionally has been. Children's new bedtime favorites might be e-books, but that doesn't take away from the rich opportunity to read and learn together that books have always offered. With that goal in mind, the following are a few starter tips for shared e-book reading (aka shared book reading 3.0) with bright-eyed young children at school and home.
• Preview the e-book at least twice to assess its literary and technical quality. Pay close attention to any reading aids available, as well as distractors that might split attention from the story line or content (e.g., distracting sounds or animations). Decide if you want to use the narrator or record your own voice as the storyteller if that option is available.
• Introduce the e-book naming the title and author. Show children the home page icon, the back/forward icons, the table of contents (if available), and any special features on the menu or tool bar. Decide if you want to turn the audio features on or off.
• Listen to or read aloud the story. Pause to demonstrate how any digital features work to support the story. For example, model how to explore the interactive features of a screen page (e.g., tapping to animate objects or to view a hotspot). With this in mind, children can try on their own when they reread the e-book again.
• Invite children to take the controls now and then as you read the story together. They can swipe to turn the page, for example, or tap to hear sounds. Ask them to talk about the screen page and make connections between text and illustrations. Later, when children reread the e-book on their own, they can practice these digital reading skills to increase their comprehension of the print and the story line.
• Have fun with all the e-book has to offer. Ask children to return to their favorite parts and explore the screen page again and try to read the text on their own. Many e-book apps include extras, such as games and artsy stuff, such as coloring books. This is a good time to say, "Let's play!" and involve children in extensions of the story. Just as print books are readily available to read again, new e-book apps and old favorites should be made available on digital devices that children have learned to use with care for their own reading pleasure. Adults can encourage children to book browse and reread familiar selections and, at the same time, practice using their emerging digital reading skills.
Getting started with shared e-book reading isn't difficult. Select a quality e-book or app. Gather around a touch screen computer, digital reader, or a tablet. Explore and enjoy all the e-book has to offer. Use the shared reading strategies you already know, but also remain open to new ones that expand the e-book shared reading experience, such as modeling the digital features first.
Teachers and parents face a new challenge: how to nurture and develop early reading effectively with print books and e-books in a fast-paced digital world that demands higher levels of literacy than ever before. How to meet the demanding new expectations of a digital age is uncertain and daunting. What's for sure, though, is that e-books are in children's futures – and what an exciting opportunity for all the educators and parents who love to read with them. JCU
Roskos is a professor in JCU's education and allied studies department.
---
Leave a Reply