John '71 and Frank '74 Palermo honor their parents with an endowed scholarship to students in the Boler School of Business
By John Walsh
The Palermo brothers, John '71 and Frank '74, appreciate the commitment their parents made to their John Carroll education. They're grateful for the work ethic they instilled in them at a young age. As such, the brothers are honoring their parents in the form of The Marguerite V. and Frank J. Palermo Sr. Family Endowed Scholarship in the Boler School of Business. The fully funded scholarship, which was first awarded this past fall, will be awarded annually to two students in their final two years of study.
"This scholarship shows respect for and memorializes our parents," says Frank Palermo. "If other alumni have fond memories of Carroll, this is a great way for them to honor their parents. They can even add their name to the scholarship after they die. If you appreciate what JCU did for you and your parents made sacrifices, this is a great thing to do. We hope to stimulate others to do something similar."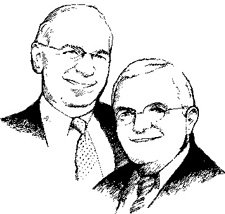 The brothers came from blue-collar stock. Their father, who was born in Italy, was a barber who worked a trade but never made much money. He ran his own little shop with his brother. The Palermos' mother, who came from a coal-mining family, didn't work until Frank was in junior high. She worked at Washington & Jefferson College in Washington, Pa.
"We could have gone there for free, but my parents never pushed it," Frank says. "I didn't want to go to W&J because it would have been like going to high school again. So I followed my brother, John, to JCU."
"Our parents' generation had plans to go to college, but the depression and World War II interfered with those plans," says John, who put the University in his will. "My parents never got the chance to go to college."
The hard-working elder Palermos stressed education to their sons. John and Frank,
who've worked their whole lives, started with jobs in high school. John worked in the steel mills during the summer, making a good buck – $300 a week in the late '60s.
"It was a hot and sweaty job that made me realize how important college is," John says. "That job was the best motivator for me to earn a college degree."
Frank cut grass, delivered newspapers, and worked in a Catholic cemetery, as well as a meat processing plant, which was owned by his uncle.
"I handled and moved bloody carcasses," he says. "It was a gritty job."
The decision for John to attend Carroll was spurred by a nun at the Catholic high school he attended.
"She told me JCU would be good for me, and that was good enough for my parents," he says.
For the Palermo boys, who were the first generation in their family to attend college, the goal – emphasized by their father – was clear: finish college in four years and get a job.
"Dad said, sarcastically, he would break both my arms if I cut hair for a living," John says.
"One day, I was lying around, tired from playing basketball, and dad told me employers will never ask me how many baskets I made in a job interview," Frank says. "That message stuck with me.
"Our parents spoke their mind," Frank adds. "We had one option – college."
The Palermos had four great years at Carroll.
"The Jesuits were good but tough," John says. "Because the CPAs taught me in the morning, they went to their jobs after class. They were excellent people. We enjoyed every day. Every year I get older, I appreciate the Jesuit education more."
John spent his professional career – 40 years – in the soft drink business employed by a distributor of Coca-Cola. He was a vice president of operations in New England responsible for all manufacturing and warehousing, anything that wasn't sales. He retired last year.
Frank's career, which continues, started in public accounting. Then he became a controller for a local bank. After that, he started his own accounting firm in 1982 in Washington, Pa., the city where the Palermos grew up. He now has eight employees, including his two sons. Frank isn't planning to retire anytime soon.
The Palermos' mother, Marguerite, died in 2009, and their father, Frank Sr., who was still playing golf at age 92, died in 2012. They were savers.
"There's a major transfer of funds from the greatest generation to the baby boomers," John says. "This type of scholarship is a great way to give back. Neither of us are wealthy, but we're comfortable. What our parents left us isn't a lot of money compared to today's standard of living, but it was a lot of money to them."
"I could go buy a Mercedes with the money, but there's a better way to memorialize them," Frank adds. JCU
---
Leave a Reply