Clinical training and research on an increasingly prevalent disorder
By John Walsh
Autism has exploded – one in 88 children (one in 54 boys) is diagnosed with some form of the neural developmental disorder, according to the Centers for Disease Control and Prevention. The disorder – which is characterized by impaired social communication deficits and restricted, repetitive, or stereotyped behavior – has received a lot of attention from media, health professionals, educators, and parents during the past decade. Awareness is high in part because:
• of better diagnostic and screening tools;
• of improved assessment of earlier work done in the field;
• children often are diagnosed sooner; and
• Autism Speaks, a national science and advocacy
organization founded in 2005, publicizes it.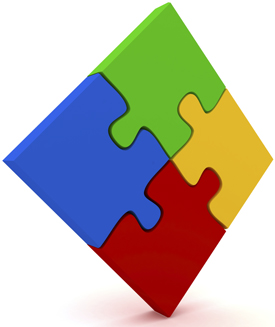 On a more local level, Cleveland, known for its health-care related industries, is one of the top 10 cities in the U.S. for autism services, according to Autism Speaks, and John Carroll University is right in the thick of it, thanks, in large part, to psychology professor Tracy Masterson '97, Ph.D. Through Masterson's clinical and academic work, the University has developed strong relationships with the Cleveland Clinic Center for Autism, Monarch Center for Autism at Bellefaire JCB, and Milestones Autism Organization, all of which contribute to Cleveland's top 10 ranking. These relationships have allowed the University, primarily its students, to aid research and work directly with children with autism to contribute to progress in the field.
Different tracks
In her training as a clinical psychologist, Masterson has worked with children and adolescents with autism and other developmental disabilities. During her post-doctoral fellowship at the Center for Behavioral Health at the Cleveland Clinic, she developed an interest and expertise in autism spectrum disorders. As a result, she developed critical relationships with professionals at the CCCA, which is only 13 years old. Masterson, who knew she was beginning her career as a psychology professor at JCU in the fall of 2008, helped establish ways in which college students might help to meet the growing needs of the autism population while gaining relevant professional experience as undergraduates.
By spring 2009, JCU interns were working at the CCCA in various capacities: as behavioral coaches in a summer camp setting for autistic children, as classroom interns in the Lerner School for Autism at CCCA, and as research assistants.
"Our students can get clinical experience working one on one with individuals with autism, which isn't that common in the psychology field," Masterson says, adding that much of the work in psychology is confidential or entails the one-on-one working of a professional and client.
The CCCA internship program allows Carroll students to work with children and adolescents with autism in a well-supervised and supportive environment.
"While it's valuable to learn about developmental disorders in an academic setting, working with individuals with autism in the real world is a more authentic and meaningful experience," Masterson says. "No two people with autism are alike, so providing JCU students these opportunities has enabled them to shatter some of their preconceived notions about autism and see individuals beyond their diagnostic label."
The clinic takes about 20 students from several schools in the area who shadow professionals in the spring and work in the summer. The internship offers three tracks: a school program, research, and the Social Spies summer camps. The interns who choose to work with children with autism at the summer camp are paid. Interns are needed because the clinic can't staff the camps – Hiram House in Chagrin Falls, Ohio, and Nature Center Camp in Shaker Heights, Ohio – with only professionals, who work on various social goals. In the camps, which last seven weeks, interns shadow highly functioning children with autism ages five to 12, who are developing various social skills.
Different from the camps, the research track focuses on data entry and genetic projects. Interns meet with clinical psychologists, occupational therapists, or speech and language therapists relative to autism, which is an educational disability category. They can network with different professionals, including Thomas Frazier '97, Ph.D., director of the autism center. The nonpaid research internship can be counted as course credit. Research projects include the autism and developmental disability registry and the individualized education programs database. Interns collect data and assessments, review paperwork, analyze data, enter it into a database, and meet with the research director. Interns participate in making research posters and presenting them at the clinic.
On the school program track, interns work directly with children, implementing an individualized curriculum. They do many things a clinic staff person does, helping educate children. The staff-to-student ratio is high – 104 students to 85 teaching staff. Additionally, interns receive a written evaluation and ongoing staff feedback daily.
For one project, the clinic looked at children with autism who needed help in one-on-one personal settings. The clinic staff worked with eight individuals in a group, including one or two high-functioning children with autism who work to improve their social skills. The JCU interns, the children's behavioral coaches, facilitate and model social interactions.
The internships have been beneficial in several ways, one being future employment. Fifteen percent of interns were hired at the clinic as classroom behavior therapists at the CCCA.
"Students are needed in this field," Masterson says.
The internship program, which allows for 24 to 48 students throughout the year, comprises many psychology and education majors, but anyone may apply. The clinic intends to expand the summer internship to include fast-pace administrative jobs.
Gateways to a profession
One student – Leanna Gonzalez '14, a psychology major from Toldeo, Ohio – and one alumnus – Tyler Bond '11, a psychology major from Canton, Ohio – intend to use, or have used, internships in the autism field to position themselves for success in their budding careers.
Gonzalez didn't know much about autism but was interested in an internship at the Cleveland Clinic Center for Autism. Her psychology professor, Tracy Masterson, Ph.D., brought the position to her attention. Gonzalez, who wants to attend graduate school, thought the research internship was just for graduate school preparation. She was accepted and worked closely with Thomas Frazier '97, Ph.D., the director of the center, and Becky Embacher '05, project manager.
"I explored various studies, but was more interested in research," says Gonzalez, adding that it's common to complete more than one internship at the clinic in three in different settings: classroom, research, and social. "It was also worthwhile to observe in the classroom."
Gonzalez's job involved mostly inputting data. One project required looking at a specific gene, the PTEN gene, to determine its correlation with autism.
"Having this experience will help me get into graduate school," she says. "The research work in this field is extremely necessary and is beyond helpful. I appreciate the finer details of research."
Working at the clinic exposed Gonzalez to different professionals in the field through breakfasts and lunches and allowed her to see the specifics of their jobs to help her determine if she wants to engage in a particular type of work.
"It was all helpful in trying to take a path for grad school," she says.
Bond took a circuitous route to the autism field. He studied as a business and East Asian studies major, but the summer after his freshman year, when he was scheduled to travel to China, he applied for an internship at the Cleveland Clinic Center for Autism.
"I worked with kids with developmental disabilities before, but I had never heard of autism," he says. "I took the internship over going to China because it was the Cleveland Clinic, and I thought I could travel to China later."
Bond, who worked with senior behavior analyst Colleen Muhvic '00 at the clinic, became a behavior coach, working one on one with children with autism. Muhvic has been a mentor to Bond since 2009.
"I connected well with the psychologist in charge of program at the clinic and saw the students' progress," Bond says.
That summer made such an impact on Bond he wanted to volunteer the next year and work with the children for a longer period of time. The impact was so transformational, he changed majors. He helped children with autism learn skills in the classroom and then generalize them in a camp where he coached them through social situations with typically developing peers. They focused on social skills such as eye contact and whole body listening.
Bond, who started the Autism Speaks chapter at JCU, also worked with the Center for Service and Social Action, chaperoned a trip to Israel with autistic young adults, and worked at Gearity Elementary School in Cleveland Heights in its preschool autism unit. Presently, he's in graduate school at the University of Cincinnati for a master's in behavior analysis and working full time at the CCCA as a classroom behavior therapist. He's on schedule to earn his master's degree in May that will allow him to sit for the board certification exam to become a licensed behavior analyst.
"Business is impersonal, and I wanted to help kids and interact with them," he says about his change of majors and career path. "This type of work clicked with me. I enjoy doing it."
Additionally, the internship has been a top five finalist in one of the Exspy award categories for the past four years through the Northeast Ohio Council on Higher Education.
Contributing to consistency
In addition to opportunities at the Cleveland Clinic, JCU students can learn the culture and become part of the staff at the Monarch Center in Shaker Heights, Ohio, which provides a comprehensive living and learning environment for children and adolescents with autism. As part of Masterson's service-learning requirements for her courses, Carroll students – psychology and education majors, as well as those working through the Center for Service and Social Action – have the opportunity to observe and work with Monarch students, who range in age from preschoolers to adults.
"We saw the benefit of having John Carroll students work here, and the relationship has evolved into a more concrete one," says Debra Mandell, director of the Monarch Center, acknowledging Monarch and JCU are developing an autistic certification program.
Carroll students' work at Monarch includes teaching basic communication skills. For example, at the lower level, nonverbal children use iPads to communicate because they're visually drawn to screen media. Other children learn in a group but need help with social skills. Monarch students, 115 who come from 50 different school districts, are assessed, but the commonality is deficits in communication, social skills, and language.
"Our kids need a maximum level of support to be successful," Mandell says. "They become frustrated because they don't process auditory information well. Their process time is slower, so they're being given visual support. We help the children develop more skills. We also provide structure to minimize anxiety. Children thrive on consistency – our students need to follow a schedule. The smallest change of consistency and structure can ruin a day."
The JCU and Monarch relationship is growing organically. There can be a maximum of 10 Carroll students per semester working there, where they understand the children's learning styles and support they need. Staying longer than one semester contributes to the consistency the children need. Families whose children attend Monarch benefit from the relationship the school has with Carroll because they need respite workers who know their children.
"It doesn't make sense to pull these kids out of their home because it would be disruptive," Mandell says. "The families need people who are familiar with them to come to their home and help. JCU students develop relationships with the children because they need to understand autism better. By exposing JCU students to these opportunities, it's more likely they could find their passion or work in the field."
Reaching a milestone
Carroll students also are making a difference at Milestones Autism Organization, which is dedicated to improving the quality of life for children with autism and their families through advocacy and training. JCU students help families by serving as peer mentors and advocates. Specifically, the Milestones and JCU relationship was formalized in the form of the Blue and Gold Buddies Program, which pairs JCU students with young adults with autism in recreational activities.
"Our volunteer pool swelled after the first event involving two Beta Theta Pi fraternity brothers," says Beth Thompson, the teen/adult services manager who oversees the program, referencing a capstone project initiated by the two students. "We got to know more students who were psychology and special education majors."
The Blue and Gold Buddies Program involves 40 Carroll students taking young adults to sporting events and other activities on or around campus. The adolescents (about 50 of them) must be between the ages of 14 to 22 and can be anywhere on the autistic spectrum – Asperger's to nonverbal. One or two students are paired with a child to ensure everyone is safe. All JCU students are trained before an event.
"We had never done direct service working with the JCU students before," Thompson says. "We previously used Beta Theta Phi brothers to help with our fundraisers, but JCU students indicated they wanted direct contact with kids, and since, friendships have developed. It wasn't part of our strategic plan because we typically focus on education and consultation. However, we talk to hundreds of parents every year and saw a growing need for social programs for teens and young adults with autism-spectrum disorders."
The number of JCU students who want to get involved with Milestones spiked as a result of JCU's Autism Speaks U chapter (it raises money for autism research), which was started by then psychology student Tyler Bond '11, and Masterson, who serves as the faculty advisor of the organization.
"We didn't know this was going to be a program," Thompson says. "It took on a life of its own. Now we're in the process of formalizing it.
"Our kids' greatest challenge is making friends," Thompson adds. "They can be exceptionally lonely. JCU students are real with them, engage them, and don't judge them if they talk and act weird. Some of our kids talk like JCU is their dreamland. They get to feel like a typical kid. It's really important to them." JCU
---
Leave a Reply