How a Jew became a rabbi because of a Catholic school
By Rabbi Leonard Kravitz '50
"I sent you a boy to become a doctor, and you made him into a rabbi."
That's what my mother said to Fr. Thomas O'Malley, S.J., the former president of John Carroll, at the reception when the University honored me as a distinguished graduate. He was so struck by the statement, he used it as an advertisement for JCU.
I was thinking of becoming a rabbi long before I came to Carroll. When I was 8 years old, I entered the private Cleveland Hebrew School, where I began my study of Jewish subjects and the Hebrew language. I had a marvelous Hebrew teacher, Yoninah Friedland, the widow of Hebrew poet and educator, Ch. A. Friedland. Mrs. Friedland, seeing I had some facility with the language, thought I had the makings of a rabbi.
Not everyone agreed. My mother thought I should become a doctor, like my Uncle Bill, who attended St. Louis University Medical School. My father, who admired Rabbi Abba Hillel Silver, one of the leading rabbis of Cleveland, thought I could become a rabbi. My grandfather – who served in the Russian army for four years, reaching the rank of private first class – thought it would have been easier for him to become a general than for me to become a rabbi.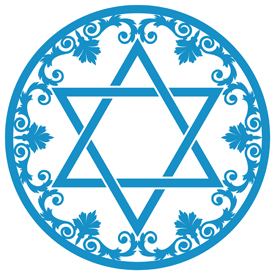 I became pious for my bar mitzvah and for a year afterward. At age 15, I encountered a temptation – oddly enough, at a Jewish youth organization – of something we didn't have at home – a BLT. Tasting one, then another, and yet another moved me away from thoughts of the rabbinate. When I told my father my waning interest to become a rabbi carried a loss of beliefs in Judaism, I asked, "Why should I continue to go to Hebrew School?" My father looked at me as if I lost my mind. "What does belief have to do with learning?" he answered. So I continued attending Hebrew School until I was in high school. When I entered Glenville High School, I decided I'd become a doctor. When I graduated, I looked at various colleges and universities in Cleveland and concluded John Carroll had the best pre-med program, and as a Jesuit school, might make entrée into a Jesuit medical school easier.
So I came to Carroll as a pre-med student, and two elements of the JCU experience would move me back to the rabbinate. The first were questions from my fellow students, who asked me questions about Judaism. The more they asked, the more I had to answer and look up answers. I began thinking about Judaism in a way I hadn't thought before – in a more grown-up way.
The second element of the JCU experience was religious – religious in terms of services offered daily, the garb worn by some of the teachers, and courses mandated for all students. All Catholic students had to take religion courses. Being a Jew, I was exempt. Still, I'd read textbooks for such courses, if only I might tease my Jesuit teachers by asking them if I was invincibly ignorant.
Another aspect of the religious environment was all students were required to study philosophy, albeit scholastic philosophy. After studying its logic, metaphysics, and ethics, I realized how those elements fit together. Seeing the connections of scholastic philosophy gave me an insight of how to look at other philosophical systems and see how their elements fit. Strangely enough, studying scholastic philosophy provided me a window through which other philosophical systems could be studied, even those far from scholastic philosophy.
Because scholastic philosophy was based on the writings of St. Thomas Aquinas, I read some of his works. I found the Summa Theologica and in the Summa Contra Gentiles references to Rabbi Moses (Moses Maimonides, the Jewish predecessor of St. Thomas). I knew of Maimonides as the author of the creed found in every traditional prayer book, and as I learned later, the author of the Mishneh Torah, the great code of Jewish Law. Reading St. Thomas' philosophy made me interested in Maimonides' philosophy. His great work, the Guide of the Perplexed, piqued my interest as a student and teacher for more than 60 years.
Now, as a retired professor, I reflect on the philosophy I learned and the other courses I took at JCU. By taking science courses as a pre-med student – biology, chemistry, and physics – I learned to think precisely, how the various sciences related to one another and "doing" science required being open to all aspects of it. Studying science also made me think about the perennial problem of the relation between science and religion; between what we think we know and what we believe we know; the world in which we live and the world in which we would wish to live; what we fear and what we hope for; what everybody does and what we should do. JCU taught me one could be a scientist and a believing Catholic; being a rabbi in a congregation taught me one could be a scientist and a believing Jew. I could appreciate what others believed while maintaining my beliefs.
It's been a long time since I graduated from Carroll – 63 years. That I'm older is clear; that I'm wiser is not. I didn't become a doctor. I became a rabbi and seminary professor because of JCU. So to the University, I say thank you. JCU
Rabbi Kravitz is a retired professor from Hebrew Union College living in Hackensack, N.J.
---
Leave a Reply