Athletes embrace opportunities to serve their community and the world
By Erich Burnett
Dejan Mladenovic '06 had yet to finish his senior year at John Carroll, but already he could see the transformative changes taking place in his life. As spring rolled around, he was named assistant coach of his varsity soccer team. At the same time, he was engaged in the most meaningful coursework of his life.
For his capstone project, the management major developed a sports day camp for autistic children. Though it started humbly, the John Carroll Clinic for Autism was an instant success. The children gleefully participated in drills and played games with their student coaches, and each visitor walked away with a T-shirt to commemorate the event.
Nearly eight years later, Mladenovic remains the soccer team's assistant coach, and each year, his Clinic for Autism involves more Blue Streak athletes and delighted children than before.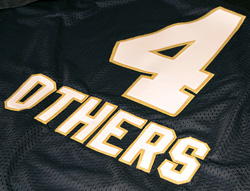 "It's one of those things where you go home at the end of the day and feel good about yourself," says the Parma, Ohio, native. "You know you're making a difference in these kids' lives."
Making a difference through service – in the local community and the global one – rests at the core of the University's mission. Perhaps nowhere is that commitment more evident than in the student athletes who represent the University on the playing field and beyond. Like many others, Mladenovic learned the value of community service at an early age as a member of his church, where he still devotes numerous volunteer hours running a soccer program.
The same holds true for many of his players, including fifth-year senior Thor Eriksen '14, a finance major who earned his first taste of service through mission trips with his church near Detroit. Though his free time comes in fleeting moments, Eriksen remains committed to making the most of it.
"I'm always busy during the season, so I prioritize my time," he says. "But in the offseason, it feels like I have so much down time I find myself thinking 'What can I do?' I should always be doing something."
And much of the time, he is. Eriksen participates in Mladenovic's Clinic for Autism and the annual Relay for Life on campus. He helped lead a fundraiser for victims of the Boston Marathon bombings this spring. During the summer, he traveled with a church group to an impoverished village in Mexico, where they're constructing a much-needed school, which is estimated to be completed by 2014. Eriksen and his family have been taking part in the ongoing mission since high school.
"These people are living in huts," he says. "They don't have the medical attention we have. They don't have schools. Their government isn't stable like ours. It makes you realize how fortunate you are and how much we should value life."
Across generations of Carroll athletes and coaches, the same formula holds true. Growing up near Boston, Marc Thibeault '98 volunteered in a local grade school to assist disabled children on weekends. Two decades later, the Blue Streaks' longtime baseball coach – a former John Carroll outfielder and pitcher – sees the same dedication to stewardship in the young men he leads on the diamond.
Recently, Thibeault helped the team arrange visits to Cleveland's Ronald McDonald House, which provides support for families of children undergoing intensive medical treatment. On winter Saturdays, half the team – the facility has room for no more than half of them a week – travels downtown to make breakfast, play games with children, and clean.
Last season, Thibeault's players held a promotion called Strike Out Cancer. In addition to gathering collections in the stands, each player was invited to sport pink gear in support of friends and relatives affected by cancer. Sponsored by the Ohio Athletic Conference and the American Cancer Society, the initiative hit close to home. Last year, one player lost his mother to breast cancer; and this year, another player's mother has battled the disease. The team's game program paid tribute to each player's loved ones who face a fight, or have lost their fight, with cancer.
Answering the call
The daily demands of college life can be difficult for any student. For those who also compete for their school, it often proves to be the busiest time of their lives.
"When these students play a sport, I don't know how much down time they enjoy," Thibeault says. "We tell them to pull the throttle back on some of the things they do, just soak it in for a second because it goes by so fast. But these guys are so active, whether it's in academic groups or in community service on campus; and then to dedicate themselves to their sports like they do, it's amazing."
For many students, community involvement comes as naturally as throwing a baseball or clearing a hurdle. Some, it seems, couldn't function without it. Track and cross-country runner Taylor Whisler '14, a senior from Brunswick, Ohio, majoring in physical education, joins fellow students visiting residents of a local nursing home and delivering hot meals to homeless Clevelanders on the streets near downtown. With the
track team, she collects athletic shoes to be delivered to Honduran villagers through a JCU mission trip. This year, students even planned a friendly competition with rival Mount Union to collect socks for distribution to local homeless shelters.
To Whisler, a deep sense of engagement with the neighborhood is the best part of her Carroll experience. And she knows she's not alone.
"It's just a passion that a lot of kids have when they come to Carroll," she says. "One of the main reasons we came here is the community-service opportunities that are offered. It doesn't come to us as a chore, it comes as our responsibility. It's the John Carroll mission – men and women for others." JCU
---
Leave a Reply