Dana Ness '06 changes the direction of her career to champion a charter school
By John Walsh
While at John Carroll, Dana Ness '06 knew exactly what she wanted to be – a corporate lawyer. So, she earned a Juris Doctor degree from the Cleveland-Marshall College of Law at Cleveland State University in 2010. During her first year of law school – when she also took nonprofit and organizational behavior classes – Ness discovered she didn't want to be an attorney anymore; rather, she wanted a career in nonprofit development. Currently, that career is in the form of the corporate and business giving officer at OhioGuidestone, a private, nonprofit, charitable organization that provides human service programs and high-quality educational opportunities for children and families.
"I didn't want to be an attorney because I'd be doing a lot of research and working in the background, and that isn't my personality," Ness says. "I'm at my best interacting with others and cultivating relationships, and I didn't see that coming to fruition in corporate law."
While in law school, Ness met with many attorneys who worked in high-end positions in the nonprofit development sector. These positions required skills that Ness honed in law school: analyzing situations, developing solutions, understanding people, and answering an immediate call to respond.
After law school and before working for OhioGuidestone (formerly Berea Children's Home and Family Service), Ness worked in several business development roles for corporations where she cultivated relationships. One of her mentors – Alex Petras, the former vice president of advancement at OhioGuidestone – helped Ness formulate a strategy for a career in nonprofit development. He suggested she contact OhioGuidetsone, which offers 42 social and educational programs to empower children. Ness began as a contractor who conducted research toward building a sustainable fundraising model for OhioGuidestone's charter school. Once the research was over, she contacted the organization every six months to see if there were any job openings. Finally, a position opened in August 2012.
"They needed someone to focus on corporate and business development," she says. "The job is a fulfillment of what I wanted to do with my career all along."
Ness – a triple major (philosophy, political science, and communications) – targets businesses in Greater Cleveland to fundraise for OhioGuidestone and Stepstone Academy, a charter school operated by OhioGuidestone.
The school
In August 2012, the 150-years-old OhioGuidestone, which serves more than 17,000 children and families annually throughout Ohio, opened the doors to Stepstone Academy in Cleveland's Central neighborhood. In the first academic year, 118 kindergarten and first-grade children enrolled at the academy who otherwise would be attending a school in the Cleveland Metropolitan School District that's in an academic emergency per the Ohio Department of Education. The students and families, who have access to OhioGuidestone's 42 programs, began school with average reading and math scores in the bottom 10th percentile of students nationally. Even with low projections for success, the school increased the students' average ranking to between the 63rd and 77th percentile among students nationally.
The academy, which has an average attendance rate is 95 percent, doubled its enrollment for the 2013-2014 academic year. By 2019, the school expects to be educating children from kindergarten through eighth grade. OhioGuidestone, which has a $50 million annual operating budget, owns several buildings on their Cleveland campus that will convert to additional classrooms and multipurpose rooms to accommodate expansion. Most children attending Stepstone live within a mile and a half of the school. (The parents are responsible for transporting the children to and from school. Because most of them don't have cars, they walk).
OhioGuidestone heavily researched and implemented a blended learning mode, Stepstone 360, a three-prong approach that includes lesson-, project-, and technology-based education formats. At Stepstone, the teacher-to-student ratios is one to 15, and there are two teachers for every class. OhioGuidestone also provides counselors and therapists to deal with students' additional needs. Children who learn at Stepstone do so in a no-excuses environment – if children act up, they're dealt with immediately.
"For these children, it's a privilege to go to Stepstone," says Ness, adding that OhioGuidestone covers the cost of everything and parents engagement has increased heavily during the past year.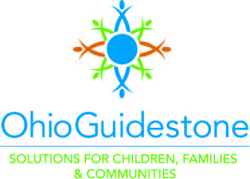 Despite the good work being done at Stepstone, Ness faces three main challenges when fundraising for the charter school:
• addressing concerns about embezzlement and failure at other charter schools;
• overcoming the hurdle that many organizations set aside money only for higher education and others who donate only as an employee match; and
• getting her foot in the door with the right people.
Ness, who worked with poor children in the CMSD while attending JCU, addresses the first concern by citing that Stepstone is one of only two charter-school organization that partner with the CMSD because OhioGuidestone's president and CEO, Rich Frank, strengthens their partnership as a member of the Transformation Alliance, an organization dedicated to providing families with the tools and information they need to make informed education choices for their children.
"I do a lot of cold calling," Ness says. "It takes a lot of persistence and a lot of strategy."
That persistence is paying off in the form of corporate supporters of Stepstone Academy such as Trend Consulting Services, Sherwin-Williams, Forest City Enterprises, and Progressive Insurance.
"When I graduated from JCU, Patrick Rambalski [former vice president of student affairs] said: 'To those who much is given, much is to be expected,'" Ness says. "I adhere to that principle in my role to ensure Stepstone Academy continues to grow and offer high-quality education to children in Cleveland's most impoverished neighborhoods." JCU
---
Leave a Reply