'Meet The Press' fellow reflects on her time at NBC
By Emily Gaffney '12
As the final semester of my senior year was winding down last spring, my parents were quick to manage my postgraduation expectations. They told me, "You know you won't get your dream job right away. You'll probably have to work some less-than-fantastic jobs before you get there." I knew that was a definite possibility, even probable, but I already had my eye on my dream job: a fellowship with NBC's Sunday public affairs program, "Meet the Press."
I don't remember the first time I watched MTP, but I started watching it during high school as I developed an interest in news and politics. As I watched Tim Russert '72 question leaders and politicians on the show each week, I grew to respect him immensely. After reading his book, "Big Russ and Me," I respected him even more as a person because of his attitude toward life, family, and giving back to others. He's probably part of the reason I decided to attend Carroll. He came to represent what a Carroll graduate is – smart, honest, hardworking, respected, but also loving and giving – the embodiment of the Jesuit tradition of being men and women for others.
It seems fitting to me then, and I've heard many people say the same, part of Tim's legacy as a Carroll alumnus and journalist is to provide such an opportunity to the successive generations of aspiring journalists who graduate from Carroll.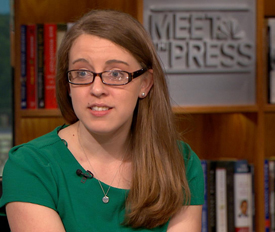 Wonderful opportunities
The fellowship has been more than just an opportunity; it has been the most thrilling, entertaining, and educational experience of my life. As my fellowship came to an end, I couldn't help but look back on the previous nine months and feel the need to pinch myself. When people have asked about the fellowship, I tend to describe in just that way – a series of pinch-myself moments, experiences I always wanted to have but wasn't guaranteed to have, and certainly not as a fresh-out-of-college 22-year-old.
My first pinch-me moment was one of my first Sundays at MTP. My job during the show at that point was handling the green room. I had to keep everyone else informed about guests' arrivals, make sure people were getting in and out of makeup, assist guests with any needs, and make sure they were on set when they were needed.
On my second or third Sunday, two of the roundtable guests were presidential historian Doris Kearns Goodwin and well-known television journalist Tom Brokaw, who are people I admire and respect and had watched on television for years. As I greeted them that morning and listened to them talk about a Winston Churchill biography they read recently, I couldn't help but realize how incredible this experience was.
In fact, I've had the opportunity to meet amazing politicians on the show – former Secretary of Defense Leon Panetta, former Speaker of the House Newt Gingrich, Sen. John McCain (R-Ariz.) – as well as journalists from The Washington Post, The New York Times, National Public Radio, and Politico.
Because this happened to be an election year, I also had unique opportunities. As part of Decision 2012 coverage, NBC transformed Rockefeller Plaza in New York City into an election center. NBC broadcast MTP from Democracy Plaza the Sunday before the election, and I was lucky enough to tag along to help. It was my first time in NYC and inside NBC's famed 30 Rock. On election night, I helped with MTP's coverage by taking over the show's Twitter account. I've never felt so much pressure to tweet, but it was fun when I realized how many people my tweets reached.
I also had the opportunity to help with special network events and coverage, including the president's annual State of the Union address. Aside from the excitement of the address itself, there was breaking news that afternoon. I witnessed NBC Nightly News producers switch to special report mode to cover the breaking developments in the manhunt for rogue ex-Los Angeles Police Department officer Christopher Dorner.
The Dorner case wasn't the only breaking news I've had the chance to witness. Aside from participating in big events and learning about research and how a show such as MTP comes together, the fellowship taught me a lot about news itself. Coming into the fellowship, I knew what the significant stories were: the presidential election and the federal budget. Once the election was over, it seemed national budgetary issues would continue to dominate the news. I witnessed how quickly news and the national conversation can change. The shooting at Sandy Hook Elementary School and the bombing at the Boston Marathon happened during my time at MTP. In both instances, what everyone thought would be the focus of the show that week was changed immediately, and producers refocused the entire show.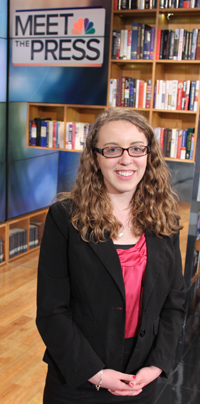 Catching the bug
While the access to special events and having the opportunity to witness breaking news was exciting, I also had a front row seat to the longest-running television show in history for nine months. The whole week is spent preparing for Sunday. Producers concentrate on booking guests, researching issues and guests, and finding elements (headlines, videos and articles) to use during the show to help support a point or challenge a guest). During the week, I helped producers find video to use and helped with research when they were looking for what a particular guest might have said about an issue. I've learned a lot about research, specifically how one can use databases such as Factiva, LexisNexis, and Google to find almost anything someone said.
Aside from helping the producers, I also wrote our weekly Sunday Study Guide. I wrote about the guests who were coming on the show that week and tried to answer: Why have they been in the news recently, and why are they relevant to the show this week?
Sunday was my favorite day, though. I originally never wanted to be in the television industry because I thought my heart belonged strictly to print journalism. However, as I took on broadcast internships to build myself as a candidate for the MTP fellowship, I caught the bug. Nothing compares to the exhilaration and chaos of a live broadcast.
Later in the internship, my Sunday responsibilities shifted from focusing on the guests to focusing on the videos used during the show. I helped check tapes in the morning to make sure everything looked right and followed the rundown during the show to make sure everything was loaded in the proper place when the director called for it to play.
Everything about the fellowship has made this the experience of a lifetime. I've learned so much that will help me wherever I go next. As I think about passing the torch to the next fellow, I can't help but think Tim would be proud of this legacy. I hope throughout my life I'm able to have a fraction of the impact Tim had on people's lives or a career that's as respected as Tim's. I also hope I can give back to others as much as what's been given to me. For now, I remain extremely grateful to Tim, John Carroll, and the MTP staff. JCU
Click here to read more about the "Meet the Press" fellowship.
---
1 Comment
---
Leave a Reply