The John Carroll University board of directors announced the $100 million Forever Carroll campaign on May 1, 2013. The campaign, using the power of many, will help us build on our tradition of Jesuit educational excellence. Please help us honor our heritage of magis and provide more of the right opportunities for deserving students. Help us continue to attract and retain outstanding scholars to further enhance the Carroll experience. Partner with us to continue to transform the lives of our students and those they touch in the region and throughout the world. The campaign will support:
• $35 million goal for scholarships;
• $14 million goal for student;
• $17 million goal for academics housing, playfields, and well-being;
• $9 million goal for Jesuit heritage; and
• $25 million goal for annual giving to the Carroll Fund and other programs.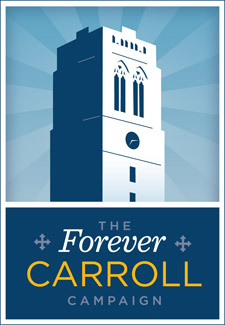 As of June 1, 2013, we have raised $59 million.
Campaign leadership
Campaign co-chairs
Rich '86 and Chris '86 Kramer
Laura and Dan '83 Frate
Honorary chairs
John '56, '96H and Mary Jo Boler '96H
Jack '56, '97H and Mary Jane Breen '91, '94G, '97H
Richard Hamlin '49
The Very Rev. Timothy Kesicki, S.J., '84
Barbara Schubert '62, '67G, '80G
Don Shula '51
"Because of the habits, interests, and abilities we developed during our four years, our education didn't end at graduation. Thanks to the lessons learned, the bonds developed, and the inquisitive spirit nurtured in and outside of the classroom, we've become learners forever. While JCU provides its students with an outstanding education, it does more. It plants the seeds for personal growth in the lifetime beyond. When you graduate from John Carroll, you don't leave you are sent … ready to grow as an engaged citizen."
– Chris '86 and Rich '86 Kramer, chairman, chief executive officer, and president, Goodyear Tire and Rubber Co.; leadership donors to the Forever Carroll campaign
"At John Carroll, you don't just learn inside the classroom; you learn how to think beyond yourself. Your professors, advisors, and classmates push you to consider how the things you are learning – and, therefore, the things you will do in your life – affect the world around you. You learn about ethics and decision- making skills that will guide you in your journey to becoming a man or woman for others."
– Laura and Dan '83 Frate, executive vice president, global markets and product management, ACI Worldwide; leadership donors to the Forever Carroll campaign
"I walked out of Carroll far more prepared to handle the realities of life than I would have had I gone to many other schools. Carroll prepared me to live life honorably. That's what's unique about the depth and breadth of the John Carroll experience. We have an obligation to enhance and reinvent that experience."
– Beth and David '81 Short, retired chairman, American Funds; chairman, John Carroll University board of directors; leadership donors to the Forever Carroll campaign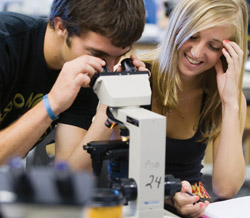 Investing in students
We must provide more competitive scholarships and financial aid to continue to attract and retain talented students who can make the greatest impact on society and the world. Scholarships and financial aid help shape each class, creating an academically talented and socially diverse campus that enriches the Carroll experience.
"We need the John Carroll experience for future generations, and we can do that best by helping students who might not otherwise be able to afford John Carroll. Let's put that foundation in place so we'll be a healthy university in the future and produce phenomenal graduates who will make a difference."
– Annette Haile '74, retired vice president at IBM and member of JCU's board of directors who established the Annette L. Haile Endowed Scholarship Fund
Merit scholarships
Our magis, presidential, and university scholarships for the best and brightest students enable them to focus on their studies, research, and internships.
"I was honored to be a Presidential Honors Scholarship recipient. It's humbling to be awarded for academic achievement. The scholarship helped me finance my education at Carroll, an education that has granted me outstanding opportunities."
– Andrew Vogel '11, 2011 Beaudry Award
Access scholarships
Scholarships for students who have the greatest financial need eliminate family income as a barrier.
"When I was accepted at John Carroll, that's when I knew I received the Access Initiative. The Cleveland Scholarship helped too, but the Access Initiative made my decision final."
– Nathalia Vega '11
Arrupe scholarships
Scholarships for students who demonstrate leadership through prior high school activities, volunteer service, or employment and have the greatest potential to make a powerful impact on John Carroll
"JCU stresses the idea of men and women for others – or, as we like to say in the Arrupe Programs, men and women with others. We're in Arrupe to let our experiences helping others also help us grow – to shape us and who we will become."
– Amy Gunderman '11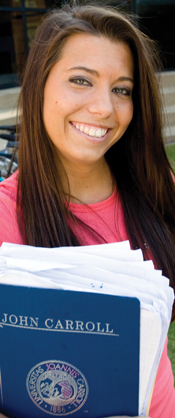 Leadership scholarships
Scholarships for students who already have demonstrated a significant commitment to intellectual inquiry that demands critical thinking and engaging in service
"I applied to six universities, and JCU was the only one that gave me a scholarship for leadership. That made JCU stand out. My experiences here have been amazing, thanks to everything this University offers. These have been the four best years of my life."
– Francisco Sueiro '11
Enriching the academic experience
We must ensure the University remains relevant and competitive by recruiting and retaining the best faculty with compelling educational offerings in an environment that supports our core values, maximizes our strengths, and reinvigorates academic work. Achieving higher levels of academic excellence requires integrated planning, collaboration, and philanthropic resources.
Health professions endowment
To expand the current program and become a destination school for prehealth preparation and support a strong science curriculum and interdisciplinary courses in bioethics, biomedical humanities, poverty and disease, and health and social responsibility; as well as collaborative partnerships and internships with medical schools and hospitals
"I couldn't have been better prepared for medical school. The rigors of a Carroll education taught me the study skills I needed and gave me a foundation in sciences directly related to medical education that paved the way to a great medical school performance."
– Daniel Adams '05
Endowed chairs and professorships
Support for endowed chairs and professorships strengthen our commitment to scholarship and creative endeavors, leadership in academic departments, individualized and innovative teaching, and student advising and mentoring in: Accountancy, African Studies, Biology, Catholic Social Thought, Creative Writing, East Asian Studies, Family Counseling, Health Care information, Global Studies, International Business, Leadership, Peace and Justice, School Counseling, Social Entrepreneurship, and Sustainability and Development.
"Eleanor and I hope our gift will enable the University to further attract and retain the highest quality faculty and scholars and remind the academic world what esteemed global, educational excellence should be."
– Ray Smiley '51, who established the Ray and Eleanor Smiley Endowed Chair in Business Ethics in the Boler School of Business
Accountancy endowment
To support enrollment growth through dedicated student scholarships, additional faculty to accommodate growth, and innovative curricular development in our award-winning Accountancy program, which is internationally accredited by the Association to Advance Collegiate Schools of Business
Faculty development endowment
To support faculty to explore and incubate new academic programs; improve technology used for academic courses and assessment; research and develop courses; expand student/faculty research projects and dissemination; and increase faculty development opportunities
"The 2010 Grauel Fellowship supported the completion of my full-length poetry book manuscript 'Sand Opera,' and two poetry chapbooks – 'Ode to Oil' and 'abu ghraib arias.' I'm grateful for the chance to step back, focus on my writing, and recharge my teaching batteries."
– Philip Metres, Ph.D., professor of English, 2010-2011 Graul Fellowship recipient
Tim Russert '72 Department of Communication and Theatre Arts
To position multiple, interrelated academic disciplines and programs in political science, sociology, economics, and communications, as well as support the NBC/John Carroll University "Meet the Press" Fellowship – an annual nine-month, post-graduate opportunity – in honor of Tim Russert
"I don't think an experience like this exists anywhere else. Wherever I go from here is going to be in large part thanks to my time at NBC's "Meet the Press." Meeting politicians and attending events are great memories, but being able to contribute to holding the highest echelons of power accountable has given me the biggest thrill."
– Andrew Rafferty '09, first NBC/John Carroll University "Meet the Press" Fellowship recipient
Building on our Jesuit heritage
We seek to develop and endow programs that carry on our Jesuit Catholic heritage so future generations of Carroll students can echo past and present voices who call their Carroll years transformational.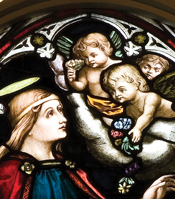 Establish a center for Jesuit mission and identity
To strengthen Ignatian spirituality programs and expand faculty and staff retreats to provide a deeper understanding of the rich, Jesuit Catholic intellectual tradition and its application to moral and cultural issues. Today's students are interested in additional opportunities for participation in programs focused on faith-based justice issues, but current staffing levels and budgets are at capacity.
Endow student service and justice programs
About two-thirds of the student body is involved in service every year. We would like to make it possible for all students to have a life-changing service or immersion experience as part of their Carroll education.
"We live in an age where faith, belief, and religion aren't as central to people's lives. We need institutions where faith is celebrated … where people aren't ashamed to express their faith and where you see there's an absolute link between academic life and faith life. John Carroll helps students recognize this link."
– The Very Rev. Timothy Kesicki, S.J., '84, provincial of the Chicago-Detroit Province of the Society of Jesus
Enhancing the student experience
We must support the University's long-term campus vision that will create a culturally dynamic environment that enhances social interaction and appeals to our community as a whole.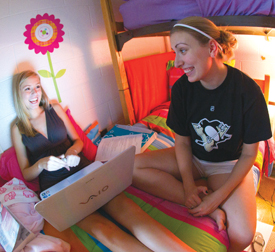 Student housing
To renovate existing residence halls, such as Murphy, Pacelli, and Dolan, and to provide various housing options – from double rooms for freshmen and sophomores, to singles and suites for juniors and seniors – to meet students' needs.
"Life in a residence hall is an important aspect of the college experience, and John Carroll is no exception. Many students come to Carroll and are sharing a room – and bathroom – for the first time. Our residence halls must not only have curb appeal, they must be inviting to prospective students from the inside out."
– Donna Byrnes, associate dean of students
Sports and playfield space
With more than 600 varsity athletes, 275 students in club sports, and more than 1,500 students participating in intramural activities, space is at a premium for practice, recreation, and competition. To perform at a higher level, we must create playfields for softball and the newly established men's and women's lacrosse teams, as well as competition-level tennis courts.
Student health and well-being
Providing a comprehensive and holistic approach to student health and well-being is integral to the Carroll experience. We must support peer-prevention programs, staffing faculty and curricular development, training, community partnerships, and substance-free housing for current and future students.
24/7 study space
To create a 24/7 study space and learning commons in Grasselli Library to enable more peer interaction, academic tutoring, writing support, and workshops about study and related skills for our students
For more information about the Forever Carroll campaign and how you can invest in JCU, contact the University at 866-345-1886 or forevercarroll.org. JCU
---
Leave a Reply