Students balance academics and athletics
By John Walsh
At John Carroll, the term student-athlete means exactly that – students first, athletes second.
Participating in athletics builds confidence in students. It develops their discipline to meet certain physical expectations, as well as their time management skills. Through athletics, they become independent and critical thinkers. Student-athletes also have opportunities to pursue other interests, such as service learning, studying abroad, and leadership roles on campus.
"Students have more choices at the Division III level," says Laurie Massa, JCU's senior director of athletics. "They don't have to ignore other aspects of their lives, yet they still compete at a high level."
While other schools might place more importance on athletics (i.e., use it as their main strategy to boost enrollment), Carroll emphasizes students' futures.
"Athletics helps them prepare for life after graduation," Massa says. "We prepare students for life in a well-rounded way. There are plenty of life lessons here that don't involve sports."
Mike Moran, head men's basketball and golf coach, says the student-athletes he coaches have their eyes set on the future, and they typically come from high schools that emphasize high academic standards.
"That's what it's all about," Moran says. "You can't worry if you're going to be a starter all four years in college. JCU is a stepping stone for a bright future."
When recruiting, Carroll coaches build relationships with bright students who are usually involved in additional school activities. They try to differentiate the Carroll experience from other schools, the academics, and what playing at JCU will be like. The beautiful campus, the fact people feel comfortable here, and financial aid all help. Moran considers four
elements when recruiting:
1. How can JCU cater to student-athletes' academic interests? "We have a hand on the pulse of what they're interested in. Can the student get into the school? We're not looking at points per game. It's about excelling here academically."
2. What connections do the students have to JCU? "Do they have parents or relatives who attended Carroll? Do they believe in a Jesuit education? Do I have a personal contact (i.e., is their high school coach someone who played for me) with them? It's difficult to recruit a kid without a link."
3. Can the student fit into the system? "We don't over-recruit, but we've always had an abundance of smaller kids. The bottom line is do they have the ability to play college ball."
4. Will a student receive enough financial aid? Coaches need to recruit with a JCU profile in mind, which means identifying student- athletes who are more likely to receive
aid based on their leadership, service, and academic records.
Student-athletes don't compromise their academics to play sports. As such, it can be tricky to schedule practices, especially for Moran, because basketball spans both semesters. Several teams share multiple facilities so scheduling practices needs to be thought out in advance. He starts with a master list of the students' classes.
"Kids will never miss a class because of practice," he says. "It's difficult to get everyone there, so we often practice in the morning. We're allotted 20 hours of practice a week by the NCAA, but we rarely use all that time. Our practices are organized and precise. It usually takes twice as long to prepare for practice than to actually practice."
Transition time
Swimmer Julia Adams '13, baseball player Ryan Konsler '13, runner Gabriella Kreuz '14, and football player A.J. Short '13 are examples of ideal student-athletes at Carroll because they excel in and out of the classroom and have a keen eye on their futures. Adams didn't want to attend a large school like her two older cousins. She liked the Carroll campus, knowing she could swim here and what the business school offered.
"With JCU, I could get a great education, graduate with a good job, be confident, and not drown in the real world," says Adams, who had been swimming competitively since kindergarten.
Konsler, who was recruited by 10 schools, committed to another school but changed his mind because, as a finance major, he wanted to attend a university with higher academic standards that was close to a big city. As a Roman Catholic, Konsler was attracted to the Jesuit mission, as well as the competitive baseball program.
"I liked coach Marc Thibeault's '98 personality and his coaching philosophy," says the Chicagoan, whose two older brothers played college baseball. "I saw the commitment he has, which makes you want to play for him."
Gabriella Kreuz '14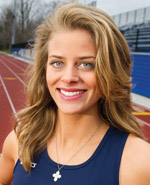 Track
Position: Mid-distance
Major: Communications with a concentration in broadcasting
Academic: Dean's list, English as Second Language tutor, Seeds of Literacy tutor, writes for The Carroll News, internship with WKYC TV
Hometown: Lakewood, Ohio
High School: St. Joseph Academy in Cleveland
Kreuz, a Clevelander, was set on going far away to a Division I school to run track; but at the last minute, as a result of her parents' encouragement, she visited Carroll. She felt the friendly atmosphere was unlike any school she visited.
"With people smiling and strangers opening doors, I could tell it was a close-knit campus," she says. "The idea of faith first, school second, and athletics third felt right. I love running but didn't want it to rule my college experience. At JCU, I saw myself nurturing a number of my interests."
Kreuz met with women's track coach Dara Ford, who presented her with track records she could set if she attended Carroll.
"I thought I could make my mark here on and off the track," Kreuz says.
A healthy balance
Because Adams, who had a cumulative grade point average of 3.45, took difficult classes in high school, she was used to the rigors of studying and swimming. She started taking easier classes and worked her way to more difficult ones.
"Time management is a huge key," she says, adding she practiced about 15 hours a week and swam six days a week, with meets occurring on Fridays and Saturdays.
Individually, Adams holds school records in the 200-meter individual medley and the 100-meter and 200-meter backstroke. In relays, she holds school records for the 200-meter, 400-meter, and 800-meter free relay, as well as the 400-meter medley relay. She also holds the 200-meter individual medley record for the Ohio Athletic Conference.
Ryan Konsler '13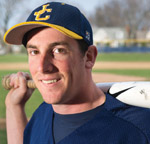 Baseball
Position: Right field
Major: Finance
Academic: Interned at the Federal Reserve Bank of Cleveland and Merrill Lynch which led to a job as a client service associate at Morgan Stanley in Chicago
Hometown: Lake Forest, Ill.
High School: Lake Forest
Student-athletes need to have effective time management skills. For Short, he had a set schedule involving film, workouts, and practice that made it easier for him to stay on top of his academic work.
For Konsler, having had six seniors to consult with his freshman year was advantageous because they were role models who helped him mature, manage his time, and balance academics with baseball. The 40-game season can be a grind, with 5:30 a.m. practices, class all day, weights in the afternoon, and studies at night. As a finance major, Konsler put in long hours to meet the high expectations of the Boler School of Business. Coach Marc Thibeault accommodates those expectations.
"It's no problem if you're late for practice because of something academic, such as meeting with a professor," Konsler says. "Our future is important. No one is really going pro. Coach puts us in a great position to succeed in the classroom and on the field."
Konsler was part of a student group that managed an active portfolio fund of $142,000 that was donated for educational purposes. Konsler, who wants a career in asset management, interned at Merrill Lynch and the Federal Reserve Bank of Cleveland.
Kreuz – who made the NCAA All-Region cross country team and was named Academic All- American this past season – is also the reigning Most Outstanding Distance Athlete from last year's OAC Track Championships. She holds school records in the indoor 4×400 meter and outdoor 4×800 meter relays. She has made the dean's list every semester except fall freshman year. Athletically, she practices about two hours a day and attends meets on weekends and Fridays. Between indoor and outdoor track, Kreuz runs nine events but would like to focus on one or two.
"I want to put nationals on my resume," she says. "I'm blessed to be versatile and put up points in multiple events, but sometimes I sabotage myself with too many pursuits. I need to narrow my focus to reach my long-term goals."
Aaron Short '13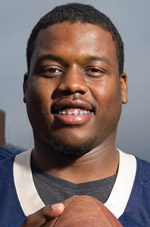 Football
Position: Offensive lineman
Major: Exercise Science with a concentration in physical therapy
Academic: Member of the Student Organization Budget Board and volunteer at University Hospitals in the physical therapy department
Hometown: South Euclid, Ohio
High School: St. Ignatius in Cleveland
Kreuz, who had a 3.68 GPA, admits college is more stressful than high school, but her faith helps relieve stress.
"We all feel the pressure," she says, adding she's surrounded by people who have similar priorities. "I live with three runners, and we all agree the spiritual aspect of campus keeps us going when our schedules get tough."
Student-athletes need to have effective time-management skills. For Short, he had a set schedule involving film, workouts, and practice that made it easier for him to stay on top of his academic work.
"It's actually easier during football season because you get into a groove," says Short, who had a 3.2 GPA. "I was used to doing a similar routine in high school at Cleveland St. Ignatius. It's a big-time commitment."
Short – who started out as a biology major because he wanted to become an orthopedic surgeon but switched majors because he wants to become a physical therapist – has been plagued with injuries (shoulders and concussion) during his football career at Carroll. Those injuries were part of the reason why he wants to become a physical therapist.
"I love having a positive effect on other people," says Short, who has been a student trainer all four years at Carroll. "As an athlete, I know how bad an injury can be and the disappointment of having to sit out. My therapist did a fine job of getting me back on the field, and I want to do the same for others."
Onward
As student-athletes focus on their futures, Kreuz is thinking about a career in sports broadcasting. As the sports director of a show on JCTV4 and sports writer for The Carroll News, she enjoys interviewing athletes and coaches. She also volunteers in the Cleveland Indians' press box and is interning with WKYC TV this summer.
Julia Adams '13
Swimming
Position: Backstroke, individual medley, freestyle
Major: Marketing/logistics
Academic: Dean's list, internship with Mondelez International (Kraft Foods) that led to a job in a management development program
Hometown: Erie, Pa.
High School: Northwest Pennsylvania Collegiate Academy
Short plans to attend a physical therapy program (three years) after he finishes JCU's premedical postbaccalaureate program to earn a doctorate degree. While at Carroll, he has accumulated 700 hours of training and 200 hours of shadowing a physical therapist, which are prerequisites in the competitive PT field.
After graduation, Adams moved to Chicago to work for Mondelez International, a division of Kraft Foods, where she's part of an 18-month management development program with the goal of becoming a business analyst. After interning with the company last summer, it flew her to New Jersey for a two-day interview in November.
"It was my first big interview and cool to experience that kind of thing," Adams says, adding she received interview tips from the Career Center. "Since then, I've helped friends answer interview questions. It's important to be yourself and know the core values of the company to see how you fit in."
Even though Adams had a job before she graduated, she didn't cruise through her last semester.
"I've been motivated for so long, it's difficult to turn that off," she says. "Grades really matter to me. I'd be disappointed in myself if I didn't care because I already had a job. Many of my classes coincided with what I did at Kraft, so it all blends together. I'm a better student and employee because of it." JCU
---
Leave a Reply