Alumni revel in their role with athletics
By Erich Burnett
From his earliest days as a student, Chris Green '96 craved a way to become involved with John Carroll athletics. So he attended a work-study seminar hoping to find something to indulge his passion. That's where he met Chris Wenzler '90, assistant athletic director for communications, who asked if Green had done any announcing. He hadn't, but he soon would. During his freshman year, the former three-sport athlete at St. Edward High School in Lakewood, Ohio, stepped up to announce women's volleyball. And men's and women's soccer. And men's and women's basketball. And swimming, baseball, and track. Four years later, Green completed his studies at Carroll, but he's never let go of the microphone.
"Once I graduated, I wasn't sure what they wanted to do," Green says about his longtime friends, Wenzler and men's basketball coach Mike Moran. "But Coach Moran said to Chris, 'He's going to stay, right?'"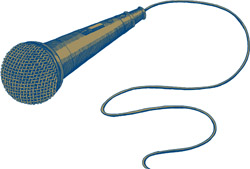 Stay he did. In March, Green completed his 20th season as the voice of Blue Streak basketball. He's also forged two decades worth of friendships rooted in Carroll athletics. But he's not alone. In almost every sport, athletes benefit from the assistance of many passionate alumni who help them meet their goals.
On her way to earning bachelor's and master's degrees, Kathy (Hennessy) Glowe'94, '00G was also a standout athlete in basketball and track. Now a psychologist in the Willoughby-Eastlake City Schools, she also nurtures champions. In more than 11 years as an assistant with the track team, she has coached numerous All-Americans, including 2002 Division III national champion high jumper Beth Grzybowski Litten '03.
"I love representing the school as an alumnus," says Glowe, who's married to former football player Brian Glowe '93. "People often say what they want to do when they grow up, and I wanted to be in education. But I never thought I wanted to be a track-and-field coach."
There was a time when Eric Biro '03 might have said the same. For five years after earning his degree in finance, Biro committed to a career in executive recruiting – even launching his own firm, Anderson Biro, in 2007. But the former sprinter and high jumper never lost his passion for track. When the opportunity arose to work with Carroll's athletes in 2009, he quickly cleared his schedule.
"It was great to come back to where I ran, but the flipside of that was it brought back competitive urges I didn't think I still had," he says. "The biggest struggle was not being an athlete any more and learning how to develop the coach-athlete relationship."
It's a skill Biro already honed in the business world. In addition to his involvement with the track team, he's an active member of the Blue Gold Club and John Carroll's Entrepreneurs Association, a collective of business owners who mentor. In fact, Biro's firm routinely offers internships to Carroll students.
When a spate of injuries sidetracked Dan Ralph's '07 wrestling career, he twisted the adversity into renewed commitment to the program that believed in him through it all. A former standout wrestler at St. Peter Chanel High School in Bedford, Ohio, Ralph had been recruited by Division I colleges until a semifinal loss in the state tournament soured their enthusiasm.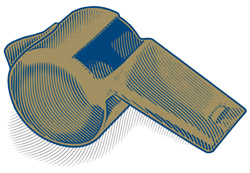 "John Carroll and coach Kerry Volkmann '71 stood by me, and that opened my eyes to the school," he says.
After a solid freshman season, Ralph's collegiate career was taken down by injuries: first a fractured ankle, then torn ligaments in his hand, and finally a neck injury that pushed him to the sidelines permanently.
"They easily could have turned their backs on me, but they graciously invited me to remain part of the program, and that meant the world to me," he says.
Since his sophomore year, Ralph has reveled in the role of mentor and steward, instructing young wrestlers and guiding their training regimens while establishing goals for each athlete and the program. Even today, he spends at least five days a week working with wrestlers and recruiting future students while devoting his career to Belcan, a Solon, Ohio- based recruiting company.
"This University gave me everything I could've asked for," he says. "Now it's my turn to do what I can do."
It wasn't a fierce desire to compete that brought Dariush Saghafi '84 back to the gym. It was a belly the size of a beach ball and a wife who spoke up.
"It got to the point where my wife told me I looked too big," says the Pepper Pike, Ohio, neurologist, who lettered in wrestling at Carroll despite having no prior experience in the sport.
A math major and accomplished violinist, Saghafi found the rigors of medical training after JCU left little time for fitness. It wasn't until 2004, at a 40th anniversary reunion for the wrestling program, when he decided to chart a new course.
"I figured all my friends I wrestled with would be in horrible shape, but they were in terrific shape," he says. "That's what got me on a serious move."
After six months of working out on campus, he dropped almost 40 pounds and inspired the young competitors with whom he trained. Now he can't envision walking away from the program that put him back on the right path.
"I preach this to the guys: 'When you leave this place, don't think it's over. You're at your peak now, so use that momentum to keep yourself this way,'" he says.
Saghafi learned to manage a successful career, family, and his passion to stay in shape. The owner of Parma Neurology, he also serves as director of the Headache Clinic at the Louis Stokes VA Medical Center. He has two children who attend John Carroll and two others likely to follow.
"My wife asks me, 'When are you going to stop playing around with these young bucks? They're going to beat the heck out of you,'" Saghafi says. "I tell her I plan to keep on going 'till I physically can't do it anymore.'"
Green's career as an account manager with ProEd Communications hasn't sidetracked his role as the voice of Carroll basketball. But by 2009, a desire to spend more time with his children almost did.
"I told my wife I didn't think people even paid attention to what I do," he says.
That's when players, coaches, and alumni told him otherwise. One graduate mentioned how his grandchildren leave games boisterously imitating Green's signature calls.
These days, Green's kids, who've been a fixture at games, have as much fun as dad does.
"My son even sat at the table once, and fans said, 'Is this your heir apparent?'" he says. "My son said, 'Not right away, 'cause first I'm going to be playing here at John Carroll.'" JCU
---
Leave a Reply