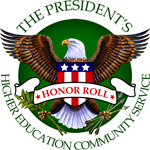 From the tower
• The University was selected as a Presidential Award Finalist for the President's Higher Education Community Service Honor Roll, the highest federal recognition a college or university can receive for its commitment to volunteering, service learning, and civic engagement. JCU is one of only 14 colleges and universities nationwide to receive recognition as a finalist. It has been named to the honor roll six consecutive years. The Center for Service and Social Action is recognized for: Carroll Reads, a literacy-tutoring program for K-6 students; Ohio Graduation Test Tutoring, in which JCU students work with high school students in Cleveland to help them pass the OGT; and We the People, a social studies program that focuses on the U.S. Constitution and citizenship in grade school and high school classrooms where JCU students are tutors.
• Gen. Carter Ham '76, recently retired Commander of the U.S. Africa Command, delivered this year's commencement address. Ham, who received an honorary doctorate during the ceremony, is unique among his peers because he's the only serving Army four- star general to have started his career as an enlisted man. Ham was commissioned in the infantry as a distinguished military graduate in 1976. One of only 12 four-star generals in the U.S. Army, he's the sole John Carroll alumnus to hold the rank and is a member of the University's Reserve Officers Training Corps (ROTC) Hall of Fame.
• At the University's commencement exercises in May, Barbara Schubert '62, '67G and her husband, John, received honorary doctorates for their unwavering dedication to JCU and its Jesuit mission. Both are retired educators who have served as volunteers to several Jesuit organizations and are Founders of the Chicago-Detroit Province of the Society of Jesus.
• JCU ranked 10th in overall pass rates for first-time sitters among 260 medium-sized institutions for the National Association of State Boards of Accountancy's "Uniform CPA Examination Candidate Performance Book" and the "School Performance Book," which features comprehensive statistical data from all four testing windows of the 2012 Uniform CPA Examination. Additionally, Stephen Hruby '12 was awarded the 2012 Elijah Watt Sells Award presented by the American Institute of CPAs. The award is presented to candidates who obtain a cumulative average score above 95.50 across all four sections of the Uniform CPA Examination, complete testing during the previous calendar year, and pass all four sections of the exam on their first attempt.
• The University partnered with Turner Broadcasting System to establish a summer internship exclusively for a JCU student in Turner Digital's Manhattan office. The 10-week, paid internship, which begins this June with Lisa Marie Perry '14, helps a student gain professional experience in advertising and marketing across Turner Digital's portfolio of websites. The internship focuses on conducting research, connecting products with marketing messages and platforms, and creating and presenting an effective sales plan. Walker Jacobs '97, former executive vice president of Turner Digital, established the internship in collaboration with Jeanne Colleran '76, Ph.D., dean of the College of Arts and Sciences.
Faculty focus
• Anne Kugler, Ph.D., professor of history, received the 2013 Distinguished Faculty Award at the commencement ceremony in May. The award is given annually to a faculty member who has demonstrated excellence in the classroom and made a significant and balanced contribution to scholarship, service, and Jesuit education. Kugler, who served as chair of the history department from 2005 to 2009, teaches courses about early modern England and France, revolutionary Europe, and the history of European women from ancient Greece and Rome to the 20th century. In 2010, Kugler began an appointment as director of the Center for Faculty Development, initiating and leading programs that support faculty teaching and research. Kugler also is chair of the Faculty Council, which coordinates the faculty's responsibilities in University governance. Additionally, she serves on the steering committee for reaccreditation by the Higher Learning Commission and co-chairs the subcommittee, writing the assessment portion of the reaccreditation self-study.
• Mindy Peden, Ph.D., associate professor of political science, is the 2013 recipient of
the Culicchia Award for Teaching Excellence in the College of Arts and Sciences. Among her many contributions to the University is her service as associate dean for advising from 2009 to 2012. Her teaching is praised for its rigor and supportive atmosphere as she helps students delve into the complexities and controversies of political theory. Whether she's co-leading the Belfast Program in Northern Ireland or arranging panel discussions about the Occupy Wall Street movement, Peden remains committed to helping students investigate the political and ethical implications of significant world events. Peden joined the faculty in 2003.
Student spotlight
• Dan Cooney '13 was selected as this year's NBC/John Carroll University "Meet the Press" Fellowship recipient. The communication and theatre arts major and political science minor served as editor- in-chief of The Carroll News during the 2012-13 academic year. The Erie, Pa., native is a member of the communications honor society, Lambda Pi Eta, and the Jesuit institutions' honor society, Alpha Sigma Nu.
• John Jackson '13 is the 2013 Beaudry Award recipient. The award recognizes outstanding service in four areas: leadership, commitment to Christian values, academic achievement, and service to John Carroll and/or the greater community. Jackson worked with the Center for Service and Social Action in various capacities, specifically with the We the People service-learning program.
• Kyle Hutnick '14, a criminology and sociology major, earned the 2013 Charles J. Ping Student Service Award, which recognizes and honors undergraduate students' outstanding leadership and contributions to service on campus and within their community. Hutnick was recognized for his work with the We the People tutoring program and Project Citizen, an opportunity to work with high school students to identify problems in their neighborhoods and research meaningful policy changes to address those issues.
• Bill Cook '13 was this year's Millor Orator. In honor of the late Rev. William J. Millor, S.J., who served the University in various posts for 28 years, undergraduates – along with a panel of faculty, staff, and administrators – select a member of the undergraduate graduating class to be the sole student presenter at the commencement ceremony.
• Four students and a theology and religious studies professor received a fellowship to conduct research in the borderlands of China and Tibet this summer. Funded by the ASIANetwork-Freeman Foundation Student-Faculty Research Fellowship, Paul Nietupski, Ph.D., will collaborate on four studies with his students. Andrew Dockery '16, an east Asian studies major, will study the impact of how transportation and communication advances have brought unprecedented changes to locals. Alexandra Ehrett '16, a political science major will study how the status of women in the region has changed. Brenton Mineo '13, a biology major and east Asian studies minor, will study the environmental impact of increasing herd size because of advances in animal husbandry and the aggressive use of natural resources. Sarah Pawlaczyk '15, a middle childhood education major, will study educational infrastructures to analyze their strengths and weaknesses.
• This past February, the Boler School of Business research challenge team placed second in the local CFA Institute's Research Challenge, an annual educational initiative promoting best practices in equity research through mentoring and intensive training in company analysis and presentation skills. The team consisted of: William Butler '13, Vincent Kopen '13, Nicholas Gabriele '13, Daniel Imfeld '13, and Jonathan Morris '13, as well as advisors Anthony Aveni, executive-in-residence, and associate professor Gary Porter, Ph.D. All teams were charged with researching Lincoln Electric. The Boler team honed their quantitative and analytical skills by projecting the company's income statement, balance sheet, and statement of cash flow 10 years forward.
• Three students earned finalist spots for an award honoring the best intern in Northeast Ohio: Lauren Halladay '12, '14G, a nonprofit administration graduate student, interned with the Center for Families and Children in Cleveland; Allison Schulze '13, an English literature major and business minor, interned with the Cleveland Play House; and Jessica Wagner '14, a sociology and criminology major and entrepreneurship minor, interned with LaunchHouse, a seed capital and angel investment fund in Shaker Heights. The three received nominations in the best intern category of The Expys, awarded annually by the Northeast Ohio Council on Higher Education and Cleveland Business Connects magazine.
• Michael Ciancibello '14 and Chrispus Munywoki '14 were selected for health-care information technology internships at the Cleveland Clinic Foundation. Ciancibello is a computer science major and philosophy minor from Mayfield Heights, Ohio; and Munywoki is a computer science and economics double major from Kitui, Kenya. Roseann Spitznagel '95 and Jim Wetzel '01, who work at the clinic, helped start the health-care IT internship program.
Athletics
• Rachel Dell was named head coach of the women's varsity lacrosse program at Carroll. Dell spent the past six seasons at the helm of the women's lacrosse program at Hartwick College in Oneonta, N.Y. Previous to that, she served as head coach for women's lacrosse at Elmira College in New York from 2005 to 2007. Dell is a graduate of St. Bonaventure University.
• Kelly Morrone – a former coach at Buffalo, Davidson, Rhode Island, and William & Mary – was named head coach of the women's basketball team. The 12th head coach of the program, she's a graduate of the University of South Carolina.
---
Leave a Reply