Worthy recognition
On May 17, the recipients of the 2013 Alumni Medal, Silver Quill, Campion Shield, and Young Alumni Award were honored at the alumni awards dinner.
The Alumni Medal, the highest honor awarded annually by the alumni association, recognizes individuals for accomplishments in their professions, exemplary family and personal lives, contributions to their communities, and dedication to the University. Recipients, who are selected by former presidents of the association from nominations submitted by any alum, are:
• Nancy Cunningham Benacci '77;
• Tony Coyne '82;
• Jack Kahl '62;
• Chuck Kyle '73, '79G; and
• Bob Maynard '58.
The Campion Shield recognizes heroism and bravery among members of the Carroll community and affirms the Jesuit ideal of being men and women for others. This year's recipient is the late Rev. Richard Matty, S.M., '77, who made many missionary trips in the roughest areas of Northern Mexico to serve the poorest and most needy in that area. He was rector of St. Patrick's Cathedral in El Paso, Texas.
The Silver Quill is presented annually to the most well-written and consistant class columnist in the Alumni Journal section of this magazine, exemplifying dedication to his or her classmates. This year's recipient is Peter French '67.
The Young Alumni award recognizes the outstanding leadership and service of an undergraduate alumnus/a 40 years old or younger. Standards of recognition include demonstrated leadership capability, commitment to the service of others, and substantial dedication to the University and its mission. Recipients are Rochelle (Nowinski) Young '99 and Patrick Manfroni '03.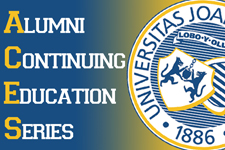 Stimulate your intellectual growth
The new Alumni Continuing Education Series featured an eager cohort of alumni students and three lectures led by Fr. Casey Bukala, S.J., and Paul V. Murphy, Ph.D., professor, director of the Institute of Catholic Studies, and vice president for university mission and identity. The noncredit granting, personal enrichment series stimulates intellectual growth by connecting graduates to the academic resources of their alma mater. The alumni relations office plans to offer online options for those living throughout the country. Visit jcu.edu/lifelonglearning to learn more about ACES and other enrichment programs.
Career services and new programs
Did you know the University provides career assistance to all alumni, regardless of when they graduated? Alumni are invited to make us your one-stop shop for free career consulting, resume and interview preparation, job banks, networking events, student mentoring opportunities, and exclusive career fairs. Visit go.jcu.edu/alumnicareerservices for more details. We value your feedback and thoughts so email us at alumni@jcu.edu.
Be involved
The national alumni board has helped developed programming to benefit the more than 40,000 graduates that comprise the alumni association. Jamie (Megeath) Jamison '88, co-chair of the alumni engagement committee, sees a big shift in energy and excitement. "It's a great time to be involved with the alumni association," Jamison says. "From sprouting chapters to the enrichment and learning opportunities, we're proud of what we're accomplishing." Visit jcu.edu/alumni to learn more about the alumni board.
Chapter and affinity group website
For those looking to connect with local alumni chapters or alumni who share a common bond, take advantage of the Alumni chapter website – jcu.edu/alumnichapters. If you're interested in getting involved as a volunteer, contact Eric Eickhoff, assistant director of alumni chapter programs, at eeickhoff@jcu.edu or 216-397-3061.
---
Leave a Reply