Brendan Hotchkiss '01 and his JCU business partners dig up deals with Bevdog, an online directory of happy hours and specials
By Jackie Mitchell '14
On a Friday night about three years ago, Brendan Hotchkiss '01 and his wife, Brandy Banks '03, searched for a local bar or restaurant where they could grab pizza and a few beers. The only hitch – they were on a budget. The couple, who met while they were undergraduates at John Carroll, was saving money while planning their wedding. They scrolled through endless websites and phone applications, pursuing a deal or special to no avail.
"It was mind-boggling no one had just one site that listed every bar and restaurant's happy hour specials in the Phoenix or Scottsdale areas," says Brandy Banks Hotchkiss.
After doing some research, Brendan Hotchkiss decided that if he couldn't find a helpful and accurate online happy hour directory, he was going to change that.
"I was searching through different apps and websites and thought, 'Why isn't there a nationwide directory where restaurants can post food, drink, and entertainment specials in real time and update them as frequently as possible?'" says the Chicago native with a background in real estate banking, who relocated to Scottsdale, Ariz., about four years ago.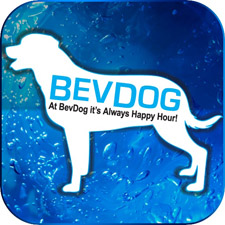 In search of feedback about his idea for a real-time directory that would solve the answer to his question, Hotchkiss reached out to friends, including Greg McCarthy '02, whom he has known since their days at Carroll.
"The more I got into it, the more I liked it, and the more he wanted me to do," says McCarthy, a partner and national sales director for the relatively new company, Bevdog. "We agreed to handle all of it together, and he brought me in to be one of the original partners in the venture."
In November 2011, Hotchkiss, who owns Leavitt Capital, a real-estate capital markets and consulting company, with his wife, invested his time and money – including hiring a team of engineers – to design and build a website and apps for the iPhone and Android. By January 2013, the online directory of daily specials and happy hours in restaurants and bars throughout the United States was built and running smoothly.
"Not having an IT background, it wasn't easy, but I learned as I went along," says the former member of JCU's ROTC program, who received a bachelor's degree in communications, as well as an MBA from Roosevelt University in Chicago.
When devising a name for his product, Hotchkiss was aiming for something unique and memorable. Inspiration hit one day, and Bevdog was born.
"I grew up in a neighborhood in Chicago called Beverly, and I was looking at my dog when I was trying to think of a name," he says. "I thought of beverage and Beverly, and it sort of had a name play on both. Bevdog is a name that stands out and is a bit techy."
After signing up for Bevdog, restaurants and bars create a profile by setting up a password-protected account and then entering daily food, drink, and entertainment specials. They have the ability to change the specials in real time, allowing consumers to access immediate updates.
"They can pick a date, but most just enter their specials for each day," Hotchkiss says. "We couldn't make it any easier for them to enter information. They can enter in their specials and never touch it again, or they can update it daily. They have the ability to access the site from their phone while standing at the bar, and their changes will be posted instantly to our website and app."
Once consumers download and open the free app, it automatically lists all specials available within a 20-mile radius, sorted from closest to furthest. They also can search by zip code and key words.
"If you're looking for a martini or margarita, you can do a key word search for what you're looking for," Hotchkiss says. "If it's a Wednesday and you're going out with your girlfriends on Friday and want to see what's going on then, you have the ability to check through our site."
Hotchkiss sends sales reps to cities to sign up restaurants to be included as part of the app. It typically costs restaurants a dollar a day to use, but Hotchkiss is offering free, one-year subscriptions to all restaurants that sign up within the next year. He decided if he was going to grow Bevdog into a large, social media company, he would need to forgo immediate profits. He hopes this approach will increase Bevdog's following. The app is available in more than 50 markets. With almost 8,000 Twitter followers, Bevdog is gaining a steady following, reaching about 53,000 people through Facebook and being downloaded more than a thousand times. Overall, feedback has been overwhelmingly positive.
"So far, all I've heard is 'Thank you so much for doing this. I can't believe there isn't something like this already,'" says Brandy Hotchkiss, a development consultant for low-income-housing, tax credit developments who also does the bookkeeping for Bevdog and acts as an adviser for some of the company's decisions and whom Brendan calls his strongest supporter. "People are surprised this hasn't happened sooner, considering technology."
"We're still in our infancy," Brendan Hotchkiss says. "We haven't really put any money into advertising or marketing at this point. We've mainly focused on developing the technology, so we're reaching a lot of people just by word of mouth. Our apps are getting downloaded, and people like them, so we're growing better than we anticipated."
Hotchkiss is looking to expand into more than 50 college markets and target five conferences in the NCAA. He's also targeting Chicago, Washington, Phoenix, Las Vegas, and Cleveland. The company is in the process of forming strategic partnerships with groups and hosting events throughout the country.
The latest addition to his team is another JCU alum, Molly Lynch Leonard '01, Bevdog's public relations agent.
"John Carroll gave me connections to valuable people who are helping us advance the company," he says. JCU
For more information about Hotchkiss' company, visit bevdog.com.
---
Leave a Reply