Three alumni devote their lives to ensure quality education at Lake Catholic High School
By Ryllie Danylko '14
If you walk into Lake Catholic High School in Mentor, Ohio, you'd probably cross paths with one of three John Carroll alumni who work there. Sal Miroglotta '80, '85G, Scott O'Donnell '97, and Robert Kumazec '07 all hold administrative positions and dedicate their lives to help provide young men and women with a quality Catholic education.
When describing the environment at Lake Catholic, all three emphasize their unwavering dedication to the school's mission: to learn, work, and think for one's self.
Living their dream job
Despite the various struggles and challenges related to running a school, Miroglotta, O'Donnell, and Kumazec love going into work every day. Miroglotta, Lake Catholic's president, thrives on the energy of the students, who inspire him.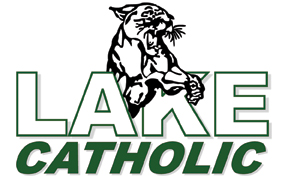 "Watching a student do his or her thing during the day, watching them walk across the stage at graduation knowing we helped them stay in school because they received financial aid or because we had a great program they liked is the greatest success in the world," he says.
Miroglotta spent 13 years at the shuttered St. Peter Chanel Catholic High School in Bedford, Ohio, where he worked his way from English teacher to development director to principal. He went on to become principal at Benedictine High School in Cleveland before moving to his current position in 2008. He says his current job combines all of the skills he developed in his previous posts perfectly.
Kumazec, who taught English and theology at Lake Catholic for four years, enjoyed his time in the classroom, but believes his position as executive vice president/principal allows him to have a more significant impact on the school as a whole. While he doesn't interact with every student every day, what he does – from hiring teachers to changing the curriculum – allows students a better chance for success.
O'Donnell, a former teacher who's the assistant principal of student services, has observed throughout his career in secondary education that teenagers have more on their plates than ever before. He enjoys the fact his job allows him to help students work through some of their problems – whether at school or in their personal lives – and make a difference.
"People always ask me if I miss the classroom, and I say no because I can influence more than 800 students instead of just maybe the 100 or 150 students I'd be teaching daily," he says.
Working at Lake Catholic also allows O'Donnell to use his love of football to train student-athletes. After being a starter on the John Carroll football team for four years – two of which he was named All-American – he continued with the program as a coach. Presently, he serves as the defensive coordinator and assistant head coach of the Lake Catholic football team.
Commitment to the mission
For administrators, the school's mission statement is something they take to heart: "Lake Catholic High School is an educational community centered in the mission of Jesus Christ where the young men and women of diverse interests and abilities are encouraged to learn, to work, and to think for themselves." What sets Lake Catholic apart from other secondary institutions of learning is its commitment to its mission, Miroglotta says.
"The mission is where we look to solve our problems when we're faced with a challenge," he says. "We ask ourselves what the mission tells us to do. No matter where our students go in life, learning, working, and serving – as the mission states – will never fail them."
The mission is best seen in the accepting nature of Lake Catholic, Kumazec says.
"What you see here is something that mirrors Jesus' message of 'We'll take everyone,'" he says. "We'll give everyone a shot. We'll try and make sure every student's needs will be tailored at Lake Catholic."
Keeping Catholic education thriving
In a time when costs associated with private education are skyrocketing, Miroglotta is doing his utmost to make a Catholic education available to everyone who wants one. His duties as president are to ensure the school follows its Catholic mission and has the funding necessary to do that well. He works with a cabinet of staff members to make the school the best it can be and associates a cost with providing that to students.
"The biggest danger that confronts us is that it will become so expensive that only people who have great means will be able to enjoy it," Miroglotta says. "You hate to lose a student just because they can't afford it. So if somebody wants to come here, I'll find a way to make that happen."
Miroglotta spends a lot of time working with potential donors and foundations to get the funding to keep the doors of Lake Catholic as wide open as possible. In the past, the school has received grants from donors such as Dominion East Ohio. Advancement is a more crucial endeavor now than it has ever been at Catholic schools.
"It's basically a business now where we have to market ourselves about why we're different and why people should pay money to send their kids here instead of a public institution," O'Donnell says.
The Lake Catholic community, from its students to its faculty to its parents, is the school's biggest selling point, according to O'Donnell, who's a product of a lifetime of Catholic education, which is partly why he's so dedicated to providing it to others.
In addition to the challenge of maintaining the affordability of Catholic education, Miroglotta also is confronted with a struggle all Catholic institutions face in an increasingly secular world: "How does one make a strong Catholic school in a world that isn't very open to faith?"
"My job is to make Catholicism and our Catholic mission be at home and strong," he says, adding that even though almost all Lake Catholic students attend college after graduation, the greatest good he and the rest of the faculty can do is teach students to grow in their faith.
Educational philosophy
To keep faith part of their students' education, the administrators incorporate their own philosophies into their jobs. Kumazec's philosophy about education is based on the writings of St. Thomas Aquinas, the patron of Lake Catholic High School. Aquinas' writings about education emphasize a holistic approach that caters to not only intellectual education but also the spiritual, emotional, and physical aspects of a person. He also bases his work on the Jesuit values he learned during his time at St. Ignatius High School and John Carroll.
"I learned you have to be constantly living your life for other people," he says. "When making decisions, I always keep in mind what's going to be the best decision for the students and what's going to help them succeed."
When it comes to discipline, which is a significant part of O'Donnell's job, he makes sure all students he works with learn from their mistakes. When it comes to education, he echoes Kumazec's commitment to a holistic approach.
"We work on developing the complete person and the young men and ladies spiritually," he says. "That's what makes us stand out compared to some of other institutions."
---
Leave a Reply