Open for business
New directory promotes shop owners among fellow alums
When Dave Vitatoe '00, director of alumni relations, started working at John Carroll in June of 2011, he received many calls from alumni asking if he could help promote their small businesses. After four or five calls, it became obvious there was a need.
"Surely there was something we could do to help," Vitatoe says.
It was a call from Michael Day '81, owner of Flowerville, a florist in University Heights, Ohio, who wondered if folks driving past his store every day knew he was a JCU graduate.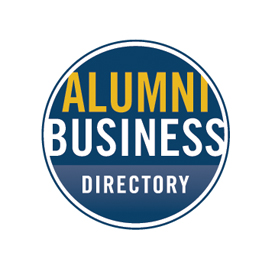 "So it hit me – if we can't promote one small business, what about all small businesses?" Vitatoe says. "The business directory was conceived shortly after that phone call."
The close-knit Carroll community, including more than 40,000 alumni, can help
small businesses by driving alumni and friends to the site (jcu.edu/businessdirectory) to raise awareness of the owners and their businesses. The premise is simple: Instead of going to the same bakery (or florist, dentist, contractor, etc.), why not patronize the one owned by a JCU grad? With more than 500 alumni-owned small businesses in Northeast Ohio alone, the alumni office hopes business owners everywhere will see the value in the directory and the community shows support for fellow Blue Streaks.
"This is a new opportunity for JCU alumni and the community to easily locate and support businesses with a Carroll connection," Day says. "It's a chance for a more personal connection to vendors you need and to mutually support each other."
____________________
New programs enrich experiences
The alumni relations office has introduced numerous programs during the past 18 months to serve JCU graduates better. Here's a sampling:
• Alumni Chapter program (see below), resulting in more than 175 volunteers and programming in 14 cities throughout the country;
• Alumni Couples Night Out event, taking place around Valentine's Day for alums married to alums;
• Application process for the National Alumni Board, resulting in five new members in 2012;
• Creation of the Alumni Continuing Education Series (A.C.E.S.), a noncredit granting, personal enrichment series offered to alumni as a benefit;
• Bukala Forgiveness Initiative and Virtual Chapel, offering resources for those who need forgiveness and those who need to forgive. Learn more at go.jcu.edu/forgiveness;
• College advising service offered to alumni with children facing the college decision process;
• Blue Streak Book Club, offering recommendations from faculty;
• Alumni Travel Program, with the first trip slated for spring 2014. Viva Italia!
• Alumni e-newsletter, Onward, geared to better inform and engage our graduates;
• Backpacks to Briefcases student outreach series, offering a range of options for alumni to mentor current students;
• Alumni Veterans group, preserving the legacy and history of alumni who served our nation;
• Take John Carroll With You campaign, featuring John himself;
• Young Alumni Award to be presented at the annual Alumni Awards Dinner each May; and
• Expanded use of JCU Facebook page and Carroll Contacts LinkedIn group for communication and promotion, doubling members for each group since 2011.
____________________
Chapter contact information
Buffalo, N.Y.
Tricia Barrett '00, chapter president
buffalo@jcu.edu
facebook.com/JCUBuffalo
Chicago
Paul Hulseman '82, chapter president
chicago@jcu.edu
facebook.com/JCUChicago
Cleveland
Larry Oskowski '93, chapter president
cleveland@jcu.edu
facebook.com/JCUCle
Columbus, Ohio
John Davidson '88, chapter president
columbus@jcu.edu
facebook.com/JCUColumbus
Detroit
Dave '74 and Molly (Gibbons) Robinson '75, co-presidents
detroit@jcu.edu
facebook.com/JCUDetroit
Greater New York City
Nick Conyngham '82, chapter president
newyorkcity@jcu.edu
Pittsburgh
Jake Oresick '06, chapter president
pittsburgh@jcu.edu
facebook.com/JCUPittsburgh
Greater Metro Washington
Chris Rankin '98, chapter president
washingtondc@jcu.edu
facebook.com/JCUWashingtondc
---
Leave a Reply