After almost half a century, Tony DeCarlo '66G retires from the University
By John Walsh
When you hear the name Tony DeCarlo '66G, you immediately think John Carroll athletics. They're synonymous.
DeCarlo served the University faithfully for almost 50 years. He retired from his position as director of athletic development June 30, but his impact on the University and his legacy carry on in the scores of alumni and friends whose lives have improved as a result of knowing him.
"I was returning from a business trip and paying for parking at the airport in Cleveland, and the lot attendant, an older gentleman, read my name on my credit card and asked me if I was related to the celebrity Tony DeCarlo from John Carroll," says Tony DeCarlo Jr. '88, president and CEO of Ideastream Consumer Products. "I laughed because I never heard
my dad referred to as a celebrity. I smiled and replied, 'Well, he's a celebrity in our house!'"
In 2003, the campus' varsity gymnasium was renamed the Tony DeCarlo Varsity Center to honor his long years of service.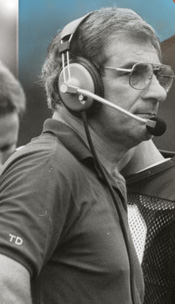 "Our family is always proud to walk on to campus, considering how important Carroll has been to us and how much dad cared about and gave to JCU," says DeCarlo Jr., an All- American wrestler in 1986. "The naming of the gym was a proud day for us. Dad was humbled by the gesture and could only reference the opportunity provided to him by John Carroll and the opportunity to work with so many kids with incredible backgrounds and great work ethics."
On the mat
A graduate of Painesville (Ohio) Harvey High School and Kent State University (where he lettered in football and wrestling), DeCarlo first joined Carroll in 1964 – when there were seven men's varsity sports – as the head wrestling (a program he started that same year), assistant football, and tennis coach after coaching wrestling and football for two years at St. Edward High School in Lakewood, Ohio.
"I was a young guy – 24 at the time – and had a great opportunity," he says. "I was grateful for the mere fact someone had confidence in me to start a program and coach another sport. John Ray was instrumental in getting me here, but I never worked for him because he left to work for Ara Parseghian at Notre Dame."
Starting the wrestling program was challenging. During his first few years, DeCarlo was pulling students – mostly former high school wrestlers – out of the hallways and onto the mat. The program improved each year, and by his third, the team was 9-1. Recruiting became easier because of the winning record and there weren't many Division III schools that had a wrestling program at the time.
"I was in a hot bed for high school wrestling," he says. "There were so many outstanding high school programs in Ohio and Western Pennsylvania."
In 24 seasons of coaching wrestling, DeCarlo's teams won 21 straight Presidents Athletic Conference titles and one NCAA title ('75). Named National Catholic Coach of the Year four times ('73, '74, '79, and '87), he coached 14 national wrestling champions, 62 All-Americans, and 120 PAC champions. His overall wrestling record from 1964-1987 is 213-65-1.
"Tony demonstrated a unique ability to give a wrestler what he needed individually and develop a team atmosphere in a sport dominated by powerful personalities," says Mark Hawald '77, the first state champion DeCarlo recruited, a two-time national champion, and first and only four-time All-American. "We wanted to win for ourselves and coach. Tony created a fun-loving, hard-working, tight-knit team – ingredients that created a Division III national championship team in 1975."
Hawald is a retirement planning counselor and investment advisor representative for Securus Financial Strategies, as well as a consultant for Allstar Business Services.
"In the Presidents Athletic Conference, Tony's program was far superior – and then the program got a lot better after we graduated," says Mike Kelly '70, vice president of Dawson Cos., an insurance company.
"People wanted to be part of a winner," DeCarlo says. "But as we continued to win, we still had to explain to students why we wanted them."
Once recruits saw the campus firsthand and learned about Jesuit education with their parents, it became a win-win situation for the school and students.
"We had all the right ingredients right here," DeCarlo says.
Another key to DeCarlo's success was the fact he surrounded himself with the best assistant coaches he could find.
"I was a fanatic about surrounding myself with top-notch people," he says. "My assistants were outstanding. We all worked hard to build a strong program."
During the 1970s, DeCarlo took his teams to Florida to wrestle matches against many Division I teams. Carroll was one of about 10 schools in the Midwest that were the first to travel south to wrestle, he says.
"Tony would use his car and have one of his friends drive to some of our away matches," Kelly says. "What road trips we'd have! We even took a plane one time – wow!"
After beating heavyweights such as Kent State, Ohio State, and Notre Dame (all without scholarships compared to the big-time opponents who had as many as 10 on a team), DeCarlo's program gained considerable attention. In 1978, the University of Michigan, specifically athletic director Don Canham, came calling.
"I thought the assistant coaches were pulling my leg when they told me Canham was on the phone," he says.
DeCarlo traveled to Michigan three times during the interview process but eventually turned down the job to be the head wrestling coach there because he didn't want to coach wrestling his entire career.
"My kids wanted to make the move, but I knew I made the right decision to remain at Carroll," he says. "Wrestling is a grueling sport to coach. There are phenomenal ups and downs. It's an emotional roller coaster ride."
In 1977, DeCarlo was inducted into the JCU Hall of Fame.
"I'm proud of what I accomplished and always felt I was privileged to be working here," he says.
What former athletes say
"When I think about John Carroll, I always think about Coach DeCarlo. His love of the school and enthusiasm for John Carroll are always evident. Coach is a great motivator. Under his leadership, we were successful and still had fun."
– Jack Mulhall '76, All-American wrestler, JCU Hall of Fame '86
"Coach DeCarlo challenged his athletes to develop their body and mind to achieve a synergy that competes with the best. He did this by focusing on the basics, obtaining a commitment to working hard and smart, and caring for the development of his student athletes in facing life."
– Dan Weir '73, three-time National Catholic Invitational wrestling champion, JCU Hall Of Fame '88
"He is, and always will be, fully committed to the school and the players as evidenced by the 48 years of service he has given to the University. I'm grateful for the opportunity he presented to me coming out of high school. He'll always be considered a friend and a mentor, and I'm proud to have been associated with him through the years."
– Nick Caserio '98, JCU Hall of Fame '09, football
"While winning was always at the forefront of our endeavor, it was everything else that Coach DeCarlo did for me I appreciate today, 21 years later. He's one of only a handful of men who helped shape me as a person. I'm forever grateful to him for instilling in me the qualities of leadership, character, integrity, and compassion. He has had a tremendous impact on my life, and I'm extremely thankful to be able to still call him Coach but more importantly know he's my friend."
– P.J. Insana '95, JCU Hall of Fame '09, football
"Tony DeCarlo was an inspiration for me to enter the coaching profession. He changed my life when he took over the John Carroll football program. He inspired me and other players to excel in the weight room, at practice, on game day, and in the classroom. It was a great feeling to be a part of a program that went from a losing record my freshman year to winning the OAC Championship my senior year. I feel privileged to have had the opportunity to play for a legendary coach and gentleman."
– Brian Cochran '90, All-American football player, JCU Hall of Fame '11
"Whether it was in the wrestling room, at practice, or when he coached from the corner of the mat, Coach DeCarlo gave his full and complete energy and effort to you whether you were one of his returning national champions or third string. He routinely took a better- than-average-to-good high school wrestler and turned him into an All-American. His real accomplishment was causing wrestlers to reveal their own talents to themselves. Coach believed in us before we believed in ourselves. He taught us to leave it all on the mat. Many have taken that mantra out of the stale and smelly wrestling room and carried it with us through our careers, marriages, challenges, and successes in life. He left us better than he found us."
– Kevin Hinkel '77, All-American wrestler, JCU Hall of Fame '85
"Tony DeCarlo was a great coach and ambassador for John Carroll University. He's given the majority of his life to serving the university. I owe a great deal of the success I had while at Carroll to him. There will never be another Coach DeCarlo. He bleeds blue and Gold!"
– London Fletcher, All-American linebacker, JCU Hall of Fame '08
Mulhall is an agent with State Farm Insurance; Weir is a retired bank executive; Caserio is director of player personnel for the New England Patriots; Insana is a partner with the insurance firm Britton-Gallagher; Cochran is an assistant coach for the John Carroll football team; Hinkel is a partner with the law firm Kadish, Hinkel & Weibel; and Fletcher is a professional football player with the Washington Redskins.
DeCarlo was inducted into the Ohio Wrestling Hall of Fame in 1980 and the NCAA Division III Wrestling Hall of Fame in 1991. He was awarded a JCU Centennial Medal in 1986.
On the gridiron
In 1986, when there were 17 men's and women's varsity sports at JCU, he became the athletic director, succeeding Jerry Schweickert '60.
"Fr. [Michael] Lavelle, S.J. [21st president of JCU and a vice president at the time] thought I could elevate all the teams to the success levels of the wrestling and football programs," DeCarlo says. "One of the rules I established was that every coach had to do his fair share of recruiting. Say a coach felt he needed 10 players for the coming year. I'd tell him to recruit 20 because in Division III, you never know who will be a great athlete and respond."
DeCarlo's success in wrestling was the reason why Fr. Lavelle and Fr. Thomas O'Malley, S.J. (JCU's president at the time) asked him to take over as head football coach. In 1987, he moved from wrestling to become the 14th head football coach, succeeding Frank Amato '73. DeCarlo was unsure about taking the job because he had been out of football for 10 years. He tried to convince Fr. O'Malley to hire former Cleveland Browns head football coach Sam Rutigliano, but when Rutigliano declined, Fr. O'Malley turned back to DeCarlo.
DeCarlo led the Blue Streaks to 12 consecutive winning seasons (90-27-4, the most coaching wins in school history; and Ohio Athletic Conference Championships in '89 and '94) on the gridiron and was named the OAC Coach of the Year twice ('94, '97).
"Coach DeCarlo made us believe in ourselves and in the team concept," says
David Rastoka '90, president of HeartFelt Stories and DeCarlo's first football captain and All-American. "He was a terrific motivator and taught us valuable life skills I still use today in my business. A positive mental attitude was his message to all of us – nothing is impossible with a positive mental attitude. He helped create so many wonderful memories for all of us that will last us a lifetime."
DeCarlo finished coaching in 1998.
"I'm someone who has to give 100 percent to everything, and I wasn't able to do that," he said in 1998. "It's the toughest decision I've had to make in my coaching career. I'm losing my direct link to the kids, and that's what I'll miss."
Staying connected
After coaching, DeCarlo remained athletic director for a few more years. It was during that time he began working with former athletes, other alumni, and benefactors helping raise money for the University. He was interested in building a new stadium and developed new sports programs such as women's soccer and golf.
"The development position gave me the opportunity to reconnect with many of my former athletes," he says. "I wasn't keen on asking people for money, but once I was exposed to fundraising, I liked it."
DeCarlo led an athletic fundraising campaign raising more than $4.6 million to improve athletic facilities, including Shula Stadium at Wasmer Field and the DeCarlo Varsity Center, during the "Choosing the Greater Good" campaign.
Since 2003, DeCarlo served as director of athletic development, engaging alumni and benefactors to support Carroll. He has led many fundraising efforts, including:
• the Julie Zajac '02 Track renovation project; • the David Meuse '67 Wrestling Room renovation project;
• the Ron & Cindy Zwierlein Swim Team Endowment project;
• the Mark Schell '82 Memorial Endowed Scholarship project;
• the John W. Ray Memorial Endowed Scholarship project; and
• the Global Ireland Blue Streaks Football Game in Dublin this past Labor Day weekend.
"All the students deserve recreation, and I helped them by devoting more time to renovate the facilities," he says.
"His career has solidified a continued connection between JCU and thousands of graduates who've benefited from his exemplary motivation," says Dan Weir '73, who was a three-year wrestling team captain and is a member of the JCU Athletic Hall of Fame and a retired bank executive.
Family matters
DeCarlo's contributions to Carroll wouldn't have been possible without the support and understanding of his family – wife, Rita '68G, a retired school psychologist, who he's been married to for 50 years; their three children – Debbie '86, Tony, and Patti '90; their spouses; nine grandchildren; and one great-grandchild. "We did it as a family," he says about his successful career. "I spent a lot of time here. My kids were excited to be a ball boy, timers, and water girls during scrimmages. And I got to spend time with them."
"I remember going to Sunday afternoon wrestling practices with dad and getting tossed around the mat by guys I thought were larger than life," DeCarlo Jr. says. "Guys that today are great friends of our family and incredibly successful people – doctors, lawyers, salesmen, coaches, and business leaders.
DeCarlo taught his children the same values he taught his players – hard work and organization, among others.
"He made us feel 10 feet taller than we were and helped us accomplish things we never thought we could," DeCarlo Jr. says. "He helped us raise our own bar, which is something you take with you throughout life. Hard work, humility, financial responsibility, and respect for others was a requirement in our home, classroom, wrestling room, and on the football field. There was only one way to do things – the right way."
The second (of three) child of Sicilian immigrant parents, Sebastian and Rosa (and stepmother Adele), DeCarlo's mother passed away when he was seven years old, so his older sister, Emma, helped raise him.
"What success I've had goes back to my parents," he says. "They, along with my sisters, Emma and Rosemary, have been great role models. I remember vividly how close we were as a family. My father, a crane operator for Diamond Shamrock, was thrilled to death because I was the first in the family to go to college. He always told me to work hard, stay after things, and save money."
DeCarlo Jr. can't think of a man who's had a more rewarding career and such a tremendous impact on so many people.
"Throughout the years, my path has crossed with many JCU alums and former athletes," he says. "So many people credit their success later on in life to the lessons dad taught and the leadership he provided during their JCU days. I've heard story after story about how dad's influence as a coach and leader changed peoples lives forever." JCU
---
Leave a Reply