Reflections about the football team's memorable trip to Ireland
By Daniel Debick '13
Tradition, excellence, and honor. These words filled my mind as I was handed my boarding pass at Cleveland Hopkins International Airport to catch a flight to Dublin in late August. Two years in the making, it seemed like this day would never come. As part of our preparation for the trip, our team and coaches took a class about the history and culture of Ireland taught by John Day, Ph.D., provost and academic vice president, and Paul Murphy, Ph.D., vice president for university mission and identity. Thinking back to when we first received the news we'd be playing our season opener across the Atlantic Ocean, I remember reflecting on what a privilege it has been for me to play football the past three years for such a historic program.
Traveling to Ireland was amusing to say the least. Try to envision about 80 football players hauling equipment and luggage through the airport check-in and security, incorporating players who has never been out of the country and some who had never flown before. Already, I could tell we were in for an interesting journey. Moving quickly through the airport, we reached our gate and waited to board and depart Cleveland.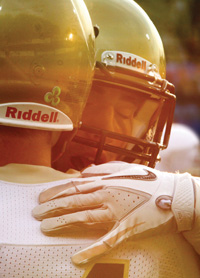 Ready to go, we began boarding a little plane that didn't look sturdy enough to carry the likes of our offensive and defensive linemen. The tiny aircraft didn't even have enough room to hold the majority of our carry-on bags. Jam-packed into the plane and the doors shut, we took off for our destination. You could instantly identify the players who had never flown before because their eyes were glued to the window nearest them.
Landing at John F. Kennedy International Airport in New York was a relief. We immediately unloaded ourselves from the plane and headed to our gate to await our departure to Dublin. As our layover time passed, we became more anxious to get going. After a couple long hours in the airport, we were boarding for our second time but in a much larger plane. You could see the enthusiasm and joy in everyone's faces. We were ready to embark on a journey we'd never forget.
Arriving in Dublin undoubtedly was one of the most spectacular scenes I've ever seen in my life. Surveying the landscape and the terrain flying into Dublin Airport was astonishing. Stepping foot off of the plane, I remember saying to myself "We finally made it." A trip that took so long to plan, a trip so many people helped make happen, it was finally right in front of us. Throughout the travel process, I could tell our team, alumni, faculty, and staff grew a bit closer.
Upon arrival, the team was able to experience just how picturesque Ireland is. Embarking on several tours within the first few days, we experienced spectacular sites such as the Malahide Castle, Saint Patrick's Cathedral, and the Ardgillan Castle – all historic landmarks in Irish culture. Aside from the scenic castles and countryside, the people of Ireland were extremely gracious. I noticed this immediately when we participated in the GIFT (Global Ireland Football Tournament) Parade. The streets of Dublin were filled with thousands of spectators supporting all the American teams partaking in the week's events. The Irish were tremendous, and their support and love will be remembered forever.
The next day was game day. I first remember hearing the roars of the crowd as I stepped off our team bus onto the back lot of Donnybrook Stadium in the heart of Dublin. I couldn't help but grab my gear and race to take a peak at the game playing before us. I distinctively remember entering the stadium gates and heading toward the visitor-side stands to warm up on the field right next to the stadium. Seeing the thousands of fans jam-packed into the stands, it finally dawned on me we were the main event Friday, Aug. 31. The looks on my teammates' faces were priceless. Each one of us was smiling from ear to ear as we walked through the stadium.
Reaching the vacant field on the opposite end of the stadium, I knew we were ready. I noticed our opponent, St. Norbert College, which is located in De Pere, Wis., arrived at Donnybrook Stadium as well. As they walked through the gates, I knew we were in for a battle.
After relaxing for a bit and watching some of the previous game, I knew it was time to prepare. After I put on my shoulder pads, I took a deep breath. "Specialists – five minutes," shouted Coach Tom Zagorski. It was time. All of our team's hard work, the alumni's support and contributions, the University's ability and dedication to plan this unbelievable trip, it all came down to those last few minutes before taking the field.
Unexpectedly, Dan Rooney, the U.S. Ambassador to Ireland and chairman emeritus of the Pittsburgh Steelers football team, greeted us. Listening to him speak to our team, I couldn't help but realize the significance of the game we were about to play. Ambassador Rooney's subtle but significant remarks reminded us this game is much more than which team is victorious. It reminded us of the loyalty and friendship America has with Ireland. Later, I learned the ambassador's visit was arranged by Hoddy Hanna '69 and that Ambassador Rooney is the father of Joan Rooney Clancy '91.
After Ambassador Rooney's remarks, JCU's president, the Rev. Robert L. Niehoff, S.J., approached us. Gathering around him, we began to pray, like we do in every pregame. Just like the University's Jesuit mission, we were uniquely integrated through faith and culture.
Taking the field, the lights were as bright as could be. More fans began nestling into their seats to see two competitive, collegiate, American football teams battle head to head. Foreign to American football, most Irish fans had no idea what was going on. However, I don't believe they minded because it seemed as though they were perfectly content with the Guinness they drank so naturally.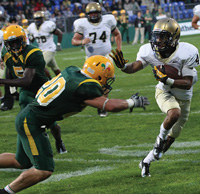 In my three years playing for the Blue Streaks, I don't believe we've ever played a better game offensively and defensively. Walking away victorious in one of the biggest games in the University's recent history was one of the best feelings I've ever had. Our preparation, dedication, and hard work were well worth it. It was an experience none of us will forget, holding it close to our hearts forever. Distinctly representing all who came before us wearing the gold helmet, it was an honor to continue the tradition.
Following our victorious day, the Carroll community in Ireland gathered for a special Mass at the Newman University Church and a reception held at The National Concert Hall, which was sponsored by Frank '63 and Judy Grace. The spirit of the Carroll community was vibrant. Even though we were fellow travelers at the beginning of this adventure, the experience bonded us as a JCU family.
John Carroll is a special place. From the students, faculty, staff, administrators, alumni, and all those who are affiliated and involved with the University, they all played a special role that week. Whether in Dublin or not, the Carroll community was with us in spirit.
Special thanks are extended to all who made this trip possible. Without them, none of this would've happened. The team thanks Fr. Niehoff, the University's board of directors, coaching staff, athletic department, donors, and supporters from the bottom of our hearts. The many donations, fundraising, and effort put toward this trip signify Carroll is an extraordinary place. Our gratitude and thanks can't be demonstrated enough.
Ad Majorem Dei Gloriam. JCU

To see more photos and a video about the trip, visit jcu.edu/ireland.
---
1 Comment
---
Leave a Reply