Facing dilemmas and making the right choices
By John Walsh
Do what's right. No excuses.
That's easier said than done, especially in the business world, whether it's in the private sector or at various levels of government.
Ethics has been at the core of Jesuit education since the inception of the Society of Jesus almost 500 years ago. It's what helps distinguish Jesuit organizations in the realm of higher learning. Yet the concept of business ethics can conjure examples of scandal. Organizational examples include accounting fraud at Enron, Fannie Mae, and Arthur Anderson. More recent examples are Rupert Murdoch's News of the World newspaper and Wal-Mart's alleged bribery practices in Mexico. Individual examples are Dov Charney, CEO of American Apparel (behavior in the workplace), and Charles Phillips, former president of Oracle (behavior in one's personal life). Examples abound.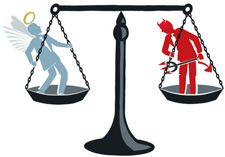 "Everyone sees things through a different lens," says Scott Allen, Ph.D., assistant professor of management, marketing, and logistics who teaches a business ethics course for MBA students in the Boler School of Business. "Some employees put up with a leader's foibles if the company is successful. Steve Jobs' alleged treatment of some Apple employees is one example. This is where the idea that there are several ethical values that might be equally correct and fundamental, but conflict with each other, can come into play. Does the fact he achieved phenomenal results and provided income for many people justify his harsh treatment of some employees? Some say yes, others say no."
Sometimes executives find themselves in situations where they have to make decisions in which there are no-win scenarios. The president of the United States is an example. Regardless of the decisions they make, the ethical point is whether they honestly weigh all scenarios and make decisions based on what they value.
In academia, business ethics started as a discipline within philosophy that involved theoretical questions, but it has evolved to include more nonphilosophers conducting empirical work, says Earl Spurgin, Ph.D., professor in the philosophy department and director of the Program in Applied Ethics. In the business realm, Ethisphere – a research-based institute dedicated to the creation, advancement, and sharing of best practices in business ethics, corporate social responsibility, anticorruption, and sustainability – does such empirical work. It ranks the world's most ethical companies (ethisphere.com). One of the 145 companies in the 2012 list is Petco, led by president and CEO Jim Myers '80.
Ethics in the classroom
Ethics is at the core of what John Carroll teaches. The Boler School of Business requires students to take business ethics taught in the philosophy department in the College of Arts and Sciences. Sometimes, professors from the two colleges teach classes together. For example, earl Spurgin, Ph.D., professor in the philosophy department and director of the Program in Applied ethics, and Andrew Welki, Ph.D., associate professor of economics, teach a course about environmental ethics and the economy.
"The Boler School of Business integrates ethics into many of the courses it offers, which is vitally important," says Spurgin, who has been published numerous times in business ethics journals and is tied for 24th in a worldwide ranking for published work in those journals during a 10-year period (1999 to 2008). "We don't want students to just check off a box saying they filled a requirement to take ethics. It's an integral part of other courses."
Spurgin uses numerous examples to encourage students to think about ethical decision-making. One example of a conflict of interest is the so-called Dead Peasant insurance, in which employers take out life insurance policies on rank-and-file employees; and when they die, the companies benefit.
Another example of ethics that hits closer to home with many students – because they wear the company's clothes – is the Abercrombie & Fitch catalog that featured young, nude models in the late 1990s and early 2000s. The company demonstrated a pornographic attitude of sex. The underpinning issue, though, was sex education.
"It was the wrong way to educate young people about sex," Spurgin says. "Society needs to educate young people about sex more appropriately; and if that's done, there will be no need to take a pornographic approach the way Abercrombie & Fitch did."
Yet another example of ethics students can relate to easily is sweatshop labor at large clothing manufacturing plants.
"Students feel threatened when the company that makes the clothes they wear is questioned for unethical behavior," Spurgin says. "Labor is a big issue in business ethics. Is it exploitative or beneficial to the societies in which the workers live? One argument is they're not being paid enough; the other is they wouldn't be making anything if it wasn't for the job.
"These types of cases bring out compelling discussions," he adds.
Spurgin highlights the question of social responsibility and what model businesses should follow. On one end
is the Milton Friedman model in which a business' sole priority is to increase profits for its shareholders. On the other end is the stakeholder model in which a company takes into account the interests of those who are affected by its operations when it makes decisions. As such, there can be uncertainty when making ethical decisions.
"No one has the 10 commandments of business ethics," Spurgin says. "I help students think critically about what they would do in the business world. I encourage them to think about considerations that make a decision more ethical. I try to get them to recognize those situations more acutely."
When discussing specific examples, Spurgin isn't as interested in the students' outcomes as the process they use to reach their decisions. He's more concerned about how well students recognize and evaluate the ethical dilemmas they're called to confront.
"It's more about building skills, which is how I look at a liberal arts education as a whole," he says.
When the economy is struggling, students tend to be more interested in employee rights – privacy, for example – than when the economy is robust.
"I have less difficulty motivating students when the economy is bad," Spurgin says. "But at the same time, in a post-Enron world, I have less difficulty motivating them in general."
Creating and ethical culture
Myers, who is a member of JCU's board of directors, fosters a values-driven culture in which integrity, teamwork, learning, fun, continuous improvement, recognition, and results are hallmarks of how the company operates. Engaging employees with a noble goal makes everyday work more rewarding and supports a commitment to values. Doing the right thing in every situation is the foundation for its actions and decisions.
"A culture of integrity in company actions and decisions are paramount to accomplish the company's goals," he says.
Myers, who's also on the board of directors at Jack in the Box and Qdoba Grill, is incorporating the fast-food companies' associate-friendly code of ethics into Petco's corporate culture. The new code is more relevant to Petco employees.
"The old code was a list of dos and don'ts," Myers says. "The new code, which stresses animals-come-first values, is more of a document describing and outlining the company's ethical culture. We're taking business ethics away from a list of rules and making it more engaging with a better description of a desired ethical culture, full of real-life examples associates can personally relate to."
Sometimes it's difficult for employees to decide the right thing to do, so Petco's code of ethics guides them with a list of questions they should ask when deciding if they made the right choice:
• Will my actions comply with the law and company policies and procedures?
• Will others view my actions as fair and honest?
• Will I feel good about my decisions afterward?
• Would my manager, other associates, customers, family, and the general public approve my actions?
• Would I feel comfortable reading about it in the newspaper?
Petco's management team plays an important part of enforcing the code of ethics. Most importantly, it must act as role models. Managers are encouraged to:
• Maintain the highest level of honesty and personal integrity in their daily responsibilities.
• Set a positive example.
• Make ethical employment decisions such as hiring, placement, promotion, layoff, transfer, demotion, separation, training, pay, recruitment advertising, and other forms of compensation.
• Ensure associates are aware of and acknowledge the code of ethics.
• Recognize signs of unethical conduct and take appropriate steps responding to violations.
Petco offers training about the importance of commitment to its vision and values for all associates. When employees have ethics or compliance concerns, they're encouraged to seek assistance from their normal chain of command first, which means managers are responsible for responding to such concerns in a complete and timely manner. A confidential hotline also is available for employees to call 24 hours a day, seven days a week to report concerns or seek additional assistance.
The Petco code of ethics, which provides guidance for many ethical issues employees might face daily, was created to inform everyone about the ethical and legal obligations to the animals in the company's care, company employees, customers, vendors, and the communities the company serves.
"It's critical all associates understand and comply with the code because compliance is a condition of employment for associates at all levels, and the company is dedicated to enforcing it strictly," Myers says.
Petco's passion for continuously fulfilling its vision can be achieved only through the honest and ethical behavior of its employees, Myers says.
"Whether it's caring for animals, assisting our customers, leading others, distributing inventory to stores, or assisting the field at our support centers, our daily decisions make all the difference in upholding the company's high ethical standards," he says. "With a personal commitment from each of us, we will do the right thing for Petco and the many stakeholders we serve."
Clear choices
In the financial trading world, ethical dilemmas are omnipresent because there's constant interaction with money.
"There's a lot of money going around, and it can get lost," says Kevin Ferry '83, co-founder and chief market strategist of Cronus Futures Management, a commodity trading adviser that focuses on fixed income, foreign exchange, and equity futures trading in the electronic world. "Money is involved in what we do, and you're always making ethical decisions when you're asked to perform a task. Sometimes an ethical decision goes against the culture."
Young graduates emerging from business schools look to assimilate into that financial culture, which emphasizes pedigree – the schools they attended and the firms for which they've worked.
"It's all about name – where you came from and where you're going," says Ferry, who has 24 years of experience in futures trading. "That stagnates a culture."
Within the financial markets culture, two significant changes have occurred, says Ferry, who's a regular commentator on CNBC's Squawk Box and has appeared numerous times on Bloomberg Television and Radio and Fox Business News. The first one is that recent graduates need to have more than just prestigious names on their resumes.
"It's the equivalent of having a brain and a heart, and Carroll teaches you that," Ferry says. "There has been too much of a focus on pedigree."
Smileys fund chair in business ethics
Ray Smiley '51 knows firsthand the value of Jesuit education. He personified it during his successful career as a financial executive. Smiley knows John Carroll University is committed to educating ethically and morally responsible leaders. This commitment is materially significant given the myriad of serious dilemmas business leaders face throughout their careers. Consequently, Smiley and his wife, Eleanor, have agreed to fund a $2.5-million endowed chair in business ethics in the John and Mary Jo Boler School of Business.
The Ray and Eleanor Smiley Endowed Chair in Business Ethics will enable the University to hire an achieved academic scholar and create collaborative programming. Its goal will bring students, business professionals, and faculty together to analyze and address ethical, moral, and social justice problems within the context of a global society.
"Eleanor and I hope our gift will enable the University to further attract and retain the highest quality faculty and scholars and remind the academic world what an esteemed global, ethical business program predicated on 460 years of Jesuit educational excellence should resemble," says Smiley, a member of the University's board of directors.
Smiley, who was awarded the Alumni Medal in 1998, held executive positions at McDowell-Wellman Engineering Co. and Gilford Instrument Laboratories. He concluded his business career at Bearings, Inc. as CFO. As a CPA, he also was employed by Price Waterhouse and Deloitte & Touche. During his career, Smiley joined Financial Executives International, an association of senior-level financial executives, and became a member of its national board and ethics committee. When he retired in 1992, the association requested he remain on its editorial board to help direct the content of the association's magazine, which addressed current financial events and ethical and moral issues. More recently, Smiley cites the near collapse of the U.S. financial system as a result of unethical behavior and dishonest politicians, investment and commercial bankers, rating agencies, CPAs, and mortgage brokers.
"Unethical behavior is an epidemic," says Smiley, who has eight children, three of whom are John Carroll graduates. "The end does not justify the means."
Karen Schuele, Ph.D., the dean of the Boler School, is thrilled the Smileys are generously funding the endowed chair.
"Not only will this gift enhance the prestige and visibility of the University, it will ensure students have a stronger foundation in ethics and give them tools to confront and navigate ethical challenges they'll face throughout their careers."
The endowed chair will generate enough annual income to support hiring a new faculty member with significant expertise in generating innovative ideas in business ethics and morality, as well as support an annual ethics conference for business leaders, faculty, and students.
"We're grateful to Ray and Eleanor for their leadership and investment in our future by making this transformational gift," Schuele says.
The second cultural change is a movement away from human contact because of technology.
"It's very easy to make a financial decision with the click of a mouse without interacting with anybody," Ferry says, citing fat-finger error – when a trader enters an order to sell more shares than he's supposed to – as an example. "It's much more difficult to make the same decision face to face with someone present.
"Most of the time, it comes down to choice, and right and wrong will be obvious, so a person will choose between being part of the culture or taking the heat for making an ethical decision," he adds. "Once you're in the game, you're faced with it."
As an ethical example, Ferry cites a former employee who worked at MF Global, a financial derivatives broker. She was directed to transfer money when Jon Corzine was CEO and wouldn't do it. She rode down the elevator in the building where she worked and never came back.
"Unfortunately, those stories don't get told as often or as loudly as they should," he says.
As an unethical example, Ferry cites English derivatives broker Nick Leeson who worked at Barings Bank, which was the oldest merchant bank in London. Leeson took the bank down because of fraudulent, unauthorized speculative trading. In 1995, he lost more than $1 billion, primarily in futures contracts, at the bank's Singapore office.
"It started out as a small problem, and the slightest bit of moral fortitude would have saved the bank," he says.
Everyone working in the financial markets can point to some compliance measures or ethics training early in their careers because it's considered part of orientation, Ferry says.
"However, it's unlike the culture at Carroll, where ethics is closely tied to the process," he says. "My educational experience was intertwined with ethical choices. Ethics has to be part of these financial institutions as a whole."
Lead the way
People in leadership positions can be under stress for years, so they use reactive strategies – a quick fix with alcohol, drugs, food, or sex – to relieve stress instead of healthy options such as meditation, prayer, exercise, and diet. With a mentality of entitlement or stupidity, that quick fix might become a bigger problem to manage.
"It's a human condition, and people sometimes make completely irrational decisions," Allen says, adding that even great leaders often have flaws.
Professor and author Barbara Kellerman, Ph.D., wrote a book titled "Bad Leadership" highlighting seven types of bad leadership, which often can result in unethical decisions. They are: incompetent, rigid, intemperate, callous, corrupt, insular, and evil. People who work for leaders with these attributes sometimes cover up bad situations they create or enable them.
"There's fear in so many workplaces," Allen says. "People are scared to be whistleblowers."
On the flip side, effective leaders stimulate employees intellectually, inspire and motivate them professionally, influence them ideally, and consider their ideas individually.
In addition to positive and negative attributes, executives can lead using six different styles – democratic, affiliative, coercive, pace-setting, coaching, and authoritative. Leaders might choose a certain leadership style based on a situation, but they're aware when they're in an ethical dilemma and aware of the consequences of their decisions. Their choice is intentional.
"It comes down to values," Allen says. "You're better off if you're intentional and have consciously thought through the ramifications of your decisions."
The ethics of an executive's personal life matters, too, because unethical behavior in one's personal life can diminish his credibility with people who think it matters.
"A bad personal life is an indicator of how that person operates," Allen says. "Effective leaders need to have their shops in order. Of course, this is difficult work in and of itself." JCU
---
Leave a Reply