The almost identical education of William '77, Brian '78, and Richard '79 led them to become doctors at the same hospital they were born
By John Walsh
John Farrell.
That's what those in the Farrell family called JCU because of brothers William '77, Brian '78, and Richard '79. Their almost identical educational path led them to become medical doctors at Little Company of Mary Hospital in Evergreen Park, Ill., where they were born. Dr. William Farrell is an orthopedist; Dr. Brian Farrell is an otorhinolaryngologist (ear, nose, and throat); and Dr. Richard Farrell is an internist. Their lives have come full circle.
While growing up in the '60s and '70s in Evergreen Park in a house with seven kids and a father, William, who was a pediatrician, the phone rang constantly in the Farrell household. The family had two phone lines – one for hospital calls and one for nonmedical calls.
"We grew up immersed in medicine," Bill says. "Everyone in the family ended up involved in health care in some way."
The Farrell sisters – three older and one younger than the brothers – are a dietician, speech therapist, dental hygienist, and nurse.
As kids, the brothers attended Mass on Sunday with their father, ate breakfast in the cafeteria at Little Company of Mary Hospital afterward, and then played in the playroom in the pediatric wing.
Health-care fixes
There are many opinions about how to improve the U.S. health-care system. The Farrell brothers – William '77, Brian '78, and Richard '79 – suggest changes in four areas.
1. Malpractice reform. Doctors are forced to order unnecessary testing to defend themselves better from allegations of medical malpractice. If doctors don't use certain technology and diagnoses are missed, they're subject to lawsuits. "The cost of such technology isn't sustainable," Brian says.
2. Quality, not quantity. Some physicians are ordering more tests for patients not only for legal reasons but because patients want everything done. "It drives me crazy," Brian says. "I can't stand overtesting." Some doctors also are making more money by performing more procedures. "That's a warped system," he adds. "I don't practice that way. Patients come first. Make the incentive quality care, not paying more for doing more."
3. Portable patient records. "I'm all for the portability of patient records to eliminate the duplication of procedures such as blood tests," Rick says. "We need to obtain patient records more easily to save resources and money while not intruding on patients' privacy."
4. Patient responsibility. It's important for patients to take more responsibility for their health by knowing about their family history and the medicine they're taking or to which they're allergic. "The doctor is there to help them, but they need to have the background information," Brian says.
"Dad was a good Catholic, and the religious aspect of his life propelled his professional life," Bill says. "When we went on rounds with him, we'd hear people compliment his work."
The Farrells, members of Holy Redeemer parish in Evergreen Park, attended Holy Redeemer grammar school and Brother Rice High School, founded by the Irish Christian Brothers. They lived near school, so they walked home for lunch every day. Bill was the first to graduate from Brother Rice in 1973.
"Being South Side Irish, seven kids in a family was common," Rick says. "I had friends who were one of nine and one of 11 siblings. There was a certain order in our life, as well as the usual chaos."
Chemistry majors
The Farrell family had a summer home in Fort Lauderdale, Fla., and Bill first wanted to attend a big university in the Sunshine State; however, his father recommended he attend a smaller school. Paul Wozniak Jr., '76 M.D., the son of an administrator at Little Company of Mary, spoke positively about his Carroll education, which led Bill to apply.
Brian was interested in medicine in high school and followed Bill to Carroll because he did so well his freshman year.
"My father said, 'You're going there,'" Brian says. "It was the 'If it ain't broke, don't fix it' mentality."
Brian was comfortable at Carroll partially because, in addition to his brother Bill, six classmates from Brother Rice came with him.
"In one sense, it was like home because my brothers were at Carroll," he says. "We were close and helped each other academically."
Competition was constant among the Farrells. Bill, the most serious and studious of the brothers, set the bar high with a 4.0 grade point average for his first three semesters, graduating with a 3.92.
"If we weren't close to that, we'd have been a failure," Brian says. "The stress factor was higher for Rick because he followed Bill and me. He had two role models."
Even though the brothers were close, they didn't live together at Carroll. However, they were members of the same fraternity – the IXYs. Bill and Brian pledged at the same time. They had to divulge information, including their grade point averages, to the pledgemaster.
"Bill said 4.0, and everybody went crazy," Brian says, acknowledging the fraternity was known for their rowdy and sometimes less-than-studious behavior. "I was a 3.9, and the pledgemaster asked me if I missed a question."
For Rick, the Millor Orator at the 1979 commencement, one of several benefits of attending Carroll was being known because of his brothers.
"They looked out for me, which they'd been doing my whole life," he says. "I was always respectful of what they did. Brian set me up with a difficult course load – which included physics and calculus – right off the bat."
Yet the downside to going to school with two older brothers is that a student can be known as a brother instead of an individual. But Carroll allowed Rick to develop his own identity.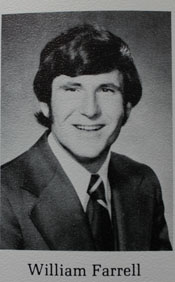 Back in the Windy City
After Carroll, the brothers attended Loyola University Chicago Stritch School of Medicine. Back then, it was a three-year, round-the-clock program. Bill applied for an early admission, which meant if he was accepted, he had to enroll. He finished in 1980.
"Our father and mother never forced us to go into the medical field," says Bill, who graduated from JCU summa cum laude. "I saw admiration in my father's job and that you could make a nice living from it."
The Farrells' mother, Gloria, helped influence her son, Bill, to practice orthopedics. She told him there will always be work in that field because people always get injured.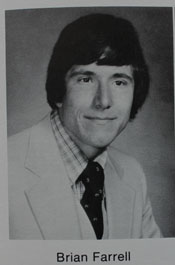 Brian wanted to continue his education at a Jesuit institution because of its traditions and academic standards. For him, it wasn't exactly easy living back at home with his two brothers.
"I was a little wild in med school," he says. "I'd play poker in the middle of the week and come home at four in the morning yet had to be up at 7 a.m. for class. If I was living in an apartment, I probably would've missed some classes, but my parents made sure I was out the door on time."
But living at home had its advantages because the brothers were able to engage their father about his profession.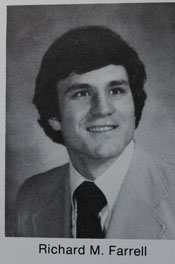 "We learned the practical side of being a doctor – all the calls at the home, signing up for a profession that was 24/7 in nature, and what it took to be a doctor," Brian says.
Brian wanted to become a surgeon but not a general one. The head area of the human body appealed to him mostly because he thought it was a field of knowledge he could grasp easily.
"Little did I know it was a lot more involved than other areas of medicine," he says.
Brian was lucky enough to learn from and be influenced by an otorhinolaryngologist who was a friend of his father.
"I've never regretted my decision to be an ear, nose, and throat doctor," he says. "I worked with my mentor for 25 years, and we never argued."
Rick applied to Loyola, thinking the presence of his two older brothers there would help him. While at Loyola, Rick was leaning toward studying emergency medicine, which is very competitive. He eventually worked and studied internal medicine and liked managing multiple problems for patients.
"I didn't want to focus on just one aspect of medicine," he says. "I liked general medicine and the regular interaction with patients. I realized helping the drunks and car-crash victims in the emergency room in the middle of the night isn't so exciting when you're in your 50s."
On to a career
Bill did his orthopedic residency in Erie, Pa., for five years (1980-1985) and then joined Parkview Musculoskeletal Institute in Evergreen Park where he remains. Brian and Rick subsequently finished their residencies, and by 1986, all had joined the same hospital where they were born.
"Our father passed away in 1984, so he didn't get to see us practice," Bill says.
From 1985 to 2004, Bill was part of a practice that housed the team doctors for the Chicago White Sox.
"The fun part of that was mingling with the players," Bill says. "The downside is you have to be there for every inning of every game. So when it's late September, cold at night, the White Sox are out of the playoff picture, and you have to be up early the next morning for surgery, it's not ideal. But you take the good with the bad."
Last year, Bill earned an MBA in a physician-only program. The degree opens the door to the possibility of him pursuing a chief medical officer position.
"I was busy studying premed at JCU and didn't have the luxury of taking business classes back then," he says.
Nearing the twilight of his career, Bill, who had open-heart surgery in 2007, acknowledges he should reduce his workload, but it's difficult to cut back.
For Rick – who's also the medical director of a facility that helps people recover from strokes and hip and knee replacements – 70 percent of his time involves seeing patients in his office. The rest is spent in the hospital and helping rehabilitate patients.
"I have great respect for the patients who trust me with their hopes and fears," he says. "It's humbling."
Rick likes the collegiality in the medical profession. In particular, he enjoys giving talks to the local community about health and wellness and colleagues about malpractice defense.
"Years ago if a kid fell and bumped his head, we'd tell the parents to watch him for a few days, and if they noticed a change, come back and see us," he says. "Now when a kid bumps his head, he gets a CAT scan every time to prevent lawsuits."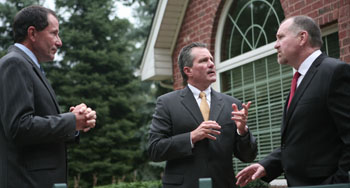 Humor me
Despite the seriousness of their profession, the Farrells often exude a wry sense of humor, teasing each other through their patients.
For example, Bill, who's not an avid golfer, shot a hole-in-one at a charity event a few years ago at the course Brian, who's an avid golfer, frequently plays. Rick sent patients Brian's way and had them congratulate him on Bill's hole-in-one, rubbing in the embarrassment. Since then, Brian has had two holes-in-one, and Rick often hears about the fact he has yet to shoot a hole-in-one.
"What goes around comes around," Brian says.
Catholic education
Since childhood, Catholic education has guided the Farrells throughout their lives. Brian has worked for five different Catholic hospitals, and Rick has a lot of gratitude for the Jesuits and everyone else who educated him.
"We're all involved in the church in some way," Rick says. "We had a great Catholic education that carried through in our spiritual lives and how we practice medicine in that we treat patients with dignity."
In 2006, Bill was honored by the Men of Tolentine (now called Friends of Tolentine) as their Man of the Year. Friends of Tolentine foster vocations to the Augustinian Order and support programs of initial formation of Augustinian Friars. Bill supported Augustinian Providence Catholic High School in New Lenox, Ill., and he's founding president of the Providence Catholic Athletic Association.
Brian was the master of ceremonies at the Tolentine event, which occurred shortly after Pope John Paul II died. He told the audience: "You don't have to be a priest to be pope, and I expect the conclave of cardinals to consider Bill.
"I'm not a saint like Bill," Brian adds. "I'm an altar boy." JCU
---
1 Comment
---
Leave a Reply