"It doesn't take a rocket scientist to figure that out" is a common idiom people use to describe something that's easy to understand or do. But when it comes to the work of Jon Goldsby '86, it does indeed.
Goldsby is a materials research engineer at Glenn Research Center in Cleveland. In February, he was recognized at the Black Engineer of the Year Conference and received the Outstanding Technical Contribution Award for advancing ceramic materials development for aerospace applications.
During Goldsby's 21 years at Glenn, he established himself as a leader in developing test techniques for measuring critical properties of advanced ceramic materials and fabrication techniques for processing.
The Detroit native moved to Cleveland with his family in the 1970s. The second oldest of six children, Goldsby always was interested in science and had fun with projects such as immersing a mirror in water to create a prism.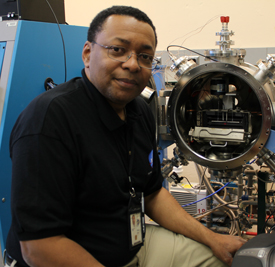 Goldsby attended East Technical High School where he took college preparatory courses. During his senior year and as part of the National Science Foundation, he taught junior-level chemistry classes to high school students on Saturdays at Notre Dame College in South Euclid, Ohio. That's where he heard about John Carroll.
"The nuns said, 'You're going to a small school that will work you hard,'" he says.
Matriculating into JCU, Goldsby knew he wanted a solid science foundation, so he majored in physics. He focused on solid-state physics, which is practical, and studied a discipline in which what he learned in textbooks could be applied in real life.
After Carroll, Goldsby enrolled at Case Western Reserve University in Cleveland to study materials science.
"The world is complicated, and you need to take a systems approach with science," he says. "I studied information derived from empirical studies as opposed to theory, which was taught at Carroll. I was ahead of those graduate students who came from strict engineering backgrounds because I could understand the scientific underpinnings of why an instrument gave a particular value more easily. Knowing why something works is important."
While at Case, a professor introduced Goldsby to the National Aeronautics and Space Administration, where he conducted his graduate study work, which was making objects stronger with ceramic fibers. He continued on at Case and earned his Ph.D. in materials science and engineering.
Wanting to return to Detroit to work for one of the big three automobile manufacturers, Goldsby changed his mind and went to work at NASA, which he says is a good place to continue one's education because it helped him pay for his MBA.
Because the research Goldsby conducts is for space and aeronautical applications – jet and turbine engine components, for example – the ceramic and metals he tests, including aluminum oxide and single crystal-shape memory alloys, need to keep their mechanical integrity at temperatures hotter than 1,832 degrees F.
"With engines, it's all about more efficiency, which results in using less gas," he says. "And a hotter engine pollutes less. Using ceramics is one option. Superalloys are another, but superalloys can't withstand as much heat as ceramics."
A research project at NASA typically is funded for one year. During that year, researchers like Goldsby write quarterly reports. Each year after reading the reports, the federal government determines if the research is worth continuing. Even though all research is conducted for the government, NASA has partnerships with engine aircraft manufacturers and takes on high- risk research. NASA then sometimes licenses the technology to them.
The department in which Goldsby works, the materials and structure division's ceramics branch, expanded to include ceramic membranes for fuel cells and electrolysis, piezoceramics for adaptive structures and power harvesting, high-temperature thermoelectrics for power conversion, and thermal management materials and technologies.
"I helped transition our department to add this research, which was made easier because of my physics background," he says. "We now have a well-diversified technology portfolio."
Goldsby has shown a strong commitment to education. An example: an advanced course about electricity and magnetism theory he developed to instill in future engineers a realization that technical problem solving requires competency in analysis, visualization, and physics-based intuition.
The pragmatic Goldsby advises young engineers. One of the many things he tells them: "Just because you get a piece of paper that says you're an engineer doesn't mean you are. You're an engineer when the wheels fall off a project and no one knows what to do and you come up with a solution." JCU
– John Walsh
---
Leave a Reply