The Center for Service and Social Action celebrates 20 years of making service an integral part of the Carroll experience
By Emily Gaffney '12
The Center for Service and Social Action is celebrating a significant milestone this year. For the past 20 years, CSSA has provided opportunities for students, faculty, and staff to serve surrounding communities and build relationships with them. It's one example of how John Carroll fulfills the Jesuit mission of being men and women for others.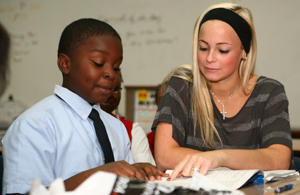 CSSA provides various opportunities for the Carroll community to participate in service. The largest segment of the center's opportunities is weekly service. More than 1,000 students serve at 75 different sites throughout Cleveland. They try to choose activities that challenge their life experiences, says Margaret Finucane '80, Ph.D., director of CSSA. Activities involve various experiences – working with people who are physically or mentally challenged, in socioeconomic poverty, or elderly. The center tries to provide as much direct interaction between students and those with whom they're working.
A significant part of weekly service is developing relationships with the people students serve. Through these relationships, those being served and those serving can learn from each other. Because the center focuses on building relationships with various groups and organizations in the community, those groups and organizations often continue to partner with the University year after year.
"Weekly service is about building those relationships and engaging with people," Finucane says. "We're not there to change an organization. We want there to be that reciprocity of learning."
Helping hands
The Center for Service and Social Action, which is directed by Margaret Finucane '80, Ph.D., (pictured above) seeks to educate for justice by offering opportunities for learning through service. Growing from a rich, Catholic intellectual tradition, it promotes service that inspires a deeper commitment to those most in need. Below is a list of CSSA signature programs and events:
• Carroll Reads is a literacy tutoring program for kids K-6 in public, parochial, and charter schools.
• Ohio Graduation Test Program is a tutoring program for Cleveland high school students to help them pass the OGT.
• We the People is a social studies instruction program focusing on the U.S. Constitution and citizenship in fifth, eighth, and high school classrooms.
• Cultivating CommunityDay / Jesuit Day of Service is a spring service event in which students, alumni, faculty, and staff partner with St. Thomas Aquinas Elementary School and the Tri-Street Neighborhood Association to lend a hand.
• Make a Difference Day is an annual national day of service that involves a neighborhood collection of donated food to support the Fatima Food Drive.
• Volunteer Income Tax Assistance offers free tax help to low- and moderate-income people who are unable to prepare their tax returns.
• Civic Engagement Student Speaker's Bureau trains and organizes students to present their life-changing service experiences for classes and events throughout campus.
• Cleveland Neighborhood Project involves first-year students taking part in various service projects such as painting porches, yard work, and cleanup activities at a neighborhood center.
• Carroll Community Garden involves cultivating fresh, organic produce to help alleviate food insecurity for local families and individuals served by the Heights Emergency Food Center.
Additionally, faculty are integrating service into what they teach. Service learning is meant to enhance what students are learning in the classroom. Some professors believe students need more examples to grasp a course's objective completely, so they require or encourage students to participate in weekly service as part of their coursework. The number of courses that integrate service into the curriculum has been increasing annually – 86 service-learning courses were offered last year.
Tracy Masterson '97, Ph.D., assistant professor of psychology who focuses on clinical child psychology, often uses service learning in her courses.
"My students are getting the foundational education, understanding, enthusiasm, and experiences necessary to facilitate social change to improve the health and quality of life for individuals with disabilities," Masterson says. "Thus, service learning in my courses is mutually beneficial for students and the population they serve. Students have the background to be successful working with at-risk populations while gaining valuable experiences that are difficult to secure as an undergraduate."
The center also provides one-time service activities – Cultivating Community Day/Jesuit Day of Service, Cleveland Neighborhood Project, and Make a Difference Day – that provide students with individual opportunities to serve and give back to the community if their schedules don't allow for more of a commitment during the semester. Although these opportunities are different from the weekly ones, they're often done through the same community partners as the weekly service. They meet whatever an organization's needs are on a particular day.
Another significant service opportunity is the immersion experience, which provides students and faculty with opportunities to stay in international or domestic communities and work with local organizations and populations. Students have the chance to immerse themselves in a different culture, which allows them to learn about that culture or population, as well as themselves. International locations include several countries in Central America, Rwanda, and Uganda. Recent domestic locations include Joplin, Mo., and New Orleans.
A period of growth
CSSA plays a part in achieving the University's mission, which, in part, is to inspire individuals to excel in learning, leadership, and service in the region and world. However, the center hasn't always been around and able to serve the campus to the capacity it does now.
CSSA opened as the Center for Community Service in 1992. It was the project of Rev. Michael Lavelle, S.J., former president of John Carroll. Fr. Lavelle had charged a faculty committee to create a center for service on the campus, imagining the scope of the office, its responsibilities, and the needs it would address.
"His vision was a comprehensive office for the campus that would be a place where students interested in service could find opportunities and faculty who wanted to integrate service into the classroom could connect with community partners," Finucane says. "He did a solid job creating the foundation."
In 2006, University President Robert L. Niehoff, S.J., reinvigorated the center, making it an integral part of the student experience. The office, and service in general, became more of a central aspect of understanding the University's mission.
"Those who participate in service as students are likely to continue to serve their communities as alumni," Fr. Niehoff says. "This is one of many reasons Carroll alumni are people of distinctive character and learn effective leadership skills."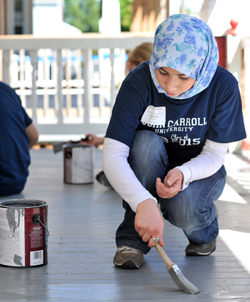 Two years later, in 2007, the center officially changed its name to the Center for Service and Social Action. During the five years since, CSSA has grown more than 500 percent in its coordination of weekly placements for students, development of campuswide service events, and organizing domestic and international immersion experiences.
The center – which partners with more than 75 nonprofit organizations, including schools, hospitals, assisted living facilities, faith-based institutions, social service programs, and neighborhood outreach centers – has become an integral part of Carroll for many students. Curtis Walker '13, a communication major from Cleveland Heights, Ohio, has been involved with the CSSA since his freshman year. He works with children in Cleveland and East Cleveland schools and through the We the People: Project Citizen program. Walker has seen these experiences make a difference for the children with which he works.
"From the moment I stepped foot on campus, the word service has been used as a pillar in defining this University," Walker says. "I have learned through CSSA that those who are happiest are those who do the most for others. I've realized the most important life lessons are learning to give back and understanding I have the assets to help meet the needs of others."
Celebrating a milestone
CSSA is celebrating its 20th anniversary by integrating it into a series of appreciation events that acknowledge the support of others who've helped make it successful.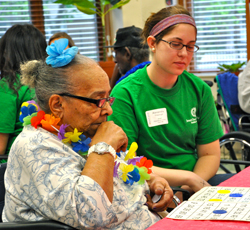 "We want to acknowledge the faculty, staff, administrators, and community partners for helping us get where we are," Finucane says. "After 20 years, it's important to recognize our partners in the community, as well as the support from within the institution."
Every spring, the center hosts a thank-you luncheon to show its appreciation to all of the University departments that help it function – departments such as the mail center and van service, which help mail fliers and transport students to service locations.
The center continues to grow, offering opportunities for service to more students. It's mission is to prepare students to become leaders in service to others now and for the rest of their lives.
"I strongly encourage Carroll students to participate in service," Fr. Niehoff says. "It will greatly enhance their academic experience, giving them knowledge and insight, broadening their horizons, and making a significant difference in the lives of others." JCU
For more information about the Center for Service and Social Action, visit jcu.edu/service.
---
Leave a Reply