The following is an excerpt from "Tonight Comes the Town," a yet-to-be-published novel by Alissa Nutting, Ph.D., a first-year professor in the English department who teaches fiction and nonfiction writing.
When I inform Beatrice about my date, she does the thing people do on television if they win millions of dollars. Leading me by the wrist, she takes me to the walk-in closet where she keeps all her old pageant livery, and soon I am wrangled inside a dress that looks like a vat of cotton candy with a zipper on the back.
"You're lacking in the bosom," she says. "We can stuff that out." Each shoulder on the gown is piled high with pink taffeta. This creates a rigid, militaristic look that, combined with my petite stature, suggests I'm wearing an orthotic back brace beneath mounds of tulle.
"Shall we try a more subtle look?" I ask.
"Tsk," Beatrice says. She has begun to sculpt a firm mammary shelf inside the dress using wads of tissue. Afterward, I am presented with heels. When I put them on, I have a hard time balancing because of vertigo issues thought to derive from repeated childhood head trauma. "You'll get it," she assures me. "Every little bird falls before it flies."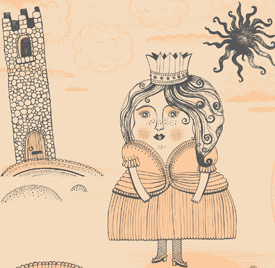 I sprain my left ankle en route to what Beatrice calls her parlor, an Alcatraz of beautification within her bathroom that consists of stage-lamp-grade light bulbs and mirrors that swivel and magnify. "I am so glad you are finally becoming a woman!" she shouts. A frightening device that curls and dries at the same time begins eating my hair with hungry revolving fingers.
Unsparing with aerosol hairspray, Beverly saturates my head with a sense of urgency, as though my hair is an unconscious grizzly on her front lawn that she's covering with bear mace. When the can runs dry, we have a brief discussion about how to best cover the burnt bald spot on my scalp where hair doesn't grow. I usually just comb over it, but Beverly insists on a greater level of theatrical distraction. "Beauty is just special effects," she says. "Make 'em look where you want the eyes to go." She decides to build a vertical superstructure of ringlets that leans slightly to the left.
I allow the blue shadow, rug-burn blush, and glued eyelashes, but when she reaches for the lipstick, I stop her. "I can't wear that," I say. "It's too much like my old mother's." We've had this conversation before; she predicted my resistance and is ready to bargain.
"A little Vaseline then? To make them shine?"
I consent. Huckle is due to arrive any moment, but when I start to stand up, she pushes me back into the chair via my rock-hard tissue bosom. It is impressive how tightly she packed it. It seems like something that was done by a machine.
"We wait right here until the young man arrives," Beverly explains. "Then Dennis will call for us, and you can descend the staircase. Presentation is everything."
Let their inspiration flow
The John Carroll Young Writers Workshop, which took place on campus July 16-20, featured instruction and guidance from award-winning, creative writing faculty Phil Metres, Ph.D., and Alissa Nutting, Ph.D. Students participated in a rigorous and inspiring program that provides an introduction to the art and craft of poetry, short fiction, and creative nonfiction. Students engaged in writing- intensive exercises that address the elements of craft: form, voice, character, image, scene, and setting.
Students, who studied more than one genre, participated in lively sessions during which they read and discussed each other's work with an eye toward revision. They read and discussed the work of established authors and investigated the strategies they use to craft their poetry and prose. They also had a one-on-one conference with a core faculty member. The workshop is for high school students entering grades 10, 11, or 12. For more information about the workshop, visit sites.jcu.edu/yww.
My ankle has started to swell and then some. By the time Huckle rings the doorbell, its flesh has become mildly discolored. Beverly remedies this with pantyhose that are eighteen shades oranger than my skin.
I avoid making eye contact with Huckle as I hobble down the stairs. It seems obvious by my upper-body crawl that I'm using the banister as a primary weight-bearing device.
Dennis begins with the flash photography. I'm forced to tightly squint both eyes until I'm deprived of sight, as well as mobility. When I look back up, I see Huckle's slightly agape mouth, his expression concomitant with shock and wonder. It's the expression of a zookeeper who stumbles upon an improbable act of mating between two species from very different zoological classes.
"Earleen?" he asks, trying to confirm my identity.
From the left, Grans whizzes in at top velocity. The SpeedThrone's sharp turns cause her flaccid body to bounce wildly against the chair's seatbelt. She is on a direct collision course with Huckle. "Watch out!" I call to him, my vision spotty from the flash, then amidst the black dots, I see her remove her twisted fist from the acceleration stick at the last minute. The sudden stop causes her chair to skid several additional inches forward; its wheels lightly touch the tips of his shoes.
"Hi, Mom," says Dennis. "We didn't know you were awake." He snaps a quick photo of Huckle and the back of Grans' chair. "This is Huckle, Earleen's date."
"Good evening, ma'am," Huckle says. His voice has the libretto of fear.
Although I cannot confirm, I am sure Grans planted herself before Huckle to use whatever muscle control she still has on an odiferous bowel movement in her diaper. He is pinned between the front door and her chair.
"Let's give our guest of honor some space, Ma," Beverly says, dexterously wheeling Grans out of the way. She puts the breaks on Grans' chair and disables its autodrive. Although futile, Grans repeatedly continues to push the joystick. Each nudge is met with an impotent "click" noise.
Suddenly, all eyes are on me. I let go of the banister and stagger across the room like a baby taking its first steps. My arms outstretch to Huckle as I feel my newly top- heavy frame begin a downward trajectory.
He steps forward and catches me in his arms. My lips find his ear in time for me to whisper, "We must leave immediately! Retreat! Retreat!"
Using him as a human crutch, I stand upright. "We won't be out too late," I say.
"Nonsense!" Beverly cries. "The night is young, and so are you. Huckle, do you know how hard I've been trying the past few years to get this beauty to go out and have some fun?"
Dennis comes over and begins shooting photos from every angle. He is hunched down, moving the camera like he's a photographer in the Sahara taking pictures of a running gazelle herd. Beverly runs up to get in the picture with us. "Earleen," she whispers a mock-secret loudly, "he is one handsome little booger. You better sink your claws into him tight or I just might try to scoop him up!"
"Hey now, wait a minute," Dennis says. He shakes a finger at Beverly, and they cackle. I give Huckle a modest pinch in the hopes it will goad him to employ an exit strategy.
"Well, it sure was a pleasure to meet you all," Huckle says.
"Don't you want to sit and have some crackers?" Beatrice asks. I make a cumbersome swivel and transfer my weight to her in a makeshift hug, although the bosom-shelf prevents me from getting close enough to actually wrap my arms around her body.
"Thanks for everything, Mom," I say. "I think we're going to go eat dinner."
Beverly smiles and nods as her eyes well up with tears. "I just wish all the society ladies who called you an ugly duckling could see you now. My how you've transformed. Dennis, would you take a good look at our swan."
Dr. Dennis joins her, wrapping a sturdy hair-coated arm against her waist. They wave goodbye in perfect tandem like two mechanical units sharing a gear.
Huckle opens the door of his truck and helps foist me onto the passenger seat. My heavy faux breasts immediately cause me to topple forward, presenting him with multiple pink layers of the dress' ass-ruffles. I have lost all sensation in my sprained ankle and accidentally shut the door on it a few times, confused about why the door won't latch, before realizing the culprit is my own foot enjambed in the door hinge. JCU
Nutting is the author of the short- story collection "Unclean Jobs for Women and Girls." The book was selected by judge Ben Marcus as winner of the 6th Starcherone Prize for Innovative Fiction. To read a Q&A with Nutting about this excerpt, click here.
---
Leave a Reply