I'm often asked how we measure success at John Carroll. The answer is there are numerous key metrics and statistics we use to track performance throughout the University.
From high four-year-graduation and student-retention rates, to national recognition of our commitment to serving others in various communities, to the fact 500 Ohio companies are owned or operated by our alumni, we know we're transforming lives through Jesuit education. I'm also pleased to see how John Carroll has become widely recognized for excellence. For example, we're No. 1 in undergraduate teaching and No. 4 in overall value in the Midwest, according to U.S. News and World Report.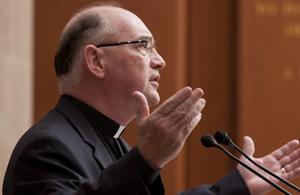 The rankings are nice, but the character and success of our alumni is what I truly celebrate. Meeting dedicated Carroll alumni like you is what inspired me to serve as your president. We have talented and dedicated people, and I'm just as inspired by our newest alumni – the class of 2012. I also had the opportunity to meet many of you as we build our alumni chapter programs city by city. I met with many alumni and friends in Washington, D.C., this summer, and as I reflect on the many stories I heard there, as well as at commencement and reunion, I feel the enormous sense of shared pride in the Carroll community.
Some of those fascinating alumni stories are featured in this issue. I particularly enjoy hearing how entire families become involved in Jesuit education and how it becomes an important part of who they are. The Farrell brothers story is a fine example. William '77, Brian '78, and Richard '79 used their education as a springboard to medical professions. (Click here to read more about their story.) There are many family legacy stories that are a part of our past, and legacy students will always be an important part of our future and tradition.
As we look ahead to the fall and start of a new academic year, we're preparing to welcome the class of 2016. Our student athletes have already returned to campus to practice. The football team will kickoff its 2012 campaign against St. Norbert's in Dublin, Ireland, and I'm proud hundreds of our alumni will be there to join me in cheering them on. I'm also excited to share with you varsity lacrosse will be added to our athletics program. Its first official season will start in the spring of 2014.
Whether you played a sport at Carroll or not, we're all Blue Streaks, and we have so much to celebrate and be thankful for. May God continue to bless you and John Carroll University.
Yours in Christ,
Robert L. Niehoff, S.J.
---
Leave a Reply