They're in the hall
The men's track-and-field team that captured the school's first and only Ohio Athletic Conference championship will be well represented as part of the 2012 induction class entering the Athletic Hall of Fame. The seven inductees and Schweickert Award winner will be honored at a dinner Sept. 14, and at the John Carroll / Baldwin Wallace football game Sept. 15.
Chuck Priefer '63 will receive the Schweickert Award, which is named in honor of long- time Blue Streaks coach and administrator Jerry Schweickert '60 and given to an alum who represents Carroll with a superior level of achievement and integrity within the athletics realm. Priefer's accomplished coaching career began at Padua Franciscan High School in Parma, Ohio, and included stints at Miami (Ohio) University, the University of North Carolina, Kent State University, and Georgia Tech at the collegiate level. In the NFL, he was a special teams coach with the Green Bay Packers, San Diego Chargers, and Detroit Lions. He retired in 2006.
Antonio McCladdie '02 was a two-time track and field All-American in the 4×400 relay, helping the Blue Streaks finish third in the nation in 2002 and fourth in 2001 at the NCAA outdoor championships. In the hurdles, he was a national qualifier in the 400-meter race in 2002. At the 2002 OAC Championships, he earned Runner of the Year and was part of the school's league title. He was an eight-time All- OAC performer and six-time league champion. He was the 110- and 400-meter hurdles champion in the OAC twice. McCladdie won 31 titles, including 16 in the 2002 outdoor season. He held the school's 400 hurdles record (outdoor) and is part of the 4×400 indoor and outdoor relay record holders. Additionally, McCladdie was the basketball team's most outstanding defensive player in 2001-02.
George Sample '02 was a member of two All-American relay teams in track and field. The Blue Streaks finished third in the 4×400 relay at the NCAA Division III Championships in 2002 and fourth in 2001. Sample was a national qualifier in the 400-meter dash in 2002. A nine-time All-OAC performer, Sample captured four league titles. His victory in the 400-meter dash played a big part of JCU's OAC Outdoor Track & Field Championship in 2002. He collected 22 first-place finishes in outdoor track meets and another 18 first-place finishes in his indoor career. He graduated as a school record-holder in the 4×400 indoor and outdoor relays. Sample also was a three-time letter winner as a linebacker in football.
Stephanie (Turner) Benson '02 was the first female national champion at Carroll. In the 3-meter diving competition at the 2000 NCAA Division III Swimming & Diving Championships, she emerged as the event winner scoring 442.75 points. Winning the Division III title, she became the second JCU athlete in swimming and diving to claim a national championship. A four-time national qualifier, Turner was a two-time, first-team All-American in 3-meter diving; a two-time, honorable-mention All-American in 3-meter diving; and a four-time, honorable-mention All-American in 1-meter diving. Turner was undefeated as an eight-time OAC champion and was the OAC most valuable diver four times. She was the owner of the school and conference records on both boards until 2010. Turner was the team's Most Valuable Athlete in 2000 and 2002.
Paul Habrecht '00 served as the captain of the first Blue Streak team to qualify for the NCAA Division III Men's Soccer Championship. An NSCAA All Great Lakes Region First Team and OSCA All-Ohio First Team selection as a senior, Habrecht earned All-OAC and All-Conference Defensive Player of the Year in 2000. He led the OAC in goals allowed average (0.90) his senior year and was the winning keeper for the squad that captured the 2000 OAC Tournament. Finishing his career with 239 career saves, Habrecht was an Academic All-OAC winner twice and earned Verizon Academic All District IV At Large Second Team honors as a senior.
Jill Comerford '02 was the leading scorer for the first Carroll women's soccer team to qualify for the NCAA Division III Championship tournament. The first three-time all- region player in JCU women's soccer history, Comerford also garnered All-Ohio honors three times and All-OAC accolades four times. She set season records with 17 goals and 42 points. She's the program's leader in career assists with 23 and is second in goals (31) and points (85). She was the team offensive MVP in 2001.
Larry Holmes '01 earned all-conference accolades three times in basketball and twice in football. On the gridiron, Holmes was named first team All-Ohio Athletic Conference and third team All-America. He earned a spot on the AFCA Aztec Bowl Division III All-Star team following his senior season. As a senior on the hardwood, he was second team All- OAC, third team All-Great Lakes Region, and ranked 13th in Division III for rebounds per game. He was the leading rebounder for the 1998-99 team that reached the Elite Eight and was a member of the OAC regular season, title-winning squad in 1998. Holmes was the most outstanding defensive player in basketball twice and team MVP in both sports as a senior. He graduated as the school record holder for career touchdown receptions with 24 and the single-season-receiving-yards record in 2000 with 950.
Julie Zajac '02 will be inducted posthumously, having lost a brave fight to cancer the summer before her senior year. At the 2000 OAC Outdoor Track & Field Championships, Zajac won the league title in the 3,000- and 10,000-meter runs and earned the Marcia French Award as the OAC Women's Track Athlete of the Year as a sophomore. She won six titles during the 2000 outdoor track season – two at the All-Ohio Championships and two at the OAC Championships. During the 2000 cross-country season, Zajac had five top-30 finishes. As a sophomore, she was JCU's top finisher at the 1999 OAC cross-country championships. She also earned Academic All- OAC Honorable Mention in 2000 and 2001.
For more information about the inductees, visits jcusports.com.
A host once again
One goal of the track-and-turf renovation project last summer was to host a track meet at Shula Stadium. That happened March 31, 2012. Despite the cool weather and gray skies, competitors and fans took in the sights and sounds of collegiate track and field at the Ohio Athletic Conference Gold Meet, which featured local rivals Mount Union and Baldwin Wallace, along with Marietta and Muskingum, competing against head coach Dara Ford and the Blue Streaks.
"This was awesome today to see the school have track and field back on campus," says Will Rial '12, who won the 3,000-meter steeplechase. "It's a great track to run on, and I'm proud of the facility."
The first JCU event champion emerged after several field events. All-American Mike Minjock '13 captured first place in the long jump. Although the Blue Streaks didn't finish atop the leader board, the big winner was the track- and-field program. Hosting a meet for the first time since 1999 brought a boost of energy to a program establishing itself among the elite teams in the conference and region.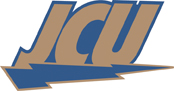 Game-day events
Sept. 14 – The men's and women's cross-country teams compete in the National Catholic Championship at the University of Notre Dame in South Bend, Ind.
Sept. 15 – The football home opener vs. Baldwin Wallace at Don Shula Stadium kicks off at 6:00 p.m. The tennis court tailgate will feature Blue Streaks Brats & Beer beginning at 4 p.m.
Sept. 29 – 30th anniversary of the Andrew "Dewey" McCarthy '81 Memorial Scholarship & Mass, men's soccer alumni game, and the JCU vs. Capital game. Events start at noon.
Oct. 5-7 – Homecoming and Family Weekend. DeCarlo Day, Oct. 6., at Don Shula Stadium. 2 p.m. kickoff vs. Marietta.
Oct. 13 – Women's soccer alumni game and social and the JCU vs. Muskingum game at 1 p.m. at Don Shula Stadium. Events begin at 10:30 a.m.
Oct. 27 – Volleyball alumni game and social in the DeCarlo Varsity Gym and Blue Gold Room and the JCU vs. Wilmington game, which starts at 5 p.m.
On the sidelines
When Beckie Reid '14 crossed home plate with the winning run in an NCAA Division III Championship tournament game against Geneva College May 11, she cemented a place in history for the 2012 softball team. It was already a historical season because the team won its second Ohio Athletic Conference Tournament title and made its first appearance in the national playoffs.
Tom Hickey '12 became the first Blue Streak baseball player to surpass 200 career hits in the 40-year history of the sport at Carroll.
Mike Minjock '13, Cory Biro '14, and Emily Mapes '15 qualified for the end- of-the-year, track-and-field championship meet in Claremont, Calif. Minjock became an All-American for the second time this year, placing third in the national final for the long jump. Mapes finished eighth in the championship race for the 3,000-meter steeplechase to earn All-American status. Biro finished ninth and set a school record in the decathlon.
Brian Cochran '90 greeted more than 165 former Blue Streak football players as the team sponsored its 8th Annual Football Alumni Golf Social May 5, 2012, at Pleasant Hills Golf Course in Chardon, Ohio.
Swimmer and diver Eric Davis '12 and softball player Brittany Danilov '12, both from Canfield (Ohio) High School, earned the Clyde A. Lamb Scholar-Athlete Award, which is given annually to one male and one female athlete from each OAC institution. Recipients must have participated for at least two years in an OAC-sponsored sport, have senior status, a minimum grade point average of 3.0, and sportsmanlike conduct in a manner that has brought credit to the student-athlete and institution.
Dejan Mladenovic '06, the assistant coach for the men's soccer team, continues to develop the John Carroll Clinic for Autism, which involves the men's and women's soccer teams. Through a partnership with the Cleveland Clinic Center for Autism, team members spent an hour with youths to build relationships through soccer. Players guided participants through dribbling and passing drills before embarking on a scrimmage.
---
Leave a Reply