From the tower
• According to the National Center for Education Statistics, private colleges in the U.S. graduate 52 percent of students in four years and 65 percent of students in six years. Comparatively, the University graduated 68 percent of students on time in four years, better than the national six-year rate.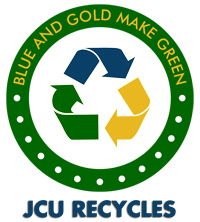 • The University's recycling committee is spreading awareness about the importance of conservation. It comprised a plan to educate the campus community about sustainability. During the week of April 23-27, it sponsored programs detailing what students can do to be more green. Green Streak Week incorporates many aspects of conservation of the environment with different activities. For more information, visit sites.jcu.edu/sustainability.
• On June 15, the University's address became 1 John Carroll Blvd., University Heights, OH 44118. North Park Blvd. changed to John Carroll Blvd. from Fairmount Circle to the gateway to campus by Pizzazz. The new street signs were installed and presented to the community at an alumni reunion event at Ben and Jerry's.
Bricks and Mortar
• The restoration of Pacelli Hall – completed in 1952 in the traditional Gothic style – was one of nine projects recognized by the Cleveland Restoration Society this year. The meticulous restoration of the brick and limestone included carefully matched brick replacement, sensitive masonry cleaning, and limestone patching with custom-matched Jahn mortar. A significant upgrade to the waterproofing systems protects exterior and interior materials. In addition to sensitive slate and copper gutter repairs, all sealants were replaced throughout the exterior.
Student Achievement
• Andrew Lane '12, the 2012
Millor Orator
, was the lone student speaker during this year's commencement ceremony. A committee of faculty, staff, students, and administrators selected Lane based on his speech content and delivery, as well as his strong academic record, demonstration of leadership, and dedication to service during his time at Carroll. The award is in honor of the late Rev. William J. Millor, S.J., who served the University in various posts for 28 years.
• The Leadership Legacy Award and Outstanding Student Leader Award recognize students who, through their leadership and involvement, have changed the campus culture in a positive way by enhancing the spirit of the University. The Leadership Legacy Award recognizes as many as five members of the senior class. They are: Odell Brown, Jon Hatgas, Emily Herfel, Rita Rochford, and Nick Skiviat. The Outstanding Student Leader Award recognizes as many as two students from each class. They are: Tom Hickey '12, Greg Petsche '13, Megan Lowes '13, David Markovich '14, Steve Palmieri '14, Nailah Hall '15, and Brianna Lazarchik '15.
• Management and logistics major James Haitz '12 and psychology major Jeff Hatgas '12 are
Beaudry Award
winners for exemplifying the ideal Jesuit education – a man or woman for others. The award recognizes outstanding service in the areas of leadership, commitment to Christian values, academic achievement, and service to the University or greater community. Haitz also earned the
Charles J. Ping Award
, which recognizes and honors undergraduate students' outstanding leadership and contributions to community service on campus and within their community. For more information about the Ping award, visit
ohiocampuscompact.org
.
• Jacqueline Wyman '12, a sociology major, was selected to participate in the Congress-Bundestag Youth Exchange for Young Professionals, a yearlong, federally funded fellowship for study and work in Germany. Wyman was selected as one of 75 participants (among more than 500 applicants) for the fellowship. Since 1984, more than 1,600 Americans have been awarded an opportunity to gain cultural, theoretical, and practical work experience in Germany.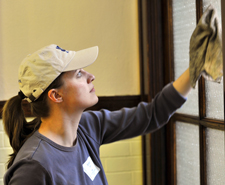 Events
• On April 28, the University joined eight institutions in the Cleveland area – Boys Hope Girls Hope, Church of the Gesu, Ignatian Solidarity Network, Ignatian Volunteer Corps, Jesuit Retreat House, Jesuit Volunteer Corps, Saint Ignatius High School, and Saint Martin de Porres High School – for an annual Jesuit Day of Service, demonstrating its commitment to Northeast Ohio. Work included cleaning classrooms, painting, mulching, and other yard work. For more information, visit go.jcu.edu/jdos.
• A senior roast was held April 28 in Kulas Auditorium. Andy Welki, Ph.D., associate professor of economics, emceed the event as classmates roasted 12 seniors. Prizes from local businesses were raffled throughout the night. All proceeds from the event benefitted the senior class gift – an item for the Saint Ignatius Plaza Project.
Recognition
• For almost 50 years, Tony DeCarlo '66G has served the University faithfully. On June 30, he retired from his position as
director of athletic development
, which he held since 2003. DeCarlo first joined JCU in 1964 as the head wrestling (a program he started that year), assistant football, and tennis coach. In 24 seasons of coaching wrestling, his teams won 21 straight Presidents Athletic Conference titles, one NCAA title (1975). He was named National Coach of the Year four times ('73, '74, '79, and '87). He coached 14 national wrestling champions, 62 All-Americans and 120 PAC champions. In 1986, he became the athletic director and in 1987 became the head football coach. He led the Blue Streaks to 12 consecutive winning seasons and was named the Ohio Athletic Conference Coach of the Year twice ('94, '97). He finished his coaching career in 1998 but remained athletic director for a few more years. He led an athletic fundraising campaign that raised more than $6.2 million for student-athletes that resulted in first-class athletic facilities. The University will celebrate DeCarlo's career on Oct. 6.
• Tracy Loye Masterson, '97, Ph.D., assistant professor of psychology, received the 2012 David Hoch Memorial Award for Excellence in Service from Ohio Campus Compact, a nonprofit membership organization of 47 colleges and universities in Ohio. The award honors outstanding work in service- learning and/or civic engagement by a faculty or staff member. Masterson has developed and taught five service-learning courses, including a new course based on the autism spectrum. She also founded a partnership with the Cleveland Clinic Center for Autism to allow service-based internships for JCU students.
• Phil Metres, Ph.D., professor in the English department, was awarded the 2012
Lucrezia Culicchia Award for Teaching Excellence
. Metres was nominated and supported by a group of students, faculty, and alumni who attested to his contribution to the pedagogical and intellectual life of the University through extraordinary and creative teaching. He'll receive the award at the College of Arts and Sciences faculty meeting in September.
• Ruth Fenske, Ph.D., coordinator of reference in the Grasselli Library, retired in May. Fenske joined the faculty of Grasselli Library and Breen Learning Center in June 1995 and was tenured in August 1998. Her exemplary professional performance at a national level has been recognized by the Medical Library Association's granting of Distinguished Membership in the Academy of Health Information Professionals.
• Michelle Millet will serve as the next
director of the Grasselli Library
and Breen Learning Center starting in August. Currently, Millet is head of reference services at The University of Texas at San Antonio. Millet succeeds Jeanne Somers, Somers who retired this May. Somers made numerous contributions to the library's operations and holdings, from instituting budget allocation formulas and a content management system, to overseeing physical upgrade to spaces and furniture, to facilitating additions to the special collections, most notably the St. John's Bible, selected Abraham Lincoln items, and the Wasmer gift of the Charles Carroll collection. She co-sponsored the Suenens discussions and Vocations Committee First Thursday luncheons Millet and curated exhibits and symposia about special collections from Elizabeth I to popular culture. Her efforts to integrate the library into the educational lives of students was evident in her collaborations to develop the Center for Digital Media and a satellite writing center.
• Kathleen Lis Dean, Ph.D., assistant vice president for student development and assessment, was promoted to assistant provost for institutional effectiveness. A key part of her responsibilities includes working with faculty and staff to prepare for the self-study and site visit required for reaccreditation by the Higher Learning Commission (2014).
• The
final vows Mass
of Rev. Bernie McAniff, S.J., University chaplain, took place May 1 in Saint Francis Chapel. The Mass was followed by a reception in the Student Center. A description of the formation for Jesuits and the unique importance of this final step can be found at
americamagazine.org
.
---
Leave a Reply